Abstract
The salinity of the mixed layer in the Kuroshio Extension recirculation gyre (KERG) region (28°–35°N, 141°–160°E) was examined over a period of 20 years (1993–2012), and was found to show low-frequency variations on a decadal (~10 years) timescale: salinity decreased during the periods 1995–2001 and 2006–2009, but increased over the periods 2002–2005 and 2010–2012. Salinity anomalies at the sea surface during the warm season (June–October) influenced salinity in the following winter. These warm-season anomalies were caused by precipitation changes related to the number of low-pressure systems passing over the KERG associated with a westward elongation/eastward shrinkage of the summertime North Pacific subtropical high, which is driven by the Pacific–Japan (PJ) teleconnection pattern.
Access options
Buy single article
Instant access to the full article PDF.
USD 39.95
Price excludes VAT (USA)
Tax calculation will be finalised during checkout.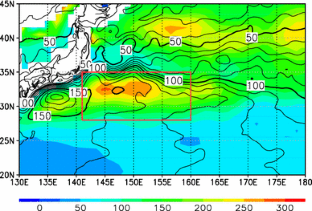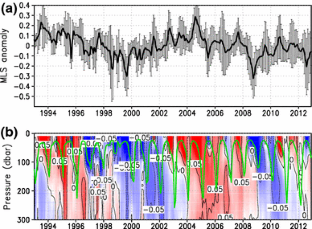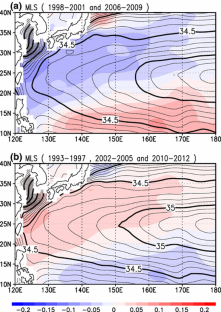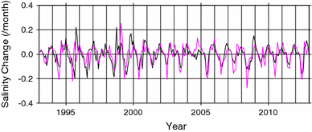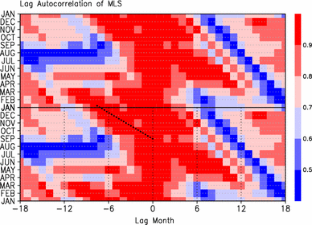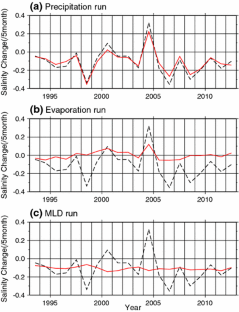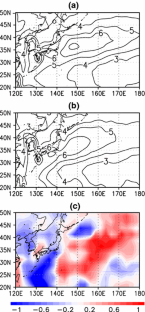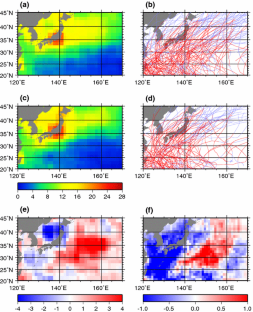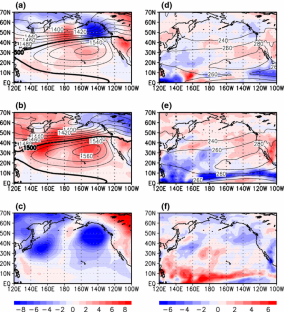 References
Adler RF, Huffman GJ, Chang A et al (2003) The version-2 global precipitation climatology project (GPCP) monthly precipitation analysis (1979–present). J Hydrometeor 4:1147–1167

Akima H (1970) A new method of interpolation and smooth curve fitting based on local procedures. J Assoc Comput Mach 17:589–602

Bingham FM (1992) Formation and spreading of subtropical mode water in the North Pacific. J Geophys Res 97:11177–11189

Boyer TP, Antonov JI, Baranova OK, Garcia HE, Johnson DR, Locarnini RA, Mishonov AV, Seidov D, Smolyar IV, Zweng MM (2009) World Ocean Database 2009, Chapter 1: introduction. In: Levitus S (ed) NOAA Atlas NESDIS 66. US Government Printing Office, Washington, DC

Boyer TP, Antonov JI, Baranova OK, Coleman C, Garcia HE, Grodsky A, Johnson DR, R. Locarnini A, Mishonov AV, O'Brien TD, Paver CR, Reagan JR, Seidov D, Smolyar IV, and Zweng MM (2013) World Ocean Database 2013. Levitus S (Ed), A. Mishonov (Technical Ed) NOAA Atlas NESDIS 72, Silver Spring, MD, p 209

Curry R, Dickson B, Yashayaev I (2003) A change in the freshwater balance of the Atlantic Ocean over the past four decades. Nature 426:826–829

Ducet N, Le Traon P-Y (2001) A comparison of surface eddy kinetic energy and Reynolds stresses in the Gulf Stream and the Kuroshio current systems from merged TOPEX/Poseidon and ERS-1/2 altimetric data. J Geophys Res 106(C8):16603–16622

Hanawa K (1987) Interannual variations in the wintertime outcrop area of subtropical mode water in the North Pacific. Atmos Ocean 25:358–374

Hanawa K, Kamada J (2001) Variability of core layer temperature (CLT) of the North Pacific subtropical mode water. Geophys Res Lett 28:2229–2232

Hanawa K, Sugimoto S (2004) 'Reemergence' areas of winter sea surface temperature anomalies in the world's oceans. Geophys Res Lett 31:L10303. doi:10.1029/2004GL019904

Hayasaki M, Kawamura R (2012) Cyclone activities in heavy rainfall episodes in Japan during spring season. SOLA 8:45–48

Hayasaki M, Kawamura R, Mori M, Watanabe M (2013) Response of extratropical cyclone activity to the Kuroshio large meander in northern winter. Geophys Res Lett 40:2851–2855

Hosoda S, Suga T, Shikama N, Mizuno K (2009) Global surface layer salinity change detected by Argo and its implication for hydrological cycle intensification. J Oceanogr 65:579–586

Ishii M, Kimoto M (2009) Reevaluation of historical ocean heat content variations with time-varying XBT and MBT depth bias corrections. J Oceanogr 65:287–299

Ishii M, Kimoto M, Kachi M (2003) Historical ocean subsurface temperature analysis with error estimates. Mon Wea Rev 131:51–73

Katsura S, Oka E, Qiu B, Schneider N (2013) Formation and subduction of North Pacific Tropical Water and their interannual variability. J Phys Oceanogr 43:2400–2415

Kobayashi S, Ota Y, Harada Y, Ebita A, Moriya M, Onoda H, Onogi K, Kamahori H, Kobayashi C, Endo H, Miyaoka K, Takahashi K (2015) The JRA-55 Reanalysis: general specifications and basic characteristics. J Meteor Soc Japan 93:5–48

Kosaka Y, Xie SP, Lau NC, Vecchi GA (2013) Origin of seasonal predictability for summer climate over the Northwestern Pacific. Proc Natl Acad Sci USA 110:7574–7579

Mantua NJ, Hare SR, Zhang Y, Wallace JM, Francis RC (1997) A Pacific interdecadal climate oscillation with impacts on salmon production. Bull Amer Meteor Soc 78:1069–1079

Masuzawa J (1969) Subtropical mode water. Deep Sea Res 16:463–472

Mizuno K, White WB (1983) Annual and interannual variability in the Kuroshio Current system. J Phys Oceanogr 13:1847–1867

Nagano A, Uehara K, Suga T, Kawai Y, Ichikawa H, Cronin MF (2014) Origin of near-surface high-salinity water observed in the Kuroshio Extension region. J Oceanogr 70:389–403

Nakamura H, Nishina A, Minobe S (2012) Response of storm tracks to bimodal Kuroshio path states south of Japan. J Climate 25:7772–7779

Nakano H, Tsujino H, Hirabara M, Yasuda T, Motoi T, Ishii M, Yamanaka G (2011) Uptake mechanism of anthropogenic CO2 in the Kuroshio Extension region in an ocean general circulation model. J Oceanogr 67:765–783

Nakano T, Kitamura T, Sugimoto S, Suga T, Kamachi M (2015) Long-term variations of North Pacific tropical water along the 137°E repeat hydrographic section. J Oceanogr 71:229–238

Nan F, Yu F, Wang R, Si G (2015) Ocean salinity changes in the northwest Pacific subtropical gyre: the quasi-decadal oscillation and the freshening trend. J Geophys Res 120:2179–2192

Nitta T (1987) Convective activities in the tropical western Pacific and their impact on the Northern Hemisphere summer circulation. J Meteor Soc Japan 65:373–390

Qiu B, Chen S (2005) Variability of the Kuroshio Extension jet, recirculation gyre, and mesoscale eddies on decadal timescales. J Phys Oceanogr 35:2090–2103

Qiu B, Chen S (2006) Decadal variability in the formation of the North Pacific subtropical mode water: ocean versus atmospheric control. J Phys Oceanogr 36:1365–1380

Qiu B, Chen S (2010) Eddy–mean flow interaction in the decadally modulating Kuroshio Extension system. Deep-Sea Res 57:1098–1110

Qiu B, Chen S, Schneider N, Taguchi B (2014) A coupled decadal prediction of the dynamic state of the Kuroshio extension system. J Clim 27:1751–1764

Suga T, Kato A, Hanawa K (2000) North Pacific Tropical Water: its climatology and temporal changes associated with the climate regime shift in the 1970s. Prog Oceanogr 47:223–256

Sugimoto S, Hanawa K (2005) Remote reemergence areas of winter sea surface temperature anomalies in the North Pacific. Geophys Res Lett 32(1):L01606. doi:10.1029/2004GL021410

Sugimoto S, Hanawa K (2010) Impact of Aleutian Low activity on the STMW formation in the Kuroshio recirculation gyre region. Geophys Res Lett 37:L03606. doi:10.1029/2009GL041795

Sugimoto S, Takahashi N, Hanawa K (2013) Marked freshening of North Pacific subtropical mode water in 2009 and 2010: influence of freshwater supply in the 2008 warm season. Geophys Res Lett 40:3102–3105

Sukigara C, Suga T, Saino T, Toyama K, Yanagimoto D, Hanawa K, Shikama N (2011) Biogeochemical evidence of large diapycnal diffusivity associated with the subtropical mode water of the North Pacific. J Oceanogr 67:77–85

Wakabayashi S, Kawamura R (2004) Extraction of major teleconnection patterns possibly associated with anomalous summer climate in Japan. J Meteor Soc Japan 82:1577–1588

Yan YF, Chassignet EP, Qi YQ, Dewar WK (2013) Freshening of subsurface waters in the northwest Pacific subtropical Gyre: observations and dynamics. J Phys Oceanogr 43:2733–2751
Acknowledgments
We appreciate comments from participants at the Research Meeting on Air–Sea Interaction in 2013, which was part of the Collaborative Research Program of HyARC, Nagoya University. We thank two anonymous reviewers for their valuable suggestions. This study was supported in part by funds from the Japan Society for Promotion of Science [Grant-in-Aid for Young Scientists (B) 15K17756] and from the Ministry of Education, Culture, Sports, Science and Technology [Grant-in-Aid for Scientific Research on Innovative Areas 25106702, "A 'hot spot' in the climate system: Extratropical air–sea interaction under the East Asian monsoon system"].
About this article
Cite this article
Kitamura, T., Nakano, T. & Sugimoto, S. Decadal variations in mixed layer salinity in the Kuroshio Extension recirculation gyre region: influence of precipitation during the warm season. J Oceanogr 72, 167–175 (2016). https://doi.org/10.1007/s10872-015-0317-1
Received:

Revised:

Accepted:

Published:

Issue Date:

DOI: https://doi.org/10.1007/s10872-015-0317-1
Keywords