Abstract
Temperature and salinity data from Argo profiling floats during 2005–2014 were analyzed to examine the decadal variability of the North Pacific Subtropical Mode Water (STMW) in relation to that of the Kuroshio Extension (KE) system. The formation volume of STMW in the southern recirculation gyre of KE in the cooling season was larger during the stable KE period after 2010 than the unstable KE period of 2006–2009 by 50 %. As a result, the volume and spatial extent of STMW increased (decreased) in the formation region during the stable (unstable) KE period, as well as in the southern, downstream region with a time lag of 1–2 years. The decadal expansion and contraction of STMW were also detected by shipboard observations conducted routinely in the most downstream region near the western boundary, in terms of not only physical, but also biogeochemical parameters. After 2010, enhanced subduction of STMW consistently increased dissolved oxygen, pH, and aragonite saturation state and decreased potential vorticity, apparent oxygen utilization, nitrate, and dissolved inorganic carbon, among which changes of dissolved inorganic carbon, pH, and aragonite saturation state were against their long-term trends. These results indicate a new mechanism consisting of westward sea surface height anomaly propagation, the KE state transition, and the STMW formation and subduction, by which the climate variability affects physical and biogeochemical structures in the ocean's interior and potentially impacts the surface ocean acidification trend and biological production.
This is a preview of subscription content, log in to check access.
Access options
Buy single article
Instant access to the full article PDF.
US$ 39.95
Price includes VAT for USA
Subscribe to journal
Immediate online access to all issues from 2019. Subscription will auto renew annually.
US$ 99
This is the net price. Taxes to be calculated in checkout.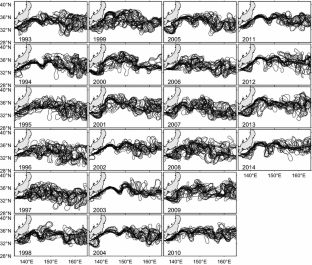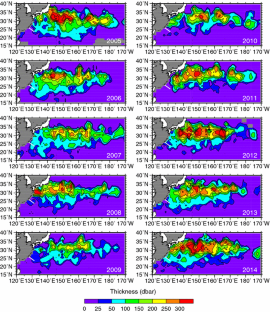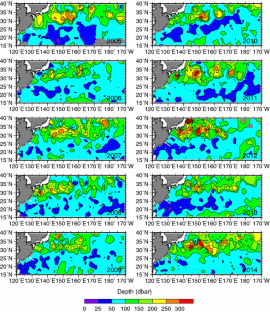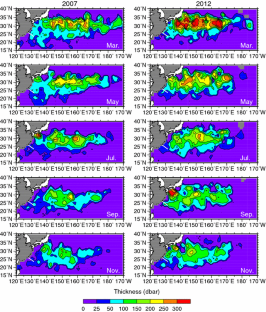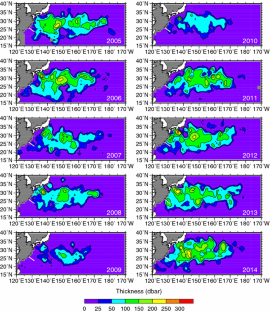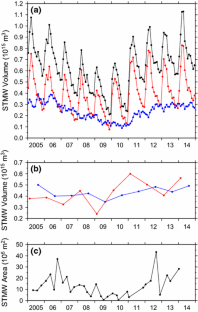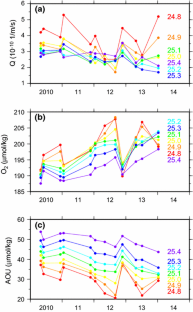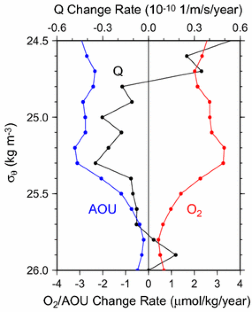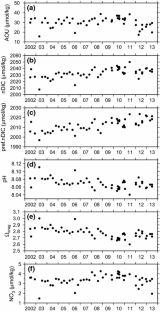 Notes
1.

The correlation between the STMW area in the OK section (Fig. 7c) and the STMW volume south of 28°N (Fig. 7a, blue line) is 0.5–0.6 with a time lag of 0–10 months and drops with a longer time lag. The correlation with low-frequency variation of the STMW volume north of 28°N (Fig. 7a, red line), which is obtained by subtracting its monthly average, has a peak of ~0.6 at a time lag of 13–16 months.
References
Akima H (1970) A new method of interpolation and smooth curve fitting based on local procedures. J Assoc Comput Math 17:589–602

Bates NR, Pequignet AC, Johnson RJ, Gruber N (2002) A variable sink for atmospheric CO2 in subtropical mode water of the North Atlantic Ocean. Nature 420:489–493

Dore JE, Lukas R, Sadler DW, Church MJ, Karl DM (2009) Physical and biogeochemical modulation of ocean acidification in the central North Pacific. Proc Natl Acad Sci USA 106:12235–12240

Hanawa K, Talley LD (2001) Mode waters. In: Church J et al (eds) Ocean circulation and climate. Academic Press, London, pp 373–386

Ishii M, Inoue HY, Matsueda H, Saito S, Fushimi K, Nemoto K, Yano T, Nagai H, Midorikawa T (2001) Seasonal variation in total inorganic carbon and its controlling processes in surface waters of the western North Pacific subtropical gyre. Mar Chem 75:17–32

Ishii M, Kosugi N, Sasano D, Saito S, Midorikawa T, Inoue HY (2011) Ocean acidification off the south coast of Japan: a result from time series observations of CO2 parameters from 1994 to 2008. J Geophys Res 116:C06022. doi:10.1029/2010JC006831

Kobashi F, Kubokawa A (2012) Review on North Pacific Subtropical Countercurrent and Subtropical Front: role of mode water in ocean circulation and climate. J Oceanogr 68:21–43

Kobashi F, Hosoda S, Iwasaka N (2013) Decadal variations of the North Pacific Subtropical Mode Water and Subtropical Countercurrent. Bull Coast Oceanogr 50:119–129 (in Japanese with English abstract)

Kouketsu S, Kaneko H, Okunishi T, Sasaoka K, Itoh S, Inoue R, Ueno H (2015) Mesoscale eddy effects on temporal variability of surface chlorophyll a in the Kuroshio Extension. J Oceanogr (in press)

Krémeur AS, Lévy M, Aumont O, Reverdin G (2009) Impact of the subtropical mode water biogeochemical properties on primary production in the North Atlantic: new insights from an idealized model study. J Geophys Res 114:C07019. doi:10.1029/2008JC005161

Levitus S (1982) Climatological atlas of the world ocean. NOAA professional paper 13. US Government Printing Office, Washington, DC, p 173

Lozier SM, Owens WB, Curry RG (1995) The climatology of the North Atlantic. Prog Oceanogr 36:1–44

Macdonald AM, Suga T, Curry RG (2001) An isopycnally averaged North Pacific climatology. J Atmos Oceanic Technol 18:394–420

Mantua NJ, Hare SR, Zhang Y, Wallace JM, Francis RC (1997) A Pacific interdecadal climate oscillation with impacts on salmon production. Bull Amer Meteor Soc 78:1069–1079

Midorikawa T, Ishii M, Nemoto K, Kamiya H, Nakadate A, Masuda S, Matsueda H, Nakano T, Inoue HY (2006) Interannual variability of winter oceanic CO2 and air–sea CO2 flux in the western North Pacific for 2 decades. J Geophys Res 111:C07S02. doi:10.1029/2005JC003095

Midorikawa T, Ishii M, Saito S, Sasano D, Kosugi N, Motoi T, Kamiya H, Nakadate A, Nemoto K, Inoue HY (2010) Decreasing pH trend estimated from 25-yr time series of carbonate parameters in the western North Pacific. Tellus Ser B 62:649–659

Miyazawa Y, Zhang R, Guo X, Tamura H, Ambe D, Lee JS, Okuno A, Yoshinari H, Setou T, Komatsu K (2009) Water mass variability in the western North Pacific detected in a 15-year eddy resolving ocean reanalysis. J Oceanogr 65:737–756

Nishikawa S, Tsujino H, Sakamoto K, Nakano H (2010) Effects of mesoscale eddies on subduction and distribution of Subtropical Mode Water in an eddy-resolving OGCM of the western North Pacific. J Phys Oceanogr 40:1748–1765

Oka E (2009) Seasonal and interannual variation of North Pacific Subtropical Mode Water in 2003–2006. J Oceanogr 65:151–164

Oka E, Qiu B (2012) Progress of North Pacific mode water research in the past decade. J Oceanogr 68:5–20

Oka E, Suga T (2003) Formation region of North Pacific subtropical mode water in the late winter of 2003. Geophys Res Lett 30:2205. doi:10.1029/2003GL018581

Oka E, Talley LD, Suga T (2007) Temporal variability of winter mixed layer in the mid- to high-latitude North Pacific. J Oceanogr 63:293–307

Oka E, Suga T, Sukigara C, Toyama K, Shimada K, Yoshida J (2011) "Eddy-resolving" observation of the North Pacific Subtropical Mode Water. J Phys Oceanogr 41:666–681

Oka E, Qiu B, Kouketsu S, Uehara K, Suga T (2012) Decadal seesaw of the Central and Subtropical Mode Water formation associated with the Kuroshio Extension variability. J Oceanogr 68:355–360

Palter JB, Lozier MS, Barber RT (2005) The effect of advection on the nutrient reservoir in the North Atlantic subtropical gyre. Nature 437:687–692

Qiu B, Chen S (2005) Variability of the Kuroshio Extension jet, recirculation gyre and mesoscale eddies on decadal timescales. J Phys Oceanogr 35:2090–2103

Qiu B, Chen S (2006) Decadal variability in the formation of the North Pacific Subtropical Mode Water: oceanic versus atmospheric control. J Phys Oceanogr 36:1365–1380

Qiu B, Chen S, Hacker P (2007) Effect of mesoscale eddies on Subtropical Mode Water variability from the Kuroshio Extension System Study (KESS). J Phys Oceanogr 37:982–1000

Qiu B, Chen S, Schneider N, Taguchi B (2014) A coupled decadal prediction of the dynamic state of the Kuroshio Extension system. J Clim 27:1751–1764

Rainville L, Jayne SR, McClean JL, Maltrud ME (2007) Formation of Subtropical Mode Water in a high-resolution ocean simulation of the Kuroshio Extension region. Ocean Modell 17:338–356

Rainville L, Jayne SR, Cronin MF (2014) Variations of the North Pacific Subtropical Mode Water from direct observations. J Clim 27:2842–2860

Roemmich D, Boebel O, Desaubies Y, Freeland H, King B, LeTraon PY, Molinari R, Owens WB, Riser S, Send U, Takeuchi K, Wijffels S (2001) Argo: The global array of profiling floats. In: Koblinsky CJ, Smith NR (eds) Observing the oceans in the 21st century. GODAE Project Office, Bureau of Meteorology, Melbourne, pp 248–258

Sasaki YN, Minobe S (2015) Climatological mean features and interannual to decadal variability of ring formations in the Kuroshio Extension region. J Oceanogr (in press)

Suga T, Hanawa K (1990) The mixed layer climatology in the northwestern part of the North Pacific subtropical gyre and the formation area of Subtropical Mode Water. J Mar Res 48:543–566

Suga T, Hanawa K (1995a) The Subtropical Mode Water circulation in the North Pacific. J Phys Oceanogr 25:958–970

Suga T, Hanawa K (1995b) Interannual variations of North Pacific Subtropical Mode Water in the 137˚E section. J Phys Oceanogr 25:1012–1017

Suga T, Hanawa K, Toba Y (1989) Subtropical Mode Water in the 137°E section. J Phys Oceanogr 19:1605–1618

Suga T, Motoki K, Aoki Y, Macdonald AM (2004) The North Pacific climatology of winter mixed layer and mode waters. J Phys Oceanogr 34:3–22

Suga T, Aoki Y, Saito H, Hanawa K (2008) Ventilation of the North Pacific subtropical pycnocline and mode water formation. Prog Oceanogr 77:285–297

Sugimoto S, Hanawa K (2005) Remote reemergence areas of winter sea surface temperature anomalies in the North Pacific. Geophys Res Lett 32:L01606. doi:10.1029/2004GL021410

Sugimoto S, Hanawa K (2010) Impact of Aleutian Low activity on the STMW formation in the Kuroshio recirculation gyre region. Geophys Res Lett 37:L03606. doi:10.1029/2009GL041795

Takahashi T et al (2009) Climatological mean and decadal change in surface ocean pCO2, and net sea-air CO2 flux over the global ocean. Deep-Sea Res 56:554–577

Takatani Y, Sasano D, Nakano T, Midorikawa T, Ishii M (2012) Decrease of dissolved oxygen after the mid-1980s in the western North Pacific subtropical gyre along the 137°E repeat section. Global Biogeochem Cycles 26:GB2013. doi:10.1029/2011GB004227

Takikawa T, Ichikawa H, Ichikawa K, Kawae S (2005) Extraordinary subsurface mesoscale eddy detected in the southeast of Okinawa in February 2002. Geophys Res Lett 32:L17602. doi:10.1029/2005GL023842

Talley LD (1988) Potential vorticity distribution in the North Pacific. J Phys Oceanogr 18:89–106

Uchida H, Kawano T, Kaneko I, Fukasawa M (2008) In situ calibration of optode-based oxygen sensors. J Atmos Oceanic Technol 25:2271–2281

Xie SP, Xu LX, Liu Q, Kobashi F (2011) Dynamical role of mode-water ventilation in decadal variability in the central subtropical gyre of the North Pacific. J Clim 24:1212–1225

Xu L, Xie SP, McClean JL, Liu Q, Sasaki H (2014) Mesoscale eddy effects on the subduction of North Pacific mode waters. J Geophys Res. doi:10.1002/2014JC009861
Acknowledgments
The authors are grateful to the captain, crew, and scientists of R/V Chofu-maru, R/V Keifu-maru, and R/V Ryofu-maru of JMA for their efforts in long-term observations. They also thank Kanako Sato and Kana Nakamoto for their assistance in preparing the Argo float data and Yosuke Iida, Atsushi Kojima, Tomoyuki Kitamura, participants at the 2014 HYARC symposium on air–sea interaction, and two anonymous reviewers for helpful comments on the manuscript. E.O. and T.S. acknowledge support by JSPS through Grant 21340133 and 25287118 and MEXT through 22106007. E.O. is also supported by MEXT through 25121502. B.Q. acknowledges support by NASA through Grant NNX13AE51G and NSF through OCE-0926594. D.S. acknowledges support by JSPS through 24241010. M.I. acknowledges support by MRI's key research fund C3 and MEXT through 24121003.
About this article
Cite this article
Oka, E., Qiu, B., Takatani, Y. et al. Decadal variability of Subtropical Mode Water subduction and its impact on biogeochemistry. J Oceanogr 71, 389–400 (2015). https://doi.org/10.1007/s10872-015-0300-x
Received:

Revised:

Accepted:

Published:

Issue Date:
Keywords
North Pacific Subtropical Mode Water

Subduction

Decadal variability

Kuroshio Extension

Biogeochemistry