Abstract
A two-dimensional hydrodynamic and particle tracking model was used to estimate the dispersion and retention of barnacle larvae from their possible spawning sites in a tropical monsoon-influenced estuarine system (central west coast of India). Validation of the hydrodynamic simulations yielded a good match with field measurements. The pattern of larval dispersal in the region varied with the winds and currents. The seasonal changes in abundance could be attributed to physical forcing and weather conditions. The extent of barnacle larval dispersal from spawning sites varied from 10 to 78 km for different sites and seasons. During a 24-h cycle, the larval abundance showed one to two peaks in the estuarine area. The increased larval abundance is favored by the flood currents, pushing the larvae into the estuary. Physical forcing in the region helps in transport of the larvae from their spawning sites hugging to the coast and contributing to the population within the estuary. Field observations and numerical experiments suggest the occurrence of higher larval abundance in the estuary during post-monsoon. The dispersal pattern indicated that the barnacle population present in the estuary is well mixed, and with a seasonally changing pattern.
Access options
Buy single article
Instant access to the full article PDF.
US$ 39.95
Tax calculation will be finalised during checkout.
Subscribe to journal
Immediate online access to all issues from 2019. Subscription will auto renew annually.
US$ 79
Tax calculation will be finalised during checkout.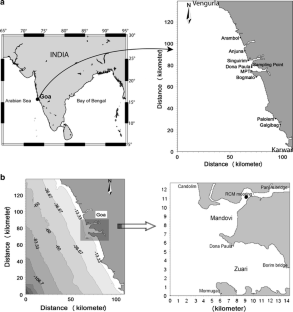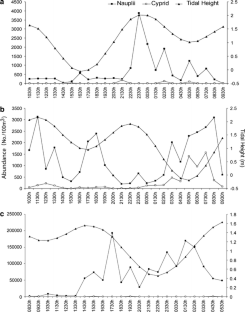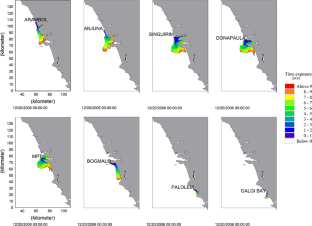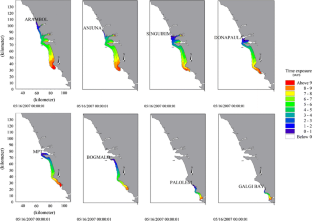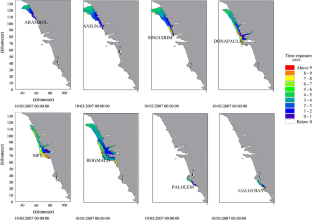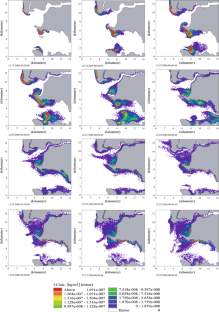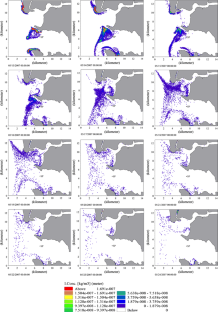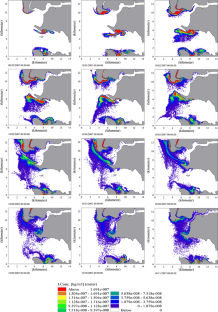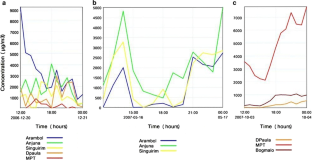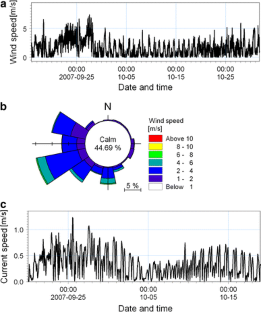 References
Aiken CM, Navarrete SA, Castillo MI, Castilla JC (2007) Along–shore larval dispersal kernels in a numerical ocean model of the central Chilean coast. Mar Ecol Prog Ser 339:13–24

Alvarez LG, Godinez VM, Lavin MF (1990) Diepersion en la franja costera de Tijuana & Baja California. ear shore dispersion off Tijuana. Baja California. Ciencias Marinas (In Spanish and English) 16:87–109

Anil AC (1986) Studies on marine biofouling in the Zuari estuary (Goa) west coast of India. PhD thesis, University of Karnataka

Anil AC, Kurian J (1996) Influence of food concentration, temperature and salinity on the larval development of Balanus amphitrite. Mar Biol 127:115–124

Anil AC, Dattesh D, Lidita K (2001) Larval development and metamorphosis in Balanus amphitrite Darwin (Cirripedia: Thoracica): significance of food concentration, temperature and nucleic acids. J Exp Mar Biol Ecol 263:125–141

Anonymous (1930) Tides and harmonic constants. Special Publication No. 26. International Hydrographic Bureau, Monaco

Aparna M, Shetye SR, Shankar D, Shenoi SSC, Mehra P, Desai RGP (2005) Estimating the seaward extent of sea breeze from QuikSCAT scatterometry. Geophys Res Lett 32:L13601. doi:10.1029/2005GL023107

Babu MT, Vethamony P, Desa E (2005) Modelling tide-driven currents and residual eddies in the Gulf of Kachchh and their seasonal variability a marine environmental planning perspective. Ecol Model 184:299–312

Black KP, Gay SL, Andrews JC (1990) Resident times of neutrally buoyant matter such as larvae, sewage or nutrients on coral reefs. Coral Reefs 9:105–114

Boicourt WC (1982) Estuarine larval retention mechanisms on two scales. In: Kennedy VS (ed) Estuarine comparisons. Academic, New York, pp 445–457

Chia FS, Buckland-Nicks J, Young CM (1984) Locomotion of marine invertebrate larvae: a review. Can J Zool 62:1205–1222

Chubarenko IP, Tchepikova I (2001) Modelling of man-made contribution to salinity increase into the Vistula Lagoon (Baltic Sea). Ecol Model 138:87–100

Clancy M, Epifanio CE (1989) Distribution of crab larvae in relation to tidal fronts in Delaware Bay, USA. Mar Ecol Prog Ser 57:77–82

Cowen RK, Sponaugle S (2009) Larval dispersal and marine population connectivity. Annu Rev Mar Sci 1:443–466

Cowen RK, Paris CB, Srinivasan A (2006) Scales of connectivity in marine populations. Science 311:522–527

Desai DV, Anil AC (2004) Impact of food type, temperature and starvation on larval development of Balanus amphitrite Darwin (Cirripedia: Thoracica). J Exp Mar Biol Ecol 306:113–137

Desai DV, Anil AC (2005) Recruitment of the barnacle Balanus amphitrite in a tropical estuary: implications of environmental perturbation, reproduction and larval ecology. J Mar Biol Assoc UK 85:909–920

Desai DV, Prakash S (2009) Physiological responses to hypoxia and anoxia in Balanus amphitrite (Cirripedia: Thoracica). Mar Ecol Prog Ser 390:157–166

Desai DV, Anil AC, Venkat K (2006) Reproduction in Balanus amphitrite Darwin (Cirripedia: Thoracica): influence of temperature and food concentration. Mar Biol 149:1431–1441

DHI (2001) User Guide and Reference Manual for MIKE21. Danish Hydraulic Institute, Denmark

Dyer KR (1979) Estuarine hydrography and sedimentation: a handbook. Cambridge University Press, Cambridge

Epifanio CE (1988) Transport of invertebrate larvae between estuaries and the continental shelf. Am Fish Soc Symp 3:104–114

Fiksen Ø, Jørgensen C, Kristiansen T, Vikebø F, Huse G (2007) Linking behavioural ecology and oceanography: larval behaviour determines growth, mortality and dispersal. Mar Ecol Prog Ser 347:195–205

Forward RB Jr, Tankersley RA (2001) Selective tidal-stream transport of marine animals. Ocean Mar Biol Annu Rev 39:305–353

Gaines SD, Bertness M (1992) The dynamics of juvenile dispersal: why field ecologists must integrate. Ecology 74:2430–2435

Gaonkar CA, Samiksha SV, George G, Aboobacker VM, Vethamony P, Anil AC (2012) Numerical simulations of barnacle larval dispersion coupled with field observations on larval abundance, settlement and recruitment in a tropical monsoon influenced coastal marine environment. J Mar Syst 94:218–231

George G, Vethamony P, Sudheesh K, Babu MT (2011) Fish larval transport in a macro-tidal regime: Gulf of Kachchh, west coast of India. Fish Res 110:160–169

Hughes RN, Griffiths CL (1988) Self-thinning in barnacles and mussels—the geometry of packing. Am Nat 132:484–491

James MK, Armsworth PR, Mason LB, Bode L (2002) The structure of reef fish meta populations: modelling larval dispersal and retention patterns. Proc R Soc Lond B 269:2079–2086

Jessopp MJ (2007) The quick and the dead: larval mortality due to turbulent tidal transport. J Mar Biol Assoc UK 86:675–680

Kinlan BP, Gaines SD (2003) Propagule dispersal in marine and terrestrial environments: a community perspective. Ecology 84:2007–2020

Kinlan BP, Gaines SD, Lester SE (2005) Propagule dispersal and the scales of marine community process. Divers Distrib 11:139–148

Kunte P, Wagle BC, Yasushio S (2000) Remote assessment of net shore drift along the west coast of India. PORSEC Proc 2:685–689

Lobel PS, Robinson AR (1986) Transport and entrapment of fish larvae by ocean mesoscale eddies and currents in Hawaiian waters. Deep Sea Res 33:483–500

Manoj NT, Unnikrishnan AS (2009) Tidal circulation and salinity distribution in the Mandovi and Zuari estuaries: case study. J Waterw Port Coast Ocean Eng 135(6):278–287

Murdoch RC (1989) The effects of headland eddy on surface macro-zooplankton assemblages north of Otago Peninsula, New Zealand. Estuar Coast Shelf Sci 29:361–383

Neetu S, Shetye SR, Chandramohan P (2006) Impact of sea-breeze on wind-seas off Goa, west coast of India. J Earth Syst Sci 115(2):229–234

Okubo A (1994) The role of diffusion and related physical processes in dispersal and recruitment of marine population. In: Sammarco PW, Heron ML (eds) The Bio-physics of marine larval dispersal, vol 45. American Geophysics Union, Washington, D.C. pp 5–32

Olson RR (1985) The consequences of short-distance larval dispersal in a sessile marine invertebrate. Ecology 66:30–39

Palumbi SR (2003) Population genetics, demographic connectivity and the design of marine protected areas. Ecol Appl 13:S146–S158

Peterson EW, Hennessey JP (1978) On the use of power laws for estimates of wind power potential. J Appl Meteorol Climatol 17:390–394

Pineda J (2000) Linking larval settlement to larval transport: assumptions, potentials, and pitfalls. Oceanogr East Pac pp 84–105

Queiroga H, Cruz T, dos Santos A, Dubert J, González-Gordillo JI, Paula J, Peliz A, Santos AMP (2007) Oceanographic and behavioural processes affecting invertebrate larval dispersal and supply in the western Iberia upwelling ecosystem. Prog Oceanogr 74:174–191

Roff JC, Pett RJ, Rogers GF, Budgell WP (1979) A study of plankton ecology in Chesterfield Inlet, Northwest Territories: an arctic estuary. In: Kennedy VS (ed) Estuarine perspectives, vol 2. Academic, New York, pp 185–197

Sammarco PW, Andrews JC (1988) Localized dispersal and recruitment in Great Barrier Reef corals: the Helix experiment. Science 239:1422–1424

Seed R, Suchanek TH (1992) Population and community ecology of Mytilus. In: Gosling E (eds) The mussel Mytilus: ecology, physiology, genetics and culture. Development in aquaculture and fisheries sciences, vol 25. Elsevier, Amsterdam, pp 87–169

Shankar D, Shetye SR (2001) Why is mean sea level along the Indian coast higher in the Bay of Bengal than in the Arabian Sea? Geophys Res Lett 28:563–565

Shanks AL (1995) Mechanisms of cross-shelf dispersal of larval invertebrates and fish. In: McEdward L (ed) Ecology of marine invertebrate larvae. CRC, Boca Raton, pp 323–367

Shanks AL (2009) Pelagic larval duration and dispersal distance revisited. Biol Bull 216:373–385

Shetye SR, Murty CS (1987) Seasonal variation of the salinity in Zuari Estuary, Goa, India. Proc Indian AS-Earth 96:249–257

Shetye SR, Gouveia AD, Shenoi SSC, Micheal GS, Sundar D, Almeida AM, Santanam K (1991) The coastal current off western India during the northeast monsoon. Deep Sea Res 38:1517–1529

Shetye SR, Gouveia AD, Singbal SY, Naik CG, Sunder D, Michael GS, Nampoothiri G (1995) Propagation of tides in the Mandovi and Zuari Estuarine Network. Proc Indian AS-Earth 104:667–682

Stephens SA, Broekhuizen N, Macdiarmid AB, Lundquist CJ, McLeodand L, Haskew R (2006) Modelling transport of larval New Zealand abalone (Haliotisiris) along an open coast. Mar Freshw Res 57:519–532

Thiebaut E, Dauvin JC, Lagadeuc Y (1994) Horizontal distribution and retention of Owenia fusiformis larvae (Annelida: Polychaeta) in the bay of Seine. J Mar Biol Assoc UK 74:129–142

Unnikrishnan AS, Shetye SR, Gouveia AD (1997) Tidal propagation in Mandovi and Zuari Estuarine network, West Coast of India: impact of fresh water influx. Estuar Coast Shelf Sci 45:737–744

Unnikrishnan AS, Gouveia AD, Vethamony P (1999) Tidal regime in Gulf of Kachch west coast of India by 2D model. J Waterw Port Coast Ocean Eng 1256:276–284

Wolanski E, Hamner WM (1988) Topographically controlled fronts in the ocean and their biological influence. Science 241:177–181

Wootton JT (1993) Indirect effects and habitat use in an intertidal community–interaction chains and interaction modifications. Am Nat 141:71–89
Acknowledgments
The authors wish to thank the the director of the National Institute of Oceanography (NIO), Goa, for support. The first author would like acknowledge the initial CSIR-JRF support and the support from the Director, Central Agricultural Research Institute (CARI), Port Blair, in the later phase for the completion of this work. The current measurements were made available for the study by Shri. Sidharth S Ghatkar and the help received in modelling from Shri. K. Sudheesh and Dr. M.T. Babu is greatly acknowledged. This is NIO contribution number 5408.
About this article
Cite this article
George, G., Desai, D.V., Gaonkar, C.A. et al. Barnacle larval transport in the Mandovi–Zuari estuarine system, central west coast of India. J Oceanogr 69, 451–466 (2013). https://doi.org/10.1007/s10872-013-0186-4
Received:

Revised:

Accepted:

Published:

Issue Date:
Keywords
Numerical modelling

Barnacle larvae

Hydrodynamics

Estuary

Dispersion and retention