Abstract
Available Argo profiling float data from 2002 to 2011 were analyzed to examine the effect of the Kuroshio Extension (KE) current system variability on the formation of the Central Mode Water. Just north of the upstream portion of the KE at 140–152°E, formation of a lighter variety of the Central Mode Water in winter was active during the unstable period of the upstream KE in 2006–2009 and was reduced when the upstream KE was in the stable period of 2002–2005 and 2010–2011. This decadal formation variability is out of phase with that of the Subtropical Mode Water just south of the KE.
Access options
Buy single article
Instant access to the full article PDF.
USD 39.95
Price excludes VAT (USA)
Tax calculation will be finalised during checkout.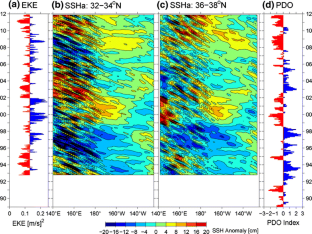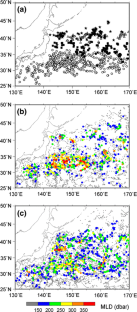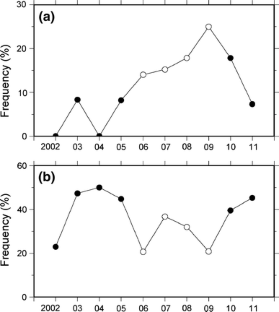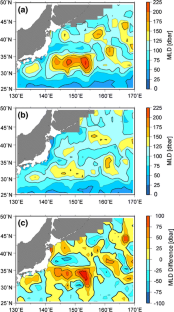 Notes
The sea surface height anomalies along 32–34°N best explain the relation between the PDOs and the KE system variability.

In the STMW formation region, the sea surface height anomalies propagating from the east and those due to the nonlinear eddy signals have the same sign, which explains why the reversal of anomalies was not observed there.
References
de Boyer Montégut C, Madec G, Fischer AS, Lazar A, Iudicone D (2004) Mixed layer depth over the global ocean: an examination of profile data and a profile-based climatology. J Geophys Res 109:C12003. doi:10.1029/2004JC002378

Ducet N, Le Traon PY, Reverdin F (2000) Global high-resolution mapping of ocean circulation from TOPEX/Poseidon and ERS-1 and -2. J Geophys Res 105:19477–19498

Freeland H et al (2010) Argo—a decade of progress. In: Hall J, Harrison DE, Stammer D (eds) Proceedings of OceanObs'09: sustained ocean observations and information for society, 21–25 September 2009, vol 2. ESA publication WPP-306, Venice. doi:10.5270/OceanObs09.cwp.32

Isoguchi O, Kawamura H, Oka E (2006) Quasi-stationary jets transporting surface warm waters across the transition zone between the subtropical and the subarctic gyres in the North Pacific. J Geophys Res 111:C10003. doi:10.1029/2005JC003402

Itoh S, Yasuda I (2010) Characteristics of mesoscale eddies in the Kuroshio–Oyashio Extension region detected from the distribution of the sea surface height anomaly. J Phys Oceanogr 40:1018–1034

Kouketsu S, Tomita H, Oka E, Hosoda S, Kobayashi T, Sato K (2012) The role of meso-scale eddies in mixed layer deepening and mode water formation in the western North Pacific. J Oceanogr 68:63–77

Mantua NJ, Hare SR, Zhang Y, Wallace JM, Francis RC (1997) A Pacific interdecadal climate oscillation with impacts on salmon production. Bull Am Meteorol Soc 78:1069–1079

Masuzawa J (1969) Subtropical Mode Water. Deep Sea Res 16:463–472

Oka E, Qiu B (2012) Progress of North Pacific mode water research in the past decade. J Oceanogr 68:5–20

Oka E, Suga T (2005) Differential formation and circulation of North Pacific Central Mode Water. J Phys Oceanogr 35:1997–2011

Oka E, Talley LD, Suga T (2007) Temporal variability of winter mixed layer in the mid- to high-latitude North Pacific. J Oceanogr 63:293–307

Oka E, Toyama K, Suga T (2009) Subduction of North Pacific central mode water associated with subsurface mesoscale eddy. Geophys Res Lett 36:L08607. doi:10.1029/2009GL037540

Oka E, Suga T, Sukigara C, Toyama K, Shimada K, Yoshida J (2011a) "Eddy-resolving" observation of the North Pacific Subtropical Mode Water. J Phys Oceanogr 41:666–681

Oka E, Kouketsu S, Toyama K, Uehara K, Kobayashi T, Hosoda S, Suga T (2011b) Formation and subduction of Central Mode Water based on profiling float data, 2003–08. J Phys Oceanogr 41:113–129

Qiu B (2003) Kuroshio Extension variability and forcing of the Pacific decadal oscillations: responses and potential feedback. J Phys Oceanogr 33:2465–2482

Qiu B, Chen S (2005) Variability of the Kuroshio Extension jet, recirculation gyre and mesoscale eddies on decadal timescales. J Phys Oceanogr 35:2090–2103

Qiu B, Chen S (2006) Decadal variability in the formation of the North Pacific Subtropical Mode Water: oceanic versus atmospheric control. J Phys Oceanogr 36:1365–1380

Qiu B, Chen S (2011) Effect of decadal Kuroshio Extension jet and eddy variability on the modification of North Pacific Intermediate Water. J Phys Oceanogr 41:503–515

Qiu B, Chen S, Hacker P (2007) Effect of mesoscale eddies on subtropical mode water variability from the Kuroshio Extension System Study (KESS). J Phys Oceanogr 37:982–1000

Reid JL (1965) Intermediate Water of the Pacific Ocean. Johns Hopkins oceanographic studies, vol 2. The John Hopkins Press, Baltimore, p 58

Roemmich D, Johnson GC, Riser S, Davis R, Gilson J, Owens WB, Garzoli SL, Schmid C, Ignaszewski M (2009) Argo: the challenge of continuing 10 years of progress. Oceanography 22:46–55

Saito H, Suga T, Hanawa K, Watanabe T (2007) New type of pycnostad in the western subtropical-subarctic transition region of the North Pacific: Transition Region Mode Water. J Oceanogr 63:589–600

Sugimoto S, Hanawa K (2010) Impact of Aleutian low activity on the STMW formation in the Kuroshio recirculation gyre region. Geophys Res Lett 37:L03606. doi:10.1029/2009GL041795

Taguchi B, Xie SP, Schneider N, Nonaka M, Sasaki H, Sasai Y (2007) Decadal variability of the Kuroshio Extension: observations and an eddy-resolving model hindcast. J Clim 20:2357–2377

Takahashi T et al (2009) Climatological mean and decadal change in surface ocean pCO2, and net sea-air CO2 flux over the global ocean. Deep Sea Res 56:554–577

Tomita H, Kouketsu S, Oka E, Kubota M (2011) Locally enhanced wintertime air-sea interaction and deep oceanic mixed layer formation associated with the subarctic front in the North Pacific. Geophys Res Lett 38:L24607. doi:10.1029/2011GL049902

Tomosada A (1986) Generation and decay of Kuroshio warm-core rings. Deep Sea Res 33:1475–1486

Tsujino H, Yasuda T (2004) Formation and circulation of mode waters of the North Pacific in a high-resolution GCM. J Phys Oceanogr 34:399–415

Yasuda I, Okuda K, Hirai M (1992) Evolution of a Kuroshio warm-core ring-variability of the hydrographic structure. Deep Sea Res 39:S131–S161
Acknowledgments
The authors thank Tsuyoshi Ohira for help in preparing the Argo float data and two anonymous reviewers for helpful comments on the manuscript. The Argo float data used in this study were collected and made freely available by the International Argo Project and the national programs that contribute to it (http://www.argo.ucsd.edu, http://argo.jcommops.org). This study was motivated by discussions between EO and BQ in summer 2010 when EO visited the University of Hawaii at Manoa for 1 month under the Overseas Internship Program for Outstanding Young Earth and Planetary Researchers provided by the Department of Earth and Planetary Science, the University of Tokyo. EO, KU, and TS are supported by the Japan Society for Promotion of Science (KAKENHI, Grant-in-Aid for Scientific Research (B), no. 21340133) and the Ministry of Education, Culture, Sports, Science and Technology, Japan (MEXT; Grant-in-Aid for Scientific Research on Innovative Areas under grant no. 22106007). BQ is supported by NSF through Grant OCE-0220680 and NASA through contract 1207881.
About this article
Cite this article
Oka, E., Qiu, B., Kouketsu, S. et al. Decadal seesaw of the Central and Subtropical Mode Water formation associated with the Kuroshio Extension variability. J Oceanogr 68, 355–360 (2012). https://doi.org/10.1007/s10872-011-0098-0
Received:

Revised:

Accepted:

Published:

Issue Date:

DOI: https://doi.org/10.1007/s10872-011-0098-0
Keywords