Abstract
A near-inertial oscillation (NIO) burst event in the west South China Sea (SCS) was observed by an upward-looking mooring Acoustic Doppler Current Profiler (ADCP) in summer 2004. The mooring station was located at 13.99°N, 110.52°E. The spectral analysis reveals that typhoon Chanchu is a major mechanism in triggering the NIO burst event. Before typhoon Chanchu passed over, the NIO signals were quite weak. The NIO band becomes the most energetic constituent of the circulation during the typhoon-wake period. The average peak power density (PD) reaches (5.3 ± 2.6) × 102 cm2 s−2 (cycles per hour, cph)−1 with a maximum value of 9.0 × 102 cm2 s−2 cph−1, i.e., 3.1 times higher than that of diurnal tide (DT), (1.7 ± 0.5) × 102 cm2 s−2 cph−1. At the upper (80 m) and sub-upper (208 m) layers, the central frequency of the NIO band is 0.022 cph with a blueshift of about 9% above the inertial frequency f (0.02015 cph). At the lower layer (400 m), the central frequency of the NIO band is 0.021 cph with a blueshift of about 4% above the inertial frequency. The blueshifts are explained partially by the Doppler shift induced by the vorticity of mesoscale eddies. During the after-typhoon period, a resonance-like process between NIO and DT is observed in the upper layer. As the NIO frequency approaches the DT subharmonic frequency (0.5K1), the PD of the NIO band rises sharply accompanied by a sharp drop of the PD of the DT band. The PD ratio of the two bands increases from 4.5 during the typhoon-wake period to 8 during the after-typhoon period, indicating the effect of the parametric subharmonic instability (PSI) mechanism.
Access options
Buy single article
Instant access to the full article PDF.
USD 39.95
Price excludes VAT (USA)
Tax calculation will be finalised during checkout.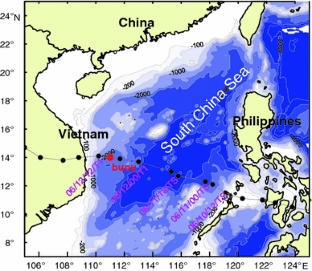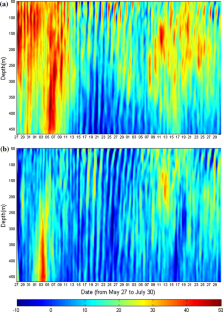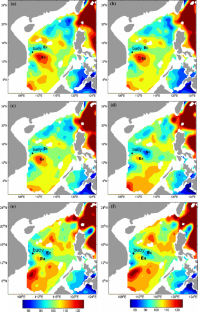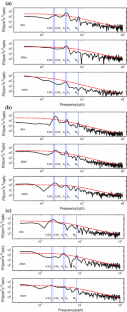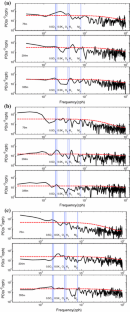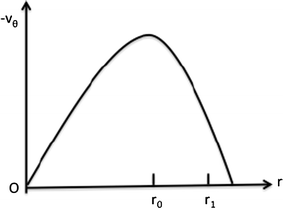 References
Alford MH (2008) Observations of parametric subharmonic instability of the diurnal internal tide in the South China Sea. Geophy Res Lett 35:L15602. doi:10.1029/2008GL034720

Carter GS, Gregg MC (2006) Persistent near-diurnal internal waves observed above a site of M2 barotropic-to-baroclinic conversion. J Phys Oceanogr 36(7):1136–1147

Centurioni LR, Niiler PP (2004) Observations of inflow of Philippine Sea surface water into the South China Sea through the Luzon Strait. J Phys Oceanogr 34(1):113–121

Gan ZJ, Cai SQ (2001) Geographical and seasonal variability of Rossby radii in South China Sea. J Trop Oceanogr 20(1):1–9 (in Chinese with English abstract)

Geisler JE (1970) Linear theory on the response of a two-layer ocean to moving hurricane. Geophys Fluid Dyn 1:249–272

Gill AE (1982) Atmosphere–ocean dynamics. Academic, New York, p 662

Gill AE (1984) On the behavior of internal waves in the wakes of storms. J Phys Oceanogr 14(7):1129–1151

Gold E (1908) Barometric gradient and wind force. Meteorol Office, MO 190, HM Stationery Office, London

Greatbatch RJ (1983) On the response of the ocean to a moving storm: the nonlinear dynamics. J Phys Oceanogr 13(3):357–367

Halpern D (1974) Observations of the deepening of the wind-mixed layer in the North-East Pacific Ocean. J Phys Oceanogr 4(3):454–466

Hibiya T, Nagasawa M, Niwa Y (2002) Nonlinear energy transfer within the oceanic internal wave spectrum at mid and high latitudes. J Geophys Res 107(C11):3207. doi:10.1029/2001JC001210

Ho CR, Zheng Q, Kuo NJ, Tsai CH, Huang NE (2004) Observation of the Kuroshio Intrusion region in the South China Sea from AVHRR data. Intl J Rem Sens 25:4583–4591

Hu JY, Kawamura H, Hong H, Qi Y (2000) A review on the currents in the South China Sea: seasonal circulation, South China Sea Warm Current and Kuroshio Intrusion. J Oceanogr 56(6):607–624

Hu JY, Kawamura H, Hong H, Kobashi F, Wang DX (2001) 3–6 months variation of sea surface height in the South China Sea and its adjacent ocean. J Oceanogr 57(1):69–78

Hu JY, Gan JP, Sun ZY, Zhu J, Dai MH (2011) Observed three-dimensional structure of a cold eddy in the southwestern South China Sea. J Geophys Res 116:C05016. doi:10.1029/2010JC006810

Kundu PK (1976) An analysis of inertial oscillations observed near Oregon coast. J Phys Oceanogr 6(6):879–893

Kunze E (1985) Near-inertial wave propagation in geostrophic shear. J Phys Oceanogr 15(5):544–565

Kuo NJ, Zheng Q, Ho CR (2000) Satellite observation of upwelling along the western coast of the South China Sea. Rem Sens Environ 74:463–470

Maeda A, Uejima K, Yamashiro T, Sakurai M, Ichikawa H, Chaen M, Taira K, Mizuno S (1996) Near inertial motion excited by wind change in a margin of the Typhoon 9019. J Oceanogr 52(3):375–388

McComas CH, Bretherton FP (1977) Resonant interaction of oceanic internal waves. J Geophys Res 82(9):1397–1412

Mooers CNK (1975) Several effects of a baroclinic current on the cross-stream propagation of inertial waves. Geophys Fluid Dyn 6:245–275

Oey LY, Inoue M, Lai R, Lin XH, Welsh SE, Rouse LJ Jr (2008) Stalling of near-inertial waves in a cyclone. Geophys Res Lett 35:L12604. doi:10.1029/2008GL034273

Oey LY, Chang YL, Sun ZB, Lin XH (2009) Topocaustics. Ocean Modell 29:277–286

Pedlosky J (1987) Geophysical fluid dynamics. Springer, New York, pp 86–216

Perkins H (1976) Observed effect of an eddy on inertial oscillations. Deep Sea Res 23:1037–1042

Pollard RT (1970) On the generation by winds of inertial waves in the ocean. Deep Sea Res 17:795–812

Qu T (2000) Upper-layer circulation in the South China Sea. J Phys Oceanogr 30(6):1450–1460

Shay LK, Elsberry RL (1987) Near-inertial ocean current response to Hurricane Frederic. J Phys Oceanogr 17(8):1249–1269

Shay LK, Elsberry RL, Black PG (1989) Vertical structure of the ocean current response to a hurricane. J Phys Oceanogr 19(5):649–669

Shay LK, Mariano AJ, Jacob SD, Ryan EH (1998) Mean and near-inertial ocean current response to Hurricane Gilbert. J Phys Oceanogr 28(5):858–889

Van H (2005) Tidal and near-inertial peak variations around the diurnal critical latitude. Geophys Res Lett 32:L23611. doi:10.1029/2005GL024160

Williams EF, Kunze E, MacKinnon J, Winters K (2004) Bispectral techniques to identify parametric subharmonic instability in ocean internal waves. http://www.personal.soton.ac.uk/eefw1u08/Docs/VicMix04_postermini.pdf

Wyrtki K (1961) Physical oceanography of Southeast Asian waters. NAGA report, vol 2. In: Scientific results of marine investigations of the South China Sea and Gulf of Thailand. Scripps Institution of Oceanography, La Jolla, California

Xie XH, Shang XD, Chen GY, Sun L (2009) Variations of diurnal and inertial spectral peaks near the bi-diurnal critical latitude. Geophys Res Lett 36:L02606. doi:10.1029/2008GL036383

Yuan D, Han W, Hu D (2006) Surface Kuroshio path in the Luzon Strait area derived from satellite remote sensing data. J Geophys Res 111:C11007. doi:10.1029/2005JC003412

Zhai X, Greatbatch RJ, Eden C (2007) Spreading of near-inertial energy in a 1/12 model of the North Atlantic Ocean. Geophys Res Lett 34:L10609. doi:10.1029/2007GL029895

Zheng Q, Klemas V, Huang NE (1984) Dynamics of the slope water off New England and its influence on the Gulf Stream as inferred from satellite IR data. Rem Sen Environ 15:135–153

Zheng Q, Fang GH, Song YT (2006a) Introduction to special section: dynamic processes and circulation in Yellow Sea, East China Sea, and South China Sea. J Geophys Res 111:C11S01. doi:10.1029/2005JC003261

Zheng Q, Lai RJ, Huang NE, Pan J, Liu WT (2006b) Observation of ocean current response to 1998 Hurricane Georges at Gulf of Mexico. Acta Oceanol Sin 25:1–14

Zheng Q, Lin H, Meng J, Hu X, Song YT, Zhang Y, Li C (2008) Sub-mesoscale ocean vortex trains in the Luzon Strait. J Geophys Res 113:C04032. doi:10.1029/2007JC004362
Acknowledgments
This work is supported by the National Natural Science Foundation of China through project 40976013 (for Sun and Hu) and 40830851 (for Wang), the National Basic Research Program of China (973 Program) project 2011CB403504 (for Wang), and the United States National Oceanic and Atmospheric Administration National Environmental Satellite, Data, and Information Service Ocean Remote Sensing Program 3000-11-03241 (for Zheng and Tai). The MADT data are downloaded from the website of the Archiving, Validation and Interpretation of Satellite Oceanographic data (Aviso). Any opinions, findings, and conclusions or recommendations expressed in this paper are those of the authors and do not necessarily reflect the views of National Oceanic and Atmospheric Administration. The authors appreciate helpful comments by three anonymous reviewers.
About this article
Cite this article
Sun, L., Zheng, Q., Wang, D. et al. A case study of near-inertial oscillation in the South China Sea using mooring observations and satellite altimeter data. J Oceanogr 67, 677–687 (2011). https://doi.org/10.1007/s10872-011-0081-9
Received:

Revised:

Accepted:

Published:

Issue Date:

DOI: https://doi.org/10.1007/s10872-011-0081-9
Keywords