Synthesis and Structure of a Trigonal Planar Complex with Pyrazole Ligands, [Cu(3,5-Ph2PzH)3][Cl]
Abstract
The crystal structure of a trigonal planar copper(I) complex, [Cu-(3,5-Ph2PzH)3][Cl], is reported. In the title compound, one nitrogen atom from each pyrazole ligand is coordinated to the copper(I) ion and each N–H of the pyrazoles forms a hydrogen-bond with the chloride resulting in a trigonal planar geometry about the copper(I) ion. The complex crystallizes in the trigonal space group R \(\overline 3\) with a = b = 13.031(1) Å, c = 37.3187(9) Å, α = β = 90o, γ = 120o , V = 5464.5(2) Å3, Z = 6.
Graphical Abstract
A trigonal planar copper(I) complex with three pyrazole ligands is reported in which the hydrogens of the bound pyrazole ligands are hydrogen bonded with the chloride counter ion.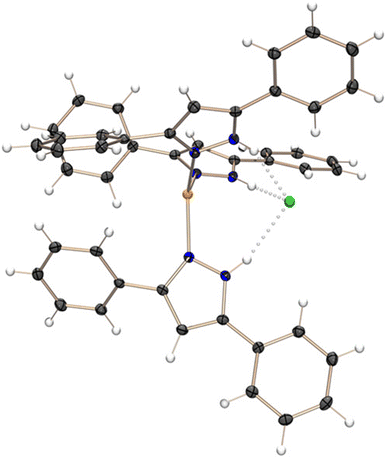 Keywords
Pyrazole 
Crystal structure 
Copper 
Hydrolysis 
Hydrogen bonding 
Notes
Acknowledgments
We thank the National Science Foundation (Grant No. CHE-103689) for funding the X-ray diffractometer at Illinois State University. Two of the authors (J. Lugo and T. Ch-G) are grateful to the Ronald E. McNair program (IAUPR-SG; CFDA No. 84.217A grant) for an undergraduate scholarship and financial support.
Copyright information
© Springer Science+Business Media New York 2015