Synthesis, Crystal Structure and Magnetic Property of a One-Dimensional Samarium(III) Coordination Polymer
Abstract
A novel samarium(III) polymer, [Sm2(C6H5COO)6(CH3OH)3]·CH3OH (1) has been synthesized and characterized by single crystal X-ray diffraction and magnetic measurements. Polymer 1 crystallizes in monoclinic space group P2(1)/c, with a = 15.1247(6), b = 18.3351(7), c = 21.1266(6) Å, β = 126.830(2)°, V = 4689.4(3) Å3, and Z = 4. Single crystal X-ray analysis reveals a chain-like structure of 1 consisted of alternating eight- and nine-coordinate Sm(III) ions bridged by benzoate ligands in different coordination modes. A treatment of the variable-temperature magnetic susceptibility using an expression deduced from free-ion approximation and molecular field theory suggests the existence of a weak antiferromagnetic coupling between the samarium ions.
Graphical Abstract
A novel one-dimensional samarium polymer containing alternating eight- and nine-coordinate Sm(III) ions has been generated by incorporating benzoic acid in three different binding modes in its deprotonated state.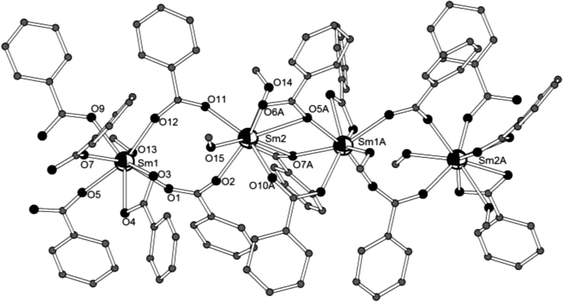 Keywords
Samarium(III) coordination polymer 
Crystal structure 
Magnetic property 
Notes
Acknowledgments
We thank the Changchun Institute of Applied Chemistry (Start-up) and the National Natural Science Foundation of China (Grants 20871113 and 20921002) for their financial support.
Copyright information
© Springer Science+Business Media, LLC 2010