Crystal Growth of A3A′MO6 Oxides
Abstract
Single crystals of two new oxides, Sr3LiNbO6 and Sr3LiTaO6, and the analogous antimonates, Ba3NaSbO6, Sr3NaSbO6 and Sr3LiSbO6, were grown out of hydroxide melts contained in silver/alumina crucibles. The crystal structures of all five oxides are isotypic with that of the 2H-hexagonal perovskite related A3A′MO6 family of oxides and consist of one-dimensional chains of face-shared MO6 octahedra and A′O6 trigonal prisms; infinite chains of distorted AO8 square antiprisms separate these chains from one another.
Graphical Abstract
Two new oxides, Sr
3
LiMO
6
(M = Nb, Ta) and analogous Sr
3
NaSbO
6
, Sr
3
LiSbO
6
and Ba
3
NaSbO
6
, isostructural with the 2-H hexagonal perovskite related structure type, were synthesized from hydroxide fluxes.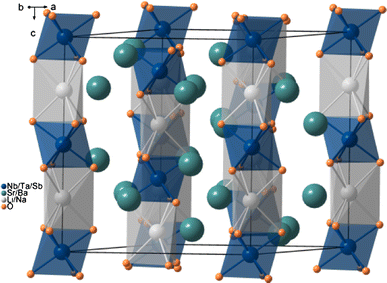 Keywords
A3A′BO6 
2-H hexagonal perovskite-related structure 
Hydroxide flux 
Notes
Acknowledgements
Financial support from the National Science Foundation through grant DMR: 0804209 is gratefully acknowledged.
Copyright information
© Springer Science+Business Media, LLC 2010