Abstract
Purpose
This study examined whether demographic question placement affects demographic and non-demographic question completion rates, non-demographic item means, and blank questionnaire rates using a web-based survey of Veterans Health Administration employees.
Methodology
Data were taken from the 2010 Voice of the Veterans Administration Survey (VoVA), a voluntary, confidential, web-based survey offered to all VA employees. Participants were given two versions of the questionnaires. One version had demographic questions placed at the beginning and the other version had demographic questions placed at the end of the questionnaire.
Findings
Results indicated that placing demographic questions at the beginning of a questionnaire increased item response rate for demographic items without affecting the item response rate for non-demographic items or the average of item mean scores.
Implications
In addition to validity issues, a goal for surveyors is to maximize response rates and to minimize the number of missing responses. It is therefore important to determine which questionnaire characteristics affect these values. Results of this study suggest demographic placement is an important factor.
Originality/Value
There are various opinions about the most advantageous location of demographic questions in questionnaires; however, the issue has rarely been examined empirically. This study uses an experimental design and a large sample size to examine the effects of demographic placement on survey response characteristics.
Access options
Buy single article
Instant access to the full article PDF.
US$ 39.95
Tax calculation will be finalised during checkout.
Subscribe to journal
Immediate online access to all issues from 2019. Subscription will auto renew annually.
US$ 79
Tax calculation will be finalised during checkout.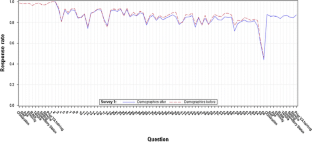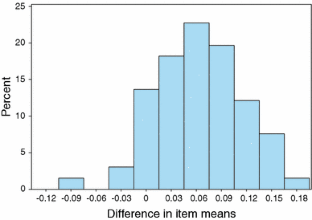 References
Babbie, E. (2008). The basics of social research (4th ed.). Belmont, CA: Thomson Wadsworth.

Beatty, P., & Herrmann, D. (2002). To answer or not to answer: Decision processes related to survey item nonresponse. In R. M. Groves, et al. (Eds.), Survey nonresponse (pp. 71–85). New York: John Wiley and Sons.

Borg, I., Braun, M., & Baumgärtner, M. K. (2008). Attitudes of demographic item non-respondents in employee surveys. International Journal of Manpower, 29, 149–160. doi:10.1108/01437720810872703.

Cohen, J. (1988). Statistical power analysis for the behavioral sciences (2nd ed.). Hillsdale, NJ: Erlbaum.

Colton, D., & Covert, R. W. (2007). Designing and constructing instruments for social research and evaluation. San Francisco, CA: John Wiley and Sons, Inc.

Couper, M. (1997). Survey introduction and data quality. Public Opinion Quarterly, 61, 317–338.

Dillman, D. A. (2007). Mail and internet surveys: The tailored design method (2nd ed.). Hoboken, NJ: John Wiley and Sons, Inc.

Drummond, F., Sharp, L., Carsin, A., Kelleher, T., & Comber, H. (2008). Questionnaire order significantly increased response to a postal survey sent to primary care physicians. Journal of Epidemiology, 61, 177–185. doi:10.1016/j.jclinepi.2007.04.012.

Fink, A., Bourque, L. B., & Fielder, E. P. (2003). The survey kit: How to conduct self-administered and mail surveys (2nd ed.). Thousand Oaks, CA: Sage Publications, Inc.

Frick, A., Bächtiger, M. T., & Reips, U.-D. (1999). Financial incentives, personal information and drop-out rate in online studies. In U.-D. Reips et al. (Eds.), Current Internet science. Trends, techniques, results. Zurich: Online Press. Retrieved from http://www.gor.de/gor99/tband99/pdfs/a_h/frick.pdf.

Gesell, S. B., Drain, M., & Sullivan, M. P. (2007). Test of a Web and paper employee satisfaction survey: Comparison of respondents and non-respondents. International Journal of Internet Science, 2, 45–58.

Giles, W. F., & Feild, H. S. (1978). Effects of amount, format, and location of demographic information on questionnaire return rate and response bias of sensitive and nonsensitive items. Personnel Psychology, 31, 549–559. doi:10.1111/j.1744-6570.tb00462.x.

Green, R. G., Murphy, K. D., & Snyder, S. M. (2000). Should demographics be placed at the end or at the beginning of mailed questionnaires? An empirical answer to a persistent methodological question. Social Work Research, 24, 237–241.

Groves, R. M., & Peytcheva, E. (2008). The impact of nonresponse rates on nonresponse bias: A meta-analysis. Public Opinion Quarterly, 72, 167–187.

Jackson, S. L. (2009). Research methods and statistics: A critical thinking approach (3rd ed., p. 90). Belmont, CA: Wadsworth.

McColl, E., Jacoby, A., Thomas, L., Soutter, J., Bamford, C., Steen, N., et al. (2001). Design and use of questionnaires: A review of best practice applicable to surveys of health service staff and patients. Health Technology Assessment 5(31), 59. Retrieved from http://www.hta.ac.uk/fullmono/mon531.pdf.

Peytchev, A. (2009). Survey breakoff. Public Opinion Quarterly, 73, 74–97. doi:10.1093/poq/nfp014.

Roberson, M. T., & Sundstrom, E. (1990). Questionnaire design, return rates, and response favorableness in an employee attitude questionnaire. Journal of Applied Psychology, 75, 354–357. doi:10.1037/0021-9010.75.3.354.

Rogelberg, S. G., Conway, J. M., Sederburg, M. E., Spitzmüller, C., Aziz, S., & Knight, W. E. (2003). Profiling active and passive nonrespondents to an organizational survey. Journal of Applied Psychology, 88, 1104–1114. doi:10.1037/0021-9010.88.6.1104.

Rogelberg, S. C., Spitzmüller, C., Little, I., & Reeve, C. L. (2006). Understanding response behavior to a special topics organizational satisfaction survey. Personnel Psychology, 59, 903–923.

Rogelberg, S. G., & Stanton, J. M. (2007). Introduction: Understanding and dealing with organizational survey nonresponse. Organizational Research Methods, 10, 195–209. doi:10.1177/1094428106294693.

Shoemaker, P. J., Eichholz, M., & Skewes, E. (2000). Item nonresponse: Distinguishing between don't know and refuse. International Journal of Public Opinion, 2, 193–201. doi:10.1093/ijpor/14.2.193.

Spitzmüller, C. & Glenn, D. M. (2006). Organizational survey nonresponse: previous findings and an integrative framework. In Braun, M., & P. Ph. Mohler (Eds.), Beyond the horizon of measurement: Festschrift in honor of Ingwer Borg (pp. 139–161). ZUMA, Mannheim. Retrieved from http://www.gesis.org/fileadmin/upload/forschung/publikationen/zeitschriften/zuma_nachrichten_spezial/znspezial10.pdf.

Spitzmüller, C., Glenn, D. M., Barr, C. D., Rogelberg, S. G., & Daniel, P. (2006). "If you treat me right, I reciprocate": examining the role of exchange in organizational survey response. Journal of Organizational Behavior, 27, 19–35. doi:10.1002/job.363.

Stinchcombe, A. L., Jones, C., & Sheatsley, P. (1981). Nonresponse bias for attitude questions. Public Opinion Quarterly, 45, 359–375.

Stoutenbourgh, J. W. (2008). Demographic measures. In P. J. Lavrakas (Ed.), Encyclopedia of survey research methods (Vol. 1, pp. 185–186). Thousand Oaks, CA: Sage Publications, Inc.

Whitley, B. E. (1996). Principles of research in behavioral research (2nd ed.). New York: McGraw-Hill.

Yan, T., & Curtin, R. (2010). The relation between unit nonresponse and item nonresponse: A response continuum perspective. International Journal of Public Opinion Research, 22, 535–551. doi:10.1093/ijpor/edq037.

Young, G. J. (2000). Managing organizational transformations: Lessons from the Veterans Health Administration. California Management Review, 43, 66–82.
Additional information
The contents do not necessarily represent the views of the Department of Veterans Affairs or the US Government.
Appendix
Appendix
Demographic Questions (Common to All Questionnaires)
1.

Please choose your occupation from the following list. (Choose only one.)

(List of 47 occupation codes.)

2.

What is your Gender?

3.

What is your age?

Less than 20 years

20–29

30–39

40–49

50–59

60 years or older

4.

Are you Spanish, Hispanic or Latino?

5.

What is your race? (Mark one or more)

White

Black or African American

American Indian or Alaskan Native

Asian

Native Hawaiian or other Pacific Islander

6.

How long have you been with VA?

Less than six months

Between six months and one year

Between one and two years

Between two and five years

Between five and ten years

Between ten and fifteen years

Between fifteen and twenty years

More than twenty years

7.

What is your level of supervisory responsibility?

None

Team Leader (informal; not responsible for performance ratings)

First Line Supervisor (formal; rates performance, e.g.: Foremen, Section Chief)

Manager (formal; rates performance, e.g.: Division/Department/Service/Care Line)

Executive (formal; rates performance, e.g.: Associate Director, Chief of Staff)

Senior Executive (formal; rates performance, e.g.: Network Director, Facility Director)

8.

What type of setting do you spend at least 20% of your time in? (You may select up to 5 options)

Administrative (non-clinical)

Inpatient Care

Outpatient Care

Extended Care (e.g., Nursing Homes)

Research

Education

Affiliate

9.

What is the main type of service you provide? (Please select only one option)

Administrative (Non-Clinical)

Dental

Emergency Medicine (Urgent Care, Emergency Department)

Home or Community Care

Imagining (Radiology, Nuclear Medicine)

Inpatient Medical/Surgical

Intensive Care Unit-Critical Care

Laboratory and Pathology

Medical Specialty

Mental Health

Nursing Home

Pharmacy

Primary Care

Prosthetics or Sensory Aids

Rehabilitation Services

Research

Spinal Cord Injury

Surgery, Anesthesiology or Surgical Specialty Care

Other Clinical Service

10.

Before becoming a VA employee did you take part in a training or educational program based partly or entirely in VA (such as paid or unpaid internships, residencies, fellowships, or clinical or administrative rotations)?
About this article
Cite this article
Teclaw, R., Price, M.C. & Osatuke, K. Demographic Question Placement: Effect on Item Response Rates and Means of a Veterans Health Administration Survey. J Bus Psychol 27, 281–290 (2012). https://doi.org/10.1007/s10869-011-9249-y
Keywords
Demographic placement

Web-based surveys

Item response rate

Methodology

Veterans Health Administration