Abstract
This paper examines the concept of spontaneous, unsupervised changes in jobs (job crafting), in general, and the relationship of the qualities and magnitude of the changes to the individual characteristics of: cognitive ability, self-image, perceived control, and readiness to change. This study adds to what is known about individuals at work, in any level of an organization, who knowingly make unsupervised changes in their jobs. This study adds to the research base of what is called job crafting as examined in the seminal work of Wrzesniewski and Dutton (Acad Manag Rev 26(2):179–201, 2001). In this study of 107 outside salespersons we find that more than 75% report engaging in job crafting in various forms. Positive, significant correlations are found between episodes of work modification and the variables of self-image, perceived control, and readiness to change.
Access options
Buy single article
Instant access to the full article PDF.
USD 39.95
Price excludes VAT (USA)
Tax calculation will be finalised during checkout.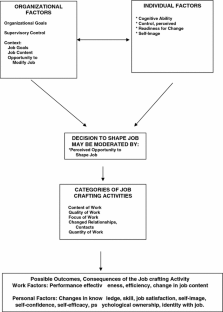 References
Amabile, T. M., Hill, K. G., Hennessey, B. A., & Tighe, E. M. (1994). The Work Preference Inventory: Assessing intrinsic and extrinsic motivational orientations. Journal of Personality and Social Psychology, 66, 950–967.

Arthur, W., & Day, V. D. (1994). Development of a short form for the Raven Advanced Progressive Matrices test. Education and Psychological Measurement, 54, 394–403.

Ashforth, B. E., & Kriener, G. E. (1999). How can you do it?: Dirty work and the challenge of constructing a positive identity. Academy of Manage-ment Review, 24, 413–434.

Bandura, A. (1986). Social foundations of thought and action. Englewood Cliffs, NJ: Prentice-Hall.

Bandura, A. (1997). Self-efficacy: The exercise of control. New York: W.H. Freeman & Co.

Benner, P., Tanner, C. A., & Chesla, C. A. (1996). Expertise in nursing practice. New York: Springer.

Brief, A. P., & Nord, W. R. (1990). Meanings of occupational work: A collection of essays. Lexington, MA: Lexington Books.

Brown, S. R. (1993). A primer on Q-methodology. Operant Subjectivity, 16, 91–138.

Cohen, R. C., & Sutton, R. I. (1998). Clients as a source of enjoyment on the job. In J. A. Wagner III (Ed.), Advances in qualitative organizational research. Greenwich, CT: JAI Press.

Conti, R. F., & Warner, M. (2002). A customer-driven model of job design:Towards a general theory. New Technology, Work & Employment, 17(1), 2–19.

Dwyer, D. J., & Ganster, D. C. (1991). The effects of job demands and control on employee attendance and satisfaction. Journal of Organizational Behavior, 12, 595–608.

Fine, G. A. (1996). Justifying work: Occupational rhetorics as resources in restaurant kitchens. Administrative Science Quarterly, 41, 90–115.

Fletcher, J. K. (1998). Relational practice: A feminist reconstruction of work. Journal of Management Inquiry, 7, 163–186.

Frese, M., & Pluddemann, K. (1983). Readiness to change at work in East and West Germany. Zeitschrift fuer Sozialpsychologie, 24, 198–210.

Hackman, J. R., & Oldham, G. R. (1980). Work redesign. Reading, MA: Addison-Wesley.

Herzberg, F., Mausner, B., Peterson, R. O., & Capwell, D. F. (1957). Job attitudes: Review of research and opinion. Pittsburgh: Psychological Service of Pittsburgh.

Ilgen, D. R., & Hollenbeck, J. R. (1992). The structure of work: Job design and roles. In M. Dunnette & L. Hough (Eds.), Handbook of industrial & organizational psychology (pp. 165–207). Palo Alto, CA: Consulting Psychologists Press.

Jacques, R. (1993). Untheorized dimensions of caring work: Caring as a structural practice and caring as a way of seeing. Nursing Administration Quarterly, 17(2), 1–10.

Krishnan, B. C., Netemeyer, R. G., & Boles, J. S. (2002). Self-efficacy, competitiveness, and effort as antecedents of salesperson perform-ance. Journal of Personal Selling & Sales Management, 22(4), 285–296.

Lyons, P. (2005). Enhancing human resources competitiveness using skill charting methods. Advances in Competitiveness Research, 13(1), 87–94.

Lyons, P. (2006). Individual competitiveness and spontaneous changes in jobs. Advances in Competitiveness Research, 14(1), 90–98.

Manz, C. C., & Sims, Jr., H. P. (1987). Leading workers to lead themselves: The external leadership of self-managing work teams. Administrative Science Quarterly, March, p. 118.

Morrison, E. W., & Phelps, C. (1999). Taking charge at work: Extrarole efforts to initiate workplace change. Academy of Management Journal, 42, 403–419.

Paul, S. M. (1986). The Advanced Raven's Progressive Matrices: Normative data for an American university population and an expansion of the relationship with Spearman's g. Journal of Experimental Education, 54, 95–100.

Pearson, C. A. L. (1992). Autonomous workgroups: An evaluation at an industrial site. Human Relations, 45, 905–936.

Podsakoff, P. M., MacKenzie, S. B., Paine, J. B., & Bachrach, D. G. (2000). Organizational citizenship behaviors: A critical review of the theoretical and empirical literature and suggestions for future research. Journal of Management, 26, 513–563.

Schmoker, M. (2004). Tipping point: From feckless reform to substantive instructional improvement. Phi Delta Kappan, 85(6), 424–436.

Staw, B. M., & Boettger, R. D. (1990). Task revision: A form of work performance. Academy of Management Journal, 33, 534–559.

Strauss, A., & Corbin, J. (1998). Basics of qualitative research: Grounded theory, procedures and techniques (2nd ed.). London: Sage.

Tausky, C. (1995). The meanings of work. Research in the Sociology of Work, 5, 15–27.

Wellins, R. S., Byham, W. C., & Wilson, J. M. (1991). Empowered teams. San Francisco: Jossey-Bass.

Winstok, Z., & Enosh, G. (2004). Towards re-conceptualization of global self-image: Preliminary findings of the validity and reliability of a structured scale. Individual Differences Research, 2(1), 63–80.

Wrzesniewski, A., & Dutton, J. E. (2001). Crafting a job: Revisioning employees as active crafters of their work. Academy of Management Review, 26(2), 179–201.

Wrzesniewski, A., Dutton, J. E., & Debebe, G. (2003). Interpersonal sensemaking and the meaning of work. Research in Organizational Behavior, 25, 93–135.
About this article
Cite this article
Lyons, P. The Crafting of Jobs and Individual Differences. J Bus Psychol 23, 25–36 (2008). https://doi.org/10.1007/s10869-008-9080-2
Published:

Issue Date:

DOI: https://doi.org/10.1007/s10869-008-9080-2
Keywords