Abstract
Fully understanding the structure of water is a crucial point in biophysics because this liquid is essential in the operation of the engines of life. Many of its amazing anomalies seem to be tailored to support biological processes and, during about a century, several models have been developed to describe the water structuring. In particular, a theory assumes that water is a mixture of domains constituted by two distinct and inter-converting structural species, the low-density water (LDW) and the high-density water (HDW). According to this theory, by using some particular solutes or changing the water temperature, it should be possible to modify the equilibrium between the two species, changing in this way the water behavior in specific biological processes, as in governing the shape and stability of the structures of proteins. In this work, we assess the possibility of obtaining information on the structures induced in water by specific salts or by temperature by measuring the delayed luminescence (DL) of some salt solutions and of water in the super-cooled regime. Previous works have demonstrated that the delayed luminescence of a system is correlated with its dynamic ordered structures. The results show significant DL signals only when the formation of LDW domains is expected. The measurement reveals a similar activation energy for the domains both in aqueous salt solutions and super-cooled water. It is worth noting that the time trend of DL signals suggests the existence of structures unusually long-lasting in time, up to the microsecond range.
Access options
Buy single article
Instant access to the full article PDF.
USD 39.95
Price excludes VAT (USA)
Tax calculation will be finalised during checkout.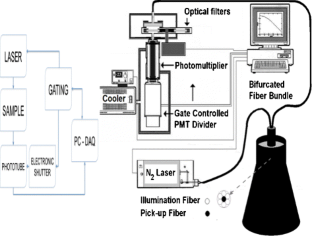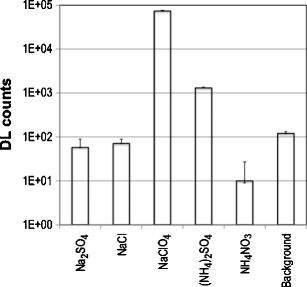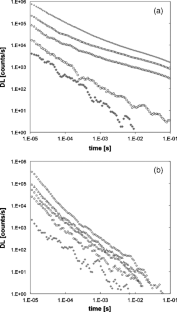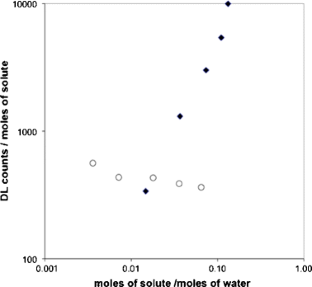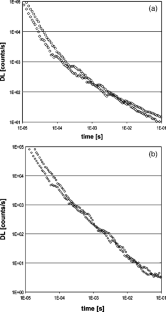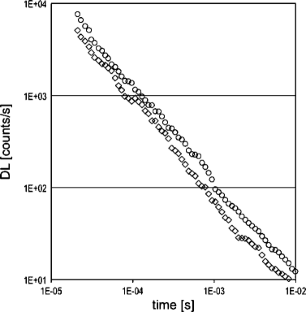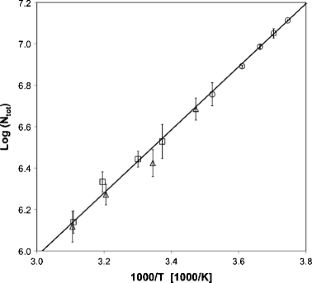 References
Klotz, I.M.: Parallel change with temperature of water structure and protein behavior. J. Phys. Chem. B 103, 5910–5916 (1999)

Zheng, J.-M., Pollack, G.H.: Long-range forces extending from polymer-gel surfaces. Phys. Rev. E 68, 031408 (2003)

Zheng, J.-M., Chin, W.-C., Khijniak, E., Khijniak, E. Jr., Pollack, G.H.: Surfaces and interfacial water: evidence that hydrophilic surfaces have long-range impact. Adv. Colloid Interface Sci. 127, 19–27 (2006)

Chai, B.-H., Zheng, J.-M., Zhao, Q., Pollack, G.H.: Spectroscopic studies of solutes in aqueous solution. J. Phys. Chem. A 112, 2242–2247 (2008)

Zhao, Q., Zheng, J., Chai, B., Pollack, G.H.: Unexpected effect of light on colloidal crystal spacing. Langmuir 24, 1750–1755 (2008)

Urquidi, J., Cho, C.H., Singh, S., Robinson, G.W.: Temperature and pressure effects on the structure of liquid water. J. Mol. Struct. 485–486, 363–371 (1999)

Wiggins, P.M.: Role of water in some biological processes. Microbiol. Rev. 54, 432–449 (1990)

Hofmeister, F.: Zur Lehre von der Wirkung der Salze. Arch. Exp. Pathol. Pharmakol. Lpz 24, 247–260 (1888)

Wiggins, P.M.: Hydrophobic hydration, hydrophobic forces and protein folding. Physica A 238, 113–128 (1997)

Gulino, M., Bellia, P., Falciglia, F., Musumeci, F., Pappalardo, A., Scordino, A., Triglia, A.: Role of water content in dielectric properties and delayed luminescence of bovine Achilles' tendon. FEBS Lett. 579, 6101–6104 (2005)

Scordino, A., Grasso, R., Gulino, M., Lanzanò, L., Musumeci, F., Privitera, G., Tedesco, M., Triglia, A., Brizhik, L.: Delayed luminescence from collagen as arising from soliton and small polaron states. Int. J. Quant. Chem. 110, 221–229 (2010)

Fullerton, G.D., Amurao, M.R.: Evidence that collagen and tendon have monolayer water coverage in the native state. Cell Biol. Int. 30, 56–65 (2006)

Kolesnikov, A.I., Zanotti, J.-M., Loong, C.-K., Thiyagarajan, P., Moravsky, A.P., Loutfy, R.O., Burnham, C.J.: Anomalously soft dynamics of water in a nanotube: a revelation of nanoscale confinement. Phys. Rev. Lett. 93, 035503 (2004)

Scordino, A., Triglia, A., Musumeci, F.: Analogous features of delayed luminescence from Acetabularia acetabulum and some solid state systems, J. Photochem. Photobiol. B 56, 181–186 (2000)

Ho, M.W., Xu, X., Ross, S., Saunders, P.T.: Light emission and rescattering in synchronously developing populations of early Drosophila embryos. In: Popp F.A. et al. (eds.) Recent Advances in Biophoton Research and its Applications, pp. 287–306. World Scientific, Singapore (1992)

Niggli, H.J.: Artificial sunlight irradiation induces ultraweak photon emission in human skin fibroblasts. J. Photochem. Photobiol. B 18, 281–285 (1993)

Van Wijk, R., Van Akena, H., Meib, W., Popp, F.A., et al.: Light-induced photon emission by mammalian cells. J. Photochem. Photobiol. B 18, 75–79 (1993)

Musumeci, F., Triglia, A., Grasso, F., Scordino, A., Sitko, D.: Relation between delayed luminescence and functional state in soya seeds. Nuovo Cim. 16, 65–73 (1994)

Scordino, A., Triglia, A., Musumeci, F., Grasso, F., Rajfur, Z.: Influence of the presence of atrazine in water on in-vivo delayed luminescence of Acetabularia acetabulum. J. Photochem. Photobiol. B 32, 11–17 (1996)

Triglia, A., La Malfa, G., Mususmeci, F., Leonardi, C., Scordino, A.: Delayed luminescence as an indicator of tomato fruit quality. J. Food Sci. 63, 512–515 (1998)

Lanteri, S., Quagliotti, L., Belletti, P., Scordino, A., Triglia, A., Musumeci, F.: Delayed luminescence and priming-induced nuclear replication of unaged and controlled deteriorated pepper seeds (Capsicum annuum L.). Seed Sci. Technol. 26, 413–424 (1998)

Brizhik, L., Scordino, A., Triglia A., Musumeci, F.: Delayed luminescence of biological systems arising from correlated many-soliton states. Phys. Rev. E 64, 031902 (2001)

Jansson, H., Bergman, R., Swenson, J.: Hidden slow dynamics in 297 water. Phys. Rev. Lett. 104, 017802 (2010)

Huang, C., Wikfeldt, K.T., Tokushima, T., Nordlund, D., Harada, Y., Bergmann, U., Niebuhr, M., Weiss, T.M., Horikawa, Y., Leetmaa, M., Ljungberg, M.P., Takahashi, O., Lenz, A., Ojamäe, L., Lyubartsev, A.P., Shin, S., Pettersson, L.G.M., Nilsson, A.: The inhomogeneous structure of water at ambient conditions. Proc. Natl. Acad. Sci. USA 106(36), 15214–15218 (2009)

Lobyshev, V.I., Shikhlinskaya, R.E., Ryzhikov, B.D.: Experimental evidence for intrinsic luminescence of water. J. Mol. Liq. 82, 73–81 (1999)

Tudisco, S., Musumeci, F., Scordino, A., Privitera, G.: Advanced research equipment for fast ultraweak luminescence analysis. Rev. Sci. Instrum. 74, 4485–4490 (2003)

Gulino, M., Grasso, R., Lanzanò, L., Scordino, A., Triglia, A., Tudisco, S., Musumeci, F.: Lifetime of low-density water domains in salt solutions by time-resolved delayed luminescence. Chem. Phys. Lett. 497, 99–102 (2010)

Nucci, N.V., Vanderkooi, J.M.: Effects of salts of the Hofmeister series on the hydrogen bond network of water. J. Mol. Liq. 143, 160–170 (2008)

Zhang, Y., Cremer, P.S.: Interactions between macromolecules and ions: the Hofmeister series. Curr. Opin. Chem. Biol. 10, 658–663 (2006)

Chen, C.-H.: Virtual single-particle energy distributions in water versus other liquids. J. Phys. Chem. 98, 7906–7914 (1994)
About this article
Cite this article
Musumeci, F., Grasso, R., Lanzanò, L. et al. Delayed luminescence: a novel technique to obtain new insights into water structure. J Biol Phys 38, 181–195 (2012). https://doi.org/10.1007/s10867-011-9245-5
Received:

Accepted:

Published:

Issue Date:

DOI: https://doi.org/10.1007/s10867-011-9245-5
Keywords
Water structures

Aqueous salt solutions

Low-density water

Super-cooled water

Delayed luminescence (DL)