Abstract
The purpose of this work was to examine (1) relations of diabetes stress to psychological well-being and health, (2) links of age to such outcomes and (3) the extent to which age moderated relations from diabetes stress to outcomes. These aims were addressed in a diverse community sample of 207 individuals recently diagnosed with type 2 diabetes, employing survey and daily diary methods. Participants reported age, diabetes distress, and psychological distress at baseline and 6 months later. Glycemic control also was assessed. Participants completed a 14-day daily diary protocol in which they reported daily diabetes stressors, mood, and self-care. Both cross-sectional and longitudinal results showed diabetes distress was associated with poorer outcomes. Daily diary data showed that individuals who reported more daily diabetes stressors reported poorer outcomes. Older age was linked to less psychological distress, but was unrelated to daily diabetes stressors. Older age attenuated relations of diabetes distress to outcomes.
Access options
Buy single article
Instant access to the full article PDF.
USD 39.95
Price excludes VAT (USA)
Tax calculation will be finalised during checkout.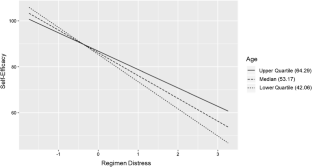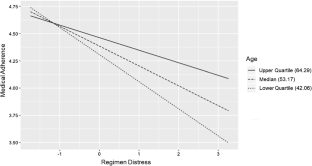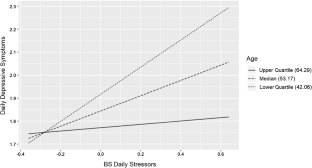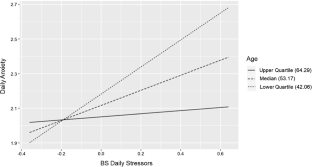 References
Berg, C. A., & Upchurch, R. (2007). A developmental-contextual model of couples coping with chronic illness across the adult life span. Psychological Bulletin,133, 920–954.

Bolger, N., & Laurenceau, J.-P. (2013). Intensive longitudinal methods: An introduction to diary and experience sampling research. New York: Guilford Press.

Carstensen, L. L., Turan, B., Scheibe, S., Ram, N., Ersner-Hershfield, H., Samanez-Larkin, G. R., et al. (2011). Emotional experience improves with age: Evidence based on over 10 years of experience sampling. Psychology and Aging,26, 21–33. https://doi.org/10.1037/a0021285

Centers for Disease Control and Prevention. (2017a). National Diabetes Statistics Report, 2017. Atlanta, GA: Center for Disease Control and Prevention, US Department of Health and Human Services.

Centers for Disease Control and Prevention. (2017b). Long-term Trends in Diabetes. Centers for Disease Control and Prevention's Division of Diabetes Translation.

Charles, S. T. (2010). Strength and vulnerability integration: A model of emotional well-being across adulthood. Psychological Bulletin,136, 1068–1091. https://doi.org/10.1037/a0021232

Cohen, S., Kamarck, T., & Mermelstein, R. (1983). A global measure of perceived stress. Journal of Health and Social Behavior,24, 385–396.

Diener, E., Emmons, R., Larsen, R., & Griffin, S. (1985). The satisfaction with life scale. Journal of Personality Assessment,49, 71–75.

English, T., & Carstensen, L. (2016). Socioemotional selectivity theory. In N. Pachana (Ed.), Encyclopedia of geropsychology. Singapore: Springer.

Fisher, L., Mullan, J. T., Arean, P., Glasgow, R. E., Hessler, D., & Masharani, U. (2010). Diabetes distress but not clinical depression or depressive symptoms is associated with glycemic control in both cross-sectional and longitudinal analyses. Diabetes Care,33, 23–28.

Fisher, L., Polonsky, W. H., Hessler, D. M., Masharani, U., Blumer, I., Peters, A. L., et al. (2015). Understanding the sources of diabetes distress in adults with type 1 diabetes. Journal of Diabetes and Its Complications,29, 572–577. https://doi.org/10.1016/j.jdiacomp.2015.01.012

Gonzalez, J. S., Shreck, E., Psaros, C., & Safren, S. A. (2015). Distress and type 2 diabetes-treatment adherence: A mediating role for perceived control. Health Psychology,34, 505–513. https://doi.org/10.1037/hea0000131

Helgeson, V. S., Jakubiak, B., Van Vleet, M., & Zajdel, M. (2018). Communal coping and adjustment to chronic illness: Theory update and evidence. Personality and Social Psychology Review,22, 170–195.

Helgeson, V. S., Naqvi, J. B., Seltman, H., Vaughn, A. K., Korytkowski, M., Hausmann, L.R.M., & Gary-Webb, T. L. (in press). Links of communal coping to relationship and psychological health in type 2 diabetes: Actor-partner interdependence models involving role, sex, and race Annals of Behavioral Medicine.

Hessler, D. M., Fisher, L., Mullan, J. T., Glasgow, R. E., & Masharani, U. (2011). Patient age: A neglected factor when considering disease management in adults with type 2 diabetes. Patient Education and Counseling,85, 154–159. https://doi.org/10.1016/j.pec.2010.10.030

Hilliard, M. E., Yi-Frazier, J. P., Hessler, D. M., Butler, A. M., Anderson, B. J., & Jaser, S. (2016). Stress and a1c among people with diabetes across the lifespan. Current Diabetes Reports,16, 67. https://doi.org/10.1007/s11892-016-0761-3

Morisky, D. E., Green, L. W., & Levine, D. M. (1986). Concurrent and predictive validity of a self-reported measure of medication adherence. Medical Care,24, 67–74.

Polonsky, W. H., Fisher, L., Earles, J., Dudl, R. J., Lees, J., Mullan, J. T., et al. (2005). Assessing psychosocial distress in diabetes. Diabetes Care,28, 626–631.

Radloff, L. S. (1977). The CES-D scale: A self-report depression scale for research in the general population. Applied Psychological Measurement,1, 385–401.

Schilling, O. K., & Diehl, M. (2014). Reactivity to stressor pile-up in adulthood: Effects on daily negative and positive affect. Psychology and Aging,29, 72–83. https://doi.org/10.1037/a0035500

Stawski, R. S., Scott, S. B., Zawadzki, M. J., Sliwinski, M. J., Marcusson-Clavertz, D., Kim, J., et al. (2019). Age differences in everyday stressor-related negative affect: A coordinated analysis. Psychology and Aging,34, 91–105. https://doi.org/10.1037/pag0000309

Talbot, F., Nouwen, A., Gingras, J., Gosselin, M., & Audet, J. (1997). The assessment of diabetes-related cognitive and social factors: The multidimensional diabetes questionnaire. Journal of Behavioral Medicine,20, 291–311.

Tanenbaum, M. L., Ritholz, M. D., Binko, D. H., Baek, R. N., Shreck, M. S. E., & Gonzalez, J. S. (2013). Probing for depression and finding diabetes: A mixed-methods analysis of depression interviews with adults treated for type 2 diabetes. Journal of Affective Disorders,150, 533–539. https://doi.org/10.1016/j.jad.2013.01.029

Toobert, D. J., & Glasgow, R. E. (1994). Assessing diabetes self-management: The summary of diabetes self-care activities questionnaire (Unpublished doctoral dissertation). Eugene, Oregon.

Usala, P. D., & Hertzog, C. (1989). Measurement of affective states in adults. Evaluation of an adjective rating scale instrument. Research on Aging,11, 403–426.
Acknowledgements
We are grateful to Pamela Snyder for her overall management of the project and the data to Courtney Armstrong, Emma Bright, Shaquille Charles, Gianna Davis, Aarohee Fulay, Tiona Jones, Katilyn Mascatelli, Jennifer Melynk, Jeanean Naqvi, and Charis Vanderpuye for interviewing the participants and to the participants who so graciously gave their time to this study. Portions of these data were presented at the 2019 Society of Behavioral Medicine conference.
Funding
This research was supported by National Institutes of Health R01 DK095780 and received assistance from the University of Pittsburgh Clinical and Translational Science Institute, which is supported by the National Institutes of Health Grant UL1TR000005.
Ethics declarations
Conflict of interest
Vicki S. Helgeson, Meredith Van Vleet, Melissa Zajdel declare that they have no conflict of interest.
Human and animal rights and informed consent
All procedures performed in studies involving human participants were in accordance with the ethical standards of the institutional and/or national research committee and with the 1964 Helsinki declaration and its later amendments or comparable ethical standards.
Additional information
Publisher's Note
Springer Nature remains neutral with regard to jurisdictional claims in published maps and institutional affiliations.
About this article
Cite this article
Helgeson, V.S., Van Vleet, M. & Zajdel, M. Diabetes stress and health: Is aging a strength or a vulnerability?. J Behav Med 43, 426–436 (2020). https://doi.org/10.1007/s10865-019-00106-4
Received:

Accepted:

Published:

Issue Date:

DOI: https://doi.org/10.1007/s10865-019-00106-4
Keywords