Abstract
Psychological stress triggers headaches, but how this happens is unclear. To explore this, 38 migraine sufferers, 28 with tension-type headache (T-TH) and 20 controls rated nausea, negative affect, task-expectancies and headache at 5-min intervals during an aversive 20-min mental arithmetic task with a fixed failure rate. Blood pressure and pulse rate were measured every 3 min and salivary cortisol was sampled before and after the task. Multiple regression analysis indicated that irritation, anxiety and the absence of sluggishness (i.e., alertness) independently predicted increases in headache intensity during the task (p < .001), but increases in headache were unrelated to changes in cardiovascular activity or cortisol. Changes that preceded headache onset were explored in repeated measures ANOVAs, comparing those who developed headache with those who did not. In general, nausea, negative affect and self-efficacy expectancies were higher in participants who went on to develop headache than in those who remained headache-free (p < .05 to p < .001). Together, these findings suggest that headache developed when participants overextended themselves during a stressful task, adopting an information processing style which impeded emotional adjustment to changing situational demands. Learning to modify perceptions of threat, and adopting a more flexible, less outcome-dependent processing style, might help to prevent headache from spiralling upward.
Access options
Buy single article
Instant access to the full article PDF.
US$ 39.95
Tax calculation will be finalised during checkout.
Subscribe to journal
Immediate online access to all issues from 2019. Subscription will auto renew annually.
US$ 79
Tax calculation will be finalised during checkout.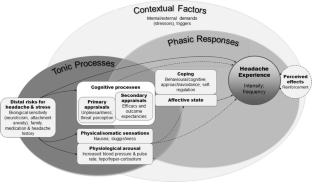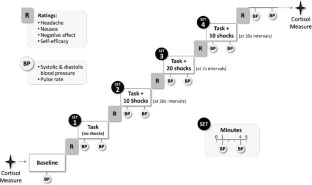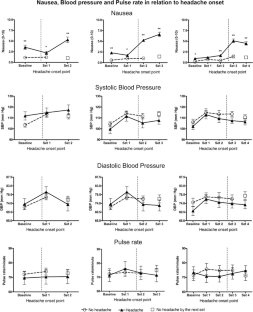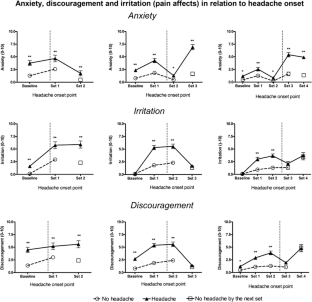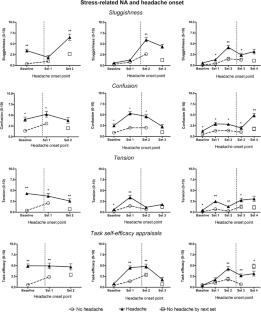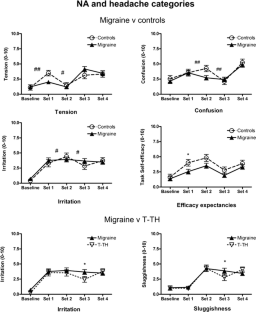 References
Andrews, N., Strong, J., & Meredith, P. (2015). Overactivity in chronic pain: Is it a valid construct? Pain, 156, 1991–2000.

Arntz, A., & Schmidt, A. (1989). Perceived control and the experience of pain. In A. Steptoe & A. Appels (Eds.), Stress, personal control and health (pp. 131–162). Chichester: Wiley.

Bandura, A., O'Leary, A., Taylor, C. B., Gauthier, J., & Gossard, D. (1987). Perceived self-efficacy and pain control: Opioid and nonopioid mechanisms. Journal of Personality and Social Psychology, 53, 563–571.

Berry, J. K., & Drummond, P. D. (2014). Does attachment anxiety increase vulnerability to headache? Journal of Psychosomatic Research, 76, 113–120. doi:10.1016/j.jpsychores.2013.11.018

Brandtstadter, J., & Renner, G. (1990). Tenacious goal pursuit and flexible goal adjustment: Explication and age-related analysis of assimilative and accommodative strategies of coping. Psychology and Aging, 5, 58–67.

Breslau, N., & Rasmussen, B. K. (2001). The impact of migraine: Epidemiology, risk factors, and co-morbidities. Neurology, 56, S4–12.

Cathcart, S., Bhullar, N., Immink, M., Della Vedova, C., & Hayball, J. (2012). Pain sensitivity mediates the relationship between stress and headache intensity in chronic tension-type headache. Pain Research and Management, 17, 377–380.

Cathcart, S., Petkov, J., Winefield, A. H., Lushington, K., & Rolan, P. (2010). Central mechanisms of stress-induced headache. Cephalalgia, 30, 285–295. doi:10.1111/j.1468-2982.2009.01917.x

De Benedittis, G., & Lorenzetti, A. (1992). The role of stressful life events in the persistence of primary headache: Major events vs. daily hassles. Pain, 51, 35–42.

de Ridder, D., & Kuijer, R. (2006). Managing immediate needs in the pursuit of health goals: The role of coping in self-regulation. In D. de Ridder & J. de Wit (Eds.), Self-regulation in health behavior (Chapter 7). Chichester: Wiley.

Di Sabato, F., Buonfiglio, M., & Mandillo, S. (2013). Analytic information processing style in migraineurs. Neurological Sciences, 34, 1145–1150. doi:10.1007/s10072-012-1193-8

Drummond, P. D. (1982). Extracranial and cardiovascular reactivity in migrainous subjects. Journal of Psychosomatic Research, 26, 317–331.

Drummond, P. D., & Granston, A. (2004). Facial pain increases nausea and headache during motion sickness in migraine sufferers. Brain, 127, 526–534. doi:10.1093/brain/awh061

Drummond, P. D., & Granston, A. (2005). Painful stimulation of the temple induces nausea, headache and extracranial vasodilation in migraine sufferers. Cephalalgia, 25, 16–22. doi:10.1111/j.1468-2982.2004.00810.x

Drummond, P. D., & Passchier, J. (2006). Psychological mechanisms in migraine. In J. Olesen, P. Goadsby, N. Ramadan, P. Tfelt Hansen, & K. Welch (Eds.), The headaches (3rd ed., pp. 385–392). Philadelphia: Lippincott Williams & Wilkins.

Fernandez, E. (2002). Anxiety, depression and anger in pain: Research findings and clinical options. Dallas, TX: Advanced Psychological Resrouces.

Fiedler, K. (2000). Towards an integrative account of affect and cognition phenomena using the BIAS computer algorithm. In J. P. Forgas (Ed.), Feeling and thinking: The role of affect and social cognition (pp. 163–185). Mahwah, NJ: Erlbaum.

Fiedler, K. (2001). Affective influences on social information processing. In J. P. Forgas (Ed.), The handbook of affect and social cognition (pp. 163–185). Mahwah, NJ: Erlbaum.

Fox, S. D., Flynn, E., & Allen, R. H. (2011). Mindfulness meditation for women with chronic pelvic pain: a pilot study. Journal of Reproductive Medicine, 56, 158–162.

French, D. J., Holroyd, K. A., Pinell, C., Malinoski, P. T., O'Donnell, F., & Hill, K. R. (2000). Perceived self-efficacy and headache-related disability. Headache, 40, 647–656.

Frew, A. K., & Drummond, P. D. (2007). Negative affect, pain and sex: The role of endogenous opioids. Pain, 132, S77–S85. doi:10.1016/j.pain.2007.04.010

Frew, A. K., & Drummond, P. D. (2008). Stress-evoked opioid release inhibits pain in major depressive disorder. Pain, 139, 284–292. doi:10.1016/j.pain.2008.04.022

Harrigan, J. A., Kues, J. R., Ricks, D. F., & Smith, R. (1984). Moods that predict coming migraine headaches. Pain, 20, 385–396.

Headache Classification Committee of the International Headache Society. (2013). The international classification of headache disorders, 3rd edition (beta version). Cephalalgia, 33, 629–808. doi:10.1177/0333102413485658

Hemper, K. (2008). Headache in adolescents: Prevention and complementary therapies. http://www.medscape.com/viewprogram/17068?src=rss

Houtveen, J. H., & Sorbi, M. J. (2013). Prodromal functioning of migraine patients relative to their interictal state—An ecological momentary assessment study. PLoS ONE, 8, e72827. doi:10.1371/journal.pone.0072827

Kalman, B. A., & Grahn, R. E. (2004). Measuring salivary cortisol in the behavioral neuroscience laboratory. Journal of Undergraduate Neuroscience, 2, A41–A49.

Karlson, C. W., Litzenburg, C. C., Sampilo, M. L., Rapoff, M. A., Connelly, M., Bickel, J. L., et al. (2013). Relationship between daily mood and migraine in children. Headache, 53, 1624–1634. doi:10.1111/head.12215

Koolhaas, J., Bartolomucci, A., Buwalda, B., de Boer, S., Flügge, G., Korte, S., et al. (2011). Stress revisited: A critical evaluation of the stress concept. Neuroscience and Biobehavioral Reviews, 35, 1291–1301. doi:10.1016/j.neubiorev.2011.02.003

Leistad, R. B., Sand, T., Nilsen, K. B., Westgaard, R. H., & Stovner, L. J. (2007a). Cardiovascular responses to cognitive stress in patients with migraine and tension-type headache. BMC Neurology, 7, 23. doi:10.1186/1471-2377-7-23

Leistad, R. B., Stovner, L. J., White, L. R., Nilsen, K. B., Westgaard, R. H., & Sand, T. (2007b). Noradrenaline and cortisol changes in response to low-grade cognitive stress differ in migraine and tension-type headache. The Journal of Headache and Pain, 8, 157–166. doi:10.1007/s10194-007-0384-9

Leventhal, H., Brissette, I., & Leventhal, E. (2003). The common-sense model of self-regulation of health and illness. In L. Cameron & H. Leventhal (Eds.), The self-regulation of health and illness behaviour (pp. 42–65). Abingdon: Routledge.

Lipton, R., Stewart, W., Diamond, S., Diamond, M., & Reed, M. (2001). Prevalence and burden of migraine in the United States: Data from the American Migraine Study II. Headache, 41, 646–657.

Marlowe, N. (1998). Self-efficacy moderates the impact of stressful events on headache. Headache, 38, 662–667. doi:10.1046/j.1526-4610.1998.3809662.x

Martin, P. R. (2016). Stress and primary headache: Review of the research and clinical management. Current Pain and Headache Reports, 20, 45. doi:10.1007/s11916-016-0576-6

Martin, P. R., Nathan, P. R., Milech, D., & van Keppel, M. (1988). The relationship between headaches and mood. Behaviour Research and Therapy, 26, 353–356.

Martin, P. R., & Teoh, H. J. (1999). Effects of visual stimuli and a stressor on head pain. Headache, 39, 705–715.

Martin, P. R., & Theunissen, C. (1993). The role of life event stress, coping and social support in chronic headaches. Headache, 33, 301–306.

Massey, E. K., Garnefski, N., Gebhardt, W. A., & van der Leeden, R. (2009). Daily frustration, cognitive coping and coping efficacy in adolescent headache: A daily diary study. Headache, 49, 1198–1205. doi:10.1111/j.1526-4610.2009.01492.x

McCaffrey, R. J., Goetsch, V. L., Robinson, J., & Isaac, W. (1986). Differential responsivity of the vasomotor response system to a "novel" stressor. Headache, 26, 240–242.

Montagna, P., Pierangeli, G., & Cortelli, P. (2010). The primary headaches as a reflection of genetic darwinian adaptive behavioral responses. Headache, 50, 273–289. doi:10.1111/j.1526-4610.2009.01584.x

Noseda, R., Constandil, L., Bourgeais, L., Chalus, M., & Villanueva, L. (2010). Changes of meningeal excitability mediated by corticotrigeminal networks: A link for the endogenous modulation of migraine pain. Journal of Neuroscience, 30, 14420–14429. doi:10.1523/JNEUROSCI.3025-10.2010

Noseda, R., Kainz, V., Borsook, D., & Burstein, R. (2014). Neurochemical pathways that converge on thalamic trigeminovascular neurons: Potential substrate for modulation of migraine by sleep, food intake, stress and anxiety. PLoS ONE, 9, e103929. doi:10.1371/journal.pone.0103929

Panksepp, J. (1998). Affective neuroscience: The foundations of human and animal emotions. Oxford: Oxford University Press.

Passchier, J., van der Helm-Hylkema, H., & Orlebeke, J. F. (1984). Psychophysiological characteristics of migraine and tension headache patients. Differential effects of sex and pain state. Headache, 24, 131–139.

Porges, S. W. (2011). The polyvagal theory: Neurophysiological foundations of emotions, attachment, communication and self-regulation. New York City, NY: W.W. Norton & Co.

Price, D. (1999). Psychological mechanisms of pain and analgesia (Vol. 15). Seattle: IASP Press.

Schoonan, G., Evers, D., Ballieux, B., Geus, E., de Kloet, E., Terwindt, G., et al. (2007). Is stress a trigger factor for migraine? Psychoneuroendocrinology, 32, 532–538.

Schramm, S., Moebus, S., Lehmann, N., Galli, U., Obermann, M., Bock, E., et al. (2015). The association between stress and headache: A longitudinal population-based study. Cephalalgia, 35, 853–863.

Shirtcliff, E. A., Granger, D. A., Schwartz, E., & Curran, M. J. (2001). Use of salivary biomarkers in biobehavioral research: Cotton-based sample collection methods can interfere with salivary immunoassay results. Psychoneuroendocrinology, 26, 165–173.

Siegel, D. J. (2012). Pocket guide to interpersonal neurobiology: An integrative handbook of the mind. NY: WW Norton.

Smith, A. P. (2016). Acute tension-type headaches are associated with impaired cognitive function and more negative mood. Frontiers in Neurology. doi:10.3389/fneur.2016.00042

Spierings, E. L., Ranke, A. H., & Honkoop, P. C. (2001). Precipitating and aggravating factors of migraine versus tension-type headache. Headache, 41, 554–558.

Spierings, E. L., Sorbi, M., Maassen, G. H., & Honkoop, P. C. (1997). Psychophysical precedents of migraine in relation to the time of onset of the headache: The migraine time line. Headache, 37, 217–220.

Stronks, D. L., Tulen, J. H., Verheij, R., Boomsma, F., Fekkes, D., Pepplinkhuizen, L., et al. (1998). Serotonergic, catecholaminergic, and cardiovascular reactions to mental stress in female migraine patients. A controlled study. Headache, 38, 270–280.

Viana, M., & Nappi, G. (2014). Chronobiological correlates of headache: Three decades on. Functional Neurology, 29, 213–214.

Villanueva, L. (2012). How does migraine attack stop? Headache, 52, 188. doi:10.1111/j.1526-4610.2011.02079.x

Wiech, K., Ploner, M., & Tracey, I. (2008). Neurocognitive aspects of pain perception. Trends in Cognitive Sciences, 12, 306–313. doi:10.1016/j.tics.2008.05.005

Witkiewitz, K., & Marlatt, G. A. (2007). Modeling the complexity of post-treatment drinking: It's a rocky road to relapse. Clinical Psychology Review, 27, 724–738. doi:10.1016/j.cpr.2007.01.002

Wolff, H. (1963). Headache and other head pain (2nd ed.). New York, NY: Oxford University Press.

Zautra, A. (2003). Emotions, stress and health. Oxford: Oxford University Press.
Ethics declarations
Conflict of interest
Juanita Berry and Peter Drummond declare that they have no conflict of interest.
Human and animal rights and informed consent
All procedures performed in this study involving human participants were in accordance with the National Statement on Ethical Conduct in Human Research in Australia, and with the 1964 Helsinki declaration and its later amendments. Informed consent was obtained from all individual participants included in the study.
Electronic supplementary material
Below is the link to the electronic supplementary material.
About this article
Cite this article
Berry, J.K.M., Drummond, P.D. Psychological generators of stress-headaches. J Behav Med 41, 109–121 (2018). https://doi.org/10.1007/s10865-017-9872-9
Received:

Accepted:

Published:

Issue Date:
Keywords
Psychological stress

Negative affect

Migraine

Tension-type headache

Efficacy expectancies