Abstract
In efforts to combat tobacco dependence, most smoking cessation programs offer individuals who smoke the choice of a target quit date. However, it is uncertain whether the time to the selected quit date is associated with participants' chances of achieving sustained abstinence. In a pre-specified secondary analysis of a randomized clinical trial of four financial-incentive programs or usual care to encourage smoking cessation (Halpern et al. in N Engl J Med 372(22):2108–2117, doi:10.1056/NEJMoa1414293, 2015), study participants were instructed to select a quit date between 0 and 90 days from enrollment. Among those who selected a quit date and provided complete baseline data (n = 1848), we used multivariable logistic regression to evaluate the association of the time to the selected quit date with 6- and 12-month biochemically-confirmed abstinence rates. In the fully adjusted model, the probability of being abstinent at 6 months if the participant selected a quit date in weeks 1, 5, 10, and 13 were 39.6, 22.6, 10.9, and 4.3%, respectively.
This is a preview of subscription content, log in to check access.
Access options
Buy single article
Instant access to the full article PDF.
US$ 39.95
Price includes VAT for USA
Subscribe to journal
Immediate online access to all issues from 2019. Subscription will auto renew annually.
US$ 99
This is the net price. Taxes to be calculated in checkout.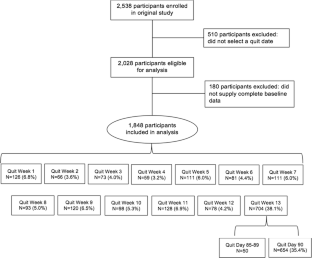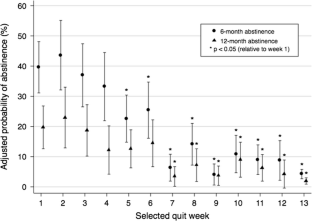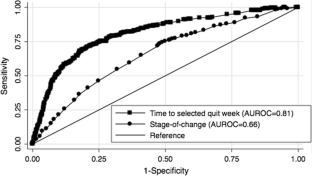 References
Alessi, S. M., & Petry, N. M. (2014). Smoking reductions and increased self-efficacy in a randomized controlled trial of smoking abstinence–contingent incentives in residential substance abuse treatment patients. Nicotine & Tobacco Research, 16, 1436–1445. doi:10.1093/ntr/ntu095

Brown, C. H., Ten Have, T. R., Jo, B., Dagne, G., Wyman, P. A., Muthen, B., et al. (2009). Adaptive designs for randomized trials in public health. Annual Review of Public Health, 30, 1–25. doi:10.1146/annurev.publhealth.031308.100223

Danaei, G., Ding, E. L., Mozaffarian, D., Taylor, B., Rehm, J., Murray, C. J. L., et al. (2009). The preventable causes of death in the United States: Comparative risk assessment of dietary, lifestyle, and metabolic risk factors. Plos Medicine, 6, e1000058. doi:10.1371/journal.pmed.1000058

Dragalin, V. (2006). Adaptive designs: Terminology and classification. Drug Information Journal, 40, 425–435.

French, B., Small, D. S., Novak, J., Saulsgiver, K. A., Harhay, M. O., Asch, D. A., et al. (2015). Preference-adaptive randomization in comparative effectiveness studies. Trials, 16, 99. doi:10.1186/s13063-015-0592-6

Halpern, S. D., French, B., Small, D. S., Saulsgiver, K., Harhay, M. O., Audrain-McGovern, J., et al. (2015). Randomized trial of four financial-incentive programs for smoking cessation. New England Journal of Medicine, 372, 2108–2117. doi:10.1056/NEJMoa1414293

Halpern, S. D., French, B., Small, D. S., Saulsgiver, K., Harhay, M. O., Audrain-McGovern, J., et al. (2016). Heterogeneity in the effects of reward- and deposit-based financial incentives on smoking cessation. American Journal of Respiratory and Critical Care Medicine, 194, 981–988. doi:10.1164/rccm.201601-0108OC

Hanley, J. A., & McNeil, B. J. (1982). The meaning and use of the area under a receiver operating characteristic (ROC) curve. Radiology, 143, 29–36. doi:10.1148/radiology.143.1.7063747

Hu, F. F., Zhang, L. X., & He, X. M. (2009). Efficient randomized-adaptive designs. Annals of Statistics, 37, 2543–2560. doi:10.1214/08-Aos655

Hughes, J. R., Keely, J. P., Niaura, R. S., Ossip-Klein, D. J., Richmond, R. L., & Swan, G. E. (2003). Measures of abstinence in clinical trials: Issues and recommendations. Nicotine & Tobacco Research, 5, 13–25.

Jacob, P., Hatsukami, D., Severson, H., Hall, S., Yu, L., & Benowitz, N. L. (2002). Anabasine and anatabine as biomarkers for tobacco use during nicotine replacement therapy. Cancer Epidemiology, Biomarkers and Prevention, 11, 1668–1673.

Jamal, A., King, B. A., Neff, L. J., Whitmill, J., Babb, S. D., & Graffunder, C. M. (2016). Centers for disease control and prevention. Current cigarette smoking among adults—United States, 2005–2015. Morbidity and Mortality Weekly Report, 65, 1205–1211.

Kirby, K. N. (1997). Bidding on the future: Evidence against normative discounting of delayed rewards. Journal of Experimental Psychology-General, 126, 54–70. doi:10.1037/0096-3445.126.1.54

Larabie, L. C. (2005). To what extent do smokers plan quit attempts? Tobacco Control, 14, 425–428. doi:10.1136/tc.2005.013615

Lindson-Hawley, N., Banting, M., West, R., Michie, S., Shinkins, B., & Aveyard, P. (2016). Gradual versus abrupt smoking cessation: A randomized, controlled noninferiority trial. Annals of Internal Medicine, 164, 585–592. doi:10.7326/M14-2805

Pankova, A., Kralikova, E., Stepankova, L., Zvolska, K., Bortlicek, Z., Blaha, M., et al. (2016). Weight concerns associated with delay in quit date but not treatment outcomes: A Czech Republic experience. Nicotine & Tobacco Research. doi:10.1093/ntr/ntw276

Prochaska, J. O., & Velicer, W. F. (1997). The transtheoretical model of health behavior change. American Journal of Health Promotion, 12, 38–48.

Rostron, B. L., Chang, C. M., & Pechacek, T. F. (2014). Estimation of cigarette smoking-attributable morbidity in the United States. JAMA Internal Medicine, 174, 1922–1928. doi:10.1001/jamainternmed.2014.5219

Society for Research on Nicotine and Tobacco Subcommittee on Biochemical Verification. (2002). Biochemical verification of tobacco use and cessation. Nicotine & Tobacco Research, 4, 149–159. doi:10.1080/14622200210123581

U.S. Department of Health and Human Services. (2016). E-cigarette use among youth and young adults. A report of the surgeon general. Atlanta, GA: U.S. Department of Health and Human Services, Centers for Disease Control and Prevention, National Center for Chronic Disease Prevention and Health Promotion, Office on Smoking and Health.

Vangeli, E., Stapleton, J., Smit, E. S., Borland, R., & West, R. (2011). Predictors of attempts to stop smoking and their success in adult general population samples: A systematic review. Addiction, 106, 2110–2121. doi:10.1111/j.1360-0443.2011.03565.x

West, R., & Sohal, T. (2006). "Catastrophic" pathways to smoking cessation: Findings from national survey. BMJ, 332, 458–460. doi:10.1136/bmj.38723.573866.AE

Westman, E. C., Behm, F. M., Simel, D. L., & Rose, J. E. (1997). Smoking behavior on the first day of a quit attempt predicts long-term abstinence. Archives of Internal Medicine, 157, 335–340.

Zhu, S. H., Lee, M., Zhuang, Y. L., Gamst, A., & Wolfson, T. (2012). Interventions to increase smoking cessation at the population level: How much progress has been made in the last two decades? Tobacco Control, 21, 110–118. doi:10.1136/tobaccocontrol-2011-050371
Funding
This work was funded by the U.S. National Institutes of Health (T32HL098054 to GLA; R01CA159932 to SDH, MOH, and KGV; and F31HL127947 to MOH). CVS Caremark provided in-kind support only (CVS employees directly assisted with recruitment of study participants in the original trial).
Ethics declarations
Conflict of interest
George L. Anesi, Scott D. Halpern, Michael O. Harhay, Kevin G. Volpp, and Kathryn Saulsgiver declare that they have no conflicts of interest.
Human and animal right and Informed consent
All procedures involving human participants were in accordance with the ethical standards of the Institutional Review Board at the University of Pennsylvania (IRB Protocol #814761) and with the 1964 Helsinki declaration and its later amendments or comparable ethical standards, and registered with Clinicaltrials.gov (Protocol #NCT01526265). Informed consent was obtained from all individual participants included in the study.
Electronic supplementary material
Below is the link to the electronic supplementary material.
About this article
Cite this article
Anesi, G.L., Halpern, S.D., Harhay, M.O. et al. Time to selected quit date and subsequent rates of sustained smoking abstinence. J Behav Med 40, 989–997 (2017). https://doi.org/10.1007/s10865-017-9868-5
Received:

Accepted:

Published:

Issue Date:
Keywords
Tobacco dependence

Smoking cessation

Quit date

Sustained abstinence

Stage-of-change

Readiness-to-quit