Abstract
In two intensive longitudinal studies we examined the daily dynamics in health behaviors and their associations with two important indicators of young adults' daily functioning, namely, affect and academic performance. Over a period of 8 months, university students (Study 1: N = 292; Study 2: N = 304) reported sleep, physical activity, snacking, positive and negative affect, and learning goal achievement. A subsample wore an actigraph to provide an additional measurement of sleep and physical activity and participated in a controlled laboratory snacking situation. Multilevel structural equation models showed that better day-to-day sleep quality or more physical activity than usual, but not snacking, were associated with improved daily functioning, namely, affect and learning goal achievement. Importantly, self-report measurements of health behaviors correlated with behavioral measurements. These findings have the potential to inform health promotion programs aimed at supporting young adults in their daily functioning in good physical and mental health.
Access options
Buy single article
Instant access to the full article PDF.
US$ 39.95
Tax calculation will be finalised during checkout.
Subscribe to journal
Immediate online access to all issues from 2019. Subscription will auto renew annually.
US$ 79
Tax calculation will be finalised during checkout.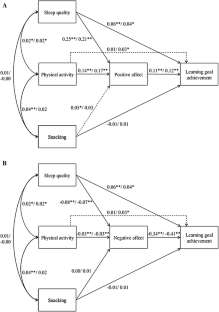 References
Alwin, D. F., & Hauser, R. M. (1975). The decomposition of effects in path analysis. American Sociological Review, 40, 37–47. doi:10.2307/2094445

Bolger, N., & Laurenceau, J.-P. (2013). Intensive longitudinal methods: An introduction to diary and experience sampling research. New York, NY: Guilford Press.

Busch, V., Loyen, A., Lodder, M., Schrijvers, A. J. P., Yperen, T. A. V., & de Leeuw, J. R. J. (2014). The effects of adolescent health-related behavior on academic performance: A systematic review of the longitudinal evidence. Review of Educational Research, 84, 245–274. doi:10.3102/0034654313518441

Buysse, D. J., Reynolds, C. F., 3rd, Monk, T. H., Berman, S. R., & Kupfer, D. J. (1989). The Pittsburgh Sleep Quality Index: A new instrument for psychiatric practice and research. Psychiatry Research, 28, 193–213. doi:10.1016/0165-1781(89)90047-4

Chambers, L., & Yeomans, M. R. (2011). Individual differences in satiety response to carbohydrate and fat. Predictions from the Three Factor Eating Questionnaire (TFEQ). Appetite, 56, 316–323. doi:10.1016/J.Appet.2011.01.003

Chang, Y. K., Labban, J. D., Gapin, J. I., & Etnier, J. L. (2012). The effects of acute exercise on cognitive performance: A meta-analysis. Brain Research, 1453, 87–101. doi:10.1016/J.Brainres.2012.02.068

Chen, K. Y., & Bassett, D. R. (2005). The technology of accelerometry-based activity monitors: Current and future. Medicine and Science in Sports and Exercise, 37, S490–S500. doi:10.1249/01.mss.0000185571.49104.82

Curcio, G., Ferrara, M., & De Gennaro, L. (2006). Sleep loss, learning capacity and academic performance. Sleep Medicine Reviews, 10, 323–337. doi:10.1016/J.Smrv.2005.11.001

Flueckiger, L., Lieb, R., Meyer, A. H., & Mata, J. (2014). How health behaviors relate to academic performance via affect: An intensive longitudinal study. PLoS One, 9, e111080. doi:10.1371/journal.pone.0111080

Godin, G., & Shephard, R. J. (1985). A simple method to assess exercise behavior in the community. Canadian Journal of Applied Sport Sciences, 10, 141–146.

Hartmann, A. S., Rief, W., & Hilbert, A. (2012). Laboratory snack food intake, negative mood, and impulsivity in youth with ADHD symptoms and episodes of loss of control eating. Where is the missing link? Appetite, 58, 672–678. doi:10.1016/J.Appet.2012.01.006

Hewlett, P., Smith, A., & Lucas, E. (2009). Grazing, cognitive performance and mood. Appetite, 52, 245–248. doi:10.1016/J.Appet.2008.09.008

Hogan, C. L., Mata, J., & Carstensen, L. L. (2013). Exercise holds immediate benefits for affect and cognition in younger and older adults. Psychology and Aging, 28, 587–594. doi:10.1037/a0032634

Howarth, N. C., Huang, T. T., Roberts, S. B., Lin, B. H., & McCrory, M. A. (2007). Eating patterns and dietary composition in relation to BMI in younger and older adults. International Journal of Obesity, 31, 675–684. doi:10.1038/sj.ijo.0803456

Jacobs, D. R., Ainsworth, B. E., Hartman, T. J., & Leon, A. S. (1993). A simultaneous evaluation of 10 commonly used physical activity questionnaires. Medicine and Science in Sports and Exercise, 25, 81–91. doi:10.1249/00005768-199301000-00012

Kanning, M. K., Ebner-Priemer, U. W., & Schlicht, W. M. (2013). How to investigate within-subject associations between physical activity and momentary affective states in everyday life: A position statement based on a literature overview. Frontiers in Psychology,. doi:10.3389/fpsyg.2013.00187

Kreutzmann, J. C., Havekes, R., Abel, T., & Meerlo, P. (2015). Sleep deprivation and hippocampal vulnerability: Changes in neuronal plasticity, neurogenesis and cognitive function. Neuroscience, 309, 173–190. doi:10.1016/j.neuroscience.2015.04.053

Kuhl, J. (1994). Motivation and volition. In G. D'Ydewalle, P. Eelen, & P. Bertelson (Eds.), International perspectives on psychological science: The state of the art (Vol. 2, pp. 311–340). Hillsdale, NJ: Erlbaum.

Lucke, J., & Partridge, B. (2013). Towards a smart population: A public health framework for cognitive enhancement. Neuroethics, 6, 419–427. doi:10.1007/s12152-012-9167-3

Marmeleira, J. (2013). An examination of the mechanisms underlying the effects of physical activity on brain and cognition. European Review of Aging and Physical Activity, 10, 83–94. doi:10.1007/S11556-012-0105-5

Mata, J., Hogan, C. L., Joormann, J., Waugh, C. E., & Gotlib, I. H. (2013). Acute exercise attenuates negative affect following repeated sad mood inductions in persons who have recovered from depression. Journal of Abnormal Psychology, 122, 45–50. doi:10.1037/A0029881

Mata, J., Thompson, R. J., Jaeggi, S. M., Buschkuehl, M., Jonides, J., & Gottlib, I. H. (2012). Walk on the bright side: Physical activity and affect in major depressive disorder. Journal of Abnormal Psychology, 121, 297–308. doi:10.1037/a0023533

Miller, R., Benelam, B., Stanner, S., & Buttriss, J. (2013). Is snacking good or bad for health: An overview. Nutrition Bulletin, 38, 302–322. doi:10.1111/nbu.12042

Molenaar, P. C. (2004). A manifesto on psychology as idiographic science: Bringing the person back into scientific psychology, this time forever. Measurement, 2, 201–218. doi:10.1207/s15366359mea0204_1

Muthén, L. K., & Muthén, B. O. (1998–2012). Mplus user's guide (7th ed.). Los Angeles, CA: Muthén & Muthén.

Organisation for Economic Co-operation and Development. (2012). Education at a glance 2012: Highlights. http://www.uis.unesco.org/Education/Documents/oecd-eag-2012-en.pdf

Organisation for Economic Co-operation and Development. (2014). Education at a glance 2014: OECD indicators. doi:10.1787/eag-2014-en

Peluso, M. A., & Guerra de Andrade, L. H. (2005). Physical activity and mental health: The association between exercise and mood. Clinics, 60, 61–70.

Piernas, C., & Popkin, B. M. (2010). Snacking increased among US adults between 1977 and 2006. The Journal of Nutrition, 140, 325–332. doi:10.3945/jn.109.112763

Preacher, K. J., & Hayes, A. F. (2004). SPSS and SAS procedures for estimating indirect effects in simple mediation models. Behavior Research Methods Instruments & Computers, 36, 717–731. doi:10.3758/Bf03206553

Preacher, K. J., Zyphur, M. J., & Zhang, Z. (2010). A general multilevel SEM framework for assessing multilevel mediation. Psychological Methods, 15, 209–233. doi:10.1037/A0020141

Reed, J., & Ones, D. S. (2006). The effect of acute aerobic exercise on positive activated affect: A meta-analysis. Psychology of Sport and Exercise, 7, 477–514. doi:10.1016/J.Psychsport.2005.11.003

Richard, E. M., & Diefendorff, J. M. (2011). Self-regulation during a single performance episode: Mood-as-information in the absence of formal feedback. Organizational Behavior and Human Decision Processes, 115, 99–110. doi:10.1016/J.Obhdp.2010.11.008

Riemann, D., & Backhaus, J. (1996). Behandlung von Schlafstörungen [Treatment of sleep disorders]. Weinheim: Beltz Psychologie.

Robbins, S. B., Lauver, K., Le, H., Davis, D., Langley, R., & Carlstrom, A. (2004). Do psychosocial and study skill factors predict college outcomes? A meta-analysis. Psychological Bulletin, 130, 261–288. doi:10.1037/0033-2909.130.2.261

Robbins, S. B., Oh, I. S., Le, H., & Button, C. (2009). Intervention effects on college performance and retention as mediated by motivational, emotional, and social control factors: Integrated meta-analytic path analyses. Journal of Applied Psychology, 94, 1163–1184. doi:10.1037/A0015738

Roecke, C. (2006). Intraindividual variability in positive and negative affect. Unpublished doctoral dissertation, Free University Berlin, Germany. http://www.diss.fu-berlin.de/diss/receive/FUDISS_thesis_000000002464

Schwarz, N., & Clore, G. L. (2003). Mood as information: 20 years later. Psychological Inquiry, 14, 296–303. doi:10.1207/S15327965pli1403&4_20

Singh, M. (2014). Mood, food, and obesity. Frontiers in Psychology, 5, 1–20. doi:10.3389/fpsyg.2014.00925

Smith, A. P. (2011). Snacking habit, mental health, and cognitive performance. Current Topics in Nutraceutical Research, 9, 47–51.

Smith, A. P., & Wilds, A. (2009). Effects of cereal bars for breakfast and mid-morning snacks on mood and memory. International Journal of Food Sciences and Nutrition, 60, 63–69. doi:10.1080/09637480802438305

Sonnentag, S., Binnewies, C., & Mojza, E. J. (2008). "Did you have a nice evening?" A day-level study on recovery experiences, sleep and affect. Journal of Applied Psychology, 93, 674–683. doi:10.1037/0021-9010.93.3.674

Steenhuis, I. (2009). Guilty or not? Feelings of guilt about food among college women. Appetite, 52, 531–534. doi:10.1016/J.Appet.2008.12.004

Trost, S. G., Pate, R. R., Freedson, P. S., Sallis, J. F., & Taylor, W. C. (2000). Using objective physical activity measures with youth: How many days of monitoring are needed? Medicine and Science in Sports and Exercise, 32, 426–431. doi:10.1097/00005768-200002000-00025

Vandekerckhove, M., & Cluydts, R. (2010). The emotional brain and sleep: An intimate relationship. Sleep Medicine Reviews, 14, 219–226. doi:10.1016/J.Smrv.2010.01.002

von Dawans, B., Kirschbaum, C., & Heinrichs, M. (2011). The Trier Social Stress Test for Groups (TSST-G): A new research tool for controlled simultaneous social stress exposure in a group format. Psychoneuroendocrinology, 36, 514–522. doi:10.1016/j.psyneuen.2010.08.004

Walsh, R. (2011). Lifestyle and mental health. American Psychologist, 66, 579–592. doi:10.1037/A0021769

Watson, D., Clark, L. A., & Tellegen, A. (1988). Development and validation of brief measures of positive and negative affect: The PANAS scales. Journal of Personality and Social Psychology, 54, 1063–1070. doi:10.1037/0022-3514.54.6.1063

Weikert, M., Motl, R. W., Suh, Y., McAuley, E., & Wynn, D. (2010). Accelerometry in persons with multiple sclerosis: Measurement of physical activity or walking mobility? Journal of the Neurological Sciences, 290, 6–11. doi:10.1016/j.jns.2009.12.021

Wong, M. L., Lau, E. Y. Y., Wan, J. H. Y., Cheung, S. F., Hui, C. H., & Mok, D. S. Y. (2013). The interplay between sleep and mood in predicting academic functioning, physical health and psychological health: A longitudinal study. Journal of Psychosomatic Research, 74, 271–277. doi:10.1016/j.jpsychores.2012.08.014

World Health Organization. (1946). WHO definition of health. Paper presented at the International Health Conference, New York.

World Health Organization. (2002). The world health report 2002: Reducing risks, promoting healthy life. Geneva: Author.
Acknowledgments
This study was funded by Grant 140991 of the Swiss National Science Foundation and a grant by the Freiwillige Akademische Gesellschaft Basel from March 13, 2012.
Ethics declarations
Conflict of interest
Lavinia Flueckiger, Roselind Lieb, Andrea H. Meyer, Cornelia Witthauer, and Jutta Mata declare that they do not have any conflict of interest.
Human and animal rights and Informed consent
All procedures performed in studies involving human participants were in accordance with the ethical standards of the institutional and/or national research committee and with the 1964 Helsinki declaration and its later amendments or comparable ethical standard. Informed consent was obtained from all patients for being included in the study.
About this article
Cite this article
Flueckiger, L., Lieb, R., Meyer, A.H. et al. Day-to-day variations in health behaviors and daily functioning: two intensive longitudinal studies. J Behav Med 40, 307–319 (2017). https://doi.org/10.1007/s10865-016-9787-x
Received:

Accepted:

Published:

Issue Date:
Keywords
Sleep quality

Physical activity

Snacking

Affect

Learning goal achievement

Multilevel structural equation model