Abstract
Certain religious beliefs related to perceptions of internal or external health control (including belief in the existence of miraculous healing, and beliefs deferring responsibility for health outcomes from the self and onto God) may be related to health behaviors and in turn to health outcomes. Using data from a nationally representative US survey of religion and health (N = 2948) this study evaluates a series of two structural equation models of the relationships between religious activity, externalizing religious health beliefs (belief in healing miracles and divine health deferral), health outcomes, and life satisfaction. Believing in healing miracles was related to greater divine health deferral. Greater divine health deferral was associated with poorer symptoms of physical health. Belief in miracles was related to greater life satisfaction. Comparison of coefficients across models indicated that externalizing beliefs had a significant suppressor effect on the relationship between religious activity and physical symptoms, but did not significantly mediate its relationship with life satisfaction. Religious beliefs emphasizing divine control over health outcomes may have negative consequences for health outcomes, although the same beliefs may contribute to a better sense of life satisfaction.
This is a preview of subscription content,
to check access.
Access this article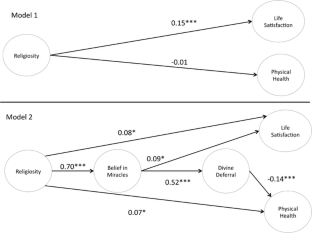 Similar content being viewed by others
References
Balboni, T., Balboni, M., Paulk, M. E., Phelps, A., Wright, A., Peteet, J., et al. (2011). Support of cancer patients' spiritual needs and associations with medical care costs at the end of life. Cancer, 117, 5383–5391. doi:10.1002/cncr.26221

Belloc, N. B., Breslow, L., & Hochstim, J. R. (1971). Measurement of physical health in a general population survey. American Journal of Epidemiology, 93, 328–336.

Berrenberg, J. (1987). The Belief in Personal Control Scale: A measure of God-mediated and exaggerated control. Journal of Personality Assessment, 51, 194–206. doi:10.1207/s15327752jpa5102_4

Burish, T. G., Carey, M. P., Wallston, K. A., Stein, M. J., Jamison, R. N., & Lyles, J. N. (1984). Health locus of control and chronic disease: An external orientation may be advantageous. Journal of Social and Clinical Psychology, 2, 326–332. doi:10.1521/jscp.1984.2.4.326

Burker, E. J., Evon, D. M., Galanko, J., & Egan, T. (2005). Health locus of control predicts survival after lung transplant. Journal of Health Psychology, 10, 695–704. doi:10.1177/1359105305055326

Clogg, C. C., Petkova, E., & Haritou, A. (1995). Statistical methods for comparing regression coefficients between models. American Journal of Sociology, 100, 1261–1293.

Cross, M. J., March, L. M., Lapsley, H. M., Byrne, E., & Brooks, P. M. (2006). Patient self-efficacy and health locus of control: Relationships with health status and arthritis-related expenditure. Rheumatology, 45, 92–96.

Debnam, K., Holt, C. L., Clark, E. M., Roth, D. L., Foushee, H. R., Crowther, M., et al. (2012). Spiritual health locus of control and health behaviors in African Americans. American Journal of Health Behavior, 36, 360–372. doi:10.5993/AJHB.36.3.7

Diener, E. D., Emmons, R. A., Larsen, R. J., & Griffin, S. (1985). The satisfaction with life scale. Journal of Personality Assessment, 49, 71–75.

Ellison, C. G., & Lee, J. (2010). Spiritual struggles and psychological distress: Is there a dark side of religion? Social Indicators Research, 98, 501–517. doi:10.1007/s11205-009-9553-3

Fetzer Institute, & National Institute on Aging. (1999). Multidimensional measurement of religiousness/spiritualtiy for use in health research. Kalamazoo, MI: John E. Fetzer Institute.

Franklin, M. D., Schlundt, D. G., McClellan, L. H., Kinebrew, T., Sheats, J., Belue, R., et al. (2007). Religious fatalism and its association with health behaviors and outcomes. American Journal of Health Behavior, 31, 563–572.

Franklin, M. D., Schlundt, D. G., & Wallston, K. A. (2008). Development and validation of a religious health fatalism measure for the African-American faith community. Journal of Health Psychology, 13, 323–335. doi:10.1177/1359105307088137

Gale, C. R., Batty, G. D., & Deary, I. J. (2008). Locus of control at age 10 years and health outcomes and behaviors at age 30 years: The 1970 British Cohort Study. Psychosomatic Medicine, 70, 397–403.

Gallup. (2014). Religion. http://www.gallup.com/poll/1690/Religion.aspx

Hayward, R. D., & Elliott, M. (2014). Cross-national analysis of the influence of cultural norms and government restrictions on the relationship between religion and well-being. Review of Religious Research, 56, 23–43. doi:10.1007/s13644-013-0135-0

Hayward, R. D., & Krause, N. (2013a). Religion, mental health, and well-being: Social aspects. In V. Saroglou (Ed.), Religion, personality, and social behavior (pp. 255–280). New York: Psychology Press.

Hayward, R. D., & Krause, N. (2013b). Trajectories of late-life change in God-mediated control. The Journals of Gerontology Series B: Psychological Sciences and Social Sciences, 68, 49–58. doi:10.1093/geronb/gbs054

Hayward, R. D., Krause, N., & Pargament, K. I. (2016). The prevalence and antecedents of religious beliefs about health control in the US population: Variations by race and religious background (submitted).

Henninger, D. E., Whitson, H. E., Cohen, H. J., & Ariely, D. (2012). Higher medical morbidity burden is associated with external locus of control. Journal of the American Geriatrics Society, 60, 751–755. doi:10.1111/j.1532-5415.2012.03904.x

Holt, C. L., Clark, E. M., Kreuter, M. W., & Rubio, D. M. (2003). Spiritual health locus of control and breast cancer beliefs among urban African American women. Health Psychology, 22, 294.

James, D. (2004). Factors influencing food choices, dietary intake, and nutrition-related attitudes among African Americans: Application of a culturally sensitive model. Ethnicity and Health, 9, 349–367.

Jemal, A., Siegel, R., Ward, E., Hao, Y., Xu, J., Murray, T., & Thun, M. J. (2008). Cancer statistics, 2008. CA: A Cancer Journal for Clinicians, 58, 71–96. doi:10.3322/CA.2007.0010

Koenig, H. G., King, D. E., & Carson, V. B. (2012). Handbook of religion and health (2nd ed.). New York: Oxford University Press.

Krause, N. (2005). God-mediated control and psychological well-being in late life. Research on Aging, 27, 136–164. doi:10.1177/0164027504270475

Luszczynska, A., & Schwarzer, R. (2005). Multidimensional health locus of control: Comments on the construct and its measurement. Journal of Health Psychology, 10, 633–642. doi:10.1177/1359105305055307

Mahoney, A., Carels, R. A., Pargament, K. I., Wachholtz, A., Edwards Leeper, L., Kaplar, M., & Frutchey, R. (2005). The sanctification of the body and behavioral health patterns of college students. The International Journal for the Psychology of Religion, 15, 221–238.

Mansfield, C. J., Mitchell, J., & King, D. E. (2002). The doctor as God's mechanic? Beliefs in the Southeastern United States. Social Science and Medicine, 54, 399–409. doi:10.1016/S0277-9536(01)00038-7

O'hea, E. L., Grothe, K. B., Bodenlos, J. S., Boudreaux, E. D., White, M. A., & Brantley, P. J. (2005). Predicting medical regimen adherence: The interactions of health locus of control beliefs. Journal of Health Psychology, 10, 705–717. doi:10.1177/1359105305055330

Pargament, K. I. (1997). The psychology of religion and coping: Theory, research, and practice. New York: Guilford.

Pargament, K. I., Kennell, J., Hathaway, W., Grevengoed, N., Jon, N., & Jones, W. (1988). Religion and the problem-solving process: Three styles of coping. Journal for the Scientific Study of Religion, 27, 90–104. doi:10.2307/1387404

Schieman, S., Pudrovska, T., & Milkie, M. A. (2005). The sense of divine control and the self-concept. Research on Aging, 27, 165–196. doi:10.1177/0164027504270489

Umezawa, Y., Lu, Q., You, J., Kagawa-Singer, M., Leake, B., & Maly, R. (2012). Belief in divine control, coping, and race/ethnicity among older women with breast cancer. Annals of Behavioral Medicine, 44, 21–32. doi:10.1007/s12160-012-9358-5

Wallston, K. A. (2005). The validity of the multidimensional health locus of control scales. Journal of Health Psychology, 10, 623–631. doi:10.1177/1359105305055304

Wallston, K. A., Malcarne, V. L., Flores, L., Hansdottir, I., Smith, C. A., Stein, M. J., et al. (1999). Does God determine your health? The God locus of health control scale. Cognitive Therapy and Research, 23, 131–142.

Wallston, K. A., Strudler Wallston, B., & DeVellis, R. (1978). Development of the Multidimensional Health Locus of Control (MHLC) Scales. Health Education & Behavior, 6, 160–170. doi:10.1177/109019817800600107

Welton, G. L., Adkins, A. G., Ingle, S. L., & Dixon, W. A. (1996). God control: The fourth dimension. Journal of Psychology and Theology, 24, 13–25.
Ethics declarations
Conflict of interest
R. David Hayward, Neal Krause, Gail Ironson and Kenneth I. Pargament declare that they have no conflict of interest.
Human and animal rights and Informed consent
All procedures followed were in accordance with ethical standards of the responsible committee on human experimentation (institutional and national) and with the Helsinki Declaration of 1975, as revised in 2000. Informed consent was obtained from all patients for being included in the study.
About this article
Cite this article
Hayward, R.D., Krause, N., Ironson, G. et al. Externalizing religious health beliefs and health and well-being outcomes. J Behav Med 39, 887–895 (2016). https://doi.org/10.1007/s10865-016-9761-7
Received:

Accepted:

Published:

Issue Date:

DOI: https://doi.org/10.1007/s10865-016-9761-7
Keywords