Abstract
The present study examined the possibility that waiting is bad for one's subjective health. Specifically, we examined longitudinal trends in the self-reported health, self-reported sleep disruption, distress, and emotion regulation strategies of law school graduates waiting for their bar exam results. Multilevel analyses suggest that waiting was particularly detrimental to participants' self-reported health and sleep disruption at the beginning and end of the waiting period. Moreover, distress and most emotion regulation efforts were associated with poorer subjective health on average, and personal increases in distress and emotion regulation were largely associated with personal increases in poor self-reported health and sleep disruption. Our results suggest that waiting periods can take a toll on subjective health and that individual and temporal variations in distress and emotion regulation efforts are associated with these health trajectories.
Access options
Buy single article
Instant access to the full article PDF.
USD 39.95
Price excludes VAT (USA)
Tax calculation will be finalised during checkout.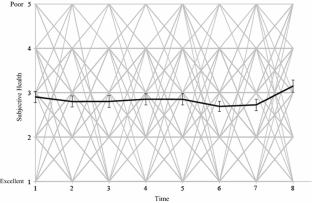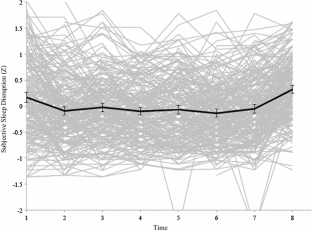 Notes
When we report scale properties (e.g., internal consistency, measures of central tendency), we give the average across all time points.

In all models we used a conservative covariance structure that assumed no correlation between time points (i.e., variance components structure). Importantly, opting to allow nearby measurements to correlate most with one another (i.e., a diagonal covariance structure) or even adopting a completely unstructured covariance structure (i.e., allowing all time points to correlate according to the data) produced no substantive difference in the pattern of results.

The ICC is calculated as between person variance/(between person variance + within person variance).
References
Antonovsky, A. (1979). Health, stress, and coping. San Francisco, CA: Jossey-Bass.

Boivin, J., & Lancastle, D. (2010). Medical waiting periods: Imminence, emotions and coping. Women's Health, 6, 59–69.

Boscarino, J. A. (1997). Diseases among men 20 years after exposure to severe stress: Implications for clinical research and medical care. Psychosomatic Medicine, 59, 605–614.

Bowling, A. (2005). Just one question: If one question works, why ask several? Journal of Epidemiology and Community Health, 59, 342–345.

Bradley, M. M., & Lang, P. J. (2000). Affective reactions to acoustic stimuli. Psychophysiology, 37, 204–215.

Brosschot, J. F., Gerin, W., & Thayer, J. F. (2006). The perseverative cognition hypothesis: A review of worry, prolonged stress-related physiological activation, and health. Journal of Psychosomatic Research, 60, 113–124.

Buysse, D. J., Reynolds, C. F, I. I. I., Monk, T. H., Berman, S. R., & Kupfer, D. J. (1989). The Pittsburgh Sleep Quality Index: A new instrument for psychiatric practice and research. Psychiatry Research, 28, 193–213.

Cohen, S., Tyrrell, D. A., & Smith, A. P. (1991). Psychological stress and susceptibility to the common cold. New England Journal of Medicine, 325, 606–612.

Cooper, C. L. (2004). Handbook of stress medicine and health. Boca Raton, FL: CRC Press.

Dube, S. R., Fairweather, D., Pearson, W. S., Felitti, V. J., Anda, R. F., & Croft, J. B. (2009). Cumulative childhood stress and autoimmune diseases in adults. Psychosomatic Medicine, 71, 243–250.

Gross, J. J., & John, O. P. (2003). Individual differences in two emotion regulation processes: Implications for affect, relationships, and well-being. Journal of Personality and Social Psychology, 85, 348–362.

Kempen, G. I. (1992). The MOS Short-Form General Health Survey: Single item vs multiple measures of health-related quality of life: Some nuances. Psychological Reports, 70, 608–610.

Kuhlmann, S., Piel, M., & Wolf, O. T. (2005). Impaired memory retrieval after psychosocial stress in healthy young men. The Journal of Neuroscience, 25, 2977–2982.

Kunda, Z. (1990). The case for motivated reasoning. Psychological Bulletin, 108, 480–498. doi:10.1037/0033-2909.108.3.480

Lang, E. V., Berbaum, K. S., & Lutgendorf, S. K. (2009). Large-core breast biopsy: Abnormal salivary cortisol profiles associated with uncertainty of diagnosis. Radiology, 250, 631–637.

Leary, M. R., Tchividijian, L. R., & Kraxberger, B. E. (1994). Self-presentation can be hazardous to your health: Impression management and health risk. Health Psychology, 13, 461–470.

Lebel, S., Jakubovits, G., Rosberger, Z., Loiselle, C., Seguin, C., Cornaz, C., et al. (2003). Waiting for a breast biopsy: Psychosocial consequences and coping strategies. Journal of Psychosomatic Research, 55, 437–443.

Maas, C. J., & Hox, J. J. (2005). Sufficient sample sizes for multilevel modeling. Methodology, 1(3), 86–92.

Mastin, D. F., Bryson, J., & Corwyn, R. (2006). Assessment of sleep hygiene using the Sleep Hygiene Index. Journal of Behavioral Medicine, 29, 223–227.

McCaul, K. D., Magnan, R. E., & Mead, P. M. (in press). Disease-specific worry. In K. Sweeny & M. L. Robbins (Eds.), The Wiley Encyclopedia of Health Psychology (Vol. 2). Hoboken, NJ: John Wiley & Sons, Inc.

Montgomery, M., & McCrone, S. H. (2010). Psychological distress associated with the diagnostic phase for suspected breast cancer: Systematic review. Journal of Advanced Nursing, 66, 2372–2390.

Morin, C. M., Rodrigue, S., & Ivers, H. (2003). Role of stress, arousal, and coping skills in primary insomnia. Psychosomatic Medicine, 65, 259–267.

O'Donovan, A., Tomiyama, A. J., Lin, J., Puterman, E., Adler, N. E., Kemeny, M., et al. (2012). Stress appraisals and cellular aging: A key role for anticipatory threat in the relationship between psychological stress and telomere length. Brain, Behavior, and Immunity, 26, 573–579.

Poole, K. (1997). The emergence of the 'waiting game': A critical examination of the psychosocial issues in diagnosing breast cancer. Journal of Advanced Nursing, 25, 273–281.

Portnoy, D. B. (2010). Waiting is the hardest part: Anticipating medical test results affects processing and recall of important information. Social Science and Medicine, 71, 421–428.

Querstret, D., & Cropley, M. (2012). Exploring the relationship between work-related rumination, sleep quality, and work-related fatigue. Journal of Occupational Health Psychology, 17, 341–353.

Raudenbush, S. W., & Bryk, A. S. (2002). Hierarchical linear models: Applications and data analysis methods (Vol. 1). Thousand Oaks, CA: Sage.

Riedl, V., Valet, M., Wöller, A., Sorg, C., Vogel, D., Sprenger, T., et al. (2011). Repeated pain induces adaptations of intrinsic brain activity to reflect past and predict future pain. Neuroimage, 57, 206–213.

Segerstrom, S. C., Tsao, J. C., Alden, L. E., & Craske, M. G. (2000). Worry and rumination: Repetitive thought as a concomitant and predictor of negative mood. Cognitive Therapy and Research, 24, 671–688.

Singer, J. D., & Willett, J. B. (2003). Applied longitudinal data analysis: Modeling change and event occurrence. New York, NY: Oxford University Press.

Smith, D. M., Brown, S. L., & Ubel, P. A. (2008). Mispredictions and misrecollections: Challenges for subjective outcome measurement. Disability and Rehabilitation, 30, 418–424.

Stansfeld, S. A., & Marmot, M. G. (2002). Stress and the heart: Psychosocial pathways to coronary heart disease. Williston, VT: BMJ books.

Steele, C. M. (1988). The psychology of self-affirmation: Sustaining the integrity of the self. Advances in Experimental Social Psychology, 21, 261–302.

Stewart, A. L. (1992). Measuring functioning and well-being: The medical outcomes study approach. Durham, NC: Duke University Press.

Stewart, A., Ware, J. E., Brook, R. H., & Davies, A. R. (1978). Conceptualization and measurement of health for adults in the Health Insurance Study. Santa Monica: Rand Corporation.

Sweeny, K., & Andrews, S. E. (2014). Mapping individual differences in the experience of a waiting period. Journal of Personality and Social Psychology, 106, 1015–1030. doi:10.1037/a0036031

Sweeny, K., & Cavanaugh, A. G. (2012). Waiting is the hardest part: A model of uncertainty navigation in the context of health news. Health Psychology Review, 6, 147–164.

Sweeny, K., & Falkenstein, A. (2015). Is waiting really the hardest part? Comparing the emotional experiences of awaiting and receiving bad news. Personality and Social Psychology Bulletin, 41, 1551–1559.

Sweeny, K., Reynolds, C. A., Falkenstein, A., Andrews, S. E., & Dooley, M. D. (2015). Two definitions of waiting well. Emotion, 16(1), 129–143. doi:10.1037/emo0000117.

Thomsen, D. K., Mehlsen, M. Y., Christensen, S., & Zachariae, R. (2003). Rumination: Relationship with negative mood and sleep quality. Personality and Individual Differences, 34, 1293–1301.

Wade, N. G., Vogel, D. L., Liao, K. Y. H., & Goldman, D. B. (2008). Measuring state-specific rumination: Development of the Rumination About an Interpersonal Offense Scale. Journal of Counseling Psychology, 55(3), 419–426.

Ware, J. E., Brook, R. H., Davies, A. R., Williams, K. N., Stewart, A., Rogers, W. H., et al. (1980). Conceptualization and measurement of health for adults in the health insurance study. Vol. 1: Model of health and methodology. Santa Monica, CA: RAND Corporation. http://www.rand.org/pubs/reports/R1987z1.html.

Ware, J. E, Jr, & Sherbourne, C. D. (1992). The MOS 36-item short-form health survey (SF-36): I. Conceptual framework and item selection. Medical Care, 30, 473–483.

Watson, D., & Clark, L. A. (1999). The PANAS-X: Manual for the positive and negative affect schedule-expanded form. Retrieved from http://ir.uiowa.edu/cgi/viewcontent.cgi?article=1011&context=psychology_pubs.

Zoccola, P. M., Dickerson, S. S., & Lam, S. (2009). Rumination predicts longer sleep onset latency after an acute psychosocial stressor. Psychosomatic Medicine, 71, 771–775.

Zoccola, P. M., Figueroa, W. S., Rabideau, E. M., Woody, A., & Benencia, F. (2014). Differential effects of poststressor rumination and distraction on cortisol and C-reactive protein. Health Psychology, 33, 1606.
Acknowledgments
This material is based on work supported by a grant to the second author from the National Science Foundation under Grant Number BCS-1251672 and by a National Science Foundation Any opinions, findings, and conclusions or recommendations expressed in this material are those of the authors and do not necessarily reflect the views of the National Science Foundation.
Ethics declarations
Conflict of interest
Jennifer L. Howell and Kate Sweeny declare that they have no conflict of interest.
Human and animal rights and Informed consent
All procedures followed were in accordance with ethical standards of the responsible committee on human experimentation (institutional and national) and with the Helsinki Declaration of 1975, as revised in 2000. Informed consent was obtained from all patients for being included in the study.
About this article
Cite this article
Howell, J.L., Sweeny, K. Is waiting bad for subjective health?. J Behav Med 39, 652–664 (2016). https://doi.org/10.1007/s10865-016-9729-7
Received:

Accepted:

Published:

Issue Date:

DOI: https://doi.org/10.1007/s10865-016-9729-7
Keywords
Waiting

Uncertainty

Emotion regulation

Well-being

Sleep

Subjective health