Abstract
Dysregulated processing of natural rewards may be a central pathogenic process in the etiology and maintenance of prescription opioid misuse and addiction among chronic pain patients. This study examined whether a Mindfulness-Oriented Recovery Enhancement (MORE) intervention could augment natural reward processing through training in savoring as indicated by event-related brain potentials (ERPs). Participants were chronic pain patients at risk for opioid misuse who were randomized to 8 weeks of MORE (n = 11) or a support group control condition (n = 18). ERPs to images representing naturally rewarding stimuli (e.g., beautiful landscapes, intimate couples) and neutral images were measured before and after 8 weeks of treatment. Analyses focused on the late positive potential (LPP)—an ERP response in the 400–1,000 ms time window thought to index allocation of attention to emotional information. Treatment with MORE was associated with significant increases in LPP response to natural reward stimuli relative to neutral stimuli which were correlated with enhanced positive affective cue-responses and reductions in opioid craving from pre- to post-treatment. Findings suggest that cognitive training regimens centered on strengthening attention to natural rewards may remediate reward processing deficits underpinning addictive behavior.
This is a preview of subscription content, log in to check access.
Access options
Buy single article
Instant access to the full article PDF.
US$ 39.95
Price includes VAT for USA
Subscribe to journal
Immediate online access to all issues from 2019. Subscription will auto renew annually.
US$ 99
This is the net price. Taxes to be calculated in checkout.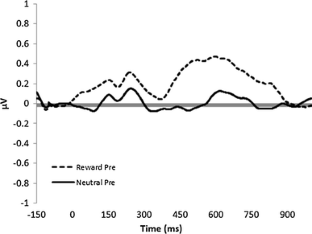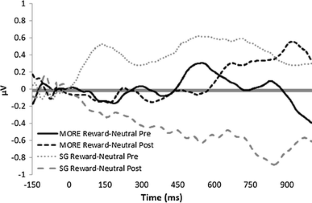 References
Alcaro, A., & Panksepp, J. (2011). The SEEKING mind: Primal neuro-affective substrates for appetitive incentive states and their pathological dynamics in addictions and depression. Neuroscience and Biobehavioral Reviews, 35, 1805–1820.

Butler, S. F., Budman, S. H., Fernandez, K. C., Houle, B., Benoit, C., Katz, N., & Jamison, R. N. (2007). Development and validation of the current opioid misuse measure. Pain, 130, 144–156.

Chou, R., Fanciullo, G. J., Fine, P. G., Adler, J. A., Ballantyne, J. C., Davies, P., … Miaskowski, C. (2009). Clinical guidelines for the use of chronic opioid therapy in chronic noncancer pain. The Journal of Pain, 10, 113–130.

Cuthbert, B. N., Schupp, H. T., Bradley, M. M., Birbaumer, N., & Lang, P. J. (2000). Brain potentials in affective picture processing: Covariation with autonomic arousal and affective report. Biological Psychology, 52, 95–111.

Davidson, R. J., Kabat-Zinn, J., Schumacher, J., Rosenkranz, M., Muller, D., Santorelli, S. F., … Sheridan, J. F. (2003). Alterations in brain and immune function produced by mindfulness meditation. Psychosomatic Medicine, 65, 564–70.

Dunning, J. P., & Hajcak, G. (2009). See no evil: Directing visual attention within unpleasant images modulates the electrocortical response. Psychophysiology, 46, 28–33.

Garland, E. L. (2013). Mindfulness-Oriented Recovery Enhancement for addiction, stress, and pain. Washington, DC: NASW Press.

Garland, E. L., Fredrickson, B. L., Kring, A. M., Johnson, D. P., Meyer, P. S., & Penn, D. L. (2010a). Upward spirals of positive emotions counter downward spirals of negativity: Insights from the broaden-and-build theory and affective neuroscience on the treatment of emotion dysfunctions and deficits in psychopathology. Clinical Psychology Review, 30, 849–864.

Garland, E. L., Froeliger, B., & Howard, M. (2014a). Mindfulness training targets neurocognitive mechanisms of addiction at the attention–appraisal–emotion interface. Frontiers in Psychiatry, 4, 173. doi:10.3389/fpsyt.2013.00173

Garland, E. L., Froeliger, B., & Howard, M. O. (2014b). Effects of Mindfulness-Oriented Recovery Enhancement on reward responsiveness and opioid cue-reactivity. Psychopharmacology. doi:10.1007/s00213-014-3504-7

Garland, E. L., Froeliger, B., Zeidan, F., Partin, K., & Howard, M. O. (2013). The downward spiral of chronic pain, prescription opioid misuse, and addiction: Cognitive, affective, and neuropsychopharmacologic pathways. Neuroscience and Biobehavioral Reviews, 37, 2597–2607.

Garland, E. L., Gaylord, S. A., Boettiger, C. A., & Howard, M. O. (2010b). Mindfulness training modifies cognitive, affective, and physiological mechanisms implicated in alcohol dependence: Results from a randomized controlled pilot trial. Journal of Psychoactive Drugs, 42, 177–192.

Garland, E. L., Manusov, E. G., Froeliger, B., Kelly, A., Williams, J., & Howard, M. O. (2014c). Mindfulness-Oriented Recovery Enhancement for chronic pain and prescription opioid misuse: Results from an early stage randomized controlled trial. Journal of Consulting and Clinical Psychology. doi:10.1037/a0035798

Geschwind, N., Peeters, F., Drukker, M., vas Os, J., & Wichers, M. (2011). Mindfulness training increases momentary positive emotions and reward experience in adults vulnerable to depression: A randomized control trial. Journal of Consulting and Clinical Psychology, 79, 618–628.

Gipson, C. D., Reissner, K. J., Kupchik, Y. M., Smith, A. C., Stankeviciute, N., Hensley-Simon, M. E., & Kalivas, P. W. (2013). Reinstatement of nicotine seeking is mediated by glutamatergic plasticity. Proceedings of the National Academy of the Sciences United States of America, 110, 9124–9129.

Gootjes, L., Franken, I. H. A., & Van Strien, J. W. (2011). Cognitive emotion regulation in yogic meditative practitioners. Journal of Psychophysiology, 25, 87–94. doi:10.1027/0269-8803/a000043

Gratton, G., Coles, M. G., & Donchin, E. (1983). A new method for off-line removal of ocular artifact. Electroencephalography and Clinical Neurophysiology, 55, 468–484.

Gross, J. J. (1998). Antecedent- and response-focused emotion regulation: Divergent consequences for experience, expression, and physiology. Journal of Personality and Social Psychology, 74, 224–237.

Hagerty, M. R., Isaacs, J., Brasington, L., Shupe, L., Fetz, E. E., & Cramer, S. C. (2013). Case study of ecstatic meditation: fMRI and EEG evidence of self-stimulating a reward system. Neural Plasticity, 2013. doi:10.1155/2013/653572

Hajcak, G., & Nieuwenhuis, S. (2006). Reappraisal modulates the electrocortical response to unpleasant pictures. Cognitive, Affective, & Behavioral Neuroscience, 6, 291–297.

Heiman, J. R., & Meston, C. M. (1998). Empirically validated treatments for sexual dysfunction. In R. C. Rosen, C. M. Davis, & H. J. Ruppel (Eds.), Annual review of sex research: An integrative and interdisciplinary review 1997 (Vol. 8, pp. 148–194). Mason City, IA: The Society for the Scientific Study of Sexuality.

Heinz, A., Siessmeier, T., Wrase, J., Hermann, D., Klein, S., Grusser, S. M., … Bartenstein, P. (2004). Correlation between dopamine D(2) receptors in the ventral striatum and central processing of alcohol cues and craving. American Journal of Psychiatry, 161, 1783–1789.

Hölzel, B. K., Lazar, S. W., Gard, T., Schuman-Olivier, Z., Vago, D., & Ott, U. (2011). How does mindfulness meditation work? Proposing mechanisms of action from a conceptual and neural perspective. Perspectives on Psychological Science, 6, 537–559.

Hong, P. Y., Lishner, D. A., & Han, K. H. (2014). Mindfulness and eating: An experiment examining the effect of mindful raisin eating on the enjoyment of sampled food. Mindfulness, 5, 80–87.

Hong, P. Y., Lishner, D. A., Han, K. H., & Huss, E. A. (2011). The positive impact of mindful eating on expectations of food liking. Mindfulness, 2, 103–113.

Kalivas, P. W., & Volkow, N. D. (2005). The neural basis of addiction: A pathology of motivation and choice. American Journal of Psychiatry, 162, 1403–1413.

Killingsworth, M. A., & Gilbert, D. T. (2010). A wandering mind is an unhappy mind. Science, 330, 932.

Kim, S. H., & Hamann, S. (2007). Neural correlates of positive and negative emotion regulation. Journal of Cognitive Neuroscience, 19, 776–798.

Kjaer, T. W., Bertelsen, C., Piccini, P., Brooks, D., Alving, J., & Lou, H. C. (2002). Increased dopamine tone during meditation-induced change of consciousness. Cognitive Brain Research, 13, 255–259.

Kober, H., Mende-Siedlecki, P., Kross, E. F., Weber, J., Mischel, W., Hart, C. L., & Ochsner, K. N. (2011). Prefrontal-striatal pathway underlies cognitive regulation of craving. Proceedings of the National Academy of Sciences United States of America, 107, 14811–14816.

Koob, G. D., & Le Moal, M. (2001). Drug addiction, dysregulation of reward, and allostasis. Neuropsychopharmacology, 24, 97–129.

Koob, G. F., & Le Moal, M. (2008). Neurobiological mechanisms for opponent motivational processes in addiction. Philosophical Transactions of the Royal Society B: Biological Sciences, 363, 3113–3123.

Krompinger, J. W., Moser, J. S., & Simons, R. F. (2008). Modulations of the electrophysiological response to pleasant stimuli by cognitive reappraisal. Emotion, 8, 132.

Lang, P., Bradley, M., & Cuthbert, B. (1997). International affective picture system (IAPS): Technical manual and affective ratings. Gainesville, FL: NIMH Center for the Study of Emotion and Attention.

LeBel, J. L., & Dubé, L. (2001). The impact of sensory knowledge and attentional focus on pleasure and on behavioral responses to hedonic stimuli. 13th annual American Psychological Society convention, Toronto, ON.

Lee, B., London, E. D., Poldrack, R. A., Farahi, J., Nacca, A., Monterosso, J. R., … Mandelkern, M. A. (2009). Striatal dopamine d2/d3 receptor availability is reduced in methamphetamine dependence and is linked to impulsivity. Journal of Neuroscience 29, 14734–14740.

Lintas, A., Chi, N., Lauzon, N. M., Bishop, S. F., Sun, N., Tan, H., & Laviolette, S. R. (2012). Inputs from the basolateral amygdala to the nucleus accumbens shell control opiate reward magnitude via differential dopamine D1 or D2 receptor transmission. European Journal of Neuroscience, 35, 279–290.

Liu, Y., Huang, H., McGinnis-Deweese, M., Keil, A., & Ding, M. (2012). Neural substrate of the late positive potential in emotional processing. The Journal of Neuroscience: The Official Journal of the Society for Neuroscience, 32, 14563–14572.

Lubman, D. I., Allen, N. B., Peters, L. A., & Deakin, J. F. (2007). Electrophysiological evidence of the motivational salience of drug cues in opiate addiction. Psychological Medicine, 37, 1203–1209.

Lubman, D. I., Allen, N. B., Peters, L. A., & Deakin, J. F. (2008). Electrophysiological evidence that drug cues have greater salience than other affective stimuli in opiate addiction. Journal of Psychopharmacology, 22, 836–842.

Lubman, D. I., Yucel, M., Kettle, J. W., Scaffidi, A., Mackenzie, T., Simmons, J. G., & Allen, N. B. (2009). Responsiveness to drug cues and natural rewards in opiate addiction: Associations with later heroin use. Archives of General Psychiatry, 66, 205–212.

Masters, W. H., & Johnson, V. E. (1970). Human sexual inadequacy. Boston: Little & Brown.

Moser, J. S., Hartwig, R., Moran, T. P., Jendrusina, A. A., & Kross, E. (2014). Neural markers of positive reappraisal and their associations with trait reappraisal and worry. Journal of Abnormal Psychology, 123, 91.

Moser, J. S., Krompinger, J. W., Dietz, J., & Simons, R. F. (2009). Electrophysiological correlates of decreasing and increasing emotional responses to unpleasant pictures. Psychophysiology, 46(1), 17–27.

Oishi, S., Diener, E., Choi, D.-W., Kim-Prieto, C., & Choi, I. (2007). The dynamics of daily events and well-being across cultures: When less is more. Journal of Personality and Social Psychology, 93, 685.

Olofsson, J. K., Nordin, S., Sequeira, H., & Polich, J. (2008). Affective picture processing: An integrative review of ERP findings. Biological Psychology, 77, 247–265. doi:10.1016/j.biopsycho.2007.11.006

Rawson, R., & McCann, M. J. (2006). Counselor's treatment manual: Matrix intensive outpatient treatment for people with stimulant use disorders. DHHS publication no. (SMA). Washington DC: SAMHSA.

Rogers, C. (2003). Client-centered therapy: Its current practice, implications, and theory. New York: Constable.

Sabatinelli, D., Keil, A., Frank, D. W., & Lang, P. J. (2013). Emotional perception: Correspondence of early and late event-related potentials with cortical and subcortical functional MRI. Biological Psychology, 92, 513–519.

Scharmüller, W., Leutgeb, V., Schäfer, A., Köchel, A., & Schienle, A. (2011). Source localization of late electrocortical positivity during symptom provocation in spider phobia: An sLORETA study. Brain Research, 1397, 10–18.

Schönfelder, S., Kanske, P., Heissler, J., & Wessa, M. (2013). Time course of emotion-related responding during distraction and reappraisal. Social Cognitive and Affective Neuroscience, nst116. doi:10.1093/scan/nst116

Sheehan, D. V., Lecrubier, Y., Sheehan, K. H., Amorim, P., Janavs, J., Weiller, E., … Dunbar, G. C. (1998). The mini-international neuropsychiatric interview (MINI): The development and validation of a structured diagnostic psychiatric interview for DSM-IV and ICD-10. Journal of Clinical Psychiatry, 59, 22–33.

Shizgal, P., & Hyman S. P. (2013). Motivational and addictive states. In E. R. Kandel, J. H. Schwartz, T. M. Jessell, S. Siegelbaum, & J. Hudspeth (Eds.), Principles of neural science (5th edn.). New York: McGraw-Hill.

Shurman, J., Koob, G. F., & Gutstein, H. B. (2010). Opioids, pain, the brain, and hyperkatifeia: A framework for the rational use of opioids for pain. Pain Medicine (Malden, Massachusetts), 11, 1092–1098.

Sobolewski, A., Holt, E., Kublik, E., & Wróbel, A. (2011). Impact of meditation on emotional processing—A visual ERP study. Neuroscience Research, 71, 44–48.

Volkow, N. D., Wang, G.-J., Fowler, J. S., Tomasi, D., Telang, F., & Baler, R. (2010). Addiction: Decreased reward sensitivity and increased expectation sensitivity conspire to overwhelm the brain's control circuit. BioEssays, 32, 748–755.

Wadlinger, H. A., & Isaacowitz, D. M. (2010). Fixing our focus: Training attention to regulate emotion. Personality and Social Psychology Review, 15, 75–102.

Wasan, A. D., Butler, S. F., Budman, S. H., Fernandez, K., Weiss, R. D., Greenfield, S. F., & Jamison, R. N. (2009). Does report of craving opioid medication predict aberrant drug behavior among chronic pain patients? Clinical Journal of Pain, 25, 193–198.

Weinberg, A., & Hajcak, G. (2010). Beyond good and evil: Implications of examining electrocortical activity elicited by specific picture content. Emotion, 10, 767–782.
Acknowledgments
This work was supported by Grant Numbers DA032517 and DA037005 from the National Institutes of Health awarded to E.L.G.; and a grant from the Fahs Beck Fund for Research and Experimentation, also awarded to E.L.G. We wish to thank Zhenghui Yu and Elizabeth McCoy for their assistance in ERP data processing. We also wish to thank two anonymous reviewers for their insightful suggestions with regard to the analysis and interpretation of ERP findings.
Conflict of interest
E.L.G., B.F., and M.O.H. declare that they have no conflict of interest.
Human and animal rights and Informed Consent
All procedures followed were in accordance with ethical standards of the responsible committee on human experimentation (institutional and national) and with the Helsinki Declaration of 1975, as revised in 2000. Informed consent was obtained from all patients for being included in the study.
About this article
Cite this article
Garland, E.L., Froeliger, B. & Howard, M.O. Neurophysiological evidence for remediation of reward processing deficits in chronic pain and opioid misuse following treatment with Mindfulness-Oriented Recovery Enhancement: exploratory ERP findings from a pilot RCT. J Behav Med 38, 327–336 (2015). https://doi.org/10.1007/s10865-014-9607-0
Received:

Accepted:

Published:

Issue Date:
Keywords
Mindfulness

Chronic pain

Opioid misuse

Reward

ERP

Positive emotion

Allostasis

LPP

Savoring