Abstract
Migraine headaches are associated with symptoms of depression and anxiety (Waldie and Poulton Journal of Neurology, Neurosurgery, and Psychiatry 72: 86–92, 2002) and feelings of low self-efficacy (French et al. Headache, 40: 647–656, 2000). Previous research suggests that spiritual meditation may ameliorate some of the negative traits associated with migraine headaches (Wachholtz and Pargament Journal of behavioral Medicine, 30: 311–318, 2005). This study examined two primary questions: (1) Is spiritual meditation more effective in enhancing pain tolerance and reducing migraine headache related symptoms than secular meditation and relaxation? and, (2) Does spiritual meditation create better mental, physical, and spiritual health outcomes than secular meditation and relaxation techniques? Eighty-three meditation naïve, frequent migraineurs were taught Spiritual Meditation, Internally Focused Secular Meditation, Externally Focused Secular Meditation, or Muscle Relaxation which participants practiced for 20 min a day for one month. Pre-post tests measured pain tolerance (with a cold pressor task), headache frequency, and mental and spiritual health variables. Compared to the other three groups, those who practiced spiritual meditation had greater decreases in the frequency of migraine headaches, anxiety, and negative affect, as well as greater increases in pain tolerance, headache-related self-efficacy, daily spiritual experiences, and existential well being.
Access options
Buy single article
Instant access to the full article PDF.
USD 39.95
Price excludes VAT (USA)
Tax calculation will be finalised during checkout.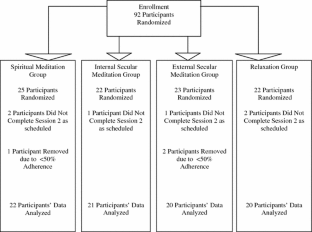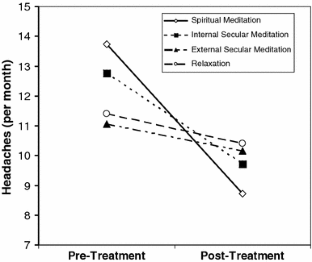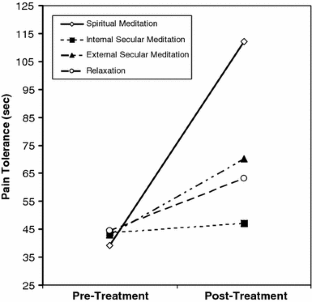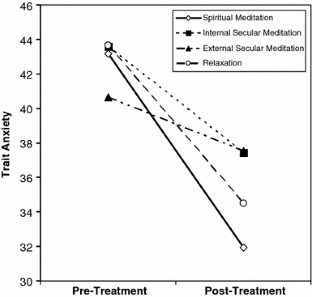 References
Alexander, C. N., Rainforth, M. V., & Gelderloos, P. (1991). Transcendental meditation, self-actualization, and psychological health: A conceptual overview and statistical meta-analysis. Journal of Social Behavior and Personality, 6, 189–248.

Alexander, C., Robinson, D., Orme-Johnson, R., Schneider, R., & Walton, K. (1994). The effects of transcendental meditation compared to other methods of relaxation and meditation reducing risk factors, morbidity, and mortality. Homeostasis, 35, 243–264.

Alexander, C. N., Swanson, G. C., Rainforth, M. V., & Carlisle, T. W. (1989). Effects of the transcendental meditation program on stress reduction, health, and employee development. Anxiety, Stress, and Coping, 6, 245–262. doi:10.1080/10615809308248383.

Arnstein P., Caudill M., Mandle C., Norris A., & Beasley R. (1999). Self efficacy as a mediator of the relationship between pain intensity, disability and depression in chronic pain patients. Pain, 80, 483–491. doi:10.1016/S0304-3959(98)00220-6.

Astin, J. A. (1997). Stress reduction through mindfulness meditation: Effects on psychological symptomology, sense of control, and spiritual experiences. Psychotherapy and Psychosomatics, 66, 97–106.

Bigal, M. E., Bigal, J. M., Betti, M., Bordini, C. A., & Speciali, J. G. (2001). Evaluation of the impact of migraine and episodic tension type headache on the quality of life and performance of a university student population. Headache, 41, 710–719. doi:10.1046/j.1526-4610.2001.041007710.x.

Blanchard, E. B., Applebaum, K. A., Radnitz, C. L., Morrill, B., Michultka, D., et al. (1990). A controlled evaluation of thermal biofeedback and thermal biofeedback combined with cognitive therapy in the treatment of vascular headache. Journal of Consulting and Clinical Psychology, 58, 216–224. doi:10.1037/0022-006X.58.2.216.

Boivin, M. J., Kirby, A. L., Underwood, L. K., & Silva, H. (1999). Spiritual well-being scale (a review). In P. C. Hill & R. W. Hood (Eds.), Measures of Religiosity (pp. 382–385). Birmingham: Religious Education.

Buenaver, L. F. (2003). Evaluating the role of religious coping in a self-reported headache population. Unpublished doctoral dissertation. Virginia Commonwealth University.

Carlson, C. A., Bacaseta, P. E., & Simanton, D. A. (1988). A controlled evaluation of devotional meditation and progressive relaxation. Journal of Psychology and Theology, 16, 362–368.

Elkins, D., Anchor, K. N., & Sandler, H. M. (1979). Relaxation training and prayer behavior as tension reduction techniques. Behavioral Engineering, 5, 81–87.

Fan, A. Y., Gu, R. J., & Zhou, A. N. (1999). MMPI changes associated with therapeutic intervention: A migraine control study. Headache, 39, 581–585. doi:10.1046/j.1526-4610.1999.3908581.x.

Fetzer Institute (1999). Multidimensional measurement of religiousness/spirituality for use in health research. Kalamazoo, MI: John E. Fetzer Institute.

French, D. J., Holroyd, K. A., Pinell, C., Malinoski, P. T., O'Donnell, F., & Hill, K. R. (2000). Perceived self-efficacy and headache related disability. Headache, 40, 647–656. doi:10.1046/j.1526-4610.2000.040008647.x.

Goadsby, P. J., Lipton, R. B., & Ferrari, M. D. (2002). Migraine-current understanding and treatment. New England Journal of Medicine, 346, 257–270. doi:10.1056/NEJMra010917.

Grossman, P., Niemann, L., Schmidt, S., & Walach, H. (2004). Mindfulness-based stress reduction and health: A meta-analysis. Journal of Psychosomatic Research, 57, 35–43. doi:10.1016/S0022-3999(03)00573-7.

Harris, A. H.S., Thoresen, C. E., McCullough, M. E., & Larson, D. B. (1999). Spiritually and religiously oriented health interventions. Journal of Health Psychology, 4, 413–433.

Hu, X. H., Markson, L. E., Lipton, R. B., Steward, W. F., & Berger, M. L. (1999). Burden of migraine in the United States: Disability and economic costs. Archives of Internal Medicine, 159, 813–818. doi:10.1001/archinte.159.8.813.

Huber, D., & Henrich, G. (2003). Personality traits and stress sensitivity in migraine patients. Behavioral Medicine, 29, 4–13.

International Headache Society (2004). The international classification of headache disorders, (2nd ed.). Cephalagia, 24(suppl 1), 1–160.

Keefe, F. J., Affleck, G., Lefebvre, J., Underwood, L., Caldwell, D. S., et al. (2001). Living with rheumatoid arthritis: The role of daily religious and spiritual coping. Journal of Pain, 2, 101–110. doi:10.1054/jpai.2001.19296.

Koenig, H. G., McCullough, M. E., & Larson, D. B. (2001). Handbook of religion and health. New York: Oxford University Press.

Lateri-Minet, M., Auray, J., Hasnaoui, A., Dartigues, J., Duru, G., et al. (2003). Prevalence and description of chronic daily headache in the general population. Pain, 102, 1143–1149.

Lecci, L., & Wirth, R. J. (2000). Investigating the effects of physical discomfort on laboratory-induced mood states. Journal of Behavioral Therapy and Experimental Psychiatry, 31, 231–247. doi:10.1016/S0005-7916(01)00008-8.

Lipton, R. B., Dodick, D., Sadovsky, R., Kolodner, K., Endicott, J., et al. (2003). A self-administered screener for migraine in primary care. Neurology, 61, 375–382.

Lipton, R. B., Scher, A. I., Kolodner, K., Liberman, J., Steiner, T. J, & Stewart, W. F. (2002). Migraine in the United States: Epidemiology and patterns of health care use. Neurology, 58, 885–894.

Lipton, R. B., Stewart, W. F., & Simon, D. (1998). Medical consultation for migraine: Results from the American Migraine Study. Headache, 38, 87–96. doi:10.1046/j.1526-4610.1998.3802087.x.

Main, A., Vlachonikolis, I., & Dowson, A. (2000). The wavelength of light causing photophobia in migraine and tension-type headache between attacks. Headache, 40, 194–199 doi:10.1046/j.1526-4610.2000.00028.x.

McDowell, I. (1996). Measuring health: A guide to rating scales and questionnaires (pp 206–213). New York: Oxford University Press.

O'Halloran, J. P., Jevning, R., Wilson, A. F., Skowsky, R., Walsh, R. N., & Alexander, C. (1985). Hormonal control in a state of decreased activation: Potentiation of arginine vasopressing secretion. Physiology and Behavior, 35, 591–595. doi:10.1016/0031-9384(85)90146-5.

Orme-Johnson, D. (1987). Medical care utilization and the transcendental meditation program. Psychosomatic Medicine, 49, 493–507.

Paloutzian, R. F., & Ellison, C. W. (1982). Loneliness, spiritual well-being and quality of life. In L. A. Peplau & D. Perlman (Eds.), Loneliness: A sourcebook of current theory, research, and theraphy (pp. 224–237). New York: Wiley Interscience.

Pargament, K. I. (2007). Spiritually integrated psychotherapy: Understanding and addressing the sacred. New York: Guilford Press.

Pargament, K. I., Magyar, G., & Murray, N. (2005). The sacred and the search for significance: Religion as a unique process. Journal of Social Issues, 61, 665–687. doi:10.1111/j.1540-4560.2005.00426.x.

Penzien, D., Rains, J., & Andrasik, F. (2002). Behavioral management of recurrent headache: Three decades of experience and empiricism. Applied Psychophysiology and Biofeedback, 27, 163–181. doi:10.1023/A:1016247811416.

Radloff, L. S. (1977). The CES-D: A self-report depression scale for research in the general population. Applied Psychological Measurement, 1, 385–410. doi:10.1177/014662167700100306.

Rippentrop, A. E. (2005). A review of the role of religion and spirituality in chronic pain populations. Rehabilitation Psychology, 50, 278–284. doi:10.1037/0090-5550.50.3.278.

Rojahn, J., & Gerhards, F. (1986). Subjective stress sensitivity and physiological responses to an aversive auditory stimulus in migraine and control subjects. Journal of Behavioral Medicine, 9, 203–212. doi:10.1007/BF00848478.

Scott, B., & Melin, L. (1998). Psychometric properties and standardized data for questionnaires measuring negative affect, dispositional style and daily hassles. A nation-wide sample. Scandinavian Journal of Psychology, 39, 301–307. doi:10.1111/1467-9450.00088.

Smith, T. B., McCullough, M. E., & Poll, J. (2003). Religiousness and depression: Evidence for a main effect and the moderating influence on stressful life events. Psychological Bulletin, 129, 614–636. doi:10.1037/0033-2909.129.4.614.

Spielberger, C. D. (1983). Manual for the state-trait anxiety inventory STAI. Palo Alto, CA: Mind Garden.

SPSS (2004). Statistical package for the social sciences, 13.0. New York: Prentice Hall.

Stewart, A. L., & Ware, J. E. (1991). Measuring function and well-being: The medical outcomes study approach. Durham, NC: Duke University Press.

Stewart, W., & Lipton, R. (2002). Need for care and perceptions of MIDAS among headache sufferers study. CNS Drugs, 16S, 5–11. doi:10.2165/00023210-200216001-00002.

Stewart, W. F., Lipton, R. B., Celentanto, D. D., & Reed, M. L. (1992). Prevalence of migraine headache in the United States. Relation to age, income, race, and other socio-demographic factors. Journal of the American Medical Association, 267, 64–69. doi:10.1001/jama.267.1.64.

Underwood, L. G., & Teresi, J. A. (2002). The daily spiritual experiences scale: Development, theoretical description, reliability, exploratory factor analysis, preliminary construct validity using health-related data. Annals of Behavioral Medicine, 24, 22–33 doi:10.1207/S15324796ABM2401_04.

Wachholtz, A. B. (Speaker) (2007). Progressive muscle relaxation. Guided self-awareness [CD]. Durham: Duke University Diet and Fitness Center.

Wachholtz, A. B., & Pargament, K. I. (2005). Is spirituality a critical ingredient of meditation? Comparing the effects of spiritual meditation, secular meditation, and relaxation on spiritual, psychological, cardiac, and pain outcomes. Journal of Behavioral Medicine, 28, 369–384 doi:10.1007/s10865-005-9008-5.

Wachholtz, A. B., Pearce, M., & Koenig, H. (2007). Exploring the relationship between spirituality, coping, and pain. Journal of Behavioral Medicine, 30, 311–318 doi:10.1007/s10865-007-9114-7.

Wagner, T. H., Patrick, D. L., Galer, B. S., & Berson, R. A. (1996). A new instrument to assess the long-term quality of life effects from migraine: Development and psychometric testing of the MSQOL. Headache, 36, 484–492 doi:10.1046/j.1526-4610.1996.3608484.x.

Waldie, K. E., & Poulton, R. (2002). Physical and psychological correlates of primary headache in young adulthood: A 26—year longitudinal study. Journal of Neurology, Neurosurgery, and Psychiatry, 72, 86–92 doi:10.1136/jnnp.72.1.86.

Watson, D., Clark, L. A., & Tellegen, A. (1988). Development and validation of brief measures of positive and negative affect: The PANAS scales. Journal of Personality and Social Psychology, 54, 1063–1070 doi:10.1037/0022-3514.54.6.1063.

Wenneberg, S., Schneider, R., Walton, K., Maclean, C., Levitsky, D., et al. (1997). A controlled study of the effects of the Transcendental Meditation program on cardiovascular reactivity in ambulatory blood pressure. International Journal of Neuroscience, 89, 15–28. doi:10.3109/00207459708988461.

Zwart, J. A., Dyb, G., Hagen, K., Odegard, K. J., Dahl, A. A., Bovim, G., & Stovner, L. J. (2003). Depression and anxiety disorders associated with headache frequency: The Nord-Trondelag Health Study. European Journal of Neurology, 10, 147–152.
About this article
Cite this article
Wachholtz, A.B., Pargament, K.I. Migraines and meditation: does spirituality matter?. J Behav Med 31, 351–366 (2008). https://doi.org/10.1007/s10865-008-9159-2
Received:

Accepted:

Published:

Issue Date:

DOI: https://doi.org/10.1007/s10865-008-9159-2
Keywords