Abstract
Expanding the field of behavior analysis allows empirically validated practices to be more accessible for children impacted by autism, developmental disabilities, and behavioral challenges. However, even with the global advancement of applied behavior analysis (ABA) getting the science into the area where children spend most of their time, schools, can be a challenge. Professional development for teachers in the area of ABA has been previously investigated. However, incorporating ABA coursework into pre-service teacher training does not have a strong research base. Looking specifically at teaching ABA coursework in English to a group of speakers of English as a second language is even more novel. Therefore, the aim of this investigation was to use an alternating treatments design in an undergraduate pre-service teacher ABA elective course to evaluate the effectiveness and social validity of information delivery in two different formats: in-person lecture and online recorded lecture. The findings of the study did not show a difference in student course performance based on delivery method, but did show variations in preferences. Overall, the blended model of instruction proved effective in disseminating ABA to pre-service teachers in their nonnative language with promising reports for future usage.
Access options
Buy single article
Instant access to the full article PDF.
US$ 39.95
Tax calculation will be finalised during checkout.
Subscribe to journal
Immediate online access to all issues from 2019. Subscription will auto renew annually.
US$ 79
Tax calculation will be finalised during checkout.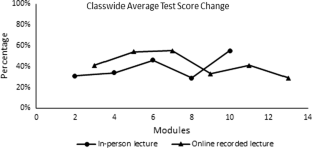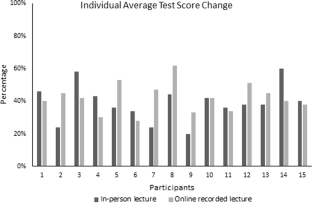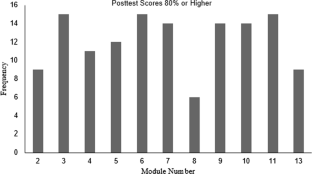 Data availability
The data that support the findings of this study are available from the corresponding author upon reasonable request.
References
Alberto, P., & Troutman, A. C. (2013). Applied behavior analysis for teachers. Upper saddle river. New Jersy: Pearson.

Allen, K. A., & Bowles, T. V. (2014). Examining the effects of brief training on the attitudes and future use of behavioral methods by teachers. Behavioral Interventions, 29(1), 62–76. https://doi.org/10.1002/bin.1376.

Aragon, S. R., Johnson, S. D., & Shaik, N. (2002). The influence of learning style preferences on student success in online versus face-to-face environments. The American Journal of Distance Education, 16(4), 227–243. https://doi.org/10.1207/S15389286AJDE1604_3.

Ardila, R. (2006). Prologue: Behaviour analysis around the world. International Journal of Psychology, 41(6), 433–435. https://doi.org/10.1080/00207590500495180.

Autism Speaks. (2019). About us.https://www.autismspeaks.org/about-us.

Campbell, N. (2007). Bringing ESL students out of their shells: Enhancing participation through online discussion. Business Communication Quarterly, 70(1), 37–43.

Chamak, B. (2008). Autism and social movements: French parents' associations and international autistic individuals' organisations. Sociology of Health and Illness, 30(1), 76–96. https://doi.org/10.1111/j.1467-9566.2007.01053.x.

Chang, K., & Zaroff, C. M. (2017). Applied behavior analysis in autism spectrum disorders in China and Hong Kong. Acta Psychopathologica, 3(52), 1–5. https://doi.org/10.4172/2469-6676.100124.

Dufrene, B. A., Doggett, R. A., Henington, C., & Watson, T. S. (2007). Functional assessment and intervention for disruptive classroom behaviors in preschool and head start classrooms. Journal of Behavioral Education, 16(4), 368–388. https://doi.org/10.1007/s10864-007-9048-8.

Dutton Tillery, A., Varjas, K., Meyers, J., & Collins, A. S. (2010). General education teachers' perceptions of behavior management and intervention strategies. Journal of Positive Behavior Interventions, 12(2), 86–102. https://doi.org/10.1177/1098300708330879.

Enoch, M. R., & Dixon, M. R. (2019). Neuro-typical children outcomes from an acceptance and commitment therapy summer camp. Behavior Analysis in Practice, 12(2), 343–352. https://doi.org/10.1007/s40617-018-00319-0.

Fennell, B., & Dillenburger, K. (2018). Applied behaviour analysis: What do teachers of students with autism spectrum disorder know. International Journal of Educational Research, 87, 110–118. https://doi.org/10.1016/j.ijer.2016.06.012.

Gandalovicova, J. (2016). The arrival of ABA in the Czech Republic. European Association for Behavior Analysis Newsletter. https://www.europeanaba.org/.

Goin-Kochel, R. P., Myers, B. J., Hendricks, D. R., Carr, S. E., & Wiley, S. B. (2007). Early responsiveness to intensive behavioural intervention predicts outcomes among preschool children with autism. International Journal of Disability, Development and Education, 54(2), 151–175. https://doi.org/10.1080/10349120701330404.

Grey, I. M., Honan, R., McClean, B., & Daly, M. (2005). Evaluating the effectiveness of teacher training in applied behaviour analysis. Journal of Intellectual Disabilities, 9(3), 209–227. https://doi.org/10.1177/1744629505056695.

Hanley, G. P., Heal, N. A., Tiger, J. H., & Ingvarsson, E. T. (2007). Evaluation of a classwide teaching program for developing preschool life skills. Journal of Applied Behavior Analysis, 40(2), 277–300. https://doi.org/10.1901/jaba.2007.57-06.

Kalgotra, R., & Warwal, J. S. (2017). Effect of music intervention on the behaviour disorders of children with intellectual disability using strategies from applied behaviour analysis. Disability, CBR and Inclusive Development, 28(1), 161–177. https://doi.org/10.5463/dcid.v28i1.584.

Kern, L., Bambara, L., & Fogt, J. (2002). Class-wide curricular modification to improve the behavior of students with emotional or behavioral disorders. Behavioral Disorders, 27(4), 317–326. https://doi.org/10.1177/019874290202700408.

Kingsdorf, S., & Pančocha, K. (2020). A survey of the use of applied behaviour analysis for children with autism in the Czech Republic. European Journal of Special Needs Education. https://doi.org/10.1080/08856257.2020.1726092.

Kunin, M., Julliard, K. N., & Rodriguez, T. E. (2014). Comparing face-to-face, synchronous, and asynchronous learning: postgraduate dental resident preferences. Journal of Dental Education, 78(6), 856–866. https://doi.org/10.1002/j.0022-0337.2014.78.6.tb05739.x.

Larson, D. K., & Sung, C. H. (2009). Comparing student performance: Online versus blended versus face-to-face. Journal of Asynchronous Learning Networks, 13(1), 31–42.

McCabe, H. (2007). Parent advocacy in the face of adversity: Autism and families in the People's Republic of China. Focus on Autism and Other Developmental Disabilities, 22(1), 39–50. https://doi.org/10.1177/10883576070220010501.

Ministry of Education (2020). Department of Statistics, Analysis and Development eEducation Ministry of Education, Youth and Sports. https://sberdat.uiv.cz/rozcestnik/.

Moderato, P., & Presti, G. (2006). Behaviourism and the science of behaviour: Its development in Italy. International Journal of Psychology, 41(6), 480–485. https://doi.org/10.1080/00207590500492419.

Newlin, M. H., Lavooy, M. J., & Wang, A. Y. (2005). An experimental comparison of conventional and web-based instructional formats. North American Journal of Psychology, 7(2).

Omar, H., Embi, M. A., & Yunus, M. M. (2012). ESL learners' interaction in an online discussion via Facebook. Asian Social Science, 8(11), 67. https://doi.org/10.5539/ass.v8n11p67.

Orsini, M., & Smith, M. (2010). Social movements, knowledge and public policy: the case of autism activism in Canada and the US. Critical Policy Studies, 4(1), 38–57. https://doi.org/10.1080/19460171003714989.

Peters-Scheffer, N., Didden, R., Korzilius, H., & Sturmey, P. (2011). A meta-analytic study on the effectiveness of comprehensive ABA-based early intervention programs for children with autism spectrum disorders. Research in Autism Spectrum Disorders, 5(1), 60–69. https://doi.org/10.1016/j.rasd.2010.03.011.

Rios, C., & Andrada, B. C. (2015). The changing face of autism in Brazil. Culture, Medicine, and Psychiatry, 39(2), 213–234. https://doi.org/10.1007/s11013-015-9448-5.

Roll-Pettersson, L., & Ala'I-Rosales, S. (2009). Using blended and guided technologies in a university course for scientist-practitioners: Teaching applied behaviour analysis to autism professionals. Journal of Intellectual Disabilities, 13(2), 113–142. https://doi.org/10.1177/1744629509340179.

Roll-Pettersson, L., Ala'I-Rosales, S., Keenan, M., & Dillenburger, K. (2010). Teaching and learning technologies in higher education: Applied behaviour analysis and autism;"Necessity is the mother of invention". European Journal of Behavior Analysis, 11(2), 247–259. https://doi.org/10.1080/15021149.2010.11434349.

Salomone, E., Beranová, Š., Bonnet-Brilhault, F., Briciet Lauritsen, M., Budisteanu, M., Buitelaar, J., et al. (2016). Use of early intervention for young children with autism spectrum disorder across Europe. Autism, 20(2), 233–249. https://doi.org/10.1177/1362361315577218.

Shepley, C., Allday, R. A., & Shepley, S. B. (2018). Towards a meaningful analysis of behavior analyst preparation programs. Behavior analysis in practice, 11(1), 39–45. https://doi.org/10.1007/s40617-017-0193-9.

Skinner, B. F. (1957). Verbal behavior. New York: Appleton-Century-Crofts.

Van Der Heyden, A. M., Witt, J. C., & Gilbertson, D. (2007). A multi-year evaluation of the effects of a response to intervention (RTI) model on identification of children for special education. Journal of School Psychology, 45(2), 225–256. https://doi.org/10.1016/j.jsp.2006.11.004.

Vargas, J. S. (2013). Behavior analysis for effective teaching. New York: Routledge.

Westling, D. L. (2010). Teachers and challenging behavior: Knowledge, views, and practices. Remedial and Special Education, 31(1), 48–63. https://doi.org/10.1177/0741932508327466.

Wood, S. J., Murdock, J. Y., & Cronin, M. E. (2002). Self-monitoring and at-risk middle school students: Academic performance improves, maintains, and generalizes. Behavior Modification, 26(5), 605–626. https://doi.org/10.1177/014544502236653.

Zacharis, N. Z. (2011). The effect of learning style on preference for web-based courses and learning outcomes. British Journal of Educational Technology, 42(5), 790–800. https://doi.org/10.1111/j.1467-8535.2010.01104.x.
Acknowledgements
The authors would like to acknowledge the participation of the practitioners and the financial support of a grant from the Ministry of Education, Youth, and Sports of the Czech Republic with the Project No. CZ.02.2.69/0.0/0.0/16_027/0008360.
Ethics declarations
Conflict of interest
The authors have no conflict of interest to declare.
Ethics Statement
The manuscript and research reported adheres to the ethical policies described in the Author Guidelines.
Additional information
Publisher's Note
Springer Nature remains neutral with regard to jurisdictional claims in published maps and institutional affiliations.
About this article
Cite this article
Kingsdorf, S., Pančocha, K. Teaching Behavior Analysis to Pre-service Teachers in their Nonnative Language: Does Method Matter?. J Behav Educ (2020). https://doi.org/10.1007/s10864-020-09409-y
Keywords
Pre-service teacher training

ABA dissemination

ESL learners

Instruction delivery