Abstract
Many children with autism spectrum disorder (ASD) require instructional programs that simultaneously address academic content, interfering behavior, and potential gaps in prerequisite skills for a given curriculum. This study examined the impact of an intervention package consisting of contingent reinforcement and match-to-sample training on the independent progression of 3 children with ASD through Headsprout® Early Reading (HER), a behavior analytic online reading program. A multiple probe across participants design was used to examine the effects of the intervention package on participants' correct interactions per minute and total episodes completed. Transfer of training to oral reading of companion print books was also assessed. All participants demonstrated an increase in correct interactions per minute. Two participants learned to independently complete a HER episode each day and could orally read companion print books. The results suggest individualized behavior analytic programs can support the use of HER as a computer-based reading program for some children with ASD.
Access options
Buy single article
Instant access to the full article PDF.
US$ 39.95
Tax calculation will be finalised during checkout.
Subscribe to journal
Immediate online access to all issues from 2019. Subscription will auto renew annually.
US$ 79
Tax calculation will be finalised during checkout.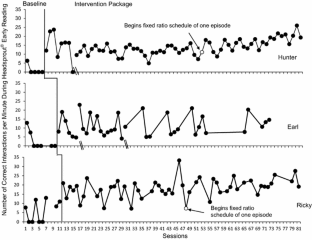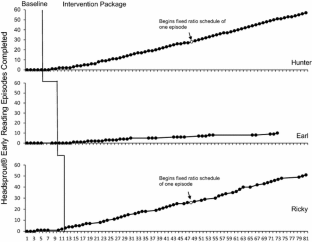 References
Browder, D. M., Wakeman, S. Y., Spooner, F., Ahlgrim-Delzell, L., & Algozzine, B. (2006). Research on reading instruction for individuals with significant cognitive disabilities. Exceptional Children, 72, 392–408.

Brown, H., Oram-Cardy, J., & Johnson, A. (2013). A meta-analysis of the reading comprehension skills of individuals on the autism spectrum. Journal of Autism & Developmental Disorders, 43, 932–955. doi:10.1007/s10803-012-1638-1.

Carver, C., & Moseley, D. (1994). Group or individual diagnostic test of word recognition and phonic skills (WRAPS): Manual. London: Hooder Arnold H&S.

Charlop, M. H., Kurtz, P. F., & Milstein, J. P. (1992). Too much reinforcement, too little behavior: Assessing task interspersal procedures in conjunction with different reinforcement schedules with autistic children. Journal of Applied Behavior Analysis, 25, 795–808.

Dunlap, G. (1984). The influence of task variation and maintenance tasks on the learning and affect of autistic children. Journal of Experimental Child Psychology, 37, 41–64.

Flores, M. M., & Ganz, J. B. (2007). The effectiveness of Direct Instruction on the reading comprehension of students with autism and developmental disabilities. Education and Training in Developmental Disabilities, 44, 39–53.

Gilliam, J. E. (2006). Gilliam Autism Rating Scale (2nd ed.). Torrance, CA: WPS.

Good, R. H., Kamiski, R. A., & Dill, S. (2002). Dynamic Indicators of basic early literacy skills (6th ed.). Eugene, OR: Institute for the Development of Educational Achievement.

Green, G. (2001). Behavior analytic instruction for learners with autism advances in stimulus control technology. Focus on Autism and Other Developmental Disabilities, 16, 72–85. doi:10.1177/108835760101600203.

Grindle, C. F., Hughes, J. C., Saville, M., Huxley, K., & Hastings, R. P. (2013). Teaching early reading skills to children with autism using Mimiosprout® Early Reading. Behavioral Interventions, 28, 203–224. doi:10.1002/bin.1364.

Harrison, P., & Oakland, T. (2003). Adaptive Behavior Assessment System™ (2nd ed.). San Antonio, TX: PsychCorp.

Huffstetter, M., King, J. R., Onwuegbuzie, A. J., Schneider, J. J., & Powell-Smith, K. A. (2010). Effects of a computer-based early reading program on the early reading and oral language skills of at-risk preschool children. Journal of Education for Students Placed at Risk, 15, 279–298.

Iovannone, R., Dunlap, G., Huber, H., & Kincaid, D. (2003). Effective educational practices for students with autism spectrum disorders. Focus on Autism and Other Developmental Disabilities, 18, 150–166.

Kamps, D. M., Dugan, E. P., Leonard, B. R., & Daoust, P. M. (1994). Enhanced small group instruction using choral responding and student interaction for children with autism and developmental disabilities. American Journal of Mental Retardation, 99, 60–73.

Kasari, C., & Smith, T. (2013). Interventions in schools for children with autism spectrum disorder: Methods and recommendations. Autism, 17, 254–267. doi:10.1177/1362361312470496.

Layng, T. V. J., Twyman, J. S., & Stikeleather, G. (2004a). Selected for success: How Headsprout Reading Basics teaches beginning reading. In D. J. Moran & R. Malott (Eds.), Evidence-based educational methods (pp. 171–197). St. Louis, MO: Elsevier Science/Academic.

Layng, T. V. J., Twyman, J. S., & Stikeleather, G. (2004b). Engineering discovery learning: The contingency adduction of some precursors of textual responding in a beginning reading program. The Analysis of Verbal Behavior, 20, 99–109.

Markle, S. M. (1964). Good frames and bad. New York, NY: Wiley.

Mechner, F. (1965). Learning by doing through programmed instruction. The American Journal of Nursing, 65, 98–104. doi:10.2307/3453313.

Mimio, (2012). MimioSprout Early Reading placement assessment manual. Tuscon, AZ: Newell Rubermaid.

Mirenda, P. (2003). "He's not really a reader…": Perspectives on supporting literacy development in individuals with autism. Topics in Language Disorders, 23, 271–282.

Nation, K., Clarke, P., Wright, B., & Williams, C. (2006). Patterns of reading ability in children with autism spectrum disorder. Journal of Autism and Developmental Disorders, 36(7), 911–919. doi:10.1007/s10803-006-0130-1.

National Institute of Child Health and Human Development. (2000). Report of the National Reading Panel. Teaching children to read: An evidence-based assessment of the scientific research literature on reading and its implications for reading instruction (NIH Publication No. 00-4769). Washington, DC: U.S. Goverment Printing Office.

Neitzel, J. (2010). Positive behavior supports for children and youth with autism spectrum disorders. Preventing School Failure, 54, 247–255. doi:10.1080/10459881003745229.

Plavnick, J. B., Mariage, T., Englert, C. S., Constantine, K., Morin, L., & Skibbe, L. (2014). Promoting independence during computer assisted reading instruction for children with autism spectrum disorders. Mexican Journal of Behavior Analysis, 40(2), 85–105.

Schopler, E., & Van Bourgondien, M. E. (2010). Childhood Autism Rating Scale (2nd ed.). Torrance, CA: WPS.

Spector, J. E., & Cavanaugh, B. J. (2015). The Conditions of Beginning Reading Instruction for Students With Autism Spectrum Disorder. Remedial and Special Education, 0741932515579277. doi:10.1177/0741932515579277

Watkins, C. L., Slocum, T. A., & Spencer, T. D. (2011). Direct Instruction: Relevance and applications to behavioral autism treatment. In E. A. Mayville & J. A. Mulick (Eds.), Behavioral foundations of effective autism treatment (pp. 297–319). Cornwall-on-Hudson, NY: Sloan.

Whitcomb, S., Bass, J. D., & Luiselli, J. K. (2011). Effects of a computer-based early reading program (Headsprout®) on word list and text reading skills in a student with autism. Journal of Developmental and Physical Disabilities, 23, 491–499. doi:10.1007/s10882-011-9240-6.
Acknowledgments
This study was supported by the College of Education and the Institute for Research in Autism, Intellectual, and Neurodevelopmental Disabilities at Michigan State University. The authors would like to thank the students and classroom personnel who participated in this research study.
About this article
Cite this article
Plavnick, J.B., Thompson, J.L., Englert, C.S. et al. Mediating Access to Headsprout® Early Reading for Children with Autism Spectrum Disorders. J Behav Educ 25, 357–378 (2016). https://doi.org/10.1007/s10864-015-9244-x
Keywords
Autism spectrum disorders

Computer-assisted instruction

Headsprout® Early Reading