Abstract
The current study examined the effect of a planning and goal-setting intervention in reducing latency to task engagement. This study used a multiple baseline design across participants for two seventh-grade and two eighth-grade students in a remedial reading class. The behavioral intervention was administered in small groups at the start of each class period. Latency for transitions was measured from the conclusion of teacher directions to the initiation of assigned academic tasks. Results showed the implementation of the intervention was closely associated with immediate decreases in latency to task engagement. The intervention reduced the mean latency to task engagement for all participants and reduced the variability over baseline. Visual analysis indicate a functional relation between the intervention and changes in latency. Implications for results and suggestions for future research are discussed.
Access options
Buy single article
Instant access to the full article PDF.
USD 39.95
Price excludes VAT (USA)
Tax calculation will be finalised during checkout.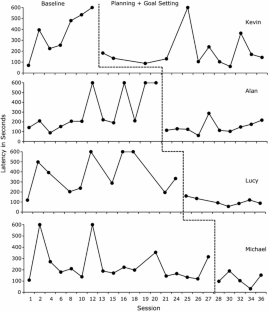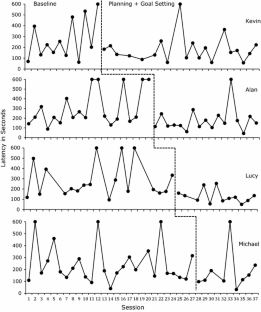 References
Allday, A. R., Bush, M., Ticknor, N., & Walker, L. (2011). Using teacher greetings to increase speed to task engagement. Journal of Applied Behavior Analysis, 44, 393–396. doi:10.1901/jaba.2011.44-393.

Carini, R. M., Kuh, G. D., & Klein, S. P. (2006). Student engagement and student learning: Testing the linkages. Research in Higher Education, 47, 1–32. doi:10.1007/s11162-005-8150-9.

Cleary, T. J., Platten, P., & Nelson, A. (2008). Effectiveness of the self-regulation empowerment program with urban high school students. Journal of Advanced Academics, 20(1), 70–107. http://edci6325singlecasedesign.pbworks.com/f/Effectiveness+of+self+regulation+empowerement+program+with+urban+high+school+studens.pdf

Cleary, T. J., & Zimmerman, B. J. (2004). Self-regulation empowerment program: A school-based program to enhance self-regulated and self-motivated cycles of student learning. Psychology in the Schools, 41, 537–550. doi:10.1002/pits.10177.

Chafouleas, S. M., Briesch, A. M., Riley-Tillman, T. C., & McCoach, D. B. (2009). Moving beyond assessment of treatment acceptability: An examination of the factor structure of the Usage Rating Profile—Intervention (URP-I). School Psychology Quarterly, 24(1), 36–47. doi:10.1037/a0015146.

Codding, R. S., & Smyth, C. A. (2008). Using performance feedback to decrease classroom transition time and examine collateral effects on academic engagement. Journal of Educational and Psychological Consultation, 18, 325–345. doi:10.1080/10474410802463312.

Copeland, S. R., & Hughes, C. (2002). Effects of goal setting on task performance of persons with mental retardation. Education and Training in Mental Retardation and Developmental Disabilities, 37, 40–54. http://www.edst.purdue.edu/zentall/courses/mild%20characteristics%20ppts/linked%20docs/effects%20of%20goal%20setting%20on%20task%20performance%20of%20persons%20with%20mr.pdf

Fisher, C. W., Filby, N. N., Marliave, R., Cahen, L. S., Dishaw, M. M., Moore, J. E., & Erliner, D. C. (1978). Teaching behaviors, academic learning time, and student achievement: Final report of phase III-B, beginning teacher evaluation study in beginning teacher evaluation study technical report series. San Francisco: Far West Laboratory for Educational Research and Development.

Fredricks, J. A., Blumenfeld, P. C., & Paris, A. H. (2004). School engagement: Potential of the concept, state of the evidence. Review of Educational Research, 74, 59–109. doi:10.3102/00346543074001059.

Gettinger, M., & Seibert, J. K. (2002). Best practices in increasing academic learning time. Best Practices in School Psychology IV, 1, 773–787. http://dallasisd.schoolwires.net/cms/lib/TX01001475/Centricity/Domain/11206/Best%20Practices%20In%20Increasing%20Academic%20Learning%20Time.pdf

Goldstein, S. (1995). Understanding and managing children's classroom behavior. New York: Wiley.

Good, T. L., & Beckerman, T. M. (1978). Time on task: A Naturalistic study in sixth-grade classrooms. The Elementary School Journal, 78, 192. doi:10.1086/461101.

Greenwood, C. R., Horton, B. T., & Utley, C. A. (2002). Academic engagement: Current perspectives in research and practice. School Psychology Review, 31, 1–31.

Hasselbring, T. S., Kinsella, K., & Feldman, K. (2009). Read 180. Scholastic, Incorporated.

Hollowood, T. M., Salisbury, C. L., Rainforth, B., & Palombaro, M. M. (1994). Use of instructional time in classrooms serving students with and without severe disabilities. Exceptional Children, 61, 242–253.

Kuh, G. D. (2009). The national survey of student engagement: Conceptual and empirical foundations. New Directions for Institutional Research, 2009, 5–20. doi:10.1002/ir.283.

Lavik, K. B. (2014). The effectiveness of a goal setting intervention that incorporates performance feedback, self-graphing, and reinforcement on improving the writing skills of high school students. Doctoral dissertation, Kent State University. https://etd.ohiolink.edu/!etd.send_file?accession=kent1395826954&disposition=attachment

Maag, J. W. & Anderson, J. M. (2007). Sound-field amplification to increase compliance to directions in students with ADHD. Behavioral Disorders, 32, 238–253. http://www.catea.gatech.edu/scitrain/kb/FullText_Articles/Maag_Sound.pdf

Marks, H. M. (2000). Student engagement in instructional activity: Patterns in the elementary, middle, and high school years. American Educational Research Journal, 37, 153–184. doi:10.3102/00028312037001153.

Meece, J. L., Anderman, E. M., & Anderman, L. H. (2006). Classroom goal structure, student motivation, and academic achievement. Annual Review of Psychology, 57, 487–503. doi:10.1146/annurev.psych.56.091103.070258.

National Research Council. (2004). Engaging schools: Fostering high school students' motivation to learn. Washington, DC: National Academies Press. doi:10.5860/CHOICE.42-1079.

Page-Voth, V., & Graham, S. (1999). Effects of goal setting and strategy use on the writing performance and self-efficacy of students with writing and learning problems. Journal of Educational Psychology, 91, 230–240. doi:10.1037/0022-0663.91.2.230.

Plavnick, J. B. (2012). Consumer satisfaction survey for participants. Unpublished instrument.

Schunk, D. H. (1985). Participation in goal setting: Effects on self-efficacy and skills of learning disabled children. Journal of Special Education, 19, 307–317. doi:10.1177/002246698501900307.

Schunk, D. H. (1990). Goal setting and self-efficacy during self-regulated learning. Educational Psychologist, 25, 71–86. doi:10.1207/s15326985ep2501_6.

Stevenson, N. A., & Plavnick, J. B. (2012). Transition time goal setting and planning. Unpublished instrument.

Wehby, J. H., & Hollahan, M. S. (2000). Effects of high-probability requests on the latency to initiate academic tasks. Journal of Applied Behavior Analysis, 33, 259–262. doi:10.1901/jaba.2000.33-259.

Wood, S. J., Murdock, J. Y., & Cronin, M. E. (2002). Self-monitoring and at-risk middle school students: Academic performance improves, maintains, and generalizes. Behavior Modification, 26, 605–626. doi:10.1177/014544502236653.

Zimmerman, B. J. (2000). Attaining self-regulation. In M. Boekaerts, P. R. Pintrich, & M. Zeidner (Eds.), Handbook of self-regulation (2nd ed., pp. 13–39). Burlington, MA: Elsevier Inc. doi:10.1016/b978-012109890-2/50031-7.
Acknowledgments
The author wishes to thank Dr. Joshua Plavnick for his support in completion of this study.
Appendix: Data Collection Template
Appendix: Data Collection Template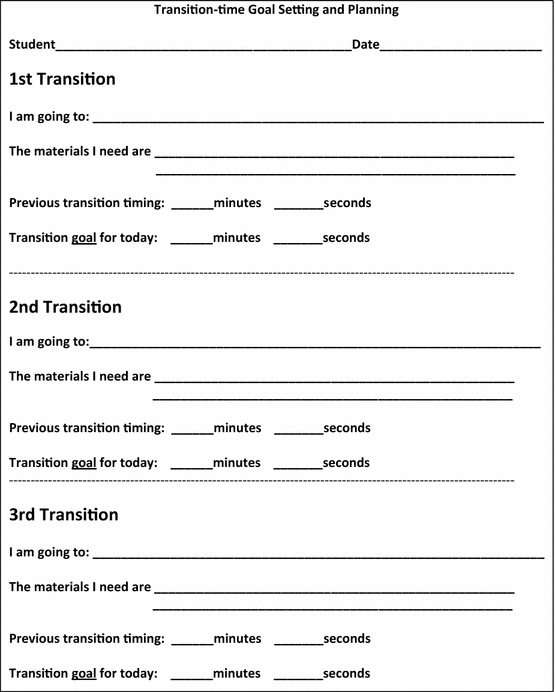 About this article
Cite this article
Stevenson, N.A. Effects of Planning and Goal Setting on Reducing Latency to Task Engagement for Struggling Readers in Middle School. J Behav Educ 25, 206–222 (2016). https://doi.org/10.1007/s10864-015-9238-8
Published:

Issue Date:

DOI: https://doi.org/10.1007/s10864-015-9238-8
Keywords
Behavior

Behavioral interventions

Compliance

Engagement

Latency

Middle school

Transition time