Abstract
This study was conducted to investigate the protective effects of glycyrrhizin on a rat model of osteoarthritis and elucidate the underlying mechanism. Rat osteoarthritis was established by using medial meniscectomy (MMx) and an anterior cruciate ligament transaction (ACLT). Glycyrrhizin (2, 4, and 10 mg/kg) was administered by intra-articular knee injection for 12 weeks. Incapacitance test was performed to determine mechanical hyperalgesia. Enzyme-linked immunosorbent assay (ELISA) was performed to measure cartilage degradation and inflammation-related markers. Quantitative reverse transcription PCR (RT-qPCR) and Western blot were performed to determine the mRNA and protein levels of genes, respectively. The results demonstrated that treatment with glycyrrhizin ameliorated mechanical hyperalgesia and bilateral joints oedema in a rat model of osteoarthritis. Treatment with 10 mg/kg glycyrrhizin also suppressed serum enzymes including matrix metalloproteinase (MMP)-1, MMP-3, prostaglandin E2, and C-telopeptide of type II collagen (CTX-II). In addition to inhibition of cartilage matrix catabolic related markers, treatment with glycyrrhizin also decreased the levels of interleukin (IL)-1β, IL-6, tumor necrosis factor (TNF)-α, and iNOS in serum and cartilage. The underlying mechanism study demonstrated that treatment with glycyrrhizin inhibited HMGB1 and the TLR4/NF-κB signaling pathway. In summary, treatment with glycyrrhizin ameliorated cartilage degeneration and inflammation in osteoarthritis rats by the regulation of HMGB1 and the TLR4/NF-κB signaling pathway.
Access options
Buy single article
Instant access to the full article PDF.
USD 39.95
Price includes VAT (USA)
Tax calculation will be finalised during checkout.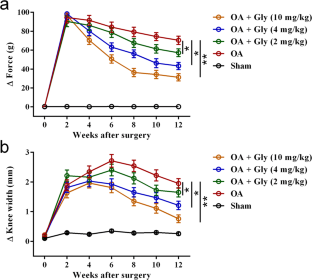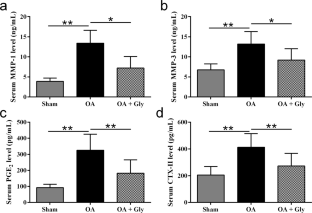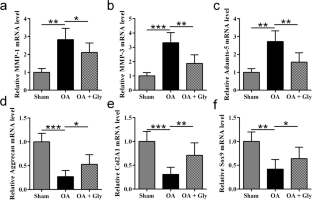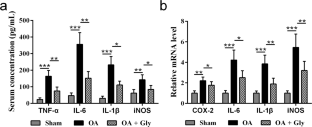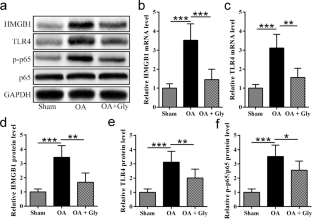 Data availability
Data is available from the authors by request.
References
Abbate LM, Stevens J, Schwartz TA, Renner JB, Helmick CG, Jordan JM (2006) Anthropometric measures, body composition, body fat distribution, and knee osteoarthritis in women. Obesity (Silver Spring) 14(7):1274–1281. https://doi.org/10.1038/oby.2006.145

Abramson SB (2004) Inflammation in osteoarthritis. J Rheumatol Suppl 70:70–76

Altman RD (1991) Classification of disease: osteoarthritis. Semin Arthritis Rheum 20(6 Suppl 2):40–47. https://doi.org/10.1016/0049-0172(91)90026-v

Aulin C, Palmblad K, Klareskog L, Harris H (2017) Cartilage-saving effects of local HMGB1-neutralizing therapy in experimental osteoarthritis. Osteoarthr Cartil 25:S435

Bian Y, Zhang M, Wang K (2018) Taurine protects against knee osteoarthritis development in experimental rat models. Knee 25(3):374–380. https://doi.org/10.1016/j.knee.2018.03.004

Brown TD, Johnston RC, Saltzman CL, Marsh JL, Buckwalter JA (2006) Posttraumatic osteoarthritis: a first estimate of incidence, prevalence, and burden of disease. J Orthop Trauma 20(10):739–744. https://doi.org/10.1097/01.bot.0000246468.80635.ef

Chen J, Lin S-H, Wong C-S (2019) Oral shea nut oil triterpene concentrate supplement ameliorates pain and histological assessment of articular cartilage deterioration in an ACLT injured rat knee osteoarthritis model. PLoS One 14(4):e0215812

Cinatl J, Morgenstern B, Bauer G, Chandra P, Rabenau H, Doerr HW (2003) Glycyrrhizin, an active component of liquorice roots, and replication of SARS-associated coronavirus. Lancet 361(9374):2045–2046. https://doi.org/10.1016/s0140-6736(03)13615-x

DeGroot J, Bank, R. A, Tchetverikov I, Verzijl N, TeKoppele JM (2002) Molecular markers for osteoarthritis: the road ahead. Curr Opin Rheumatol 14(5):585–589. https://doi.org/10.1097/00002281-200209000-00019

Felson DT, Anderson JJ, Naimark A, Kannel W, Meenan RF (1989) The prevalence of chondrocalcinosis in the elderly and its association with knee osteoarthritis: the Framingham study. J Rheumatol 16(9):1241–1245

Felson DT, Naimark A, Anderson J, Kazis L, Castelli W, Meenan RF (1987) The prevalence of knee osteoarthritis in the elderly. The Framingham osteoarthritis study. Arthritis Rheum 30(8):914–918. https://doi.org/10.1002/art.1780300811

Fernihough J, Gentry C, Malcangio M, Fox A, Rediske J, Pellas T, Kidd B, Bevan S, Winter J (2004) Pain related behaviour in two models of osteoarthritis in the rat knee. Pain 112(1–2):83–93. https://doi.org/10.1016/j.pain.2004.08.004

Glyn-Jones S, Palmer A, Agricola R, Price A, Vincent T, Weinans H et al (2015) Osteoarthritis. Lancet 386(9991):376–387

Goldring MB, Otero M (2011) Inflammation in osteoarthritis. Curr Opin Rheumatol 23(5):471–478

Heinola T, Kouri VP, Clarijs P, Ciferska H, Sukura A, Salo J, Konttinen YT (2010) High mobility group box-1 (HMGB-1) in osteoarthritic cartilage. Clin Exp Rheumatol 28(4):511–518

Kean WF, Kean R, Buchanan WW (2004) Osteoarthritis: symptoms, signs and source of pain. Inflammopharmacology 12(1):3–31. https://doi.org/10.1163/156856004773121347

Kiso Y, Tohkin M, Hikino H, Hattori M, Sakamoto T, Namba T (1984) Mechanism of antihepatotoxic activity of glycyrrhizin. I: effect on free radical generation and lipid peroxidation. Planta Med 50(4):298–302. https://doi.org/10.1055/s-2007-969714

Kraus VB (2011) Osteoarthritis year 2010 in review: biochemical markers. Osteoarthr Cartil 19(4):346–353. https://doi.org/10.1016/j.joca.2011.02.002

Kumar A, Oz MB, Elayyan J, Reich E, Binyamin M, Kandel L et al (2016) SOX9 acetylation reduces aggrecan expression in adult human chondrocytes. Osteoarthr Cartil 24:S154

Lin J, Zhang W, Jones A, Doherty M (2004) Efficacy of topical non-steroidal anti-inflammatory drugs in the treatment of osteoarthritis: meta-analysis of randomised controlled trials. BMJ 329(7461):324. https://doi.org/10.1136/bmj.38159.639028.7C

Liu C, Shen YJ, Tu QB, Zhao YR, Guo H, Wang J, Zhang L, Shi HW, Sun Y (2018) Pedunculoside, a novel triterpene saponin extracted from Ilex rotunda, ameliorates high-fat diet induced hyperlipidemia in rats. Biomed Pharmacother 101:608–616. https://doi.org/10.1016/j.biopha.2018.02.131

Longo UG, Loppini M, Fumo C, Rizzello G, Khan WS, Maffulli N, Denaro V (2012) Osteoarthritis: new insights in animal models. Open Orthop J 6:558–563. https://doi.org/10.2174/1874325001206010558

McCoy AM (2015) Animal models of osteoarthritis: comparisons and key considerations. Vet Pathol 52(5):803–818. https://doi.org/10.1177/0300985815588611

Mollica L, De Marchis F, Spitaleri A, Dallacosta C, Pennacchini D, Zamai M et al (2007) Glycyrrhizin binds to high-mobility group box 1 protein and inhibits its cytokine activities. Chem Biol 14(4):431–441. https://doi.org/10.1016/j.chembiol.2007.03.007

Park JS, Gamboni-Robertson F, He Q, Svetkauskaite D, Kim JY, Strassheim D, Sohn JW, Yamada S, Maruyama I, Banerjee A, Ishizaka A, Abraham E (2006) High mobility group box 1 protein interacts with multiple toll-like receptors. Am J Physiol Cell Physiol 290(3):C917–C924. https://doi.org/10.1152/ajpcell.00401.2005

Park JS, Svetkauskaite D, He Q, Kim JY, Strassheim D, Ishizaka A, Abraham E (2004) Involvement of toll-like receptors 2 and 4 in cellular activation by high mobility group box 1 protein. J Biol Chem 279(9):7370–7377. https://doi.org/10.1074/jbc.M306793200

Penninx BW, Abbas H, Ambrosius W, Nicklas BJ, Davis C, Messier SP, Pahor M (2004) Inflammatory markers and physical function among older adults with knee osteoarthritis. J Rheumatol 31(10):2027–2031

Rashad S, Revell P, Hemingway A, Low F, Rainsford K, Walker F (1989) Effect of non-steroidal anti-inflammatory drugs on the course of osteoarthritis. Lancet 2(8662):519–522. https://doi.org/10.1016/s0140-6736(89)90651-x

Singh P, Marcu KB, Goldring MB, Otero M (2019) Phenotypic instability of chondrocytes in osteoarthritis: on a path to hypertrophy. Ann N Y Acad Sci 1442(1):17–34

Sitia G, Iannacone M, Muller S, Bianchi ME, Guidotti LG (2007) Treatment with HMGB1 inhibitors diminishes CTL-induced liver disease in HBV transgenic mice. J Leukoc Biol 81(1):100–107. https://doi.org/10.1189/jlb.0306173

Srikanth VK, Fryer JL, Zhai G, Winzenberg TM, Hosmer D, Jones G (2005) A meta-analysis of sex differences prevalence, incidence and severity of osteoarthritis. Osteoarthr Cartil 13(9):769–781

van den Bosch MH, Blom AB, van de Loo FA, Koenders MI, Lafeber FP, Van Den Berg WB et al (2017) Brief report: induction of matrix metalloproteinase expression by synovial wnt signaling and association with disease progression in early symptomatic osteoarthritis. Arthritis Rheumatol 69(10):1978–1983

Woodell-May JE, Sommerfeld SD (2020) Role of inflammation and the immune system in the progression of osteoarthritis. J Orthop Res 38(2):253–257. https://doi.org/10.1002/jor.24457

Yang C-Y, Chanalaris A, Troeberg L (2017) ADAMTS and ADAM metalloproteinases in osteoarthritis–looking beyond the 'usual suspects'. Osteoarthr Cartil 25(7):1000–1009

Zhang Y, Jordan JM (2010) Epidemiology of osteoarthritis. Clin Geriatr Med 26(3):355–369

Zivanovic S, Rackov LP, Zivanovic A, Jevtic M, Nikolic S, Kocic S (2011) Cartilage oligomeric matrix protein - inflammation biomarker in knee osteoarthritis. Bosn J Basic Med Sci 11(1):27–32. https://doi.org/10.17305/bjbms.2011.2619
Ethics declarations
Ethical approval
The study was approved by the ethics commitment of Cangzhou Central Hospital.
Informed consent
Not applicable.
Conflict of interest
The authors declare that they have no competing interests.
Additional information
Publisher's note
Springer Nature remains neutral with regard to jurisdictional claims in published maps and institutional affiliations.
About this article
Cite this article
Luo, Y., Li, J., Wang, B. et al. Protective effect of glycyrrhizin on osteoarthritis cartilage degeneration and inflammation response in a rat model. J Bioenerg Biomembr 53, 285–293 (2021). https://doi.org/10.1007/s10863-021-09889-1
Received:

Accepted:

Published:

Issue Date:
Keywords
Osteoarthritis

Glycyrrhizin

HMGB1 inhibitor

Inflammation

TLR4/NF-κB