Abstract
Baculovirus-infected insect cells have become a powerful tool to express recombinant proteins for structural and functional studies by NMR spectroscopy. This article provides an introduction into the insect cell/baculovirus expression system and its use for the production of recombinant isotope-labeled proteins. We discuss recent advances in inexpensive isotope-labeling methods using labeled algal or yeast extracts as the amino acid source and give examples of advanced NMR applications for proteins, which have become accessible by this eukaryotic expression host.
This is a preview of subscription content, log in to check access.
Access options
Buy single article
Instant access to the full article PDF.
US$ 39.95
Price includes VAT for USA
Subscribe to journal
Immediate online access to all issues from 2019. Subscription will auto renew annually.
US$ 199
This is the net price. Taxes to be calculated in checkout.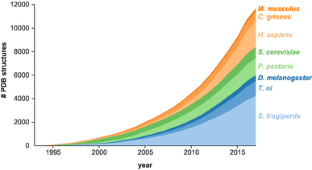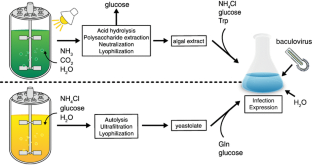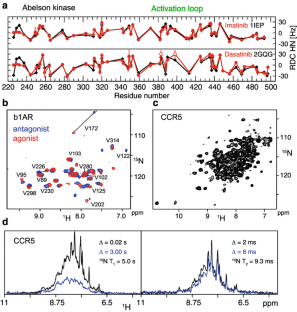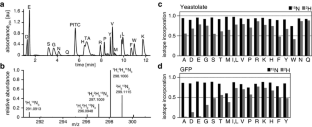 References
Berger I, Fitzgerald DJ, Richmond TJ (2004) Baculovirus expression system for heterologous multiprotein complexes. Nat Biotechnol 22:1583–1587

Brüggert M, Rehm T, Shanker S, Georgescu J, Holak TA (2003) A novel medium for expression of proteins selectively labeled with 15N-amino acids in Spodoptera frugiperda (Sf9) insect cells. J Biomol NMR 25:335–348

Egorova-Zachernyuk TA, Bosman GJ, Pistorius AM, DeGrip WJ (2009) Production of yeastolates for uniform stable isotope labelling in eukaryotic cell culture. Appl Microbiol Biotechnol 84:575–581

Egorova-Zachernyuk TA, Bosman GJ, DeGrip WJ, Shvets VI (2010) Stable isotope labelling of human histamine receptor H1R: prospects for structure-based drug design. Dokl Biochem Biophys 433:164–167

Gossert AD, Hinniger A, Gutmann S, Jahnke W, Strauss A, Fernández C (2011) A simple protocol for amino acid type selective isotope labeling in insect cells with improved yields and high reproducibility. J Biomol NMR 51:449–456

Hansen AP, Petros AM, Mazar AP, Pederson TM, Rueter A, Fesik SW (1992) A practical method for uniform isotopic labeling of recombinant proteins in mammalian cells. Biochemistry 31:12713–12718

Hink WF (1970) Established insect cell line from the cabbage looper, Trichoplusia ni. Nature 226:466–467

Hochuli M, Szyperski T, Wüthrich K (2000) Deuterium isotope effects on the central carbon metabolism of Escherichia coli cells grown on a D2O-containing minimal medium. J Biomol NMR 17:33–42

Huang J-R, Craggs TD, Christodoulou J, Jackson SE (2007) Stable intermediate states and high energy barriers in the unfolding of GFP. J Mol Biol 370:356–371

Isogai S, Deupi X, Opitz C, Heydenreich FM, Tsai C-J, Brueckner F, Schertler GFX, Veprintsev DB, Grzesiek S (2016) Backbone NMR reveals allosteric signal transduction networks in the β1-adrenergic receptor. Nature 530:237–241

Kelly DC (1982) Baculovirus replication. J Gen Virol 63:1–13

Kofuku Y, Ueda T, Okude J, Shiraishi Y, Kondo K, Maeda M, Tsujishita H, Shimada I (2012) Efficacy of the β2-adrenergic receptor is determined by conformational equilibrium in the transmembrane region. Nat Commun 3:1045

Kofuku Y, Ueda T, Okude J, Shiraishi Y, Kondo K, Mizumura T, Suzuki S, Shimada I (2014) Functional dynamics of deuterated β2-adrenergic receptor in lipid bilayers revealed by NMR spectroscopy. Angew Chem Int Ed Engl 53:13376–13379

Kragl U, Gödde A, Wandrey C, Kinzy W, Cappon J, Lugtenburg J (1993) Repetitive batch as an efficient method for preparative-scale enzymatic-synthesis of 5-azido-neuraminic acid and N15-L-glutamic acid. Tetrahedron: Asymmetry 4:1193–1202

Kusumoto I (2001) Industrial production of L-glutamine. J Nutr 131:2552S–2555S

Li J, Ma C, Ma Y, Li Y, Zhou W, Xu P (2007) Medium optimization by combination of response surface methodology and desirability function: an application in glutamine production. Appl Microbiol Biotechnol 74:563–571

Luckow VA, Lee SC, Barry GF, Olins PO (1993) Efficient generation of infectious recombinant baculoviruses by site-specific transposon-mediated insertion of foreign genes into a baculovirus genome propagated in Escherichia coli. J Virol 67:4566–4579

Meola A, Deville C, Jeffers SA, Guardado-Calvo P, Vasiliauskaite I, Sizun C, Girard-Blanc C, Malosse C, van Heijenoort C, Chamot-Rooke J, Krey T, Guittet E, Pêtres S, Rey FA, Bontems F (2014) Robust and low cost uniform 15 N-labeling of proteins expressed in Drosophila S2 cells and Spodoptera frugiperda Sf9 cells for NMR applications. J Struct Biol 188:71–78

Nygaard R, Zou Y, Dror RO, Mildorf TJ, Arlow DH, Manglik A, Pan AC, Liu CW, Fung JJ, Bokoch MP, Thian FS, Kobilka TS, Shaw DE, Mueller L, Prosser RS, Kobilka BK (2013) The dynamic process of β2-adrenergic receptor activation. Cell 152:532–542

O'Reilly DR, Miller LK, Luckow VA (1994) Baculovirus expression vectors: a laboratory manual. Oxford University Press, New York

Okude J, Ueda T, Kofuku Y, Sato M, Nobuyama N, Kondo K, Shiraishi Y, Mizumura T, Onishi K, Natsume M, Maeda M, Tsujishita H, Kuranaga T, Inoue M, Shimada I (2015) Identification of a conformational equilibrium that determines the efficacy and functional selectivity of the µ-opioid receptor. Angew Chem Int Ed Engl 54:15771–15776

Opitz C, Isogai S, Grzesiek S (2015) An economic approach to efficient isotope labeling in insect cells using homemade 15N-, 13C- and 2H-labeled yeast extracts. J Biomol NMR 62:373–385

Possee RD, Hitchman RB, Richards KS, Mann SG, Siaterli E, Nixon CP, Irving H, Assenberg R, Alderton D, Owens RJ, King LA (2008) Generation of baculovirus vectors for the high-throughput production of proteins in insect cells. Biotechnol Bioeng 101:1115–1122

Rosen MK, Gardner KH, Willis RC, Parris WE, Pawson T, Kay LE (1996) Selective methyl group protonation of perdeuterated proteins. J Mol Biol 263:627–636

Saxena K, Dutta A, Klein-Seetharaman J, Schwalbe H (2012) Isotope labeling in insect cells. Methods Mol Biol 831:37–54

Sitarska A, Skora L, Klopp J, Roest S, Fernández C, Shrestha B, Gossert AD (2015) Affordable uniform isotope labeling with 2H, 13C and 15N in insect cells. J Biomol NMR 62:191–197

Skora L, Shrestha B, Gossert AD (2015) Chapter eleven—isotope labeling of proteins in insect cells. In: Kelman Z (ed) Methods in enzymology, Vol 565, Academic Press, Amsterdam, pp 245–288

Smith GE, Summers MD, Fraser MJ (1983) Production of human beta interferon in insect cells infected with a baculovirus expression vector. Mol Cell Biol 3:2156–2165

Solt AS, Bostock MJ, Shrestha B, Kumar P, Warne T, Tate CG, Nietlispach D (2017) Insight into partial agonism by observing multiple equilibria for ligand-bound and Gs-mimetic nanobody-bound β1-adrenergic receptor. Nat Commun 8:1795

Sprangers R, Velyvis A, Kay LE (2007) Solution NMR of supramolecular complexes: providing new insights into function. Nat Methods 4:697–703

Strauss A, Bitsch F, Cutting B, Fendrich G, Graff P, Liebetanz J, Zurini M, Jahnke W (2003) Amino-acid-type selective isotope labeling of proteins expressed in Baculovirus-infected insect cells useful for NMR studies. J Biomol NMR 26:367–372

Strauss A, Bitsch F, Fendrich G, Graff P, Knecht R, Meyhack B, Jahnke W (2005) Efficient uniform isotope labeling of Abl kinase expressed in Baculovirus-infected insect cells. J Biomol NMR 31:343–349

Ugwu CU, Aoyagi H, Uchiyama H (2008) Photobioreactors for mass cultivation of algae. Bioresource Technol 99:4021–4028

Vajpai N, Strauss A, Fendrich G, Cowan-Jacob SW, Manley PW, Grzesiek S, Jahnke W (2008a) Solution conformations and dynamics of ABL kinase-inhibitor complexes determined by NMR substantiate the different binding modes of imatinib/nilotinib and dasatinib. J Biol Chem 283:18292–18302

Vajpai N, Strauss A, Fendrich G, Cowan-Jacob SW, Manley PW, Jahnke W, Grzesiek S (2008b) Backbone NMR resonance assignment of the Abelson kinase domain in complex with imatinib. Biomol NMR Assign 2:41–42

Vaughn JL, Goodwin RH, Tompkins GJ, McCawley P (1977) The establishment of two cell lines from the insect Spodoptera frugiperda (Lepidoptera; Noctuidae). In Vitro 13:213–217

Wasilko DJ, Lee SE, Stutzman-Engwall KJ, Reitz BA, Emmons TL, Mathis KJ, Bienkowski MJ, Tomasselli AG, Fischer DH (2009) The titerless infected-cells preservation and scale-up (TIPS) method for large-scale production of NO-sensitive human soluble guanylate cyclase (sGC) from insect cells infected with recombinant baculovirus. Protein Expr Purif 65:122–132

Zhang Y, Wei H, Xie D, Calambur D, Douglas A, Gao M, Marsilio F, Metzler WJ, Szapiel N, Zhang P, Witmer MR, Mueller L, Hedin D (2017) An improved protocol for amino acid type-selective isotope labeling in insect cells. J Biomol NMR 68:237–247
Acknowledgements
This work was supported by the Swiss National Science Foundation (Grants 31-149927 and 31-173089 to S.G.), the Swiss Cancer League (Grant KFS-3603-02-2015 to S.G.) and the Biozentrum Basel International PhD Program (Fellowship of Excellence to A.G.). We gratefully acknowledge the Biozentrum's proteomics and biophysics core facilities for expert mass spectrometric analysis as well as Drs. Alexander Schmidt, Andre Strauss and Binesh Shrestha for stimulating discussions.
Additional information
Bastian Franke and Christian Opitz contributed equally to this work.
About this article
Cite this article
Franke, B., Opitz, C., Isogai, S. et al. Production of isotope-labeled proteins in insect cells for NMR. J Biomol NMR 71, 173–184 (2018). https://doi.org/10.1007/s10858-018-0172-7
Received:

Accepted:

Published:

Issue Date:
Keywords
Baculovirus

Yeast extract

Algal extract

Deuteration

GPCR

Abelson kinase