Abstract
We have previously shown that Congo red (CR) binds site specifically to amyloid fibrils formed by HET-s(218–289) with the long axis of the CR molecule almost parallel to the fibril axis. HADDOCK docking studies indicated that CR adopts a roughly planar conformation with the torsion angle ϕ characterizing the relative orientation of the two phenyl rings being a few degrees. In this study, we experimentally determine the torsion angle ϕ at the center of the CR molecule when bound to HET-s(218–289) amyloid fibrils using solid-state NMR tensor-correlation experiments. The method described here relies on the site-specific 13C labeling of CR and on the analysis of the two-dimensional magic-angle spinning tensor-correlation spectrum of 13C2-CR. We determined the torsion angle ϕ to be 19°.
This is a preview of subscription content, log in to check access.
Access options
Buy single article
Instant access to the full article PDF.
US$ 39.95
Price includes VAT for USA
Subscribe to journal
Immediate online access to all issues from 2019. Subscription will auto renew annually.
US$ 199
This is the net price. Taxes to be calculated in checkout.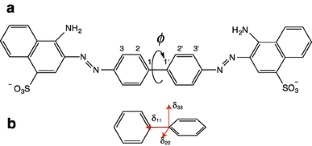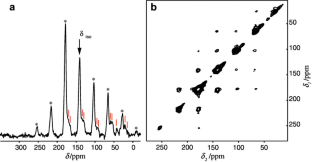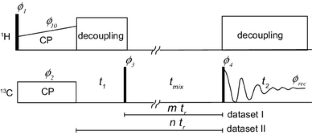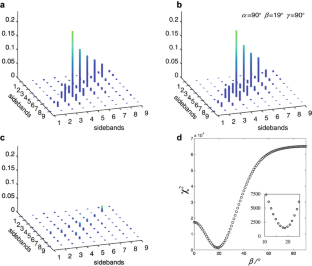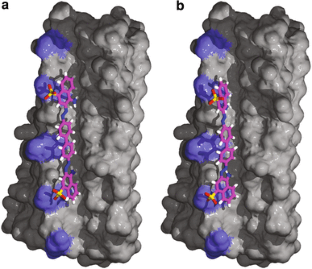 References
Ashburn TT, Han H, McGuinness BF, Lansbury PT (1996) Amyloid probes based on Congo red distinguish between fibrils comprising different peptides. Chem Biol 3:351–358

Bak M, Rasmussen JT, Nielsen NC (2000) SIMPSON: a general simulation program for solid-state NMR spectroscopy. J Magn Reson 147:296–330

Bely M, Makovitzky J (2006) Sensitivity and specificity of Congo red staining according to Romhanyi. Comparison with Puchtler's or Bennhold's methods. Acta Histochem 108:175–180

Benditt EP, Eriksen N, Berglund C (1970) Congo red dichroism with dispersed amyloid fibrils, an extrinsic cotton effect. Proc Natl Acad Sci USA 66:1044–1051

Böttiger P (1884) Synthesis of Congo red, Deutsches Reichs Patent 28753

Eaton VJ, Steele D (1973) Dihedral Angle of biphenyl in solution and molecular force-field. J Chem Soc Faraday Trans 2 69:1601–1608

Eichele K (2015) HBA: Herzfeld-Berger analysis program. http://anorganik.uni-tuebingen.de/klaus/soft/indexphp?p=hba/hba Version1.7.5

Facelli JC, Grant DM, Michl J (1987) C-13 shielding tensors: experimental and theoretical determination. Acc Chem Res 20:152–158

Frid P, Anisimov SV, Popovic N (2007) Congo red and protein aggregation in neurodegenerative diseases. Brain Res Rev 53:135–160

Glenner GG (1980) Amyloid deposits and amyloidosis. The beta-fibrilloses (first of two parts). N Engl J Med 302:1283–1292

Hagemeyer A, Schmidt-Rohr K, Spiess HW (1989) Two-dimensional nuclear magnetic resonance experiments for studying molecular order and dynamics in static and in rotating solids. Adv Magn Opt Reson 13:85–130

Herrmann US et al (2015) Structure-based drug design identifies polythiophenes as antiprion compounds. Sci Transl Med 7:299ra123

Herzfeld J, Berger AE (1980) Sideband intensities in NMR-spectra of samples spinning at the magic angle. J Chem Phys 73:6021–6030

Kentgens A, De Boer E, Veeman WS (1987) Ultraslow molecular motions in crystalline polyoxymethylene: a complete elucidation using two-dimensional solid-state NMR. J Chem Phys 87:6859–6866

Khurana R, Uversky VN, Nielsen L, Fink AL (2001) Is Congo red an amyloid-specific dye? J Biol Chem 276:22715–22721

Miura T, Yamamiya C, Sasaki M, Suzuki K, Takeuchi H (2002) Binding mode of Congo red to Alzheimer's amyloid beta-peptide studied by UV Raman spectroscopy. J Raman Spectrosc 33:530–535

Ojala WH, Ojala CR, Gleason WB (1995) The X-ray crystal-structure of the sulfonated azo-dye Congo-red, a nonpeptidic inhibitor of Hiv-1 protease which also binds to reverse-transcriptase and amyloid proteins. Antiviral Chem Chemother 6:25–33

Puchtler H, Sweat F, Levine M (1962) On binding of Congo red by amyloid. J Histochem Cytochem 10:355–364

Raleigh DP, Levitt MH, Griffin RG (1988) Rotational resonance in solid-state NMR. Chem Phys Lett 146:71–76

Schütz AK et al (2011) The amyloid-Congo red interface at atomic resolution. Angew Chem Int Ed Engl 50:5956–5960

Smith SA, Levante TO, Meier BH, Ernst RR (1994) Computer-simulations in magnetic-resonance: an object-oriented programming approach. J Magn Reson Ser A 106:75–105

Smith AA et al (2017) Partially-deuterated samples of HET-s(218–289) fibrils: assignment and deuterium isotope effect. J Biomol NMR 67:109–119

Suzuki H (1959) Relations between electronic absorption spectra and spatial configurations of conjugated systems.1. Biphenyl. Bull Chem Soc Jpn 32:1340–1350

Tycko R, Berger AE (1999) Dual processing of two-dimensional exchange data in magic angle spinning NMR of solids. J Magn Reson 141:141–147

Tycko R, Weliky DP, Berger AE (1996) Investigation of molecular structure in solids by two-dimensional NMR exchange spectroscopy with magic angle spinning. J Chem Phys 105:7915–7930

van Beek JD (2007) matNMR: a flexible toolbox for processing, analyzing and visualizing magnetic resonance data in Matlab. J Magn Reson Ser A 187:19–26

Van Dongen Torman J, Veeman WS (1978) C-13 chemical shielding tensors in para-xylene. J Chem Phys 68:3233–3235

Weliky DP, Tycko R (1996) Determination of peptide conformations by two-dimensional magic angle spinning NMR exchange spectroscopy with rotor synchronization. J Am Chem Soc 118:8487–8488

Westermark GT, Johnson KH, Westermark P (1999) Staining methods for identification of amyloid in tissue. Method Enzymol 309:3–25

Westermark P et al (2007) A primer of amyloid nomenclature. Amyloid 14:179–183
Acknowledgements
We would like to thank Albert A. Smith for helpful discussions. This work has been supported by the Swiss National Science Foundation SNF (Grant 200020_159707 and 200020_146757) and by the French ANR (ANR-14-CE09-0024B).
Electronic supplementary material
Below is the link to the electronic supplementary material.
About this article
Cite this article
Gowda, C., Zandomeneghi, G., Zimmermann, H. et al. The conformation of the Congo-red ligand bound to amyloid fibrils HET-s(218–289): a solid-state NMR study. J Biomol NMR 69, 207–213 (2017). https://doi.org/10.1007/s10858-017-0148-z
Received:

Accepted:

Published:

Issue Date:
Keywords
MAS

Amyloid fibrils

Congo red

Rotor-synchronized tensor-correlation experiments