Abstract
We present a pulse scheme that exploits methyl 1H triple-quantum (TQ) coherences for the measurement of diffusion rates of slowly diffusing molecules in solution. It is based on the well-known stimulated echo experiment, with encoding and decoding of TQ coherences. The size of quantifiable diffusion coefficients is thus lowered by an order of magnitude with respect to single-quantum (SQ) approaches. Notably, the sensitivity of the scheme is high, approximately ¾ that of the corresponding single quantum experiment, neglecting relaxation losses, and on the order of a factor of 4 more sensitive than a previously published sequence for AX3 spin systems (Zheng et al. in JMR 198:271–274, 2009) for molecules that are only 13C labeled at the methyl carbon position. Diffusion coefficients measured from TQ- and SQ-based experiments recorded on a range of protein samples are in excellent agreement. We present an application of this technique to the study of phase-separated proteins where protein concentrations in the condensed phase can exceed 400 mg/mL, diffusion coefficients can be as low as ~10−9 cm2s−1 and traditional SQ experiments fail.
Access options
Buy single article
Instant access to the full article PDF.
US$ 39.95
Tax calculation will be finalised during checkout.
Subscribe to journal
Immediate online access to all issues from 2019. Subscription will auto renew annually.
US$ 119
Tax calculation will be finalised during checkout.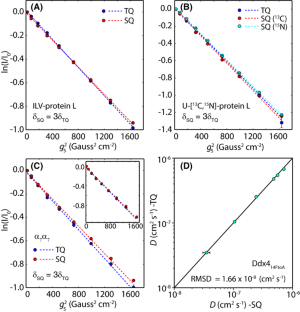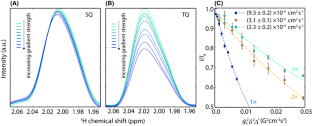 References
Ahuja P, Sarkar R, Vasos PR, Bodenhausen G (2009) Diffusion coefficients of biomolecules using long-lived spin states diffusion coefficients of biomolecules using long-lived spin states. J Am Chem Soc 131:7498–7499. doi:10.1021/ja902030k

Bouvignies G, Kay LE (2012) A 2D 13C-CEST experiment for studying slowly exchanging protein systems using methyl probes: an application to protein folding. J Biomol NMR 53:303–310. doi:10.1007/s10858-012-9640-7

Brady JP, Farber PJ, Sekhar A, et al (2017) Structural and hydrodynamic properties of an intrinsically disordered region of a germ-cell specific protein upon phase separation. (submitted).

Brangwynne CP, Tompa P, Pappu RV (2015) Polymer physics of intracellular phase transitions. Nat Phys 11:899–904. doi:10.1038/nphys3532

Buevich AV, Baum J (2002) Residue-specific real-time NMR diffusion experiments define the association states of proteins during folding. J Am Chem Soc 124:7156–7162. doi:10.1021/ja012699u

Choy WY, Mulder FA, Crowhurst KA et al (2002) Distribution of molecular size within an unfolded state ensemble using small-angle X-ray scattering and pulse field gradient NMR techniques. J Mol Biol 316:101–112. doi:10.1006/jmbi.2001.5328

Dehner A, Kessler H (2005) Diffusion NMR spectroscopy: folding and aggregation of domains in p53. ChemBioChem 6:1550–1565. doi:10.1002/cbic.200500093

Didenko T, Boelens R, Rüdiger SG (2011) 3D DOSY-TROSY to determine the translational diffusion coefficient of large protein complexes. Protein Eng Des Sel 24:99–103. doi:10.1093/protein/gzq091

Dingley AJ, Mackay JP, Chapman BE et al (1995) Measuring protein self-association using pulsed-field-gradient NMR spectroscopy: application to myosin light chain 2. J Biomol NMR 6:321–328. doi:10.1007/BF00197813

Hajduk PJ, Olejniczak ET, Fesik SW (1997) One-dimensional relaxation- and diffusion-edited NMR methods for screening compounds that bind to macromolecules. J Am Chem Soc 119:12257–12261. doi:10.1021/ja9715962

Horst R, Horwich AL, Wüthrich K (2011) Translational diffusion of macromolecular assemblies measured using transverse-relaxation-optimized pulsed field gradient NMR. J Am Chem Soc 133:16354–16357. doi:10.1021/ja206531c

Huang R, Ripstein ZA, Augustyniak R et al (2016) Unfolding the mechanism of the AAA+ unfoldase VAT by a combined cryo-EM, solution NMR study. Proc Natl Acad Sci USA 113:E4190–E4199. doi:10.1073/pnas.1603980113

Johnson Jr CS (1999) Diffusion ordered nuclear magnetic resonance spectroscopy: principles and applications. Prog Nucl Magn Reson Spectrosc 34:203–256. doi:10.1016/S0079-6565(99)00003-5

Kay LE, Prestegard JH (1986) An application of pulse-gradient double-quantum spin echoes to diffusion measurements on molecules with scalar-coupled spins. J Magn Reson 67:103–113. doi:10.1016/0022-2364(86)90413-0

Levitt MH, Freeman R (1979) NMR population inversion using a composite pulse. J Magn Reson 33:473–476. doi:10.1016/0022-2364(79)90265-8

Martin JF, Selwyn LS, Vold RR, Vold RL (1982) The determination of translational diffusion constants in liquid crystals from pulsed field gradient double quantum spin echo decays. J Chem Phys 76:2632–2634. doi:10.1063/1.443243

Mittermaier A, Kay LE (2001) Χ1 torsion angle dynamics in proteins from dipolar couplings. J Am Chem Soc 123:6892–6903. doi:10.1021/ja010595d

Nott TJ, Petsalaki E, Farber P et al (2015) Phase transition of a disordered nuage protein generates environmentally responsive membraneless organelles. Mol Cell 57:936–947. doi:10.1016/j.molcel.2015.01.013

Price WS (1998) Pulsed-field gradient nuclear magnetic resonance as a tool for studying translational diffusion: part II. Experimental aspects. Concepts Magn Reson 10:197–237. doi:10.1002/(SICI)1099-0534

Price WS, Tsuchiya F, Arata Y (1999) Lysozyme aggregation and solution properties studied using PGSE NMR diffusion measurements. J Am Chem Soc 121:11503–11512. doi:10.1021/ja992265n

Sekhar A, Rosenzweig R, Bouvignies G, Kay LE (2015) Mapping the conformation of a client protein through the Hsp70 functional cycle. Proc Natl Acad Sci USA 112:10395–10400. doi:10.1073/pnas.1508504112

Sklenar V, Piotto M, Leppik R, Saudek V (1993) Gradient-tailored water suppression for 1H–15N HSQC experiments optimized to retain full sensitivity. J Magn Reson Ser A 102:241–245. doi:10.1006/jmra.1993.1098

Sprangers R, Kay LE (2007) Quantitative dynamics and binding studies of the 20S proteasome by NMR. Nature 445:618–622. doi:10.1038/nature05512

Stejskal EO, Tanner JE (1965) Spin diffusion measurements: spin echoes in the presence of a time-dependant field gradient. J Chem Phys 42:288–292. doi:10.1063/1.1695690

Tanner JE (1970) Use of the stimulated echo in NMR diffusion studies. J Chem Phys 52:2523–2526. doi:10.1063/1.1673336

Weljie AM, Yamniuk AP, Yoshino H et al (2003) Protein conformational changes studied by diffusion NMR spectroscopy: application to helix-loop-helix calcium binding proteins. Protein Sci 12:228–236. doi:10.1110/ps.0226203

Yan J, Kline AD, Mo H et al (2002) Epitope mapping of ligand-receptor interactions by diffusion NMR. J Am Chem Soc 124:9984–9985. doi:10.1021/ja0264347

Yao S, Weber DK, Separovic F, Keizer DW (2014) Measuring translational diffusion coefficients of peptides and proteins by PFG-NMR using band-selective RF pulses. Eur Biophys J 43:331–339. doi:10.1007/s00249-014-0965-x

Zax D, Pines A (1983) Study of anisotropic diffusion of oriented molecules by multiple quantum spin echoes. J Chem Phys 78:6333–6334. doi:10.1063/1.444559

Zheng G, Torres AM, Price WS (2009) MQ-PGSTE: a new multi-quantum STE-based PGSE NMR sequence. J Magn Reson 198:271–274. doi:10.1016/j.jmr.2009.03.004
Acknowledgements
This work was supported by grants from the Canadian Institutes of Health Research and the Natural Sciences and Engineering Research Council of Canada. L.E.K holds a Canada Research Chair in Biochemistry.
Electronic supplementary material
Below is the link to the electronic supplementary material.
About this article
Cite this article
Huang, R., Brady, J.P., Sekhar, A. et al. An enhanced sensitivity methyl 1H triple-quantum pulse scheme for measuring diffusion constants of macromolecules. J Biomol NMR 68, 249–255 (2017). https://doi.org/10.1007/s10858-017-0122-9
Received:

Accepted:

Published:

Issue Date:
Keywords
Diffusion

NMR

Triple-quantum

Methyl groups

Ddx4