Abstract
Fast magic-angle spinning and partial sample deuteration allows direct detection of 1H in solid-state NMR, yielding significant gains in mass sensitivity. In order to further analyze the spectra, 1H detection requires assignment of the 1H resonances. In this work, resonance assignments of backbone HN and Hα are presented for HET-s(218–289) fibrils, based on the existing assignment of Cα, Cβ, C', and N resonances. The samples used are partially deuterated for higher spectral resolution, and the shifts in resonance frequencies of Cα and Cβ due to the deuterium isotope effect are investigated. It is shown that the deuterium isotope effect can be estimated and used for assigning resonances of deuterated samples in solid-state NMR, based on known resonances of the protonated protein.
Access options
Buy single article
Instant access to the full article PDF.
US$ 39.95
Tax calculation will be finalised during checkout.
Subscribe to journal
Immediate online access to all issues from 2019. Subscription will auto renew annually.
US$ 119
Tax calculation will be finalised during checkout.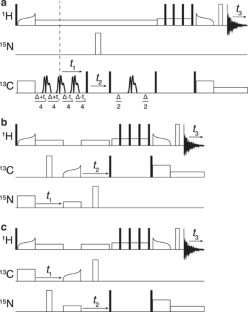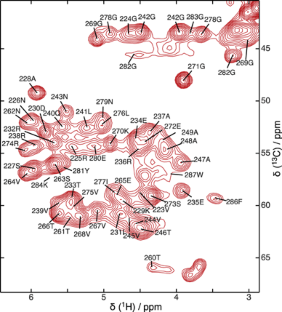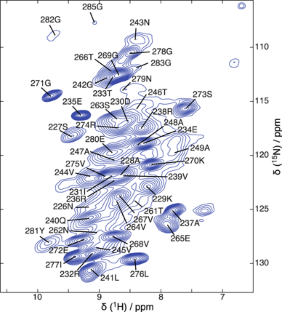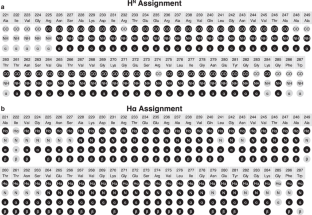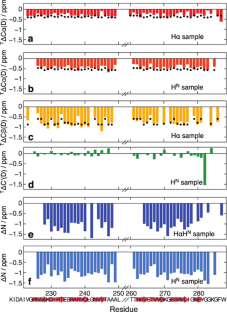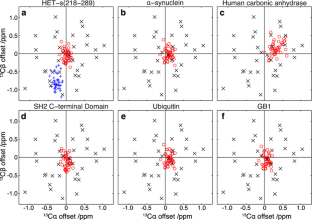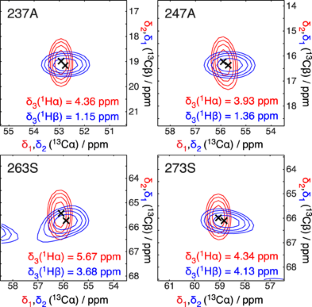 References
Agarwal V, Penzel S, Szekely K, Cadalbert R, Testori E, Oss A, Past J, Samoson A, Ernst M, Böckmann A, Meier BH (2014) De novo 3D structure determination from sub-milligram protein samples by solid-state 100 kHz MAS NMR spectroscopy. Angew Chem Int Ed 53:12253–12256

Albildgaard J, Hansen PE, Manalo ME, LiWang A (2009) Deuterium isotope effects on N-15 backbone chemical shifts in proteins. J Biomol NMR 44:119–126

Asami S, Schmieder P, Reif B (2010) High resolution 1H-detected Solid-state NMR spectroscopy of protein aliphatic resonances: access to tertiary structure information. J Am Chem Soc 132:15133–15135

Asami S, Szekely K, Schanda P, Meier BH, Reif B (2012) Optimal degree of protonation for 1H detection of aliphatic sites in randomly deuterated proteins as a function of the MAS frequency. J Biomol NMR 54:155–168

Balguerie A, Dos Reis S, Ritter C, Chaignepain S, Bénédicte C-S, Forge V, Bathany K, Lascu I, Schmitter J-M, Riek R, Saupe SJ (2003) Domain organization and structure–function relationship of the HET-s prion protein of Podospora anserina. EMBO J 22:2071–2081

Berthelot K, Lecomte S, Gean J, Immel F, Cullin C (2010) A yeast toxic mutant of HET-s(218–289) prion displays alternative intermediates of amyloidogenesis. Biophys J 99:1239–1246

Böckmann A, Gardiennet C, Verel R, Hunkeler A, Loquet A, Pintacuda G, Emsley L, Meier BH, Lesage A (2009) Characterization of different water pools in solid-state NMR protein samples. J Biomol NMR 45:319–327

Fowler DM, Koulov AV, Balch WE, Kelly JW (2007) Functional amyloid —from bacteria to humans. Trends Biochem Sci 32:217–224

Gardner KH, Kay LE (1998) The use of 2 H, 13 C, 15 N multidimensional NMR to study the structure and dynamics of proteins. Annu Rev Biophys Biomol Struct 27:357–406

Gardner KH, Rosen MK, Kay LE (1997) Global folds of highly deuterated, methyl-protonated proteins by multidimensional NMR. Biochemistry 36:1389–1401

Glass NL, Kaneko I (2003) Fatal attraction: nonself recognition and heterokaryon incompatibility in filamentous fungi. Eukaryot Cell 2:1–8

Hansen PE (1988) Isotope Effects in Nuclear Shielding. Prog Nucl Mag Res Sp 20:207–255

Hansen PE (2000) Isotope effects on chemical shifts of proteins and peptides. Magn Reson Chem 38:1–10

Hediger S, Meier BH, Ernst RR (1995) Adiabatic passage Hartmann-Hahn cross polarization in NMR under magic angle sample spinning. Chem Phys Lett 240:449–456

Huber M, Hiller S, Schanda P, Ernst M, Böckmann A, Verel R, Meier BH (2011) A proton-detected 4D solid-state nmr experiment for protein structure determination. Chem Phys Chem 12:915–918

Jameson CJ, Osten HJ (1984) The additivity of NMR isotope shifts. J Chem Phys 81:4293

Jameson CJ, Osten HJ (1986) Theoretical aspects of isotope effects on nuclear shielding. Ann R NMR S 17:1–78

Knight MJ, Webber AL, Pell AJ, Guerry P, Barbet-Massin E, Bertini I, Felli IC, Gonnelli L, Pierattelli R, Emsley L, Lesage A, Herrmann T, Pintacuda G (2011) Fast resonance assignment and fold determination of human superoxide dismutase by high-resolution proton-detected solid-state MAS NMR spectroscopy. Angew Chem Int Ed Engl 50:11697–11701

Knowles TPJ, Vendruscolo M, Dobson CM (2014) The amyloid state and its association with protein misfolding diseases. Nat Rev Mol Cell Bio 15:384–396

LeMaster DM, LaIuppa JC, Kushlan DM (1994) Differential deuterium isotope shifts and one-bond 1H-13C scalar couplings in the conformational analysis of protein glycine residues. J Biomol NMR 4:863–870

Lewandowski JR, Dumez J-N, Akbey Ü, Lange S, Emsley L, Oschkinat H (2011) Enhanced resolution and coherence lifetimes in the solid-state NMR spectroscopy of perdeuterated proteins under ultrafast magic-angle spinning. J Phys Chem Lett 2:2205–2211

Lundström P, Hansen DF, Vallurupalli P, Kay LE (2009) Accurate measurement of alpha proton chemical shifts of excited protein states by relaxation dispersion NMR spectroscopy. J Am Chem Soc 131:1915–1926

Maciel GE, Ellis PD, Hofer DC (1967) Carbon-13 chemical shifts of the carbonyl group. V. Observation of a deuterium isotope effect using carbon-13 field-frequency lock. J Phys Chem 71:2160–2164

Maji SK, Perrin MH, Sawaya MR, Jessberger S, Vadodaria K, Rissman RA, Singru PS, Nilsson KPR, Simon R, Schubert D, Eisenberg D, Rivier J, Sawchenko P, Wylie V, Riek R (2009) Functional amyloids as natural storage of peptide hormones in pituitary secretory granules. Science 325:328–332

Maltsev AS, Ying J, Bax A (2012) Deuterium isotope shifts for backbone 1 H, 15 N and 13 C nuclei in intrinsically disordered protein a-synuclein. J Biomol NMR 54:181–191

Meier BH, Böckmann A (2015) The structure of fibrils from 'misfolded' proteins. Curr Opin Struc Biol 30:43–49

Morris DG, Murray AM (1975) 13 C Chemical Shifts of I-Substituted Camphenes. Perkin Trans 2:539–541

Nietlistpach D, Clowes RT, Broadhurst RW, Ito Y, Keeler J, Kelly M, Ashurst J, Oschkinat H, Domaille PJ, Laue ED (1996) An approach to the structure determination of larger proteins using triple resonance NMR experiments in conjunction with random fractional deuteration. J Am Chem Soc 118:407–415

Ottiger M, Bax A (1997) An empirical correlation between amide deuterium isotope effects on 13Ca chemical shifts and protein backbone conformation. J Am Chem Soc 119:8070–8075

Penzel S, Smith AA, Agarwal V, Hunkeler A, Org M-L, Samoson A, Böckmann A, Ernst M, Meier BH (2015) Protein resonance assignment at MAS frequencies approaching 100 kHz: a quantitative comparison of J-coupling and dipolar—coupling-based transfer methods. J Biomol NMR 63:165–186

Saupe SJ (2000) Molecular genetics of heterokaryon incompatibility in filamentous ascomycetes. Microbiol Mol Biol Rev 64:489–502

Schubert M, Manolikas T, Rogowski M, Meier BH (2006) Solid-state NMR spectroscopy of 10 % 13 C labeled ubiquitin: spectral simplification and stereospecific assignment of isopropyl groups. J Biomol NMR 35:167–173

Siemer AB, Ritter C, Ernst M, Riek R, Meier BH (2005) High-resolution solid-state NMR spectroscopy of the prion protein HET-s in its amyloid conformation. Angew Chem Int Ed 44:2441–2444

Siemer AB, Ritter C, Steinmetz MO, Ernst M, Riek R, Meier BH (2006) 13 C, 15 N resonance assignment of parts of the HET-s prion protein in its amyloid form. J Biomol NMR 34:75–87

Smith AA, Testori E, Cadalbert R, Meier BH, Ernst M (2016) Characterization of fibril dynamics on three timescales by solid-state NMR. J Biomol NMR 65:171–191

Tang M, Comellas G, Mueller LJ, Rienstra CM (2010) High resolution 13C-detected solid-state NMR spectroscopy of a deuterated protein. J Biomol NMR 48:103–111

Van Melckebeke H, Wasmer C, Lange A, AB E, Loquet A, Böckmann A, Meier BH (2010) Atomic-resolution three-dimensional structure of HET-s(218–289) amyloid fibrils by solid-state NMR spectroscopy. J Am Chem Soc 132:13765–13775

Venters RA, Farmer BT II, Fierke CA, Spicer LD (1996) Characterizing the use of perdeuteration in NMR studies of large proteins: 13 C, 15N and 1H assignments of human carbonic anhydrase II. J Mol Biol 264:1101–1116

Vranken WF, Boucher W, Stevens TJ, Fogh RH, Pajon A, Llinas M, Ulrich EL, Markley JL, Ionides J, Laue ED (2005) The CCPN data model for NMR spectroscopy: development of a software pipeline. Proteins 59:687–696

Wasmer C, Lange A, Van Melckebeke H, Siemer AB, Riek R, Meier BH (2008) Amyloid fibrils of the HET-s(218–289) prion form a β solenoid with a triangular hydrophobic core. Science 319:1523–1526

Zhou DH, Rienstra CM (2008) High-performance solvent suppression for proton detected solid-state NMR. J Magn Res 192:167–172
Acknowledgements
This work has been supported by the Swiss National Science Foundation (Grants 200020_146757 and 200020_159707) and by the French ANR (ANR-14-CE09-0024B).
About this article
Cite this article
Smith, A.A., Ravotti, F., Testori, E. et al. Partially-deuterated samples of HET-s(218–289) fibrils: assignment and deuterium isotope effect. J Biomol NMR 67, 109–119 (2017). https://doi.org/10.1007/s10858-016-0087-0
Received:

Accepted:

Published:

Issue Date:
Keywords
Solid-state NMR

Fibrils

Chemical shift assignment

Deuterium isotope effect

Deuterated proteins

Proton detection