Abstract
Software for fitting of NMR spectra in MATLAB is presented. Spectra are fitted in the frequency domain, using Fourier transformed lineshapes, which are derived using the experimental acquisition and processing parameters. This yields more accurate fits compared to common fitting methods that use Lorentzian or Gaussian functions. Furthermore, a very time-efficient algorithm for calculating and fitting spectra has been developed. The software also performs initial peak picking, followed by subsequent fitting and refinement of the peak list, by iteratively adding and removing peaks to improve the overall fit. Estimation of error on fitting parameters is performed using a Monte-Carlo approach. Many fitting options allow the software to be flexible enough for a wide array of applications, while still being straightforward to set up with minimal user input.
Access options
Buy single article
Instant access to the full article PDF.
US$ 39.95
Tax calculation will be finalised during checkout.
Subscribe to journal
Immediate online access to all issues from 2019. Subscription will auto renew annually.
US$ 119
Tax calculation will be finalised during checkout.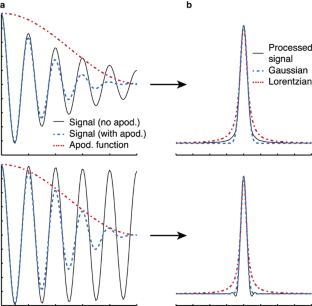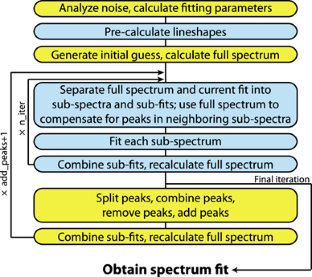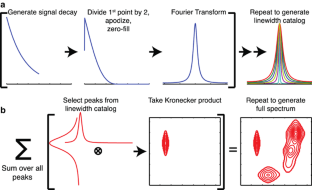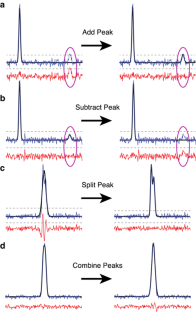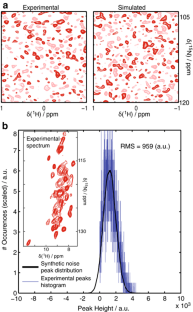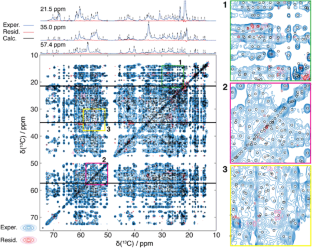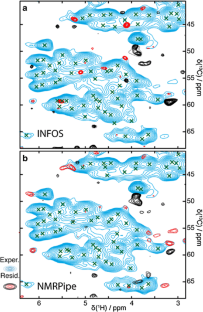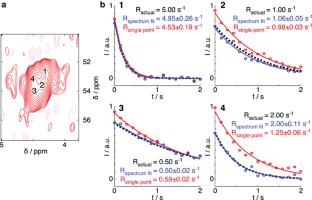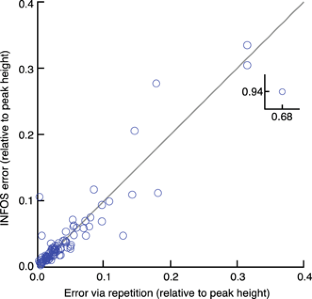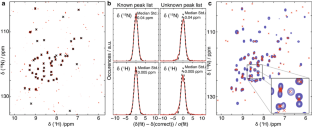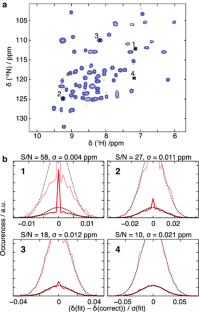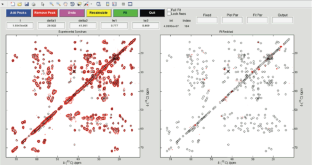 References
Alipanahi B, Gao X, Karakoc E, Donaldson L, Li M (2009) PICKY: a novel SVD-based NMR spectra peak picking method. Bioinformatics 25:i268–i275

Bartels C, Xia T-h, Billeter M, Güntert P, Wüthrich K (1995) The program XEASY for computer-supported NMR spectral analysis of biological macromolecules. J Biomol NMR 6:1–10

Bruker Biospin (2016) Topspin.

Brummer ME, Mersereau RM, Eisner RL, Lewine RRJ (1993) Automatic Detection of Brain Contours in MRI Data Sets. IEEE T Med Imaging 12:153–166

Buja A, Hastie T, Tibshirani R (1989) Linear Smoothers and Additive Models. Ann Stat 17:453–455

Caglioti V, Maniezzo V (1995) Mode determination in noisy bimodal images by histogram comparison. Pattern Recogn Lett 16:1237–1248

Cheng Y, Gao X, Liang F (2014) Bayesian peak picking for NMR spectra. Genomics Proteomics Bioinformatics 12:39–47

Cheung M-S, Maguire ML, Stevens TJ, Broadhurst RW (2010) DANGLE: A Bayesian inferential method for predicting protein backbone dihedral angles and secondary structure. J Magn Reson 202:223–233

Chylla RA, Markley JL (1994) Theory and application of the maximum likelihood principle to NMR parameter estimation of multidimensional NMR data. J Biomol NMR 5:245–258

Chylla RA, Volkman BF, Markley JL (1998) Practical model fitting approaches to the direct extraction of NMR parameters simultaneously from all dimensions of multidimensional NMR spectra. J Biomol NMR 12:277–297

Corne SA, Johnson AP (1992) An Artificial Neural Network for Classifying Cross Peaks in Two-Dimensional NMR Spectra. J Magn Res 100:256–266

Cornilescu G, Delaglio F, Bax A (1999) Protein backbone angle restraints from searching a database for chemical shift and sequence homology. J Biomol NMR 13:289–302

de Beer R, van Ormondt D (1992) Analysis of NMR data using time domain fitting procedures. In: Rudin M (ed) In-vivo magnetic resonance spectroscopy I: probeheads and radiofrequency pulses spectrum analysis. Springer, Berlin, Heidelberg, pp 201–248. doi:10.1007/978-3-642-45697-8_7

Delaglio F, Grzesiek S, Vuister GW, Zhu G, Pfeifer J, Bax A (1995) NMRPipe: A multidimensional spectral processing system based on UNIX pipes*. J Biomol NMR 6:277–293

Ernst RR (1966) Sensitivity Enhancement in Magnetic Resonance. Adv Magn Reson 2:1–135

Ernst RR, Bodenhausen G, Wokaun A (1987) Principles of nuclear magnetic resonance in one and two dimensions. Clarendon, Oxford

Garrett DS, Powers R, Gronenborn AM, Clore GM (1991) A Common Sense Approach to Peak Picking in Two-, Three-, and Four- Dimensional Spectra Using Automatic Computer Analysis of Contour Diagrams. J Magn Res 95:214–220

Goddard TD, Kneller DG Sparky 3. University of California, San Francisco

Gullion T, Schaefer J (1989) Rotational-Echo Double-Resonance NMR. J Magn Res 81:196–200

Hoch JC, Stern AS (1996) NMR Data Processing. John Wiley & Sons. Inc., Hoboken

Hu K-N, Qiang W, Tycko R (2011) A general Monte Carlo/simulated annealing algorithm for resonance assignment in NMR of uniformly labeled biopolymers. J Biomol NMR 50:267–276

Hughes I, Hase T (2010) Measurements and Their Uncertainties: A Practical Guide to Modern Error Analysis. Oxford University Press, New York

Johnson BA, Blevins RA (1994) NMRView: a computer program for the visualization and analysis of NMR data. J Biomol NMR 4:603–614

Keller R (2004) The Computer Aided Resonance Assignment Tutorial. Cantina Verlag, Goldau, Switzerland

Koradi R, Billeter M, Engeli M, Güntert P, Wüthrich K (1998) Automated peak picking and peak integration in macromolecular NMR spectra using AUTOPSY. J Magn Res 135:288–297

Levenberg (1944) A Method for the Solution of Certain Non-Linear Problems in Least Squares. Q Appl Math 2:164–168

López-Méndez B, Güntert P (2006) Automated Protein Structure Determination from NMR Spectra. J Am Chem Soc 128:13112–13122

Mandel AM, Akke M, Palmer AGI (1995) Backbone Dynamics of Escherichia coli Ribonuclease HI: Correlations with Structure and Function in an Active Enzyme. J Mol Biol 246:144–163

Marquardt DW (1963) An Algorithm for Least-Squared Estimation of Nonlinear Parameters. J Soc Indust Appl Math 11:431–441

Massiot D, Fayon F, Capron M, King I, Le Calvé S, Alonso B, Durand J-O, Bujoli B, Gan Z, Hoatson G (2002) Modelling one- and two-dimensional solid-state NMR spectra. Magn Res Chem 40:70–76

Mathworks (2013a) MATLAB and Optimization Toolbox Release 2013b. The Mathworks, Inc., Natick, Massachusetts, United States

Mathworks (2013b) MATLAB Release 2013b. The Mathworks, Inc., Natick, Massachusetts, United States

Metropolis N, Ulam S (1949) The Monte Carlo Method. J Amer Statistical Assoc 44:335–341

Morin S, Linnet TE, Lescanne M, Schanda P, Thompson GS, Tollinger M, Teilum K, Gagne S, Marion D, Griesinger C, Blackledge M, d'Auvergne EJ (2014) relax: the analysis of biomolecular kinetics and thermodynamics using NMR relaxation dispersion data. Bioinformatics 30:2219–2220

Norris M, Fetler B, Marchant J, Johnson BA (2016) NMRFx Processor: a cross-platform NMR data processing program. J Biomol NMR 65:205–216

Palmer AG, Rance M, Wright PE (1991) Intramolecular Motions of a Zinc Finger DNA-Binding Domain from Xfin Characterized by Proton-Detected Natural Abundance 13 C Heteronuclear NMR Spectroscopy. J Am Chem Soc 113:4371–4380

Penzel S, Smith AA, Agarwal V, Hunkeler A, Org M-L, Samoson A, Böckmann A, Ernst M, Meier BH (2015) Protein resonance assignment at MAS frequencies approaching 100 kHz: a quantitative comparison of J-coupling and dipolar- coupling-based transfer methods. J Biomol NMR 63:165–186

Rieping W, Habeck M, Bardiaux B, Bernard A, Malliavin TE, Nilges M (2007) ARIA2: automated NOE assignment and data integration in NMR structure calculation. Bioinformatics 23:381–382

Schwieters CD, Kuszewski JJ, Tjandra N, Clore GM (2003) The Xplor-NIH NMR molecular structure determination package. J Magn Res 160:65–73

Serrano P, Pedrini B, Mohanty B, Geralt M, Herrmann T, Wuthrich K (2012) The J-UNIO protocol for automated protein structure determination by NMR in solution. J Biomol NMR 53:341–354

Siemer AB, Ritter C, Steinmetz MO, Ernst M, Riek R, Meier BH (2006) 13 C, 15 N Resonance assignment of parts of the HET-s prion protein in its amyloid form. J Biomol NMR 34:75–87

Sijbers J, Poot D, den Dekker AJ, Pintjens W (2007) Automatic estimation of the noise variance from the histogram of a magnetic resonance image. Phys Med Biol 52:1335–1348

Skinner SP, Fogh RH, Boucher W, Ragan TJ, Mureddu LG, Vuister GW (2016) CcpNmr AnalysisAssign: a flexible platform for integrated NMR analysis. J Biomol NMR 66:111–124

Slotboom J, Boesch C, Kreis R (1998) Versatile frequency domain fitting using time domain models and prior knowledge. Magn Reson Med 39:899–911

Smith SW (1999) The Scientist and Engineer's Guide to Digital Signal Processing. California Technical Publishing, USA

Smith AA, Testori E, Cadalbert R, Meier BH, Ernst M (2016) Characterization of fibril dynamics on three timescales by solid-state NMR. J Biomol NMR 65:171–191

Sodickson DK, Levitt MH, Vega S, Griffin RG (1993) Broad band dipolar recoupling in the nuclear magnetic resonance of rotating solids. J Chem Phys 98:6742

Sorenson DC (1982) Newtons's Method with a Model Trust Region Modification. SIAM J Numer Anal 19:409–426

van Dijk JE, Mehlkopf AF, van Ormondt D, Bovée WMMJ (1992) Determination of Concentrations by Time Domain Fitting of Proton NMR Echo Signals Using Prior Knowledge. Magn Reson Med 27:76–96

Van Huffel S, Chen H, Decanniere C, Van Hecke P (1994) Algorithm for Time-Domain NMR Data Fitting Based on Total Least Squares. J Magn Res Ser A 119:228–237

Van Melckebeke H, Wasmer C, Lange A, AB E, Loquet A, Böckmann A, Meier BH (2010) Atomic-Resolution Three-Dimensional Structure of HET-s(218–289) Amyloid Fibrils by Solid-State NMR Spectroscopy. J Am Chem Soc 132:13765–13775

van den Boogart A, Ala-Korpela M, Jokisaari J, Griffiths JR (1994) Time and Frequency Domain Analysis of NMR Data Compared: An Application to 1D 1 H Spectra of Lipoproteins. Magn Reson Med 31:347–358

Vranken WF, Boucher W, Stevens TJ, Fogh RH, Pajon A, Llinas M, Ulrich EL, Markley JL, Ionides J, Laue ED (2005) The CCPN data model for NMR spectroscopy: development of a software pipeline. Proteins 59:687–696

Wasmer C, Lange A, Van Melckebeke H, Siemer AB, Riek R, Meier BH (2008) Amyloid Fibrils of the HET-s(218–289) Prion Form a β Solenoid with a Triangular Hydrophobic Core. Science 319:1523–1526

Waudby CA, Ramos A, Cabrita LD, Christodoulou J (2016) Two-Dimensional NMR Lineshape Analysis. Sci Rep 6:24826
Acknowledgements
I would particularly like to thank Matthias Ernst and Beat Meier for supporting and helping to guide my research – research that has necessitated the development of the work presented here. I would further like to thank Susanne Penzel, Joeri Verasdonck, John Ribeiro, and Thomas Bauer for testing and applying the programs presented here, and also additional thanks to Matthias and Susanne for helpful comments while preparing the paper. Thanks to Frank Delaglio for help with fitting with NMRPipe, and import of the NMRPipe spectrum format. This work has been supported by the Swiss National Science Foundation (Grants 200020_146757 and 200020_159707).
Electronic supplementary material
Below is the link to the electronic supplementary material.
About this article
Cite this article
Smith, A.A. INFOS: spectrum fitting software for NMR analysis. J Biomol NMR 67, 77–94 (2017). https://doi.org/10.1007/s10858-016-0085-2
Received:

Accepted:

Published:

Issue Date:
Keywords
Spectrum fitting

Quantitative NMR

Data analysis

Multi-dimensional NMR