Abstract
NMR studies of multi-domain protein complexes provide unique insight into their molecular interactions and dynamics in solution. For large proteins domain-selective isotope labeling is desired to reduce signal overlap, but available methods require extensive optimization and often give poor ligation yields. We present an optimized strategy for segmental labeling of multi-domain proteins using the S. aureus transpeptidase Sortase A. Critical improvements compared to existing protocols are (1) the efficient removal of cleaved peptide fragments by centrifugal filtration and (2) a strategic design of cleavable and non-cleavable affinity tags for purification. Our approach enables routine production of milligram amounts of purified segmentally labeled protein for NMR and other biophysical studies.
Access options
Buy single article
Instant access to the full article PDF.
US$ 39.95
Tax calculation will be finalised during checkout.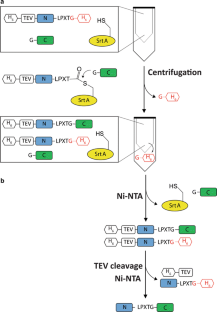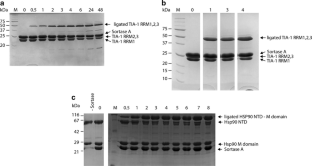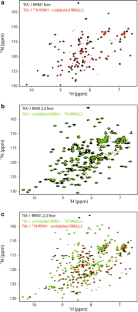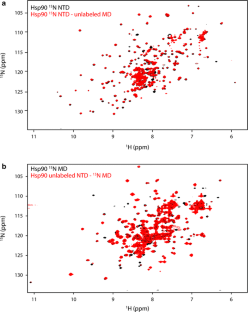 Acknowledgments
We thank Iren Wang for discussions and TIA-1 expression protocols and Arie Geerlof at the Protein Expression and Purification Facility of the Helmholtz Center Munich for discussion. This work was supported by The Deutsche Forschungsgemeinschaft (DFG, SFB1035 and GRK1721 to M.S.), the Center for Integrated Protein Science Munich (CIPSM). L.F. acknowledges support by an European Molecular Biology Organization (EMBO) Longterm Fellowship and Marie Curie FP7 International Incoming Fellowship. J. H. acknowledges the EMBO for a long-term fellowship (ALTF-276-2010) and the Swedish Research Council (Vetenskapsrådet) for a postdoc fellowship.
Additional information
Lee Freiburger and Miriam Sonntag have equally contributed to this work.
The Sortase A construct can be obtained from the authors upon request.
Electronic supplementary material
Below is the link to the electronic supplementary material.
About this article
Cite this article
Freiburger, L., Sonntag, M., Hennig, J. et al. Efficient segmental isotope labeling of multi-domain proteins using Sortase A. J Biomol NMR 63, 1–8 (2015). https://doi.org/10.1007/s10858-015-9981-0
Received:

Accepted:

Published:

Issue Date:
Keywords
Protein ligation

Sortase A

Multi-domain proteins

Segmental isotope labeling

Protein expression