Abstract
Studies of mathematics teacher preparation frequently lament the divide between the more theoretically based university methods course and the practically grounded classroom field experience. In many instances, attempts to mediate this gap involve creating hybrid or third spaces, which seek to dissipate the differences in knowledge status as individuals from the university and from K-12 classrooms work together in support of prospective teacher (PST) learning. However, what is missing in the literature on these third-space enactments is an exploration of the contributions of different contexts (i.e., methods and the field) to PST learning and an articulation of the synergistic knowledge arising in the third space. This exploratory study draws on Lampert's three-pronged teacher–child–content model to examine the possible contributions of elementary mentor teachers (MTs) to the learning-to-teach-mathematics experiences of PSTs. More specifically, we focus on a third-space learning context in which university-based teacher educators, MTs, and PSTs collaborated to conduct and analyze task-based problem-solving interviews of elementary children. Our analysis identified ways that MTs could potentially enhanced the learning-to-teach context as well as moments when MTs' contributions introduced problematic ideas about children and teaching. Finally, we explore the benefits and complexities of leveraging these MT contributions to create a third-space learning opportunity.
Access options
Buy single article
Instant access to the full article PDF.
USD 39.95
Price includes VAT (USA)
Tax calculation will be finalised during checkout.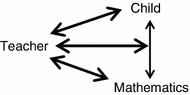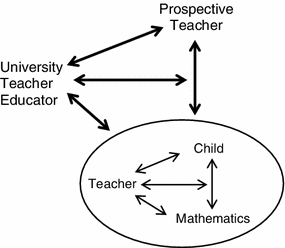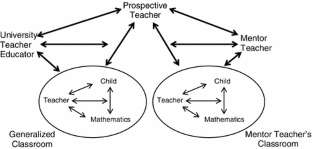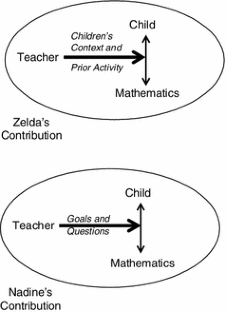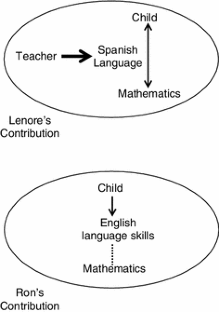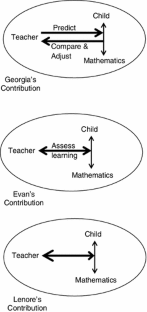 References
Bogdan, R. C., & Biklen, S. K. (2003). Qualitative research for education: An introduction to theories and methods (4th ed.). Boston: Allyn and Bacon.

Carpenter, T., Fennema, E., Franke, M., Levi, L., & Empson, S. B. (1999). Children's mathematics: Cognitively guided instruction.

Carpenter, T. P., Fennema, E., Peterson, P. L., Chiang, C.-P., & Loef, M. (1989). Using knowledge of children's mathematics thinking in classroom teaching: An experimental study. American Educational Research Journal, 26(4), 499–531.

Cochran-Smith, M., & Lytle, S. L. (1999). Relationships of knowledge and practice: Teacher learning in communities. Review of Research in Education, 24, 249–305.

Cochran-Smith, M., & Lytle, S. L. (2009). Inquiry as stance: Practitioner research in the next generation. New York, NY: Teachers College Press.

Cohen, E. G. (1994). Designing groupwork: Strategies for the heterogeneous classroom. New York, NY: Teachers College Press.

Cohen, D., Raudenbush, S., & Ball, D. (2003). Resources, instruction, and research. Educational Evaluation and Policy Analysis, 25(2), 1–24.

Delgado, R. (1989). Storytelling for oppositionists and others: A plea for narrative. Michigan Law Review, 87(8), 2411–2441.

Empson, S. B., & Junk, D. (2004). Teachers' knowledge of student mathematics after implementing a student-centered curriculum. Journal for Mathematics Teacher Education, 7, 121–144.

Featherstone, H. F., Crespo, S., Jilk, L. M., Oslund, J., Parks, A., & Wood, M. B. (2011). Smarter together! Collaboration and equity in the elementary classroom. Reston, VA: National Council of Teachers of Mathematics.

Ghousseini, H., & Sleep, L. (2011). Making practice studyable. ZDM, 43, 147–160.

Gutiérrez, K. (2008). Developing sociocultural literacy in the third space. Reading Research Quarterly, 43, 148–164.

Gutiérrez, K., Baquedano-López, P., & Tejada, C. (1999). Rethinking diversity: Hybridity and hybrid language practices in the third space. Mind, Culture and Activity, 6(4), 286–303.

Jenkins, O. F. (2010). Developing teachers' knowledge of students as learners of mathematics through structured interviews. Journal of Mathematics Teacher Education, 13, 141–154.

Labaree, D. F. (2000). On the nature of teaching and teacher education: Difficult practices that look easy. Journal of Teacher Education, 51(3), 228–233.

Labaree, D. F. (2003). The peculiar problem of preparing educational researchers. Educational Researcher, 32(4), 13–22.

Lampert, M. (2001). Teaching problems and the problems of teaching. New Haven, CT: Yale University Press.

McDonough, A., Clarke, B., & Clarke, D. M. (2002). Understanding, assessing and developing children's mathematical thinking: The power of a one-to-one interview for preservice teachers in providing insights into appropriate pedagogical practices. International Journal of Educational Research, 37(2), 211–226.

Moschkovich, J. N. (2007). Bilingual mathematics learners: How views of language, bilingual learners, and mathematical communication affect instruction. In N. Nassir & P. Cobb (Eds.), Improving access to mathematics: Diversity and equity in the classroom (pp. 89–104). New York: Teachers College Press.

Nipper, K., & Sztajn, P. (2008). Expanding the instructional triangle: Conceptualizing mathematics teacher development. Journal of Mathematics Teacher Education, 11(4), 333–341.

Post, L., Pugach, M., Harris, S., & Hughes, M. (2006). The teachers-in-residence program: Veteran urban teachers as teacher leaders in boundary-spanning roles. In K. Howey & N. Zimpher (Eds.), Boundary spanners: A key to success in urban P-16 university–school partnerships (pp. 211–236). Washington, DC: American Association of State Colleges and Universities and Land Grant Colleges.

Rodriguez, T. L. (2011). Stories of self, stories of practice: Enacting a vision of socially just pedagogy for Latino youth. Teaching Education, 22(3), 239–254.

Schorr, R. Y., & Ginsburg, H. P. (2000). Using clinical interviews to promote pre-service teachers' understanding of children's mathematical thinking. Proceedings of the 22nd Annual Meeting of the North American Chapter of the International Group for the Psychology of Mathematics Education. Tucson, Arizona, USA.

Smagorinsky, P., Cook, L., & Johnson, T. (2003). The twisting path of concept development in learning to teach. The Teachers College Record, 105(8), 1399–1436.

Solorzano, D. G., & Yosso, T. J. (2001). Critical race and LatCrit theory and method: Counter-storytelling. International Journal of Qualitative Studies in Education, 14(4), 471–495.

Vacc, N. N., & Bright, G. W. (1999). Elementary preservice teachers' changing beliefs and instructional use of children's mathematical thinking. Journal for Research in Mathematics Education, 30(1), 89–110.

Valencia, R. (1997). The evolution of deficit thinking: Educational thought and practice. Oxford: RoutledgeFalmer.

Veenman, S. (1984). Perceived problems of beginning teachers. Review of Educational Research, 54(2), 143–178.

Wittenberg, L., Economopoulos, K., Bastable, V., Bloomfield, K. H., Cochran, K., Earnest, D., et al. (2008). Investigations in number, data, and space (2nd ed.). Glenview, IL: Pearson Scott Foresman.

Zanting, A., Verloop, N., Vermunt, J. D., & Van Driel, J. H. (1998). Explicating practical knowledge: An extension of mentor teachers' roles. European Journal of Teacher Education, 21(1), 11–28.

Zeichner, K. (2010). Rethinking the connections between campus courses and field experiences in college-and university-based teacher education. Journal of Teacher Education, 61(1–2), 89–99.
Acknowledgments
This material is based upon work supported by the National Science Foundation under Grant No. DRL-1019860.
About this article
Cite this article
Wood, M.B., Turner, E.E. Bringing the teacher into teacher preparation: learning from mentor teachers in joint methods activities. J Math Teacher Educ 18, 27–51 (2015). https://doi.org/10.1007/s10857-014-9269-4
Keywords
Prospective teachers

Teacher preparation

Third space in teacher education

Mathematics methods courses

Mentor teacher

Children's mathematical thinking