Abstract
In this grounded theory case study, four interconnected, foundational cornerstones of culturally responsive mathematics teaching (CRMT), communication, knowledge, trust/relationships, and constant reflection/revision, were systematically unearthed to develop an initial working theory of CRMT that directly informs classroom practice. These cornerstones were found to interact in unique ways. Results have implications for teachers of mathematics who aim to become more culturally responsive, mathematics teacher educators and supervisors, and school administrators who seek to promote equity in mathematics.
This is a preview of subscription content, log in to check access.
Access options
Buy single article
Instant access to the full article PDF.
US$ 39.95
Tax calculation will be finalised during checkout.
Subscribe to journal
Immediate online access to all issues from 2019. Subscription will auto renew annually.
US$ 99
Tax calculation will be finalised during checkout.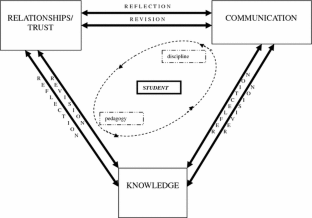 Notes
1.

A pseudonym has been used.

2.

A pseudonym has been used.
References
Allen, B. A., & Boykin, A. W. (1991). The influence of contextual factors on Afro-American and Euro-American children's performance: Effects of movement opportunity and music. International Journal of Psychology, 26(3), 373–387.

Allen, B. A., & Boykin, A. W. (1992). African American children and the educational process: Alleviating cultural discontinuity through prescriptive pedagogy. School Psychology Review, 21(4), 586–596.

Banks, J. A. (1979). Shaping the future of multicultural education. Journal of Negro Education, 47(3), 237–252.

Bishop, A. J., & Forgasz, H. J. (2007). Issues in access and equity in mathematics education. In F. K. Lester (Ed.), Second handbook of research on mathematics teaching and learning (pp. 1145–1167). Charlotte, NC: Information Age Publishing.

Charmaz, K. (2006). Constructing grounded theory: A practical guide through qualitative analysis. London: Sage Publications.

Darling-Hammond, L., & Sykes, G. (2003). Wanted: A national teacher supply policy for education: The right way to meet the "highly qualified teacher" challenge. Education Policy Analysis Archives, 11(33). Retrieved August 21, 2008 from http://epaa.asu.edu/epaa/v11n33/.

Delpit, L. D. (2002). No kinda sense. In L. D. Delpit & J. K. Dowdy (Eds.), The skin that we speak: Thoughts on language and culture in the classroom (pp. 31–48). New York: New Press.

Diversity in Mathematics Education Center for Teaching and Learning. (2007). Culture, race, power, and mathematics education. In F. K. Lester (Ed.), Second handbook of research on mathematics teaching and learning (pp. 405–433). Charlotte, NC: Information Age Publishing Inc.

Foster, M. (1987). Effective black teachers: A literature review. In E. R. Hollins, J. E. King, & W. C. Hayman (Eds.), Teaching diverse populations (pp. 225–242). New York: SUNY Press.

Foster, M. (1997). Black teachers on teaching. New York: The New Press.

Gay, G. (2002). Culturally responsive teaching in special education for ethnically diverse students: Setting the stage. Qualitative Studies in Education, 15(6), 613–629.

Gay, G. (2010). Culturally responsive teaching: Theory, research, and practice (2nd ed.). New York: Teachers College Press.

Glaser, B. G., & Strauss, A. L. (1967). The discovery of grounded theory. Chicago: Aldine.

Goldsmith, L., & Schifter, D. (1997). Understanding teachers in transition: Characteristics of model for developing teachers. In E. Fennema & S. Nelson (Eds.), Mathematics teachers in transition (pp. 19–54). Mahwah, NJ: Lawrence Erlbaum.

Greene, J. P., & Winters, M. A. (2005). Public high school graduation and college readiness rates: 1991–2002. New York: Center for Civic Innovation, Manhattan Institute.

Gutstein, E. (2006). Reading and writing the world with mathematics: Toward a pedagogy for social justice. New York: Routledge.

Howard, T. C. (2001). Telling their side of the story: African–American students' perceptions of culturally relevant teaching. Urban Review, 33(2), 131–150.

Howard, G. R. (2006). We can't teach what we don't know: White teachers, multiracial schools (2nd ed.). New York: Teachers College Press.

Kozol, J. (2005). The shame of the nation: The restoration of apartheid schooling in America. New York: Crown Publishers.

Ladson-Billings, G. (1994). The dreamkeepers: Successful teachers of African American children. San Francisco: Joey Bass.

Ladson-Billings, G. (1997). It doesn't add up: African American students' mathematics achievement. Journal for Research in Mathematics Education, 28(6), 697–708.

Ladson-Billings, G. (2004). Landing on the wrong note: The price we paid for Brown. Educational Researcher, 33(6), 3–13.

Lee, J. (2006). Tracking achievement gaps and assessing the impact of NCLB on the gaps: An in-depth look into national and state reading and math outcome trends. Cambridge, MA: The Civil Rights Project at Harvard University.

National Center for Education Statistics. (2007). The nation's report card. Mathematics highlights 2003. US Department of Education, Institute of Education Sciences, National Center for Education Statistics. Retrieved December 13, 2009 from http://education.umn.edu/nceo/Online-Pubs/Policy4.html.

National Education Association. (2008). News we lose: Black student gains. February: Focus on Blacks.

Pennington, H. (2000). Issues in mathematics education with African American students. Multicultural Education, 7(3), 36–41.

Sleeter, C. E. (2001). Preparing teachers for culturally diverse schools. Journal of Teacher Education, 52, 94–106.

Walker, V. S. (2000). Valued segregated schools for African American children in the South, 1935–1969: A review of common themes and characteristics. Review of Educational Research, 70(3), 253–285.

Ware, F. (2006). Warm demander pedagogy. Urban Education, 41(4), 427–456.
Appendices
Appendix 1
Interview protocols
The following interview protocols were guides for interviews that occurred while Ms. Finley was still alive and teaching. Interviews between her and the researcher were long and semi-structured, meaning that they often veered off of the course provided by the protocols. As such, many questions that came up during interviews and subsequently impacted the data are not included in the lists. The following questions are provided as samples, however, to give the reader an idea of how theoretical sampling was used in the interview process. The protocol for interview #1 was designed from questions generated by a few observations and literature. Each successive interview protocol was constructed subsequently from perceived holes in the data at the time of the interview. Here, the reader can follow the progression of questions that were generated in this manner.
Interview #1
1.

Tell me about your background. What was school like for you? When did you decide that you wanted to be a teacher? Where and how were you prepared to become a teacher?

2.

How would you describe your way of teaching? Have you always taught this way?

3.

Does your role in the community influence your teaching? How do you use what you know about students in the course of teaching?

4.

What types of teaching methods have given you the most success with this population? As a group, what do you feel it is that they need from a teacher?

5.

How do you handle the various ability levels of children in your classroom?

6.

Can you tell me about a student who is struggling or has struggled in your class? How did you handle it?

7.

How do you handle discipline in your classroom? What do you consider to be misbehavior in the classroom?

8.

What types of support (from administration, parents, etc.) are key to your success as a teacher?
Interview #2
1.

Can you tell me more about the math team?

2.

Tell me more about the Evening of Elegance and the 5th grade Graduation. How do rites of passage events like these benefit kids?

3.

You talked about cultural influences during our last interview. How does being in your class help students develop racially?

4.

When a student acts up in your class or doesn't participate, you sometimes take them out of the room, might have them call home, and always address them directly with a particular tone. Why does this work with this group of students?

5.

You communicate with students in very specific ways. Can you talk about that?

6.

You mentioned that as a product of this community, you understand where students are coming from. In what other ways does your background influence your teaching?
Interview #3
1.

Last week a new student came into your classroom and was almost immediately sent out. Can you talk about why you handled the situation in this particular way?

2.

You mentioned that you won't teach your children to act white. What did you mean by this? How does that relate to your students' racial identity development?

3.

You have said several times that you believe that your teaching has an impact on generations and the entire community. How do you feel that the successes at East Elementary (pseudonym) have transformed the community?

4.

What are the main outcomes of your teaching?

5.

How can we better prepare teachers to work in schools like East Elementary (pseudonym)?
Appendix 2
See Table 1.
About this article
Cite this article
Bonner, E.P., Adams, T.L. Culturally responsive teaching in the context of mathematics: a grounded theory case study. J Math Teacher Educ 15, 25–38 (2012). https://doi.org/10.1007/s10857-011-9198-4
Keywords
Culturally responsive mathematics teaching

Successful teachers of African American students

Grounded theory