Abstract
The main target of this work was to explore the proliferative impact of selenium dioxide nanoparticles (SeO2) and selenium dioxide/titanium dioxide nanocomposites (Se/Ti (I), (II) and (III)) on mesenchymal stem cells (MSCs). For this purpose, SeO2 and Se/Ti (I), (II) and (III) were prepared by facile one step method and characterized by transmission electron microscopy (TEM), Zetasizer, X-ray diffraction (XRD), Fourier transform infrared spectroscopy (FT-IR) and scanning electron microscope (SEM) along with energy-dispersive X-ray spectrometry (EDX) with reference to SeO2 nanoparticles. Also, MSCs were isolated from rat bone marrow (BM-MSCs) and adipose tissue (ADSCs), propagated and characterized by flow cytometry. Thereafter, the proliferative effect of the fabricated nanomaterials was investigated by MTT assay. The TEM and DLS results, revealed that the average particle size of the suggested nanomaterials was in nanoscale. XRD pattern showed well crystalline structure for SeO2 nanoparticles and Se/Ti (I), (II) and (III) nanocomposites; the decreasing of the crystalline phase was observed by increasing the wt% of TiO2. The designed nanomaterials showed proliferative effects on MSCs with the most prominent effect exerted by 2 µg/ml of Se/Ti (III) and 5 µg/ml of Se/Ti (II) for ADSCs and 20 µg/ml of Se/Ti (II) and 10 µg/ml of Se/Ti (III) for BM-MSCs. Therefore, these newly designed nanomaterials have a promising influence on MSCs proliferation and they are recommended to be utilized in the filed of tissue engineering.
Access options
Buy single article
Instant access to the full article PDF.
US$ 39.95
Tax calculation will be finalised during checkout.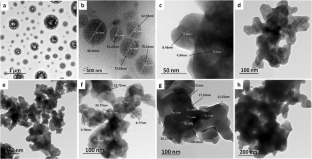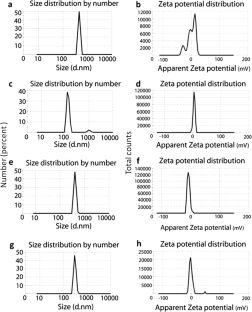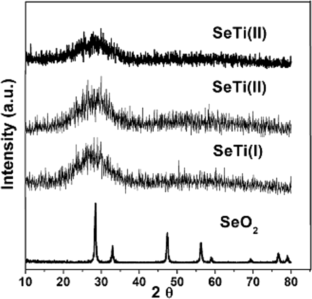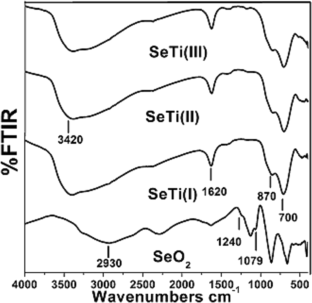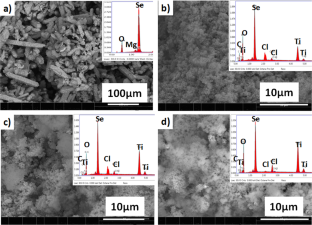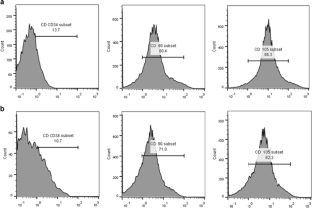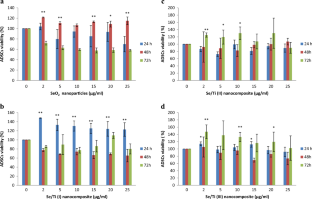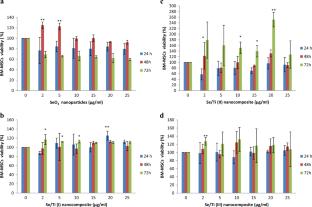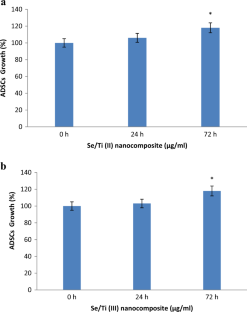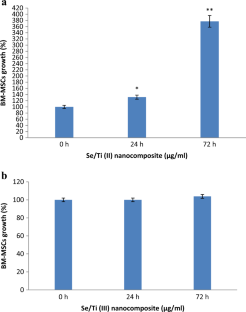 References
1.

Yoshiura Y, Izumi H, Oyabu T, Hashiba M, Kambara T, Mizuguchi Y, Lee BW, Okada T, Tomonaga T, Myojo T, Yamamoto K, Kitajima S, Horie M, Kuroda E, Morimoto Y. Pulmonary toxicity of well-dispersed titanium dioxide nanoparticles following intratracheal instillation. J Nanopart Res. 2015;17(6):241–51.

2.

Kim J, Piao Y, Hyeon T. Multifunctional nanostructured materials for multimodal imaging, and simultaneous imaging and therapy. Chem Soc Rev. 2009;38:372–90.

3.

Hahn MA, Singh AK, Sharma P, Brown SC, Moudgil BM. Nanoparticles as contrast agents for in vivo bioimaging: current status and future perspectives. Anal Bioanal Chem. 2011;399(1):3–27.

4.

Zhang J, Li Y, Zhang Q, Hao X, Wang S. Effects of gadolinium on proliferation, differentiation and calcification of primary mouse osteoblasts in vitro. J Rare earths. 2012;30(8):831–4.

5.

Zhang Y, Li X, Huang Z, Zheng W, Fan C, Chen T. Enhancement of cell permeabilization apoptosis-inducing activity of selenium nanoparticles by ATP surface decoration. Nanomed: Nanotechnol, Biol, Med. 2013;9:74–84.

6.

Harini D, Indra R, Rajaram A, Rama R. Induction of osteoblast differentiation in human adipose derived stem cells by lanthanum ions. J Rare earths. 2014;32(11):1080–8.

7.

Dai C, Chen S, Wang C, Zhang L, Ge K, Zhan J. Ytterbium ion promotes apoptosis of primary mouse bone marrow stromal cells. J Rare earths. 2015;30(4):445–52.

8.

Meifeng H, Xianyang H, Xue F, Deng P. In vitro corrosion behavior and biocompatibility of biodegradable magnesium-pearl powder metal matrix composite. J Alloy Compd. 2016;663:156–65.

9.

Tapiero H, Townsend DM, Tew KD. The antioxidant role of selenium and seleno-compounds. Biomed Pharmacother. 2003;57:134–44.

10.

Hassanin KM, Abd El-Kawi SH, Hashem KS. The prospective protective effect of selenium nanoparticles against chromium-induced oxidative and cellular damage in rat thyroid. Int J Nanomed. 2013;8:1713–20.

11.

Srivastava P, Braganca JM, Kowshik M. In vivo synthesis of selenium nanoparticles by Halococcussalifodinae BK18 and their anti-proliferative properties against HeLa cell line. Biotechnol Prog. 2014;30(6):1480–7.

12.

Neel EA, Chrzanowski W, Knowles JC. Biological performance of titania containing phosphate-based glasses for bone tissue engineering applications. Mater Sci Eng C. 2014;35:307–13.

13.

Catauro M, Bollino F, Papale F, Marciano S, Pacifico S. TiO2/PCL hybrid materials synthesized via sol–gel technique for biomedical applications. Mater Sci Eng C. 2015;47:135–41.

14.

Chen X, Mao SS. Titanium dioxide nanomaterials: synthesis, properties, modifications, and applications. Chem Rev. 2007;107:2891–959.

15.

Liu C, Zhu C, Li J, Zhou P, Chen M, Yang H, Li B. The effect of the fiber orientation of electrospun scaffolds on the matrix production of rabbit annulus fibrosus-derived stem cells. Bone Res. 2015;3:15012.

16.

Pan S, Yu H, Yang X, Yang X, Wang Y, Liu Q, Jin L, Yang Y. Application of nanomaterials in stem cell regenerative medicine of orthopedic surgery. J Nanomater. 2017;2017:12. pages

17.

Wang CH, Cherng WJ, Verma S. Drawbacks to stem cell therapy in cardiovascular diseases. Future Cardiol. 2008;4:399–408.

18.

Medvedev SP, Shevchenko AI, Zakian SM. Induced pluripotent stem cells: problems and advantages when applying them in regenerative medicine. Acta Nat. 2010;2:18–27.

19.

Daňková J, Buzgo M, Vejpravová J, Kubíčková S, Sovková V, Vysloužilová L, Mantlíková A, Nečas A, Amler E. Highly efficient mesenchymal stem cell proliferation on poly-ε-caprolactone nanofibers with embedded magnetic nanoparticles. Int J Nanomed. 2015;10:7307–17.

20.

Kim TH, Shah S, Yang L, Yin PT, Hossain MK, Conley B, Choi JW, Lee KB. Controlling differentiation of adipose-derived stem cells using combinatorial graphene hybrid-pattern arrays. ACS Nano. 2015;9:3780–90.

21.

Tomiyama K, Murase N, Stolz DB, Toyokawa H, O'Donnell DR, Smith DM, Dudas JR, Rubin JP, Marra KG. Characterization of transplanted GFP+ bone marrow cells into adipose tissue. Stem Cells. 2008;26:330–8.

22.

Alhadlaq A, Mao JJ. Mesenchymal stem cells: isolation and therapeutics. Stem Cells Dev. 2004;13:436–48.

23.

Woodbury D, Schwarz EJ, Prockop DJ, Black IB. Adult rat and human bone marrow stromal cells differentiate into neurons. J Neurosci Res. 2000;61(4):364–70.

24.

van Meerloo J, Kaspers GJ, Cloos J. Cell sensitivity assays: the MTT assay. Methods Mol Biol. 2011;731:237–45.

25.

Koch AL. Turbidity measurements of bacterial cultures in some available commercial instruments. Anal Biochem. 1970;38:252–9.

26.

Atta AH, El-Shenawy AI, Koura FA, Refat MS. Synthesis and characterization of some selenium nanometric compounds: spectroscopic, biological and antioxidant assessments. World J Nano Sci Eng. 2014;4:58–69.

27.

Zhao Z, Hu J, Zhou Z, Zhong M. The use of strong magnetic field treatment for preparation of proton exchange membrane doped by SeO2 and its electrochemical properties. Int J Electrochem Sci. 2017;12:5450–63.

28.

Rockafellow EM, Haywood JM, Witte T, Houk RS, Jenks WS. Selenium-Modified TiO2 and Its Impact on Photocatalysis. Langmuir. 2010;26(24):19052–9.

29.

Iordanov R, Bachvarova-Nedelchev A, Gegov R, Osto KL, Dimitrie Y. Sol–gel synthesis of composite powders in the TiO2–TeO2–SeO2 System. J Sol-Gel Sci Technol. 2016;79:12–28.

30.

Alekhin P, Lapushkin GI, Markeev AM, Sigarev AA, Toknova VF. Atomic layer deposition of the titanium dioxide thin film from tetraethoxytitanium and water. Russ J General Chem. 2010;80:1091–6.

31.

Dhanjal S, Cameotra SS. Aerobic biogenesis of selenium nanospheres by Bacillus cereus isolated from coalmine soil. Microb Cell Fact. 2010;9:52.

32.

Luna ACL, Madeira MEP, Conceição TO, Moreira JALC, Laiso RAN, Maria DA. Characterization of adipose-derived stem cells of anatomical region from mice. BMC Res Notes. 2014;7:552.

33.

Wang C, Xu Y, Song WG, Chang WS. Isolation and culturation, phenotype detection of rat bone marrow mesenchymal stem cells. Xi Bao Yu Fen Zi Mian Yi Xue Za Zhi. 2007;23(5):466–8.

34.

Fafián-Labora J, Fernández-Pernas P, Fuentes I, De Toro J, Oreiro N, Sangiao-Alvarellos S, Mateos J, Arufe MC. Influence of age on rat bone-marrow mesenchymal stem cells potential. Sci Rep. 2015;5:16765.

35.

Lemos EMF, Patrícia SOP, Marivalda MB. 3D Nanocomposite chitosan/bioactive glass scaffolds obtained using two different routes: an evaluation of the porous structure and mechanical properties. J Quim Nova. 2016;39(4):462–6.

36.

Domingos R, Tufenkji N, Baalousha M, Leppard G. Characterizing Manufactured Nanoparticles in the Environment: Multimethod Determination of Particle. Environ Sci Technol. 2009;43:7277–84.

37.

Schaeublin NM, Braydich-Stolle LK, Schrand AM, et al. Surface charge of gold nanoparticles mediates mechanism of toxicity. Nanoscale. 2011;3(2):410–20.

38.

Bhattacharjee S, de Haan LH, Evers NM, et al. Role of surface charge and oxidative stress in cytotoxicity of organic monolayer-coated silicon nanoparticles towards macrophage NR8383 cells. Part Fibre Toxicol. 2010;7:25.

39.

Anehosur GV, Kulkarni RD, Naik MG, Nadiger RK. Synthesis and determination of antimicrobial activity of visible light activated TiO2 nanoparticles with polymethyl methacrylate denture base resin against staphylococcus aureus. J Gerontol Geriatr Res. 2012;1:103.

40.

Zheng C, Wang J, Liu Y, Yu Q, Liu Y, Deng N, Liu J. Functional selenium nanoparticles enhanced stem cell osteoblastic differentiation through BMP signaling pathways. Adv Funct Mater. 2014;24:6872–88.

41.

Wang Y, Ma J, Zhou L, Chen J, Liu Y, Qiu Z, Zhang S. Dual functional selenium-substituted Hydroxyapatite. Interface Focus. 2012;2:378–86.

42.

Guida L, Annunziata M, Rocci A, Contaldo M, Rullo R, Oliva A. Biological response of human bone marrow mesenchymal stem cells to fluoride-modified titanium surfaces. Clin Oral Implants Res. 2010;21(11):1234–41.

43.

Cai KY, Lai M, Yang WH, Hu R, Xin R, Liu Q, Sung KL. Surface engineering of titanium with potassium hydroxide and its effects on the growth behaviors of mesenchymal stem cells. Acta Biomater. 2010;6(6):2314–21.

44.

Chen XY, Cai KY, Lai M, Zhao L, Tang LL. Mesenchymal stem cell differentiation on hierarchically micro/nano-structured titanium substrates. Adv Eng Mater. 2012;14(5):B217–23.

45.

Zhu W, Teel G, O'Brien CM, Zhuang T, Keidar M, Zhan LG. Enhanced human bone marrow mesenchymal stem cell functions on cathodic arc plasma-treated titanium. Int J Nanomed. 2015;10:7385–96.

46.

Dvir T, Timko BP, Kohane DS, Langer R. Nanotechnological strategies for engineering complex tissues. Nat Nanotechnol. 2011;6(1):13–22.

47.

Armentano I, Bitinis N, Fortunati E, Mattioli S, Rescignano N, Verdejo R, Lopez-Manchado MA, Kenny JM. Multifunctional nanostructured PLA materials for packaging and tissue engineering. Prog Polym Sci. 2013;38(10–11):1720–47.

48.

Abdulah R, Miyazaki K, Nakazawa M, Koyama H. Chemical forms of selenium for cancer prevention. J Trace Elem Med Biol. 2005;19:141–50.

49.

Lu F, Wu SH, Hung Y, Mou CY. Size effect on cell uptake in well-suspended, uniform mesoporous silica nanoparticles. Small. 2009;5:1408–13.

50.

Yuan Y, Liu C, Qian J, Wang J, Zhang Y. Size-mediated cytotoxicity and apoptosis of hydroxyapatite nanoparticles in human hepatoma HepG2 cells. Biomaterials. 2010;31:730–40.

51.

Krajewski A, Piancastell A, Malavolti R. Albumin adhesion on ceramics and correlation with their Z-potential. Biomaterials. 1998;19:637–41.

52.

Fröhlich E. The role of surface charge in cellular uptake and cytotoxicity of medical nanoparticles. Int J Nanomed. 2012;7:5577–91.

53.

Petrauskas V, Maximowitsch E, Matulis D. Thermodynamics of ion pair formations between charged poly(amino acid)s. J Phys Chem B. 2015;119:12164–71.

54.

Luca LD, Salle AD, Alessio N, Margarucci S, Simeone M, Galderisi U, Calarco A, Peluso G. Positively charged polymers modulate the fate of human mesenchymal stromal cells via ephrinB2/EphB4 signaling. Stem Cell Res. 2016;17:248–55.

55.

Oughlis S, Changotade S, Poirier F, Cieutat AM, Rohman G, Peltzer J, Migonney V, Lataillade JJ, Lutomski D. Improved proliferation and osteogenic differentiation of human mesenchymal stem cells on a titanium biomaterial grafted with poly(sodium styrene sulphonate) and coated with a platelet-rich plasma protein biofilm. J Bioact Compat Polym. 2016;31(6):1–15.

56.

Ohtsuki C, Lida H, Hayakawa S, Osaka A. Bioactivity of titanium treated with hydrogen peroxides solution containing metal chlorides. J Biomed Mater Res. 1997;35:39–47.

57.

Fliefel R, Popov C, Tröltzsch M, Kühnisch J, Ehrenfeld M, Otto S. Mesenchymal stem cell proliferation and mineralization but not osteogenic differentiation are strongly affected by extracellular pH. J Craniomaxillofac Surg. 2016;44(6):715–24.

58.

Ge SN, Chen JY, Leng YX, Huang N. Laminin Immobilized on titanium oxide films for enhanced human umbilical vein endothelial cell adhesion and growth. Key Eng Mater. 2007;342-343:305–8.

59.

Huang KY, Ma H, Liu J, Huo S, Kumar A, Wei T, Zhang X, Jin S, Gan Y, Wang PC, He S, Zhang X, Liang XJ. Size-dependent localization and penetration of ultrasmall gold nanoparticles in cancer cells, multicellular spheroids, and tumors in vivo. ACS Nano. 2012;6(5):4483–93.

60.

Zhai X, Zhang C, Zhao G, Stoll S, Ren F, Leng X. Antioxidant capacities of the selenium nanoparticles stabilized by chitosan. J Nanobiotechnology. 2017;15(4):1–12.
Acknowledgements
This work was financially supported by the National Research Centre, Egypt (Grant no: 11010134).
Ethics declarations
Conflict of interest
The authors declare that they have no conflict of interest.
Additional information
Publisher's note: Springer Nature remains neutral with regard to jurisdictional claims in published maps and institutional affiliations.
About this article
Cite this article
Ahmed, H.H., Aglan, H.A., Mabrouk, M. et al. Enhanced mesenchymal stem cell proliferation through complexation of selenium/titanium nanocomposites. J Mater Sci: Mater Med 30, 24 (2019). https://doi.org/10.1007/s10856-019-6224-z
Received:

Accepted:

Published: