Abstract
Conditions such as diabetes, cardiovascular disease and long-term immobilisation can precipitate the development of chronic dermal ulcers. Such wounds are associated with inflammation and bacterial contamination which in turn can lead to the liberation of offensive odours that cause patient embarrassment and, in some instances, social isolation. Activated carbon-containing dressings have been used to manage the odours from such wounds. However, these can be bulky and can become fouled by wound exudate. Agarose is a natural polysaccharide derived from seaweed that forms brittle free-standing films that can be made pliable by addition of a plasticiser. In this study, activated carbon-containing plasticised agarose films were evaluated for their ability to sequester thiol-containing molecules from solution and the gaseous phase. The water vapour transmission rate was also evaluated to determine the potential breathability of these films should they be considered for application to the skin. It was found that the adsorption of thiols was directly proportional to the activated carbon content of the films. Water vapour was found to pass relatively freely through the films indicating that sweat-induced tissue maceration would be unlikely to occur if applied clinically. In conclusion, activated carbon-containing plasticised agarose films have some potential in the sequestration of malodourous molecules such as those liberated from chronic dermal wounds.
Graphical abstract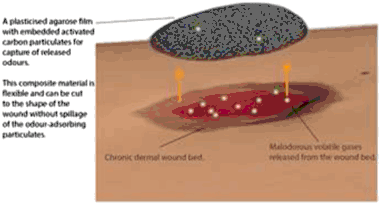 This is a preview of subscription content, log in to check access.
Access options
Buy single article
Instant access to the full article PDF.
US$ 39.95
Price includes VAT for USA
Subscribe to journal
Immediate online access to all issues from 2019. Subscription will auto renew annually.
US$ 199
This is the net price. Taxes to be calculated in checkout.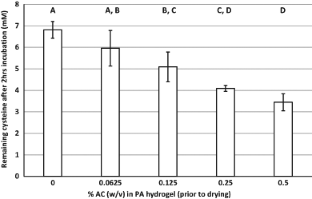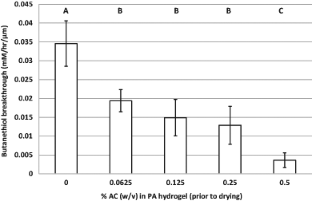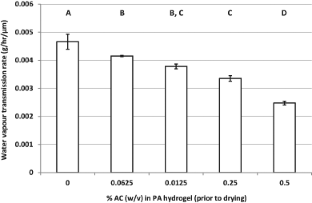 References
1.

Boateng JS, Matthews KH, Stevens HN, Eccleston GM. Wound healing dressings and drug delivery systems: a review. J Pharm Sci. 2008;97(8):2892–923. doi:10.1002/jps.21210.

2.

Adderley UJ, Holt IG. Topical agents and dressings for fungating wounds. The Cochrane database of systematic reviews. 2014 (5):Cd003948. doi:10.1002/14651858.CD003948.pub3.

3.

Hyder ON, Soukas PA. Chronic venous insufficiency: novel management strategies for an under-diagnosed disease process. Rhode Island medical journal (2013). 2017;100(5):37–9.

4.

Karki DB, Yadava SK, Pant S, Thusa N, Dangol E, Ghimire S. Prevalence of sensory neuropathy in type 2 diabetes mellitus and its correlation with duration of disease. Kathmandu Univ Med J. 2016;14(54):120–4.

5.

Shanmugam VK, Angra D, Rahimi H, McNish S. Vasculitic and autoimmune wounds. J Vasc Surg Venous Lymphat disord. 2017;5(2):280–92. doi:10.1016/j.jvsv.2016.09.006.

6.

Shoham N, Gefen A. Deformations, mechanical strains and stresses across the different hierarchical scales in weight-bearing soft tissues. J Tissue Viability. 2012;21(2):39–46. doi:10.1016/j.jtv.2012.03.001.

7.

Mahalingam S, Gao L, Nageshwaran S, Vickers C, Bottomley T, Grewal P. Improving pressure ulcer risk assessment and management using the Waterlow scale at a London teaching hospital. J Wound Care. 2014;23(12):613–22. doi:10.12968/jowc.2014.23.12.613.

8.

Labows JN, McGinley KJ, Webster GF, Leyden JJ. Headspace analysis of volatile metabolites of Pseudomonas aeruginosa and related species by gas chromatography-mass spectrometry. J Clin Microbiol. 1980;12(4):521–6.

9.

Cox CD, Parker J. Use of 2-aminoacetophenone production in identification of Pseudomonas aeruginosa. J Clin Microbiol. 1979;9(4):479–84.

10.

Parry AD, Chadwick PR, Simon D, Oppenheim B, McCollum CN. Leg ulcer odour detection identifies beta-haemolytic streptococcal infection. J Wound Care. 1995;4(9):404–6.

11.

Scholler C, Molin S, Wilkins K. Volatile metabolites from some gram-negative bacteria. Chemosphere. 1997;35(7):1487–95.

12.

Dini F, Capuano R, Strand T, Ek AC, Lindgren M, Paolesse R, et al. Volatile emissions from compressed tissue. PLoS One. 2013;8(7):e69271 doi:10.1371/journal.pone.0069271.

13.

Holloway S. Recognising and treating the causes of chronic malodorous wounds. Prof Nurse. 2004;19(7):380–4.

14.

Hareendran A, Bradbury A, Budd J, Geroulakos G, Hobbs R, Kenkre J, et al. Measuring the impact of venous leg ulcers on quality of life. J Wound Care. 2005;14(2):53–57. doi:10.12968/jowc.2005.14.2.26732.

15.

Maddox D. Effects of venous leg ulceration on patients' quality of life. Nurs Stand. 2012;26(38):42–49. doi:10.7748/ns2012.05.26.38.42.c9111.

16.

Shamsuri AA, Daik R. Plasticizing effect of choline chloride/urea eutectic-based ionic liquid on physicochemical properties of agarose films. Bioresources. 2012;7(4):4760–75.

17.

Mikhalovsky VMGK SV, Turov VV, Leboda R, Betz WR. Investigation of structural and adsorptive characteristics of various carbons. Adsorption. 2005;11(Supplement 1):657–62. doi:10.1007/s10450-005-6002-8.

18.

Mohamed F, Kim J, Huang R, Nu HT, Lorenzo V. Efficient control of odors and VOC emissions via activated carbon technology. Water Environ Res. 2014;86(7):594–605.

19.

Akhmetova A, Saliev T, Allan IU, Illsley MJ, Nurgozhin T, Mikhalovsky S. A comprehensive review of topical odor-controlling treatment options for chronic wounds. J Wound Ostomy Cont Nurs. 2016;43(6):598–609. doi:10.1097/won.0000000000000273.

20.

Wang F, Gao B, Yue Q, Bu F, Shen X. Effects of ozonation, powdered activated carbon adsorption, and coagulation on the removal of disinfection by-product precursors in reservoir water. Environ Sci Pollut Res Int. 2017. doi:10.1007/s11356-017-9451-1.

21.

Lipman RD, van Bavel D. Odor absorbing hydrocolloid dressings for direct wound contact. Wounds. 2007;19(5):138–46.

22.

Beckett R, Coombs TJ, Frost MR, McLeish J, Thompson K. Charcoal cloth and malodorous wounds. Lancet. 1980;2(8194):594.

23.

Naka K, Watarai S, Tana, Inoue K, Kodama Y, Oguma K, et al. Adsorption effect of activated charcoal on enterohemorrhagic Escherichia coli. J Vet Med Sci. 2001;63(3):281–5.

24.

Lu S, Ji Y, Buekens A, Ma Z, Jin Y, Li X, et al. Activated carbon treatment of municipal solid waste incineration flue gas. Waste Manage Res. 2013;31(2):169–77. doi:10.1177/0734242x12462282.

25.

Vega E, Sanchez-Polo M, Gonzalez-Olmos R, Martin MJ. Adsorption of odorous sulfur compounds onto activated carbons modified by gamma irradiation. J Colloid Interface Sci. 2015;457:78–85. doi:10.1016/j.jcis.2015.06.037.

26.

NICE. Odour absorbent dressings. National Institute for Health and Care Excellence 2017.

27.

Wu P, Nelson EA, Reid WH, Ruckley CV, Gaylor JD. Water vapour transmission rates in burns and chronic leg ulcers: influence of wound dressings and comparison with in vitro evaluation. Biomaterials. 1996;17(14):1373–7.

28.

Wu P, Fisher AC, Foo PP, Queen D, Gaylor JD. In vitro assessment of water vapour transmission of synthetic wound dressings. Biomaterials. 1995;16(3):171–5.
Acknowledgements
Thanks to Dr Guy Standen, University of Brighton, for light microscopy images. This project has received funding from the Interreg 2 Seas programme 2014–2020 co-funded by the European Regional Development Fund under subsidy contract number DERMA 2SO1-027 and the Ministry of Education and Science of the Republic of Kazakhstan, project Carbon-polymer dressings for the treatment of chronic ulcers. MI and TN acknowledge financial support of the Royal Academy of Engineering, grant IAPP/1516/12 'Wound dressings for malodorous chronic ulcers'. Graphical abstract assistance from the University of Portsmouth, Media Production Centre.
Ethics declarations
Conflict of interest
The authors declare that they have no competing interests.
Electronic supplementary material
About this article
Cite this article
Illsley, M., Akhmetova, A., Bowyer, C. et al. Activated carbon-plasticised agarose composite films for the adsorption of thiol as a model of wound malodour. J Mater Sci: Mater Med 28, 154 (2017). https://doi.org/10.1007/s10856-017-5964-x
Received:

Accepted:

Published: