Abstract
The porosity of calcium phosphate cements has an impact on several important parameters, such as strength, resorbability and bioactivity. A model to predict the porosity for biomedical cements would hence be a useful tool. At the moment such a model only exists for Portland cements. The aim of this study was to develop and validate a first porosity prediction model for calcium phosphate cements. On the basis of chemical reaction, molar weight and density of components, a volume-based model was developed and validated using calcium phosphate cement as model material. 60 mol% β-tricalcium phosphate and 40 mol% monocalcium phosphate monohydrate were mixed with deionized water, at different liquid-to-powder ratios. Samples were set for 24 h at 37 °C and 100 % relative humidity. Thereafter, samples were dried either under vacuum at room temperature for 24 h or in air at 37 °C for 7 days. Porosity and phase composition were determined. It was found that the two drying protocols led to the formation of brushite and monetite, respectively. The model was found to predict well the experimental values and also data reported in the literature for apatite cements, as deduced from the small absolute average residual errors (<2.0 %). In conclusion, a theoretical model for porosity prediction was developed and validated for brushite, monetite and apatite cements. The model gives a good estimate of the final porosity and has the potential to be used as a porosity prediction tool in the biomedical cement field.
Access options
Buy single article
Instant access to the full article PDF.
USD 39.95
Price excludes VAT (USA)
Tax calculation will be finalised during checkout.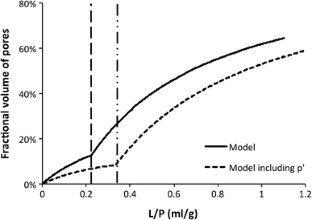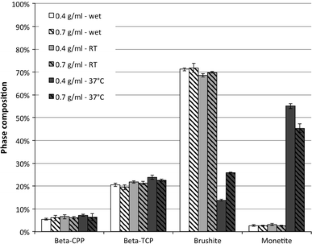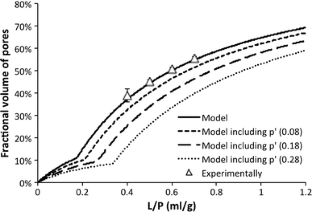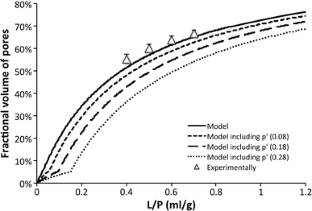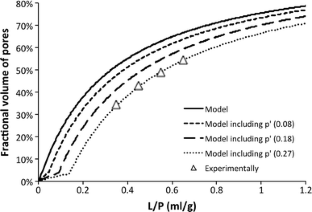 References
Bohner M. Physical and chemical aspects of calcium phosphates used in spinal surgery. Eur Spine J. 2001;10(Suppl 2):S114–21.

Matusinović T, Šipušić J, Vrbos N. Porosity–strength relation in calcium aluminate cement pastes. Cement Concr Res. 2003;33:1801–6.

Hofmann MP, Mohammed AR, Perrie Y, Gbureck U, Barralet JE. High-strength resorbable brushite bone cement with controlled drug-releasing capabilities. Acta Biomater. 2009;5:43–9.

Calafiori AR, Di Marco G, Martino G, Marotta M. Preparation and characterization of calcium phosphate biomaterials. J Mater Sci Mater Med. 2007;18:2331–8.

Espanol M, Perez RA, Montufar EB, Marichal C, Sacco A, Ginebra MP. Intrinsic porosity of calcium phosphate cements and its significance for drug delivery and tissue engineering applications. Acta Biomater. 2009;5:2752–62.

Hirayama S, Takagi S, Markovic M, Chow LC. Properties of calcium phosphate cements with different tetracalcium phosphate and dicalcium phosphate anhydrous molar ratios. J Res Natl Inst Stand Technol. 2008;113:311–20.

Engstrand J, Persson C, Engqvist H. The effect of composition on mechanical properties of brushite cements. J Mech Behav Biomed Mater. 2014;29:81–90.

Powers TC, Brownyard TL. Studies of the physical properties of hardened cement paste. Bulletin 22. Chicago: Research Laboratories of the Portland Cement Association; 1948.

Brouwers HJH. The work of Powers and Brownyard revisited Part 1. Cem Concr Res. 2004;34:1697–716.

Brouwers HJH. The work of Powers and Brownyard revisited Part 2. Cem Concr Res. 2005;35:1922–36.

Hansen TC. Physical structure of hardened cement paste: a classical approach. Mat Struct. 1986;19:423–36.

Jensen OM, Hansen PF. Water-entrained cement-based materials: I. Principles and theoretical background. Cem Concr Res. 2001;31:647–54.

Taylor HFW. Cement chemistry, vol. 2. London: Thomas Telford; 1997.

Neville AM. Properties of Concrete, vol. 4. Harlow: Burnt Mill; 2000.

Bultmark F, Lööf J, Öhman C, Harmansson L, Engqvist H. Theoretical model to predict porosity and mechanical strenth of low w/c calcium-aluminate cements (manuscript).

Engstrand Unosson J, Persson C, Engqvist H. An evaluation of methods to determine the porosity of calcium phosphate cements. J Biomed Mater Res B Appl Biomater. 2014. doi:10.1002/jbm.b.33173.

Korpa A, Trettin R. The influence of different drying methods on cement paste microstructures as reflected by gas adsorption: comparison between freeze-drying (F-drying), D-drying, P-drying and oven-drying methods. Cem Concr Res. 2006;36:634–49.

Coperland LE, Hayes JC. The determination of non-evaporable water in hardened Portland cement paste. Bulletin 47. Research and Development Laboratories of the Portland Cement Association; 1953.

Bohner M, Lemaitre J, Ring TA. Effects of sulfate, pyrophosphate, and citrate ions on the physicochemical properties of cements made of beta-tricalcium phosphate-phosphoric acid-water mixtures. J Am Ceram Soc. 1996;79:1427–34.

Gbureck U, Dembski S, Thull R, Barralet JE. Factors influencing calcium phosphate cement shelf-life. Biomaterials. 2005;26:3691–7.

ASTM E177-14. Standard practise for use of the terms precision and bias in ASTM test methods; 2013.

Dickens B, Bowen JS, Brown WE. A refinement of the crystal structure of CaHPO4 (synthetic monetite). Acta Crystallogr Sect A. 1971;28:797–806.

Curry NA, Jones DW. Crystal structure of brushite, calcium hydrogen orthophosphate dihydrate: a neutron-diffraction investigation. J Chem Soc A. 1971. doi:10.1039/J19710003725.

Dickens B, Schroeder LW, Brown WE. Crystallographic studies of the role of Mg as a stabilizing impurity in β-Ca3(PO4)2. The crystal structure of pure β-Ca3(PO4)2. J Solid State Chem. 1974;10:232–48.

Boudin S, Grandin A, Borel MM, Leclaire A, Raveau B. Redetermination of the β-Ca2P2O7 structure. Acta Crystallogr Sect C. 1993;C49:2062–4.
Acknowledgments
This work was partially supported by Stiftelsen Lars Hiertas minne (FO2011-0445), the Swedish Foundation for International Cooperation in Research and Higher Education (STINT, GA IG2011-2047), FP7 NMP Project Biodesign (GA 262948), the Swedish Research Council (VR, Project Number 621-2011-6258 and Project Number 2011-3399) and the Swedish Institute (SI, 00845/2011).
Conflict of interest
The authors declare that there are no conflict of interest.
About this article
Cite this article
Öhman, C., Unosson, J., Carlsson, E. et al. Porosity prediction of calcium phosphate cements based on chemical composition. J Mater Sci: Mater Med 26, 210 (2015). https://doi.org/10.1007/s10856-015-5497-0
Received:

Accepted:

Published:

DOI: https://doi.org/10.1007/s10856-015-5497-0
Keywords
Portland Cement

Calcium Phosphate Cement

DCPD

Calcium Aluminate Cement

Internal Porosity