Abstract
In end-stage renal disease patients, extracorporeal dialytic therapy is not able to prevent the accumulation of toxins related to the uremic syndrome, a severe complication that increases morbidity and mortality rate. In this paper, hemoFiltration with on-line Reinfusion (HFR) architecture is used to evaluate the effect of a more permeable membrane on the extraction of medium–high molecular weight molecules. The aim of this study was to compare two polysulphone membranes for convective chamber: polyphenylene High Flux (pHF) and polyphenylene Super High-Flux (pSHF). Fourteen patients were subjected to HFR with pHF and pSHF membranes and ultra filtrate (UF) samples were collected to evaluate molecular weight cut-off (MWCO) and to identify extracted proteins. Furthermore, image analysis software was used in order to evaluate change in protein extraction during the dialysis. The quantification of four proteins by immunoassay demonstrates a higher permeability of pSHF membrane. Two-dimensional electrophoresis (2-DE) gels showed, for both membranes, the greater number of protein spots at 235 min. Some of the identified proteins, involved in nephropathic disease complications, were compared to assess differences in extraction during dialytic treatment by PDQuest analysis. UF proteomic analysis demonstrated a different behavior for the two membranes; pHF membrane was more permeable at the beginning of HFR treatment (15 min), while pSHF membrane at the end of treatment (235 min). Proteomic analysis is a suitable approach to investigate the behavior of different membranes during dialysis. Results indicated that pSHF membrane offers the higher permeability, and showed higher efficiency in removal of middle molecules related to uremic syndrome.
This is a preview of subscription content, log in to check access.
Access options
Buy single article
Instant access to the full article PDF.
US$ 39.95
Price includes VAT for USA
Subscribe to journal
Immediate online access to all issues from 2019. Subscription will auto renew annually.
US$ 199
This is the net price. Taxes to be calculated in checkout.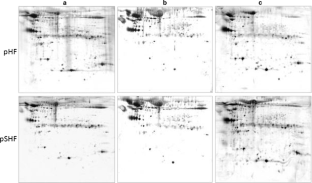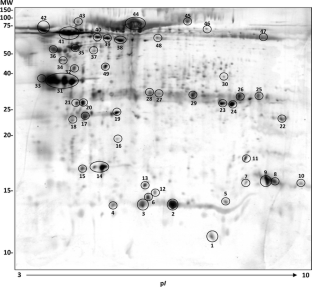 References
1.

Dihazi H, Muller CA, Mattes H, Muller GA. Proteomic analysis to improve adequacy of hemo- and peritoneal dialysis: removal of small and high molecular weight proteins with high- and low-f lux filters or a peritoneal membrane. Proteomics Clin Appl. 2008;2:1167–82.

2.

Hussain S, Piering W, Mohyuddin T, Saleh M, Zhu Y-R, Hannan M, et al. Outcome among patients with acute renal failure needing continuous renal replacement therapy: a single center study. Hemodial Int. 2009;13:205–14.

3.

Vanholder R, Van Laecke S, Glorieux G. The middle-molecule hypothesis 30 years after: lost and rediscovered in the universe of uremic toxicity? J Nephrol. 2008;21:146–60.

4.

Vanholder R, Baurmeister U, Brunet P, Cohen G, Glorieux G, Jankowski J. A bench to bedside view of uremic toxins. J Am Soc Nephrol. 2008;19:863–70.

5.

Vanholder R, De Smet R, Glorieux G, Argiles A, Baurmeister U, Brunet P, et al. Review on uremic toxins: classification, concentration, and interindividual variability. Kidney Int. 2003;63:1934–43.

6.

Duranton F, Cohen G, De Smet R, Rodriguez M, Jankowski J, Vanholder R, et al. Normal and pathologic concentrations of uremic toxins. J Am Soc Nephrol. 2012;23:1258–70.

7.

Galli F. Protein damage and inflammation in uraemia and dialysis patients. Nephrol Dial Transplant. 2007;22(Suppl 5):v20–36.

8.

Vanholder R, Meert N, Schepers E, Glorieux G. Uremic toxins: do we know enough to explain uremia? Blood Purif. 2008;26:77–81.

9.

Weissinger EM, Kaiser T, Meert N, De Smet R, Walden M, Mischak H, et al. Proteomics: a novel tool to unravel the patho-physiology of uraemia. Nephrol Dial Transplant. 2004;19:3068–77.

10.

Ghezzi PM, Botella J, Sartoris AM, Gervasio R, Diez C. Use of the ultrafiltrate obtained in two-chamber (PFD) hemodiafiltration as replacement fluid. Experimental ex vivo and in vitro study. Int J Artif Organs. 1991;14:327–34.

11.

De Nitti C, Giordano R, Gervasio R, Castellano G, Podio V, Sereni L, et al. Choosing new adsorbents for endogenous ultrapure infusion fluid: performances, safety and flow distribution. Int J Artif Organs. 2001;24:765–76.

12.

Tetta C, Ghezzi PM, De Nitti C, Fiorenzi A, Cianciavicchia D, Gervasio R. New options for on-line hemodiafiltration. Contrib Nephrol. 2002;137:212–20.

13.

Lou Wratten M, Ghezzi PM. Hemodiafiltration with endogenous reinfusion. Contrib Nephrol. 2007;158:94–102.

14.

Bolasco PG, Ghezzi PM, Serra A, Corazza L, Murtas S, Mascia M, et al. Hemodiafiltration with endogenous reinfusion with and without acetate-free dialysis solutions: effect on ESA requirement. Blood Purif. 2011;31:235–42.

15.

Bellei E, Bergamini S, Monari E, Fantoni LI, Cuoghi A, Ozben T, et al. High-abundance proteins depletion for serum proteomic analysis: concomitant removal of non-targeted proteins. Amino Acids. 2011;40:145–56.

16.

Bellei E, Rossi E, Lucchi L, Uggeri S, Albertazzi A, Tomasi A, et al. Proteomic analysis off early urinary biomarkers of renal changes in type 2 diabetic patients. Proteomics Clin Appl. 2008;2:478–91.

17.

Sirico ML, Guida B, Procino A, Pota A, Sodo M, Grandaliano G, et al. Human mature adipocytes express albumin and this expression is not regulated by inflammation. Mediat Inflamm. 2012;2012:236796.

18.

Armstrong JK, Wenby RB, Meiselman HJ, Fisher TC. The hydrodynamic radii of macromolecules and their effect on red blood cell aggregation. Biophys J. 2004;87:4259–70.

19.

Singer E, Markó L, Paragas N, Barasch J, Dragun D, Müller DN, et al. Neutrophil gelatinase-associated lipocalin: pathophysiology and clinical applications. Acta Physiol (Oxf). 2013;207:663–72.

20.

Musiał K, Zwolińska D. Neutrophil gelatinase-associated lipocalin (NGAL) and matrix metalloproteinases as novel stress markers in children and young adults on chronic dialysis. Cell Stress Chaperones. 2011;16:163–71.

21.

Le Quintrec M, Zuber J, Moulin B, Kamar N, Jablonski M, Lionet A, et al. Complement genes strongly predict recurrence and graft outcome in adult renal transplant recipients with atypical hemolytic and uremic syndrome. Am J Transplant. 2013;13:663–75.

22.

Wichman Z, Pajdak W, Smoleński O, Kopeć J. Detection of plasma proteins during sequential ultrafiltration/dialysis. Kidney Int. 1985;28:558–65.

23.

Jirka J, Burianova B, Jirka M, Blanicky P. Human serum Zn-alpha 2-glycoprotein in renal disease. Biomedicine. 1976;25:246–8.
Acknowledgments
The "Fondazione Cassa di Risparmio di Modena" and Regione Emilia Romagna, (Italy) are acknowledged for financial support given for the acquisition of the MALDI-ToF/ToF. This study was partially financed by F.A.R.E. project (Filtration and Adsorption Regione Emilia Romagna). The authors thank Dr. Diego Pinetti and Dr. Daniela Manzini (C.I.G.S., University of Modena and Reggio Emilia, Italy) for the excellent technical support.
Conflict of interest
Caiazzo Marialuisa, Corazza Luca, Palladino Giuseppe, Sereni Luisa and Atti Mauro are Bellco srl. employees. The other authors declare no conflict of interest.
Electronic supplementary material
Below is the link to the electronic supplementary material.
About this article
Cite this article
Emanuela, M., Aurora, C., Elisa, B. et al. Proteomic analisys of protein extraction during hemofiltration with on-line endogenous reinfusion (HFR) using different polysulphone membranes. J Mater Sci: Mater Med 25, 5290 (2014). https://doi.org/10.1007/s10856-014-5290-5
Received:

Accepted:

Published:
Keywords
Protein Spot

Continuous Renal Replacement Therapy

Dialytic Treatment

Uremic Toxin

Ultra Filtrate