Abstract
Collagen and hyaluronic acid (HA) are main components of the extracellular matrix and have been utilized in electrospinning; a technique that creates nanosized fibers for tissue scaffolds. A collagen/HA polymer solution was electrospun into a scaffold material for osteoporosis patients who have reduced bone strength. To synthesize nanofibers, a high voltage was applied to the polymer solution to draw out nanofibers that were collected on a ground plate as a uniform mesh. The meshes were then crosslinked to render them insoluble and conjugated with gold nanoparticles to promote biocompatibility. Characterization of the mesh was performed using scanning electron microscope, electron dispersive spectroscopy and fourier transform infrared spectroscopy. A WST-1 assay determined the potential biocompatibility. The results show that collagen/HA scaffolds were developed that were insoluble in aqueous solutions and promoted cellular attachment that could be used as a tissue engineered scaffold to promote cell growth.
Access options
Buy single article
Instant access to the full article PDF.
US$ 39.95
Tax calculation will be finalised during checkout.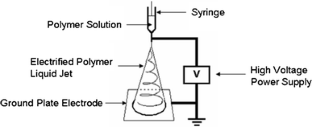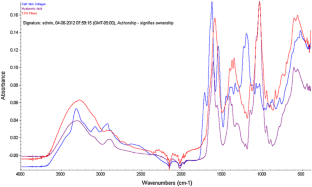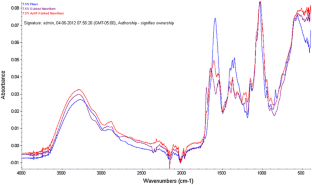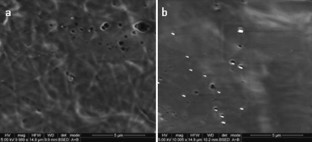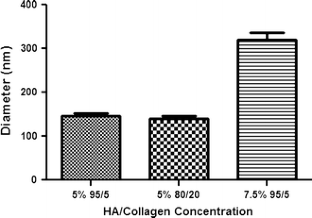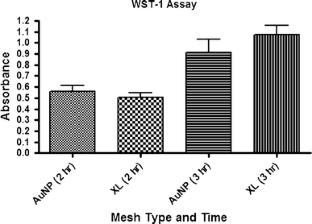 References
1.

WHO. WHO scientific group on the assessment of osteoporosis at primary health care level. World Health Organization Technical Report Series. 2004:1–17.

2.

Hosoi T. Genetic aspects of osteoporosis. J Bone Miner Metab. 2010;28(6):601–7.

3.

Kaveh K, Ibrahim R, Emadi M, Bakar MZA, Ibrahim TA. Osteoporosis and bone health. J Anim Vet Adv. 2010;9(6):1048–54.

4.

Ritchie RO. How does human bone resist fracture? Ann NY Acad Sci. 2010;1192:72–80.

5.

Cleland JGF, Witte K, Steel S. Calcium supplements in people with osteoporosis. BMJ. 2010;341(7767):260.

6.

Park SN, Park JC, Kim HO, Song MJ, Suh H. Characterization of porous collagen/hyaluronic acid scaffold modified by 1-ethyl-3-(3-dimethylaminopropyl)carbodiimide cross-linking. Biomaterials. 2002;23(4):1205–12. doi:10.1016/s0142-9612(01)00235-6.

7.

Wang TW, Spector M. Development of hyaluronic acid-based scaffolds for brain tissue engineering. Acta Biomater. 2009;5(7):2371–84. doi:10.1016/j.actbio.2009.03.033.

8.

Liu Y, Ma G, Fang D, Xu J, Zhang H, Nie J. Effects of solution properties and electric field on the electrospinning of hyaluronic acid. Carbohydr Polym. 2011;83(2):1011–5. doi:10.1016/j.carbpol.2010.08.061.

9.

Greiner A, Wendorff JH, Yarin AL, Zussman E. Biohybrid nanosystems with polymer nanofibers and nanotubes. Appl Microbiol Biotechnol. 2006;71(4):387–93.

10.

Lannutti J, Reneker D, Ma T, Tomasko D, Farson D. Electrospinning for tissue engineering scaffolds. Mater Sci Eng C. 2007;27(3):504–9.

11.

Bai J, Li Y, Yang S, Du J, Wang S, Zheng J, et al. A simple and effective route for the preparation of poly(vinylalcohol) (PVA) nanofibers containing gold nanoparticles by electrospinning method. Solid State Commun. 2007;141(5):292–5.

12.

Cui W, Li X, Zhou S, Weng J. Investigation on process parameters of electrospinning system through orthogonal experimental design. J Appl Polym Sci. 2007;103(5):3105–12.

13.

Shin YM, Hogman MM, Brenner MP, Rutledge GC. Experimental characterization of electrospinning: the electrically forced jet and instabilities. Polymer. 2001;42(25):9955–67.

14.

Matthews JA, Wnek GE, Simpson DG, Bowlin GL. Electrospinning of collagen nanofibers. Biomacromolecules. 2002;3:232–8.

15.

Ramakrishna S, Fujihara K, Teo W-E, Lim T-C, Ma Z. An introduction to electrospinning and nanofibers. World Scientific Publishing;2005.

16.

He W, Ma Z, Yong T, Teo WE, Ramakrishna S. Fabrication of collagen-coated biodegradable polymer nanofiber mesh and its potential for endothelial cells growth. Biomaterials. 2005;26(36):7606–15.

17.

Kim TG, Park TG. Surface functionalized electrospun biodegradable nanofibers for immobilization of bioactive molecules. Biotechnol Prog. 2006;22(4):1108–13.

18.

Vassalli T. Development of electrospun synthetic bioabsorbable fibers for a novel bionanocomposite ernia repair material. University of Missouri Master's Thesis. 2008.

19.

Kim TG, Chung HJ, Park TG. Macroporous and nanofibrous hyaluronic acid/collagen hybrid scaffold fabricated by concurrent electrospinning and deposition/leaching of salt particles. Acta Biomater. 2008;4(6):1611–9. doi:10.1016/j.actbio.2008.06.008.

20.

Tan W, Twomey J, Guo D, Madhavan K, Li M. Evaluation of nanostructural, mechanical, and biological properties of collagennanotube composites. IEEE Trans Nanobiosci. 2010;9(2):111–20. doi:10.1109/tnb.2010.2043367.

21.

Hsu FY, Hung YS, Liou HM, Shen CH. Electrospun hyaluronate-collagen nanofibrous matrix and the effects of varying the concentration of hyaluronate on the characteristics of foreskin fibroblast cells. Acta Biomater. 2010;6(6):2140–7.

22.

Jose MV, Thomas V, Dean DR, Nyairo E. Fabrication and characterization of aligned nanofibrous PLGA/Collagen blends as bone tissue scaffolds. Polymer. 2009;50(15):3778–85. doi:10.1016/j.polymer.2009.05.035.

23.

Homenick CM, Sheardown H, Adronov A. Reinforcement of collagen with covalently-functionalized single-walled carbon nanotube crosslinkers. J Mater Chem. 2010;20(14):2887–94. doi:10.1039/b925799c.

24.

Ji Y, Ghosh K, Shu XZ, Li B, Sokolov JC, Prestwich GD, et al. Electrospun three-dimensional hyaluronic acid nanofibrous scaffolds. Biomaterials. 2006;27(20):3782–92. doi:10.1016/j.biomaterials.2006.02.037.

25.

Cozad MJ, Bachman SL, Grant SA. Assessment of decellularized porcine diaphragm conjugated with gold nanomaterials as a tissue scaffold for wound healing. J Biomed Mater Res Part A. 2011;99A(3):426–34.

26.

Whelove O. Development of gold nanoparticle conjugated polyethylene terephthalate for improved biocompatibility in hernia repair. University of Missouri Master's Thesis. 2010.

27.

Deeken CR, Fox DB, Bachman SL, Ramshaw BJ, Grant SA. Characterization of bonanocomposite scaffolds comprised on amine-functionalized gold nanoparticles and silicon carbide nanowires crosslinked to an acellular porcine tendon. J Biomed Mater Res Part B Appl Biomater. 2011;97(B(2)):334–44.

28.

Barnes CP, Pemble CW IV, Brand DD, Simpson DG, Bowlin GL. Cross-linking electrospun type II collagen tissue engineering scaffolds with carbodiimide in ethanol. Tissue Eng. 2007;13(7):1593–605. doi:10.1089/ten.2006.0292.

29.

Chemblink. Online Database of Chemicals from Around the World. 2011. www.chemblink.com. Accessed 10/8/2011.

30.

Chang MC, Tanaka J. FT-IR study for hydroxyapatite/collagen nanocomposite cross-linked by glutaraldehyde. Biomaterials. 2002;23(24):4811–8.

31.

Camacho NP, West P, Torzilli PA, Mendelsohn R. FTIR microscopic imaging of collagen and proteoglycan in bovine cartilage. Biopolymers. 2001;62(1):1–8.

32.

Liu KZ, Jackson M, Sowa MG, Ju HS, Dixon IMC, Mantsch HH. Modification of the extracellular matrix following myocardial infraction monitored by FTIR spectroscopy. Biochim Biophys Acta. 2006;1335(2):73–7.

33.

Boskey A, Camacho NP. FT-IR imaging of native and tissue- engineered bone and cartilage. Biomaterials. 2007;28(15):2465–78.

34.

Muyonga JH, Cole CGB, Duodu KG. Fourier transform infrared (FTIR) spectroscopic study of acid soluble collagen and gelatin from skins and bones of young and adult Nile Perch. Food Chem. 2004;86(3):325–32.
Acknowledgments
This research was supported in part by the University of Missouri and the BICAM (Biomaterials Innovation, Characterization, and Analysis of Missouri) laboratory. The authors would like to thank Dr. Mohamed Khalid, Assistant Professor of Orthopedic Surgery at the University of Missouri, for developing the concept for this project, and the University of Missouri Electron Microscopy Core for assistance with the imaging in this study.
About this article
Cite this article
Fischer, R.L., McCoy, M.G. & Grant, S.A. Electrospinning collagen and hyaluronic acid nanofiber meshes. J Mater Sci: Mater Med 23, 1645–1654 (2012). https://doi.org/10.1007/s10856-012-4641-3
Received:

Accepted:

Published:

Issue Date:
Keywords
Hyaluronic Acid

Mesh Type

Fiber Mesh

Ground Plate

Nanofiber Scaffold