Abstract
The aim of the present study was to extend the use of flurbiprofen in clinical settings by avoiding its harmful gastric effects. For this purpose, we designed the controlled release solid lipid flurbiprofen microspheres (SLFM) by emulsion congealing technique. Drug was entrapped into gastro resistant biodegradable beeswax microspheres which were prepared at different drug/beeswax ratios 1:1, 1:2 and 1:3 using gelatin and tween 20 as emulsifying agents. The effect of emulsifiers and the effect drug/beeswax ratios were studied on hydration rate, encapsulating efficiency, micromeritic properties, scanning electron microscopy (SEM), fourier transform infrared spectroscopy (FTIR), differential scanning calorimetry (DSC), X-ray diffraction (X-RD) analysis and in vitro drug release at pH 1.2 for 2 h and at pH 6.8 for 10 h. SEM revealed that microspheres made with tween 20 were smooth while microspheres made with gelatin showed porous morphology, however, they were all spherical in nature. The practical yield (recovery) showed a dependence on drug-beeswax ratio and it was variable from 53 to 84%. High loading encapsulating efficiency of flurbiprofen from 8 to 94% was achieved. FTIR and DSC analysis confirmed the absence of any drug polymer interaction indicating drug stability during microencapsulation. X-RD of pure flurbiprofen shows sharp peaks, which decreases on encapsulation, indicating decrease in the crystallinity of drug in microspheres. The micromeritic studies confirmed the presence of excellent and good flow properties of microspheres. Entrapment efficiency, morphology, practical yield, hydration rate, flow properties demonstrated their dependence on the HLB value of emulsifiers and emulsifiers with higher HLB were found more appropriate for effective microencapsulation of flurbiprofen. The release kinetics followed zero order mechanism of drug release at pH 6.8. Release pattern depends on the morphology of flurbiprofen microspheres and amount of beeswax used in the microspheres preparation. The microspheres prepared with high HLB values i.e., tween 20 showed effective control of drug release from microspheres. The absence of drug release at pH 1.2 proved the suitability of beeswax for its use as a gastro resistant material.
Access options
Buy single article
Instant access to the full article PDF.
USD 39.95
Price excludes VAT (USA)
Tax calculation will be finalised during checkout.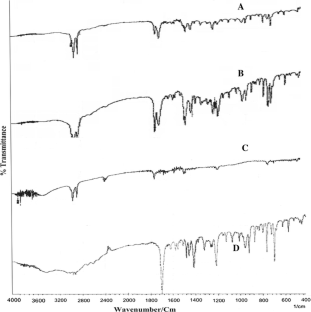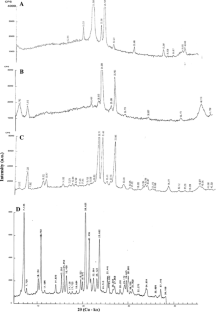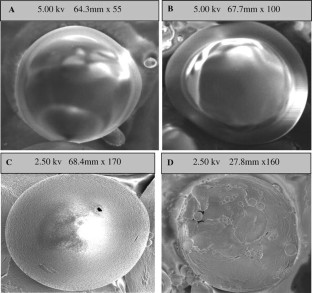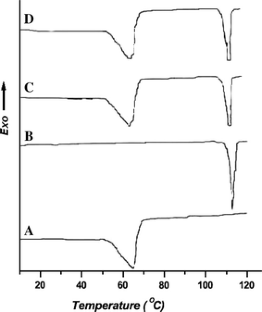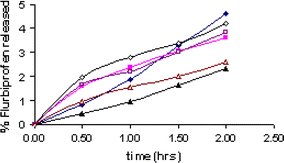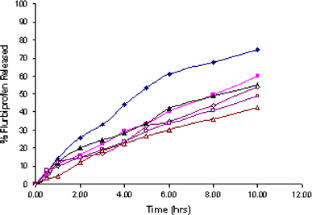 References
Catherine CB, Srtephen W, Charles S, Curtis AG. Potential drug-cell delivery routes using maganetic nanoparticles. Eur Cells Mater. 2003;6:29–34.

Dandagi PM, Mastiholimath VS, Patil MB, Gupta MK. Biodegradable micro particulate system of captopril. Int J Pharm. 2006;307:83–8.

Giannola LI, De Caro V, Rizzo MC. Preparation of White Beeswax Microspheres loaded with Valproic Acid and Kinetic Study of Drug Release. Drug Dev Ind Pharm. 1995;21:797–807.

Wall BP, Perkin JE, Sunderland VB, Zorbas A. Dissolution and saliva concentrations of some lithium dosage forms. J Pharm Pharmacol. 1982;34:601–3.

Kamble R, Maheshwari M, Paradkar A, Kadam S. Melt solidification technique: incorporation of higher wax contents in ibuprofen beads. AAPS PharmSciTech. 2004;5:1–8.

Uner M, Gonulllu U, Yener G, Altinkurt T. A new appraoch for preparing controlled release ketoprofen tablets by using beeswax. Il farmaco. 2005;60:27–31.

Schaefer T, Holm P, Kristensen HG. Melt granulation in a laboratory scale high shear mixer. Drug Dev Ind Pharm. 1990;16:1249–77.

Bodmeier R, Wang J, Bhagwatwar H. Process and formulation variables in the preparation of wax microparticles by melt dispersion technique for water insoluble drugs. J Microencapsul. 1992;9:89–98.

Paradkar AR, Ambike AA, Jadhav BK, Mahadik KR. Characterization of curcummin-PVP solid dispersion obtained by spray drying. Int J Pharm. 2004;271:281–6.

Obaidet AA, Obaidet RM. Controlled release of tramadol hydrochloride from matrices repared using glyceryl behenate. Eur J Pharm Biopharm. 2001;52:231–5.

Adeyeye CM, Price JC. Development and evaluation of sustained release ibuprofen-wax microspheres. I. Effect of formulation variables on physical characteristics. Pharm Res. 1991;8:1377–83.

Vergote GJ, Vervact C, Van Driessche I, Hoste S, De Smedt S, Demeester J, et al. In vivo evaluation of matrix pellets containing nanocrystalline ketoprofen. Int J Pharm. 2001;240:79–84.

Muhlen AZ, Schwartz C, Mehnert W. Solid lipid nanopsiticles (SLN) for controlled drug delivery—drug release and release mechanism. Eur J Pharm Biopharm. 1998;45:149–55.

Dollery C. Therapeutic drugs. New York: Churchill Livingstone; 1991. pp. F91–94.

Samati Y, Yuksel N, Tarimci N. Preparation and characterization of poly(D, L-lactic-co-glycolic Acid) microspheres containing flurbiprofen sodium. Drug Deliv. 2006;13:105–11.

Sah H. Microencapsulation techniques using ethyl acetate as dispersed solvent: effects of its extraction rate on the characteristics of PLGA microspheres. J Control release. 1997;47:233–45.

Shariff A, Manna PK, Paranjothy KLK, Manjula M. Entrapment of andrographolide in cross linked alginate pellets: h. physicochemical characterization to study the pelletization of androgrographolide. Pak J Pharm Sci. 2007;20:1–9.

Tayade TP, Kale DR. Encapsulation of water insoluble drug by a cross linking technique: effect of process and formulation variables on encapsulation efficiency, particle size and in vitro dissolution rate. AAPS PharmSci. 2004;6(1):article12.

Najib N, Suleiman M. The kinetics of drug release from ethyl cellulose solid dispersion. Drug Dev Ind pharm. 1985;11:2169–89.

Desai SJ, Singh P, Simonelli AP, Higuchi WI. Investigation of factors influencing release of solid drug dispersed in inert matrices. II. Quantitative studies involving polyethylene plastic matrix. J Pharm Sci. 1966;55:1230–4.

Higuchi T. Mechanism of sustained action medication: theoretical analysis of rate of release of solid drugs dispersed in solid matrix. J Pharm Sci. 1963;50:1145–9.

Hixon AW, Crowel JH. Dependence of reaction velocity upon surface and agitation: I- Theoretical considerations. Ind Eng Chem. 1931;23:923–31.

Peppas NA. Analysis of fickian and non-fickian drug release from polymer. Pharm Acta Helv. 1985;60:110–1.

Varshosaz J, Keihanfar M. Development and evaluation of sustained-release propranolol wax microspheres. J Microencapsul. 2001;18:277–84.

Gowda DV, Shivakumar HG. Preparation and evaluation of waxes/fat microspheres loaded with lithium carbonate for controlled release. Indian J Pharm Sci. 2007;69:251–6.

Bodmeier R, Chen H. Preparation and characterization of microspheres containing the anti-inflammatory agents, indomethacin, ibuprofen, and ketoprofen. J Control Release. 1989;10:167–75.

Jones DS, Pearce KJ. Investigation of the effects of some process variables on, microencapsulation of propranolol HCl by solvent evaporation method. Int J Pharm. 1995;118:99–205.

Ishino R, Sunada H. Studies on application of wax matrix system for controlled drug release. Chem Pharm Bull. 1993;41:586–9.
About this article
Cite this article
Ranjha, N.M., Khan, H. & Naseem, S. Encapsulation and characterization of controlled release flurbiprofen loaded microspheres using beeswax as an encapsulating agent. J Mater Sci: Mater Med 21, 1621–1630 (2010). https://doi.org/10.1007/s10856-010-4034-4
Received:

Accepted:

Published:

Issue Date:

DOI: https://doi.org/10.1007/s10856-010-4034-4
Keywords
Drug Release

Flurbiprofen

Entrapment Efficiency

Beeswax

Drug Release Kinetic