Abstract
Calcium phosphate (CaP) coatings on carbon fabric substrate were produced by sonoelectrodeposition at different current densities (5, 8, 13, 20 and 34 mA/cm2). The surface morphology and chemical composition of the coatings were characterized by SEM, Raman and FTIR spectra. The results showed that at 5 mA/cm2 current density, the coating exhibits plate-like morphology, indicating an octacalcium phosphate (OCP) phase was pre-formed in the deposits and then converted into hydroxyapatite (HA). When the current density was increased to 8 mA/cm2 and higher, the coatings exhibited needle-like morphology corresponding to a HA phase. Furthermore, the sonoelectrodeposited CaP coating exhibited denser and more uniform structures with smaller crystal sizes as the current density increased. Cathodic reaction mechanisms of CaP coatings on carbon in the sonoelectrochemical processes are proposed to explain the different kinds of calcium phosphate obtained.
Access options
Buy single article
Instant access to the full article PDF.
US$ 39.95
Tax calculation will be finalised during checkout.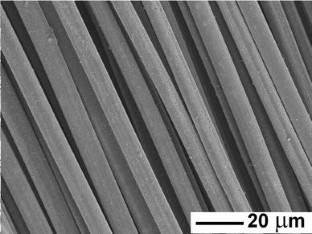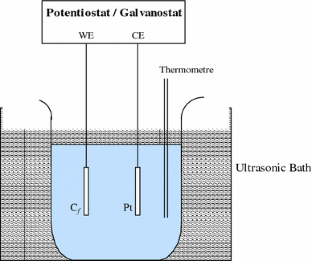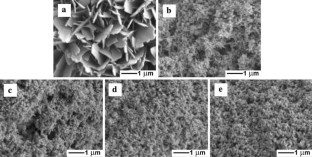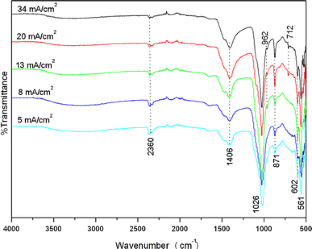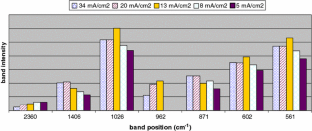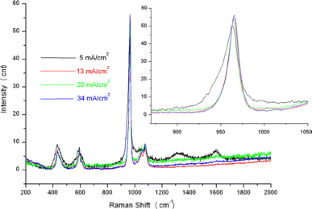 References
1.

S. P. HUANG, B. Y. HUANG, K. C. ZHOU and Z. Y. LI, Mater. Lett. 58(2004) 3582

2.

A. STOCH, A. BROZEK, S. BŁAZEWICZ, W. JASTRZEBSKI, J. STOCH, A. ADAMCZYK and I. ROJ, J. Mol. Struct. 651–653(2003) 389

3.

M. C. KUO and S. K. YEN, Mat. Sci. Eng. C 20(2002) 153

4.

A. SLOSARCZYK, M. KLISCH, M. BAZEWICZ, J. PIEKARCZYK, L. STOBIERSKI and A. RAPACZ-KMITA, J. Eur. Ceram. Soc. 20(2000) 1397

5.

N. DUMELIE, H. BENHAYOUNE, C. ROUSSE-BERTRAND, S. BOUTHORS, A. PERCHET, L. WORTHAM, J. DOUGLADE, D. LAURENT-MAQIUM and G. BALOSSIER, Thin Solid Films 492(2005) 131

6.

S. BAN and S. MARUNO, Biomaterials 19(1998) 1245

7.

S. BAN and J. HASEGAWA, Biomaterials 23(2003) 2965

8.

C. A. PADDON, C. E. BANKS, I. G. DAVIES, and R. G. COMPTON, Ultrason. Sonochem. 13(2006) 126

9.

F. TOUYERAS, J. Y. HIHN, X. BOURGOIN, B. JACQUES, L. HALLEZ, and V. BRANGER, Ultrason. Sonochem. 12(2005) 13

10.

M. E. HYDE and R. G. COMPTON, J. Electroanal. Chem. 531(2002) 19

11.

H. M. HAN, A. W. LLOYD, S. V. MIKHALOVSKY, and G. J. PHILLIPS, in Proceedings of International Conference on Carbon 2006, Aberdeen, UK, 2006

12.

H. M. HAN, S. V. MIKHALOVSKY, G. J. PHILLIPS, and A. W. LLOYD, New Carbon Mater. 22(2007) 121

13.

S. KOUTSOPOULOS, J. Biomed. Mater. Res. 62(2002) 600

14.

B. WOPENKA and J. D. PASTERIS, Mater. Sci. Eng. C 25(2005) 131

15.

S. RÖßLER, A. SEWING, M. STÖLZEL, R. BORN, D. SCHARNWEBER, M. DARD, and H. WORCH, J. Biomed. Mater. Res. 64A(2002) 655

16.

E. SMITH and G. DENT, in ''Modern Raman Spectroscopy- A Practical Approach'' (John Wiley & Sons Ltd, Chichester, 2005) p.139

17.

P. TADDEI, A. TINTI, G. BOTTURA and A. BERTOLUZZA, Biopolymers (Biospectroscopy) 57(2000) 140

18.

X. LU, Z. F. ZHAO and Y. LENG, J. Crystal Growth 284(2005) 506

19.

J. M. ZHANG, C. J. LIN, Z. D. FENG and Z. W. TIAN, J. Electroanal. Chem. 452(1998) 235

20.

X. B. XIONG, H. J. LI, K. Z. LI, J. F. HUANG, W. MA and X. M. WANG, Rare Metal Mat. Eng. 32(2003) 923
Acknowledgments
The authors gratefully acknowledge the financial support for this project provided through a Marie Curie International Incoming Fellowship (EC Contract MIF1-CT-2004-002913). Donation of carbon fabric by MAST Carbon Advanced Products Ltd (courtesy of Mr A. Blackburn) is also acknowledged.
About this article
Cite this article
Han, H.M., Phillips, G.J., Mikhalovsky, S.V. et al. Sonoelectrochemical deposition of calcium phosphates on carbon materials: effect of current density. J Mater Sci: Mater Med 19, 1787–1791 (2008). https://doi.org/10.1007/s10856-007-3337-6
Received:

Accepted:

Published:

Issue Date:
Keywords
Calcium Phosphate

DCPD

Calcium Phosphate Coating

Small Crystal Size

Octacalcium Phosphate