Abstract
SWCNT-based thin-film transistors (TFTs) typically display unipolar p-type electrical characteristics in ambient condition due to the O2/H2O redox couple. However, complementary circuits that combine both p and n channels are preferred due to lower power requirements. Typical approaches with small molecule or polymeric dopants often yield ambipolar devices, or unstable n-type devices while concomitantly suppressing the on-current and mobility. Herein, we demonstrate a charge carrier control strategy using aqueous-based polymeric coatings that enable n-type devices with comparable performance to p-type devices. Specifically, we used a polyvinyl alcohol (PVA) coating layer containing a minority fraction of polyethyleneimine (PEI) (0.06–1.1 % w/w) to effectively switch the transfer characteristics from p-type to n-type, while maintaining decent electrical characteristics. Moreover, we demonstrate the ability to fine-tune the n branch threshold voltage via the annealing temperature. A similar strategy provides a balanced p branch on-current by incorporating PVA as a minor component (0.1-6 % w/w) into a polyacrylic acid (PAA) matrix. Through effective n-type conversion and p-type balancing, we demonstrate a simple SWCNT-based inverter. Considering the low-cost, environmentally friendly compositions and aqueous processability, this approach is attractive for large scale complementary printable circuits.
Access options
Buy single article
Instant access to the full article PDF.
USD 39.95
Price includes VAT (USA)
Tax calculation will be finalised during checkout.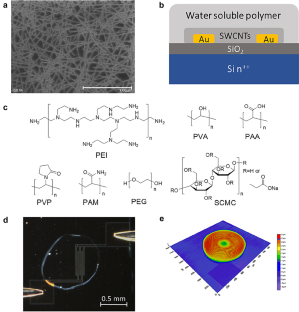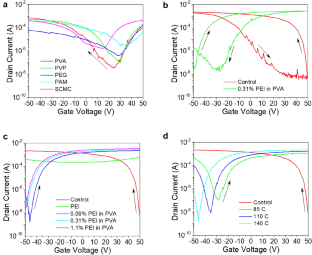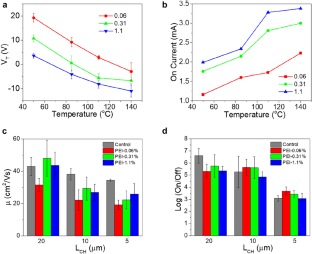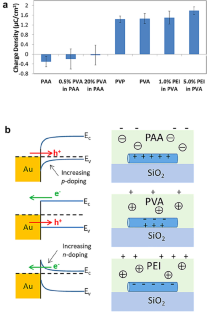 Funding
This study was funded by National Research Council Canada.
Ethics declarations
Conflict of interest
The authors declare no conflict of interest.
Ethical approval
Not applicable.
Consent to participate
Not applicable.
Consent for publication
The authors agree publication.
Additional information
Publisher's Note
Springer Nature remains neutral with regard to jurisdictional claims in published maps and institutional affiliations.
About this article
Cite this article
Li, Z., Ding, J., Lapointe, F. et al. Efficient charge carrier control on single walled carbon nanotube thin film transistors using water soluble polymer coatings. J Mater Sci: Mater Electron 32, 23923–23934 (2021). https://doi.org/10.1007/s10854-021-06852-z
Received:

Accepted:

Published:

Issue Date: