Abstract
In the quest of low-stress M(O)EMS packaging, in this study, low-temperature adhesive bonding methodologies facilitated by inkjet printing technology were investigated. M(O)EMS devices contain fragile components and are very susceptible to external damages as well as thermal stresses. As to alleviate these stresses, integration of M(O)EMS devices at low processing temperature have been one of the critical requirements in the development of MOEMS packages. Given that, room or low-temperature die-attachments by using UV-curing for transparent substrates or UV-assisted hybrid approaches such as B-staging and shadow curing for opaque substrates are gaining significance. Inkjet printing of these adhesives is proposed here as a promising technique for M(O)EMS die-attachment; while controlled amount of adhesives jetted by a digital printer can mitigate several bonding-induced defects. Bond-line engineering of M(O)EMS die-attachments via inkjet printing is also introduced and further discussed.
Access options
Buy single article
Instant access to the full article PDF.
US$ 39.95
Tax calculation will be finalised during checkout.
Subscribe to journal
Immediate online access to all issues from 2019. Subscription will auto renew annually.
US$ 119
Tax calculation will be finalised during checkout.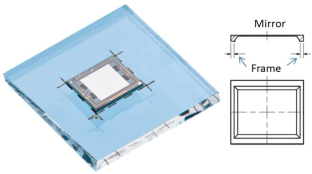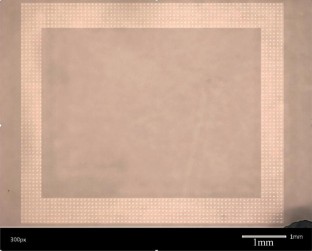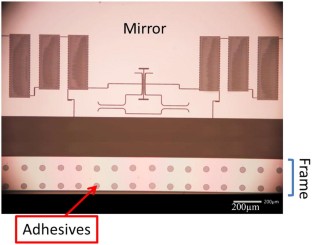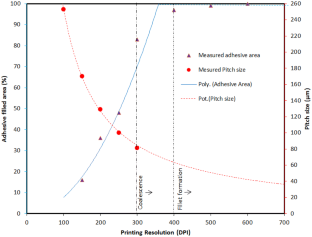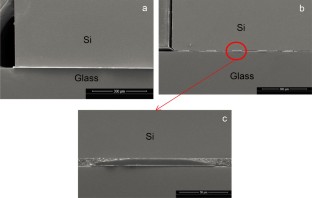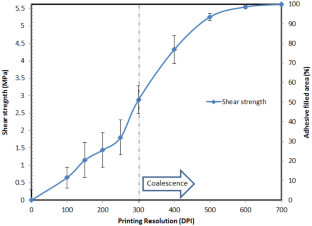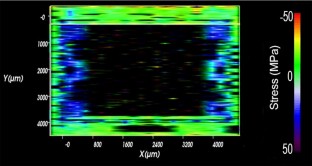 References
1.

D.J. Fonseca, M. Sequera, On MEMS reliability and failure mechanisms. Int. J. Qual. Stat. Reliab. 2011, 1687–7144 (2011)

2.

J.H. Lau, C.K. Lee, C.S. Premachandran, A. Yu, Advanced MEMS Packaging (McGraw-Hill, New York, 2010)

3.

Z.H. Liang, Y.T. Cheng, W. Hsu, Y.W. Lee, A low temperature wafer-level hermetic MEMS package using UV curable adhesive. in 2004 Proceedings. 54th Electronic Components and Technology Conference (IEEE Cat. No. 04CH37546), vol. 2 (IEEE, 2004), pp. 1486–1491

4.

S. Seok, Overview of MEMS packaging technologies. in Advanced Packaging and Manufacturing Technology Based on Adhesion Engineering (Springer, Cham, 2018), pp. 1–12

5.

M. Schindler, Novel materials for MEMS packaging: MEMS die attach and ASIC die coating and encapsulation. in 2018 IEEE 38th International Electronics Manufacturing Technology Conference (IEMT) (IEEE, 2018), pp. 1–6

6.

Z. Gong, Y. Zhang, X. Guo, Z. Liu, Wafer-level packaging method for RF MEMS applications using pre-patterned BCB polymer. Micromachines 9(3), 93 (2018)

7.

D.M. Tanner, MEMS reliability: where are we now? Microelectron. Reliab. 49(9–11), 937–940 (2009)

8.

J.J. Licari, D.W. Swanson, Adhesives Technology for Electronic Applications: Materials, Processing, Reliability (William Andrew, New York, 2011)

9.

A. Roshanghias, M. Krivec, A. Binder, Digital micro-dispension of non-conductive adhesives (NCA) by inkjet printer. in 2017 IEEE 19th Electronics Packaging Technology Conference (EPTC) (IEEE, 2017), pp. 1–3

10.

Y. Ma, J. Kaczynski, C. Ranacher, A. Roshanghias, M. Zauner, B. Abasahl, Nano-porous aluminum oxide membrane as filtration interface for optical gas sensor packaging. Microelectron. Eng. 198, 29–34 (2018)

11.

F. Sarvar, D.A. Hutt, D.C. Whalley, Application of adhesives in MEMS and MOEMS assembly: a review, in 2nd International IEEE Conference on Polymers and Adhesives in Microelectronics and Photonics, 2002. POLYTRONIC 2002 (IEEE, 2002), pp. 22–28

12.

P. Swanson, Case histories of radiation curing for electronic packaging. Solder. Surf. Mount Technol. 8(3), 19–24 (1996)

13.

B. Goss, Bonding glass and other substrates with UV curing adhesives. Int. J. Adhes. Adhes. 22(5), 405–408 (2002)

14.

S.R. Goodes, T.E. Jenkins, M.I.J. Beale, J.D. Benjamin, C. Pickering, The characterization of porous silicon by Raman spectroscopy. Semicond. Sci. Technol. 3(5), 483 (1988)

15.

MIL-STD-883E, Test method standard-Mircocircuits, USA (1996)

16.

M. De Biasio, M. Kraft, M. Roesner, C. Bergmann, M. Cerezuela-Barreto, D. Lewke, Schellenberger, M., Direct optical stress sensing in semiconductor manufacturing using Raman micro-spectrometry, in SENSORS, 2016 IEEE (IEEE, 2016), pp. 1–3

17.

K. Hayashi, G. Izuta, K. Murakami, Y. Uegai, H. Takao, Improvement of fatigue life of solder joints by thickness control of solder with wire bump technique [power modules]. in Electronic Components and Technology Conference, 2002. Proceedings. 52nd (IEEE, 2002), pp. 1469–1474

18.

M.M. Konarski, Effects of Tg and CTE on semiconductor encapsulants. Loctite Electronics, Technical paper (1999)
Acknowledgements
This project has been supported by the COMET K1 center ASSIC (Austrian Smart Systems Integration Research Center). The COMET (Competence Centers for Excellent Technologies) Program is supported by BMVIT, BMWFW and the federal provinces of Carinthia and Styria.
Additional information
Publisher's Note
Springer Nature remains neutral with regard to jurisdictional claims in published maps and institutional affiliations.
About this article
Cite this article
Roshanghias, A., Ma, Y., Gaumont, E. et al. Inkjet printed adhesives for advanced M(O)EMS packaging. J Mater Sci: Mater Electron 30, 20285–20291 (2019). https://doi.org/10.1007/s10854-019-02413-7
Received:

Accepted:

Published:

Issue Date: