Abstract
In this work, for the first time, magnetic NiFe2O4@ZnO nanocomposite was synthesized using tragacanth gel by the novel sol–gel method. NiFe2O4@ZnO magnetic nanocomposite was investigated using powder X-ray diffraction (XRD), Fourier transform infrared spectroscopy (FTIR), vibrating sample magnetometer (VSM), Transmission electron microscopy (TEM), Field emission scanning electron microscopy (FESEM) and energy dispersive X-ray analysis (EDX). The NiFe2O4@ZnO MNCs exhibit ferromagnetic behavior at room temperature, with a saturation magnetization of 15.22 emu/g and a coercivity of 150 Oe. XRD results show that NiFe2O4@ZnO nanocomposite corresponds to the hexagonal wurtzite of ZnO and the spinel cubic structure of NiFe2O4. The present magnetic nanocomposite displays high photocatalytic activity for the removal of direct blue 129 dye and reactive blue 21 dye under irradiation with visible light. The results demonstrated that the catalyst can degrade ca. 98% of the direct blue 129 and ca. 96% of the reactive blue 21 dyes. The current nanocomposite can be separated from the reaction mixture using an external permanent magnet and its high performance saved even after recycling fifth times.
Access options
Buy single article
Instant access to the full article PDF.
USD 39.95
Price excludes VAT (USA)
Tax calculation will be finalised during checkout.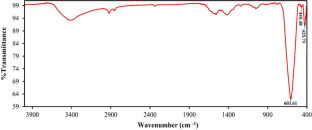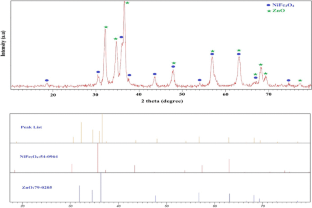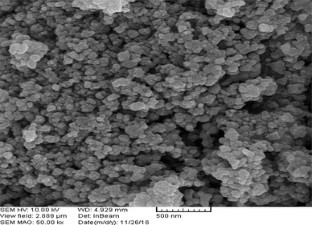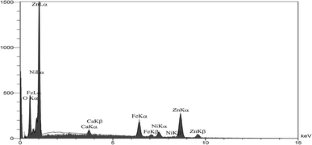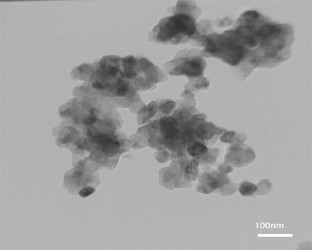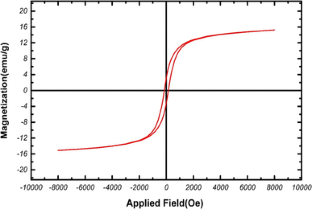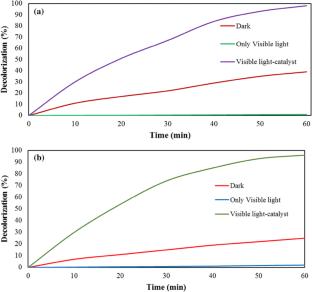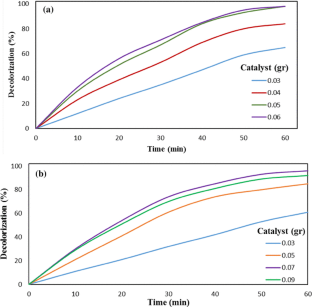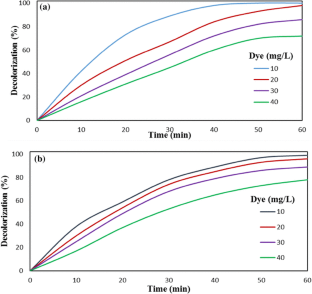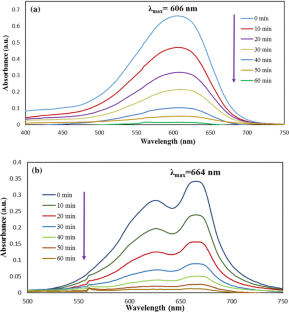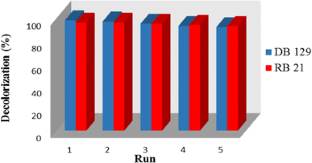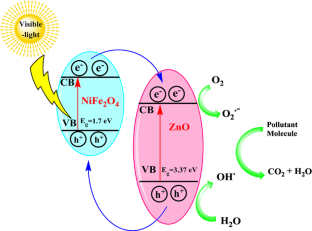 References
J. Manna, S. Akbayrak, S. Özkar, Appl. Catal. B 208, 104 (2017)

A. Abbasi, D. Ghanbari, M. Salavati-Niasari, M. Hamadanian, J. Mater. Sci. Mater. Electron. 27, 4800 (2016)

F. Davar, A. Majedi, A. Abbasi, J. Mater. Sci. Mater. Electron. 28, 4871 (2017)

S. Laurent, D. Forge, M. Port, A. Roch, C. Robic, L. Vander Elst, R.N. Muller, Chem. Rev. 108, 2064 (2008)

R. Kodama, J. Magn. Magn. Mater. 200, 359 (1999)

J.M. Chan, L. Zhang, K.P. Yuet, G. Liao, J.-W. Rhee, R. Langer, O.C. Farokhzad, Biomaterials 30, 1627 (2009)

X. Gong, S. Peng, W. Wen, P. Sheng, W. Li, Adv. Funct. Mater. 19, 292 (2009)

H. Chen, S. Cao, J. Yao, F. Jiang, J. Taiwan Inst. Chem. Eng. 71, 189 (2017)

C.W. Lai et al., Small 4, 218 (2008)

S. Xuan, L. Hao, W. Jiang, X. Gong, Y. Hu, Z. Chen, Nanotechnology 18, 035602 (2007)

C. Cannas et al., Chem. Mater. 22, 3353 (2010)

X. Liu, D. Geng, Z. Zhang, Appl. Phys. Lett. 92, 243110 (2008)

S. Sun, C. Murray, D. Weller, L. Folks, A. Moser, Science 287, 1989 (2000)

W.S. Seo et al. Nat. Mater. 5, 971 (2006)

S. Xu, W. Shangguan, J. Yuan, M. Chen, J. Shi, Appl. Catal., B 71, 177 (2007)

S. Akbar Hoseini, S. Khademolhoseini, J. Mater. Sci. Mater. Electron. 27, 5943 (2016)

J. Patil, D. Nadargi, J. Gurav, I. Mulla, S. Suryavanshi, Mater. Lett. 124, 144 (2014)

D. Wang, T. Xie, Y. Li, Nano Res. 2, 30 (2009)

A. Umar, M. Chauhan, S. Chauhan, R. Kumar, G. Kumar, S. Al-Sayari, S. Hwang, A. Al-Hajry, J. Colloid Interface Sci. 363, 521 (2011)

M. Sorbiun, E. Shayegan Mehr, A. Ramazani, S. Taghavi Fardood, Int. J. Environ. Res. 12, 29 (2018)

I. Malagurski, S. Levic, M. Pantic, D. Matijasevic, M. Mitric, V. Pavlovic, S. Dimitrijevic-Brankovic, Carbohydr. Polym. 165, 313 (2017)

A. Ali, S. Ambreen, Q. Maqbool, S. Naz, M.F. Shams, M. Ahmad, A.R. Phull, M. Zia, J. Phys. Chem. Solids 98, 174 (2016)

X. Liu, J. Jiang, D. Geng, B. Li, Z. Han, W. Liu, Z. Zhang, Appl. Phys. Lett. 94, 053119 (2009)

M.-S. Cao, X.-L. Shi, X.-Y. Fang, H.-B. Jin, Z.-L. Hou, W. Zhou, Y.-J. Chen, Appl. Phys. Lett. 91, 203110 (2007)

R. Ghosh Chaudhuri, S. Paria, Chem. Rev. 112, 2373 (2011)

X.-F. Wu, H.-Y. Song, J.-M. Yoon, Y.-T. Yu, Y.-F. Chen, Langmuir 25, 6438 (2009)

J. Cao et al. Mater. Sci. Eng., B 175, 56 (2010)

Y.A. Barnakov, M.H. Yu, Z. Rosenzweig, Langmuir 21, 7524 (2005)

S. Taghavi Fardood, A. Ramazani, Z. Golfar, S.W. Joo, J. Appl. Chem. Res. 11, 19 (2017)

S. Taghavi Fardood, K. Atrak, A. Ramazani, J. Mater. Sci. Mater. Electron. 28, 10739 (2017)

K. Atrak, A. Ramazani, S. Taghavi Fardood, J. Mater. Sci. Mater. Electron. 29, 6702 (2018)

H. Sun, L. Cao, L. Lu, Nano Res. 4, 550 (2011)

M. Sorbiun, E. Shayegan Mehr, A. Ramazani, S. Taghavi Fardood, J. Mater. Sci. Mater. Electron. 29, 2806 (2018)

E. Shayegan Mehr, M. Sorbiun, A. Ramazani, S. Taghavi Fardood, J. Mater. Sci. Mater. Electron. 29, 1333 (2018)

H.A. Alhassani, M.A. Rauf, S.S. Ashraf, Dyes Pigm. 75, 395 (2007)

H. Chen, J. Motuzas, W. Martens, J.C. Diniz da Costa. Appl. Catal., B 221, 691 (2018)

M.C. Silva, A.D. Corrêa, M.T.S.P. Amorim, P. Parpot, J.A. Torres, P.M.B. Chagas, J. Mol. Catal. B 77, 9 (2012)

T. Kanagaraj, S. Thiripuranthagan, Appl. Catal. B 207, 218 (2017)

K. Klemola, Kuopio Univ Publ C Nat Environ Sci 241, 1 (2008)

Y. Zhang, F. Gao, B. Wanjala, Z. Li, G. Cernigliaro, Z. Gu, Appl. Catal. B 199, 504 (2016)

S. Taghavi Fardood, A. Ramazani, S.W. Joo, J. Appl. Chem. Res. 12, 8 (2018)

S. Taghavi Fardood, A. Ramazani, S. Moradi, Chem. J. Mold. 12, 115 (2017)

M. Zohuriaan, F. Shokrolahi, Polym. Test. 23, 575 (2004)

S. Taghavi Fardood, Z. Golfar, A. Ramazani, J. Mater. Sci. Mater. Electron. 28, 17002 (2017)

A. Hasanpour, M. Niyaifar, M. Asan, J. Amighian, J. Magn. Magn. Mater. 334, 41 (2013)

H. Liu, J. Wu, J.H. Min, X. Zhang, Y.K. Kim, Mater. Res. Bull. 48, 551 (2013)

S. Farhadi, K. Pourzare, S. Sadeghinejad, J. Nanostruct. Chem. 3, 16 (2013)

H.-Y. Zhu, R. Jiang, Y.-Q. Fu, R.-R. Li, J. Yao, S.-T. Jiang, Appl. Surf. Sci. 369, 1 (2016)

D. Lv, D. Zhang, X. Liu, Z. Liu, L. Hu, X. Pu, H. Ma, D. Li, J. Dou, Sep. Purif. Technol. 158, 302 (2016)

H.S. Kim, D. Kim, B.S. Kwak, G.B. Han, M.-H. Um, M. Kang, Chem. Eng. J. 243, 272 (2014)

S. Duangjam, K. Wetchakun, S. Phanichphant, N. Wetchakun, Mater. Lett. 181, 86 (2016)

J. Zheng, X. Song, X. Liu, W. Chen, Y. Li, J. Guo, Mater. Lett. 73, 143 (2012)
About this article
Cite this article
Moradi, S., Taghavi Fardood, S. & Ramazani, A. Green synthesis and characterization of magnetic NiFe2O4@ZnO nanocomposite and its application for photocatalytic degradation of organic dyes. J Mater Sci: Mater Electron 29, 14151–14160 (2018). https://doi.org/10.1007/s10854-018-9548-4
Received:

Accepted:

Published:

Issue Date:

DOI: https://doi.org/10.1007/s10854-018-9548-4