Abstract
The composite solid polymer electrolyte (CSPE) samples, comprising of poly(methylmethacrylate) (PMMA)/poly(styrene-co-acrylonitrile) (SAN)/ethylene carbonate (EC)/propylene carbonate (PC)/lithium trifluoromethanesulfonate (LiCF3SO3)/anatase-TiO2 as nano-filler (0, 5, 6, 7, 8 and 9 wt% for samples T0, T1, T2, T3, T4 and T5 respectively) were prepared by solution casting technique. Fourier transform infrared (FT-IR) spectral studies indicate the interaction of PMMA and plasticizers (EC, PC) with Lithium ion and nano-filler TiO2 in samples. From AC impedance studies ionic conductivity, dielectric constant increase with increase in the concentration of nano-filler TiO2 up to 9 wt%. The sample T5 shows lowest activation energy (Ea) of 0.14 eV, very short relaxation time (τ) of 1.49 × 10−7 s and exhibits maximum ionic conductivity of 1.05 × 10−4 S cm−1 at room temperature. The conductivity-temperature dependence studies showed that the conductivity of all samples depict Arrhenius behaviour suggesting ion-hopping mechanism. Dielectric studies reveal ion conducting nature of CSPE samples. Thermogravimetric analysis indicate the thermal stability of CSPE sample T5 up to 333 °C with maximum degradation at 388 °C. DSC studies reveal absence of glass transition temperature (Tg) of atactic component of PMMA in CSPE sample T5 indicating amorphous nature. X-ray diffraction patterns shows shift in the position of peaks confirming the complex formation of the PMMA-SAN-EC-PC-LiCF3SO3-TiO2 system. SEM analysis indicates that the presence of lithium salt and filler TiO2 on polymer host does not lead to heterogenous polymer blend thus retaining its amorphous nature.
Access options
Buy single article
Instant access to the full article PDF.
USD 39.95
Price excludes VAT (USA)
Tax calculation will be finalised during checkout.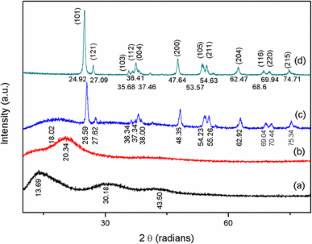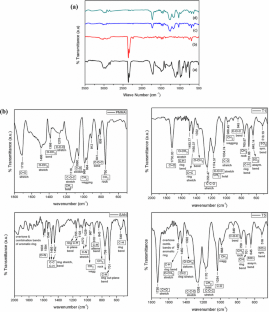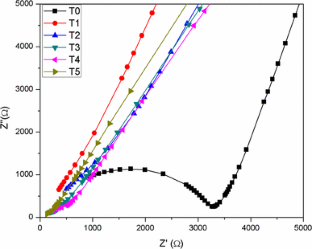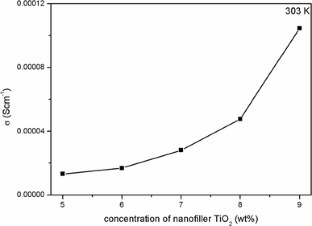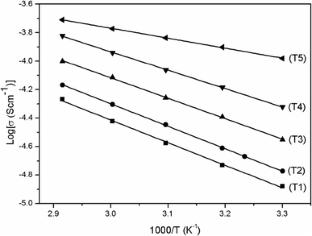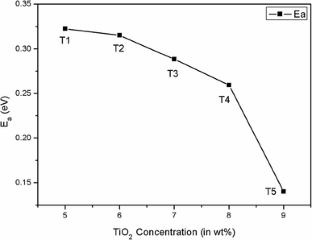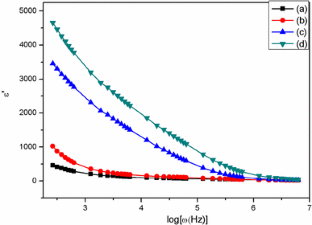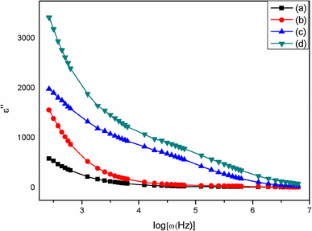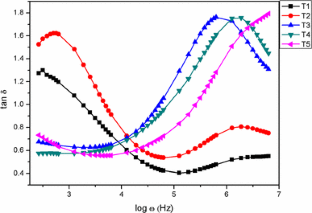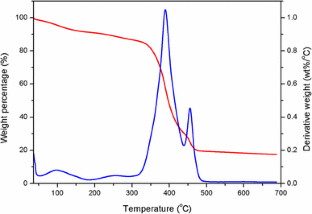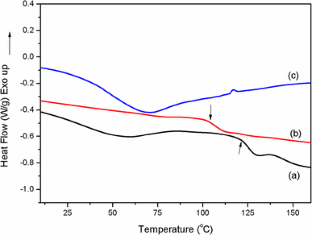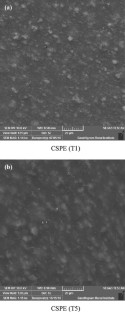 References
A.M. Stephan, Eur. Polym. J. 42, 21–42 (2006)

G.B. Appetecchi, B. Scrosati, Electrochim. Acta 39, 2187–2194 (1994)

E. Quartarone, P. Mustarelli, Chem. Soc. Rev. 40, 2525–2540 (2011)

S. Ahmad, S. Ahmad, S.A. Agnihotry, Ionics 9, 439–449 (2003)

J. Adebahr, N. Byrne, M. Forsyth, D.R. MacFarlone, P. Jacobsson, Electrochim. Acta 48, 2099–2103 (2003)

H.M. Xiong, J.S. Chen, D.M. Li, J. Mater. Chem. 13, 1994–1998 (2003)

F. Croce, S. Saccheti, B. Scrosati, J. Power Sources 161, 560–564 (2006)

J.E. Weston, B.C.H. Steele, Solid State Ionics 71, 75–79 (1982)

S.K. Hyung, S.K. Kyong, C. Won-II, W.C. Byung, W.R. Hee, J. Power Sources 124, 221–224 (2003)

J. Srun, W.K. Dae, D.L. Sang, C. Minserk, Q.N. Dinh, W.C. Byung, S.K. Hoon, Bull. Korean Chem. Soc. 30, 2355–2361 (2009)

G.N. Kumaraswamy, C. Ranganathaiah, M.V. Deepa Urs, H.B. Ravikumar, Eur. Polym. J. 42, 2655–2666 (2006)

D. Miao, G. Jianhua, Z. Qiang, Polymer 45, 6725–6730 (2004)

S. Ramesh, K.C. Wong, Ionics 15, 249–254 (2009)

L. Othman, K.W. Chew, Z. Osman, Ionics 13, 337–342 (2007)

S. Ramesh, L.C. Wen, Ionics 16, 255–262 (2010)

H. Li, M. Zuo, T. Liu, Q. Chen, J. Zhang, Q. Zheng, RSC Adv. 6, 10099–10113 (2016)

C. Lin, M. Zuo, H. Li, T. Liu, Q. Zheng, Chin. J. Polym. Sci. 33(8), 1162–1175 (2015)

A. Sarvi, U. Sundararaj, Polym. Compos. 37(5), 1523–1530 (2016)

M. Lee, H. Jeon, B.H. Min, J.H. Kim, J. Appl. Polym. Sci. 121(2), 743–749 (2011)

I. Nicotera, L. Coppola, C. Oliviero, M. Castriota, E. Cazzanelli, Solid State Ionics 177, 581–588 (2006)

S. Rajendran, O. Mahendran, T. Mahalingam, Eur. Polym. J. 38, 49–55 (2002)

M.S. Su'ait, A. Ahmad, H. Hamzah, M.Y.A. Rahman, Electrochim. Acta 57, 123–131 (2011)

R. Kumar, J.P. Sharma, S.S. Sekhon, Eur. Polym. J. 41, 2718–2724 (2005)

A.M.M. Ali, M.Z.A. Yahya, H. Bahron, R.H.Y. Subban, M.K. Harun, I. Atan, Mater. Lett. 61, 2026–2029 (2007)

K.W. Chew, K.W. Tan, Int. J. Electrochem. Sci. 6, 5792–5801 (2011)

L. Tian Khoon, N. Ataollahi, N.H. Hassan, A. Ahmad, J. Solid State Electrochem. 20, 203–213 (2016)

A.R. Polu, H.W. Rhee, D.K. Kim, J. Mater. Sci. Mater. Electron. 11, 8548–8554 (2015)

M.M.E. Jacob, S.R.S. Prabaharan, S. Radhakrishna, Solid State Ionics 104, 267–274 (1997)

T.K. Lee, A. Ahmad, H.M. Dahlan, M.Y.A. Rahman, J. Appl. Polym. Sci. 124, 2227–2233 (2012)

T.K. Lee, S. Afiqah, A. Ahmad, H.M. Dahlan, M.Y.A. Rahman, J. Solid State Electrochem. 16, 2251–2260 (2012)

S. Rajendran, O. Mahendran, K. Krishnaveni, J. New Mat. Electrochem. Syst. 6, 25–28 (2003)

A.S. Samsudin, M.B.N. Isa, J. App. Sci. 12, 174–179 (2012)

S. Rajendran, M. Sivakumar, R. Subadevi, Mater. Lett. 58, 641–649 (2004)

J.D. Jeon, S.Y. Kwak, B.W. Cho, J. Electrochem. Soc. 152, 1583–1589 (2005)

V. Aravindan, P. Vickraman, Solid State Sci. 9, 1069–1073 (2007)

M.V. Leena Chandra, S. Karthickeyan, S. Selvasekarapandian, M. Premalatha, S. Monisha, J. Polym. Eng. 37, 617–631 (2016)

S. Ramesh, P.L. Ong, Polym. Chem. 1, 702–707 (2010)

S.K. Tripathi, A. Gupta, M. Kumari, Bull. Mater. Sci. 35, 969–975 (2012)

S. Shastry, K.J. Rao, Solid State Ionics 44, 187–198 (1991)

K. Ramly, M.I.N. Isa, A.S.A. Khiar, Mater. Res. Innov. 15, S82 (2011)

X. Helan Flora, M. Ulaganathan, R.S. Babu, S. Rajendran, Ionics 18, 731–736 (2012)

J.M. Song, H.R. Kang, S.W. Kim, W.M. Lee, H.T. Kim, Electrochim. Acta 48, 1339–1346 (2003)

R. Prasanth, V. Aravindan, M. Srinivasan, J. Power Sources 202, 299–307 (2012)

M.A.K.L. P.A.R.D. Jayathilaka, I. Dissanayake, B.E. Albbinsson, Mellander, Electrochim. Acta 47, 3257–3268 (2002)
About this article
Cite this article
Ganesan, S.V., Mothilal, K.K., Selvasekarapandian, S. et al. The effect of titanium dioxide nano-filler on the conductivity, morphology and thermal stability of poly(methyl methacrylate)—poly(styrene-co-acrylonitrile) based composite solid polymer electrolytes. J Mater Sci: Mater Electron 29, 8089–8099 (2018). https://doi.org/10.1007/s10854-018-8815-8
Received:

Accepted:

Published:

Issue Date:

DOI: https://doi.org/10.1007/s10854-018-8815-8