Abstract
In the current study, for the first time, MgFe2O4@γ–Al2O3 magnetic nanoparticles (MNPs) were synthesized using tragacanth gel as biotemplate through the simple and cost effective novel sol–gel method. The sample was characterized by powder X-ray diffraction (XRD), vibrating sample magnetometer (VSM), Fourier transform infrared spectroscopy (FTIR), field emission scanning electron microscopy (FESEM), elemental mapping and energy dispersive X-ray analysis (EDX). The nanocomposite shows ferromagnetic behavior at room temperature, with a saturation magnetization of 10.15 emu/g and a coercivity of 50 Oe. XRD results show that MgFe2O4@γ–Al2O3 nanoparticles correspond to the tetragonal phase of γ-Al2O3 and cubic spinel structure of MgFe2O4. The present photocatalyst displays notable catalytic activity for the removal of reactive red 195 and reactive orange 122 dyes in water under visible light irradiation. It was established that the catalyst could remove ca. 98% of the reactive red 195 dye and ca. 93% of the reactive orange 122 dye. The effects of initial dye concentration, photocatalyst dosage, and visible light irradiation on dye degradation were assessed. The magnetic photocatalyst can be simply separated by using an external magnet and nearly no decline in photocatalytic efficiency was observed even after recycling five times.
Access options
Buy single article
Instant access to the full article PDF.
USD 39.95
Price excludes VAT (USA)
Tax calculation will be finalised during checkout.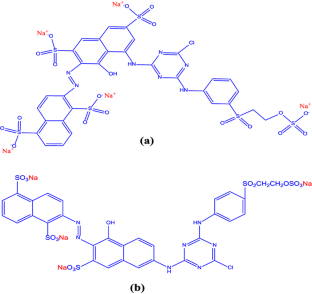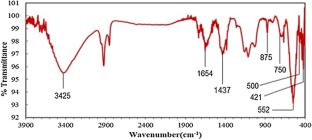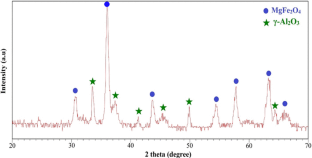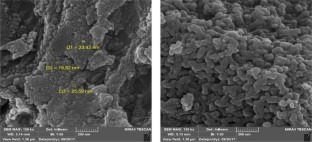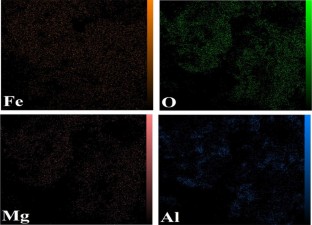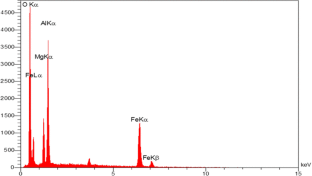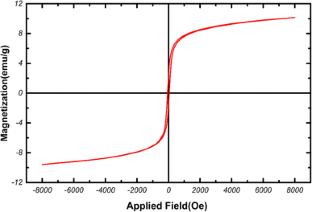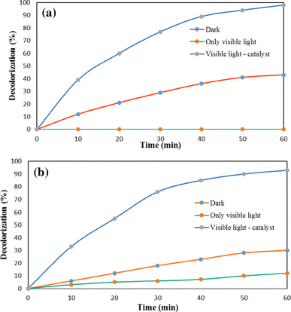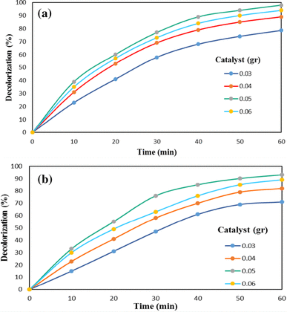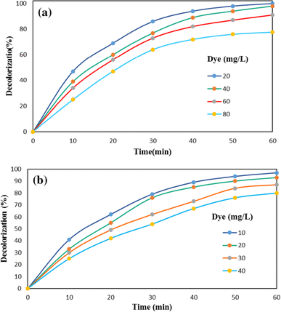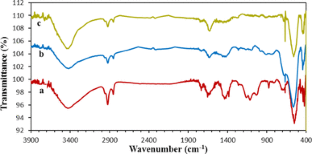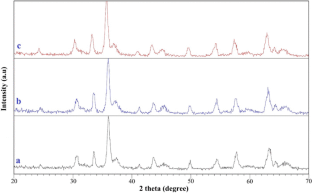 References
S. Abbasi, M. Hasanpour, J. Mater. Sci. Mater. Electron. 28, 1307 (2017)

S. Taghavi Fardood, A. Ramazani, S. Moradi, Chem. J. Mold. 12, 115 (2017)

J. Feng, Y. Wang, L. Zou, B. Li, X. He, Y. Ren, Y. Lv, Z. Fan, J. Colloid Interface Sci. 438, 318 (2015)

S. Taghavi Fardood, A. Ramazani, Z. Golfar, S.W. Joo, J. Appl. Chem. Res. 11, 19 (2017)

N. Selvi, S. Sankar, K. Dinakaran, J. Mater. Sci. Mater. Electron. 26, 2271 (2015)

S. Taghavi Fardood, A. Ramazani, Z. Golfar, S.W. Joo, Appl. Organomet. Chem. (2017). https://doi.org/10.1002/aoc.3823

F. Bensebaa, F. Zavaliche, P. L'Ecuyer, R.W. Cochrane, T. Veres, J. Colloid Interface Sci. 277, 104 (2004)

F. Sadri, A. Ramazani, H. Ahankar, S. Taghavi Fardood, P. Azimzadeh Asiabi, M. Khoobi, S. Woo Joo, N. Dayyani, J. Nanostruct. 6, 264 (2016)

K.K. Kefeni, B.B. Mamba, T.A.M. Msagati, Sep. Purif. Technol. 188, 399 (2017)

V.T. Vader, J. Mater. Sci. Mater. Electron. 26, 66 (2015)

K.S. Rane, V.M.S. Verenkar, P.Y. Sawant, J. Mater. Sci. Mater. Electron. 10, 133 (1999)

T. Iwamoto, Y. Komorida, M. Mito, A. Takahara, J. Colloid Interface Sci. 345, 143 (2010)

E. Casbeer, V.K. Sharma, X.-Z. Li, Sep. Purif. Technol. 87, 1 (2012)

M.M. Rashad, J. Mater. Sci. 42, 5248 (2007)

S. Taghavi Fardood, Z. Golfar, A. Ramazani, J. Mater. Sci. Mater. Electron. 28, 17002 (2017)

S. Verma, P. Joy, Y. Khollam, H. Potdar, S. Deshpande, Mater. Lett. 58, 1092 (2004)

Y.B. Kannan, R. Saravanan, N. Srinivasan, K. Praveena, K. Sadhana, J. Mater. Sci. Mater. Electron. 27, 12000 (2016)

M. Gao, A. Ito, T. Goto, Appl. Surf. Sci. 340, 160 (2015)

W. Hu, L. Wan, X. Liu, Q. Li, Z. Wang, Appl. Surf. Sci. 257, 5777 (2011)

M. Touzin, D. Goeuriot, C. Guerret-Piécourt, D. Juvé, H.J. Fitting, J. Eur. Ceram. Soc. 30, 805 (2010)

A. Keyvani, M. Saremi, M. Heydarzadeh Sohi, J. Alloys Compd. 506, 103 (2010)

A. Bahari, M. Babaeipour, B. Soltani, J. Mater. Sci. Mater. Electron. 27, 2131 (2016)

R. Lach, K. Haberko, M.M. Bućko, M. Szumera, G. Grabowski, J. Eur. Ceram. Soc. 31, 1889 (2011)

G. Luka, T.A. Krajewski, B.S. Witkowski, G. Wisz, I.S. Virt, E. Guziewicz, M. Godlewski, J. Mater. Sci. Mater. Electron. 22, 1810 (2011)

M.J. Zohuriaan, F. Shokrolahi, Polym. Test. 23, 575 (2004)

S. Ghayempour, M. Montazer, M. Mahmoudi Rad, Int. J. Biol. Macromol. 81, 514 (2015)

I.J. Ogaji, E.I. Nep, J.D. Audu-Peter, Pharm. Anal. Acta. 3, 1 (2012)

K. Hedayati, M. Kord, M. Goodarzi, D. Ghanbari, S. Gharigh, J. Mater. Sci. Mater. Electron. 28, 1577 (2017)

S. Taghavi Fardood, A. Ramazani, S. Moradi, P. Azimzadeh Asiabi, J. Mater. Sci. Mater. Electron. 28, 13596 (2017)

E. Topkaya, M. Konyar, H.C. Yatmaz, K. Öztürk, J. Colloid Interface Sci. 430, 6 (2014)

S. Taghavi Fardood, K. Atrak, A. Ramazani, J. Mater. Sci. Mater. Electron. 28, 10739 (2017)

E. Kamaraj, S. Somasundaram, K. Balasubramani, M.P. Eswaran, R. Muthuramalingam, S. Park, Appl. Surf. Sci. 433, 206 (2018)

F. Davar, A. Majedi, A. Abbasi, J. Mater. Sci. Mater. Electron. 28, 4871 (2017)

A. Afkhami, M. Saber-Tehrani, H. Bagheri, J. Hazard. Mater. 181, 836 (2010)

S. Farhadi, K. Pourzare, S. Sadeghinejad, J. Nanostruct. Chem. 3, 16 (2013)

N. Rana, S. Chand, A.K. Gathania, J. Mater. Sci. Mater. Electron. 27, 2504 (2016)
About this article
Cite this article
Atrak, K., Ramazani, A. & Taghavi Fardood, S. A novel sol–gel synthesis and characterization of MgFe2O4@γ–Al2O3 magnetic nanoparticles using tragacanth gel and its application as a magnetically separable photocatalyst for degradation of organic dyes under visible light. J Mater Sci: Mater Electron 29, 6702–6710 (2018). https://doi.org/10.1007/s10854-018-8656-5
Received:

Accepted:

Published:

Issue Date:

DOI: https://doi.org/10.1007/s10854-018-8656-5