Abstract
The effect of sintering process, particularly the sintering time, on ferroelectric properties of Bi0.5(Na0.8K0.2)0.5TiO3 (BNKT) has been studied and compared with Bi0.5Na0.5TiO3 (BNT) and Bi0.5K0.5TiO3 (BKT) ceramics. Ceramic powders were prepared by the solid-state reaction method, employing a mechanochemical activation step, and sintered at different times. Samples were characterized by X-ray diffraction (XRD), Raman microspectroscopy, Scanning Electron Microscopy (SEM), impedance spectroscopy and ferroelectric hysteresis loops. Through XRD and Raman results, the perovskite structure was detected. In addition, a secondary phase was observed by SEM images. As the sintering time was increased, the medium grain size grew, and the amount of the secondary phase raised. Moreover, dielectric properties were modified by the resulting grain size and the amount of the secondary phase.
This is a preview of subscription content, log in to check access.
Access options
Buy single article
Instant access to the full article PDF.
US$ 39.95
Price includes VAT for USA
Subscribe to journal
Immediate online access to all issues from 2019. Subscription will auto renew annually.
US$ 199
This is the net price. Taxes to be calculated in checkout.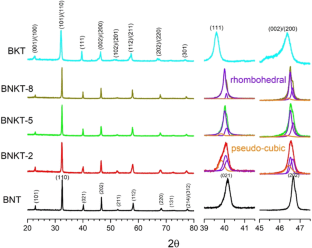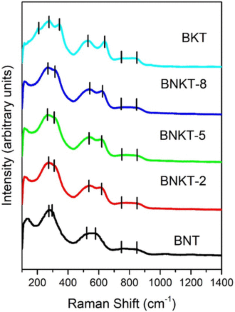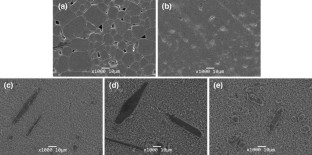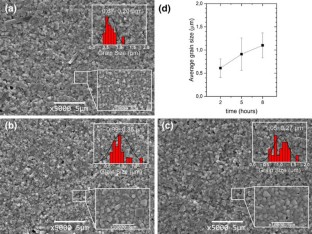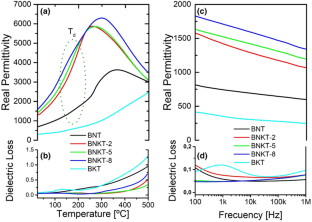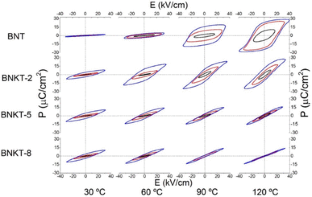 References
1.

J. Rödel, W. Jo, K.T.P. Seifert, E.M. Anton, T. Granzow, D. Damjanovic, J. Am. Ceram. Soc. 92, 1153 (2009)

2.

X.P. Jiang, L.Z. Li, M. Zeng, H.L.W. Chan, Mater. Lett. 60, 1786 (2006)

3.

J.B. Lim, S. Zhang, J.-H. Jeon, T.R. Shrout, J. Am. Ceram. Soc. 93, 1218 (2010)

4.

K.S.T. Takenaka, K. Maruyama, Jpn. J. Appl. Phys. 30(Part 1), 2236 (1991)

5.

R. Wang, R. Xie, T. Sekiya, Y. Shimojo, Mater. Res. Bull. 39, 1709 (2004)

6.

P. Fu, Z. Xu, R. Chu, W. Li, X. Wu, M. Zhao, Mater. Chem. Phys. 138, 140 (2013)

7.

K.N. Pham, A. Hussain, C.W. Ahn, W. Kim, S.J. Jeong, J.S. Lee, Mater. Lett. 64, 2219 (2010)

8.

M. Jiang, X. Liu, C. Liu, Mater. Res. Bull. 45, 220 (2010)

9.

B. Wang, L. Luo, F. Ni, P. Du, W. Li, H. Chen, J. Alloys Compd. 526, 79 (2012)

10.

Z. Chong-rong, C. Li-yuan, Bull. Mater. Sci. 34, 933 (2011)

11.

A. Ullah, R.A. Malik, A. Ullah, D.S. Lee, S.J. Jeong, J.S. Lee, I.W. Kim, C.W. Ahn, J. Eur. Ceram. Soc. 34, 29 (2014)

12.

L. Ramajo, J. Camargo, F. Rubio-Marcos, M. Castro, Ceram. Int. 41, 5380 (2015)

13.

J.-F. Trelcat, C. Courtois, M. Rguiti, A. Leriche, P.-H. Duvigneaud, T. Segato, Ceram. Int. 38, 2823 (2012)

14.

G.O. Jones, J. Kreisel, P.A. Thomas, Powder Diffr. 17, 301 (2002)

15.

J. Kreisel, aM. Glazer, G. Jones, P. Thomas, L. Abello, G. Lucazeau, J. Phys. Condens. Matter. 12, 3267 (2000)
Acknowledgements
The authors thank the following institutions for providing financial support: National Research Council (CONICET, Argentina) PIP 2012-0432, National Agency of Scientific and Technological Promotion (ANPCYT, Argentina) PICT 2014-1314, and National University of Mar del Plata (Argentina) Project (15G/388).
About this article
Cite this article
Camargo, J., Prado Espinosa, A., Ramajo, L. et al. Influence of the sintering process on ferroelectric properties of Bi0.5(Na0.8K0.2)0.5TiO3 lead-free piezoelectric ceramics. J Mater Sci: Mater Electron 29, 5427–5432 (2018). https://doi.org/10.1007/s10854-017-8508-8
Received:

Accepted:

Published:

Issue Date: