Abstract
Silver nanoparticles (Ag NPs), zinc oxide nanoparticles (ZnO NPs) and bimetallic silver/zinc oxide nanoparticles (Ag/ZnO NPs) were synthesized by simultaneous green chemistry reduction approach. Aqueous extracts of the oak fruit hull (Jaft) were found to reduce the metal ions to form bimetallic Ag/ZnO and then stabilise them by preventing further aggregation. Aqueous extract from the oak fruit hull (Jaft) was used as reducing and capping agents. FT-IR spectroscopy, X-ray diffraction (XRD) pattern and field emission scanning electron microscopy (FESEM) have been used in the characterization of the nanoparticles thus prepared. The XRD patterns of bimetallic Ag/ZnO alloy nanoparticles displayed crystallinity with observed diffraction peaks corresponding to Ag and ZnO. The bimetallic Ag/ZnO has an average particle size of 19.2 nm (FESEM). ZnO NPs and Ag/ZnO NPs were then used to degrade Basic violet 3 in aqueous solution. It took only 30 min for Ag/ZnO to decolorize 79% of Basic violet 3 while for ZnO it took more than 90 min to decolorize the similar amount of Basic violet 3. This one-step strategy using Jaft aqueous extract to synthesize Ag/ZnO NPs is simple, clean-green, cost-effective and environmentally benign, making possible the large-scale production of bimetallic Ag/ZnO NPs for field remediation.
Access options
Buy single article
Instant access to the full article PDF.
USD 39.95
Price excludes VAT (USA)
Tax calculation will be finalised during checkout.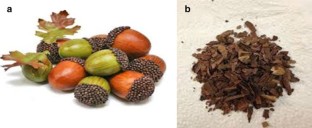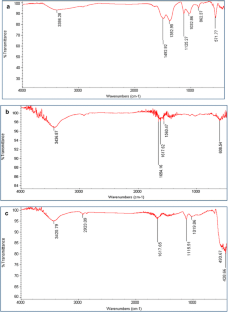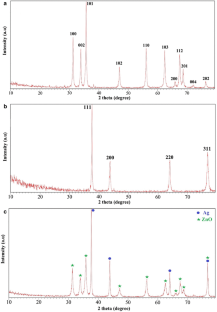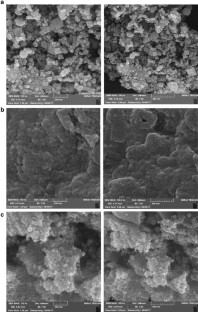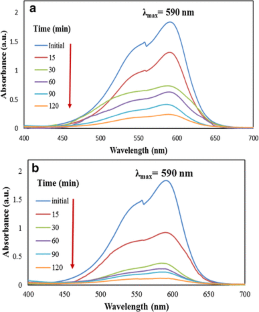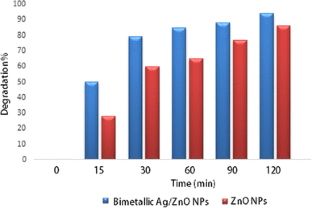 References
A. Zaleska-Medynska, M. Marchelek, M. Diak, E. Grabowska, Adv. Colloid Interface Sci. 229, 80 (2016)

B.M. Rajbongshi, A. Ramchiary, B.M. Jha, S.K. Samdarshi, J. Mater. Sci. 25, 2969 (2014)

Y.-C. Chen, J. Cheng, J. Cheng, S. Cheng, J. Mater. Sci. 26, 2775 (2015)

A.H. Shah, M. Basheer Ahamed, E. Manikandan, R. Chandramohan, M. Iydroose, J. Mater. Sci. 24, 2302 (2013)

M.M. Momeni, M. Mirhosseini, N. Mohammadi, J. Mater. Sci. 27, 6542 (2016)

T.M.S. Rosbero, D.H. Camacho, J. Environ. Chem. Eng. 5, 2524 (2017)

Y.-C. Chen, F.-C. Zheng, Y.-L. Min, T. Wang, Y.-G. Zhang, Y.-X. Wang, J. Mater. Sci. 23, 1592 (2012)

M. Brust, M. Walker, D. Bethell, D.J. Schiffrin, R. Whyman, J. Chem. Soc. Chem. Commun. 801 (1994)

S. Taghavi Fardood, A. Ramazani, S. Moradi, Chem. J. Mold. 12, 115 (2017)

S. Taghavi Fardood, A. Ramazani, Z. Golfar, S.W. Joo, J. Appl. Chem. Res. 11, 19 (2017)

K.P. Gattu, A.A. Kashale, K. Ghule, V.H. Ingole, R. Sharma, N.G. Deshpande, A.V. Ghule, J. Mater. Sci. 28, 13209 (2017)

S. Taghavi Fardood, A. Ramazani, S. Moradi, J. Sol-Gel Sci. Technol. 82, 432 (2017)

R. Rathnasamy, P. Thangasamy, R. Thangamuthu, S. Sampath, V. Alagan, J. Mater. Sci. 28, 10374 (2017)

S. Taghavi Fardood, A. Ramazani, S. Moradi, P. Azimzadeh Asiabi, J. Mater. Sci. 28, 13596 (2017)

S. Taghavi Fardood, K. Atrak, A. Ramazani, J. Mater. Sci. 28, 10739 (2017)

S. Taghavi Fardood, A. Ramazani, J. Nanostruct. 6, 167 (2016)

Z. Aghajani, A.A. Engashte-Vahed, M.R. Zand-Monfared, J. Mater. Sci. (2017)

A. Ramazani, S. Taghavi Fardood, Z. Hosseinzadeh, F. Sadri, S.W. Joo, Iran. J. Catal. 7, 181 (2017)

D. Ding, K. Liu, S. He, C. Gao, Y. Yin, Nano Lett. 14, 6731 (2014)

Y. Wang, L. Yan, X. He, J. Li, D. Wang, J. Mater. Sci. 27, 5190 (2016)

A. Zielińska-Jurek, E. Kowalska, J.W. Sobczak, W. Lisowski, B. Ohtani, A. Zaleska, Appl. Catal. B 101, 504 (2011)

C.-Z. Chen, Z.-W. Zhou, J. Funct. Mater. 35, 97 (2004)

N. Daneshvar, D. Salari, A. Khataee, J. Photochem. Photobiol. A 162, 317 (2004)

O.A. Al-Hartomy, Mater. Sci. Semicond. Process 27, 71 (2014)

C. Ma, X. Wang, H. Luo, D. Zhang, J. Mater. Sci. 28, 10715 (2017)

R. Velmurugan, B. Krishnakumar, M. Swaminathan, Mater. Sci. Semicond. Process 25, 163 (2014)

Y. Zhang, Q. Wang, J. Xu, S. Ma, Appl. Surf. Sci. 258, 10104 (2012)

C.H. Kwon, H. Shin, J.H. Kim, W.S. Choi, K.H. Yoon, Mater. Chem. Phys. 86, 78 (2004)

D. Tingfa, Thermochim. Acta 138, 189 (1989)

N. Yıldız, Ç. Ateş, M. Yılmaz, D. Demir, A. Yıldız, A. Çalımlı, Green Process Synth. 3, 259 (2014)

J. Das, P. Velusamy, Mater. Res. Bull. 48, 4531 (2013)

G. Parthasarathy, M. Saroja, M. Venkatachalam, V. Evanjelene, Int. J. Mater. Sci. 12, 73 (2017)

R. Sathyavathi, M.B. Krishna, S.V. Rao, R. Saritha, D.N. Rao, Adv. Sci. Lett. 3, 138 (2010)

M. Ramana, EJAE 1, 5 (2014)

A.M. Awwad, B. Albiss, A.L. Ahmad, Adv. Mater. Lett. 5, 520 (2014)

N. Kumari, A. Ghosh, A. Bhattacharjee, Mater. Sci. Semicond. Process 19, 114 (2014)
About this article
Cite this article
Sorbiun, M., Shayegan Mehr, E., Ramazani, A. et al. Biosynthesis of Ag, ZnO and bimetallic Ag/ZnO alloy nanoparticles by aqueous extract of oak fruit hull (Jaft) and investigation of photocatalytic activity of ZnO and bimetallic Ag/ZnO for degradation of basic violet 3 dye. J Mater Sci: Mater Electron 29, 2806–2814 (2018). https://doi.org/10.1007/s10854-017-8209-3
Received:

Accepted:

Published:

Issue Date:

DOI: https://doi.org/10.1007/s10854-017-8209-3