Abstract
In this work, we have reported, a cost effective and environment friendly technique for the synthesis of ZnO and CuO nanoparticles using ferulago angulata (schlecht) boiss extract as a mild and non-toxic reducing agent and efficient stabilizer without adding any surfactants. The secondary metabolites, ubiquitously found in plants have a significant role in synthesis of nanoparticles. As-synthesized metal oxides nanoparticles were characterized by X-ray diffraction, Fourier transform infrared spectroscopy, field emission-scanning electron microscopy. X-ray diffraction results revealed that the biosynthesized ZnO NPs and CuO NPs were crystalline in nature with higher purity and particle size of ~ 44 nm. In addition, the photocatalytic degradation activity of ZnO and CuO photocatalyst were evaluated using Rhodamine B as organic contaminant irradiated only with visible light from fluorescent lamp. Catalytic reactions were monitored by using UV–Vis spectrophotometer. This study indicates photocatalytic degradation capacity of the ZnO NPs was higher than CuO NPs.
Access options
Buy single article
Instant access to the full article PDF.
USD 39.95
Price excludes VAT (USA)
Tax calculation will be finalised during checkout.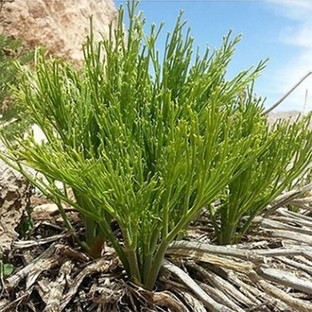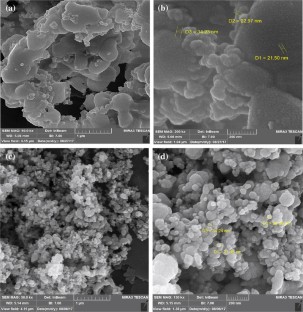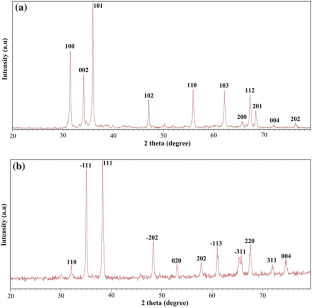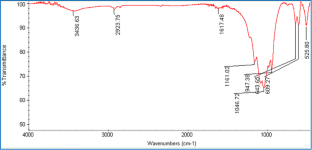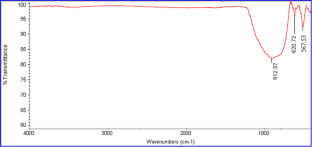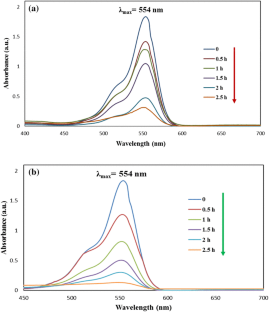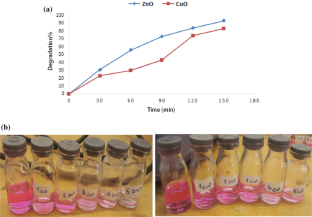 References
S. Taghavi Fardood, A. Ramazani, S. Moradi, J. Sol-Gel Sci. Technol. 82, 432 (2017)

M.A. Albrecht, C.W. Evans, C.L. Raston, Green Chem. 8, 417 (2006)

S. Khaghani, D. Ghanbari, S. Khaghani, J. Nanostruct. 7, 175 (2017)

M. Sadeghi, J. Mater. Sci. 28, 10048 (2017)

S.M. Masoudpanah, S.M. Mirkazemi, J. Nanostruct. 7, 183 (2017)

S. Taghavi Fardood, A. Ramazani, S. Moradi, Chem. J. Mold. 12, 115 (2017)

S. Taghavi Fardood, K. Atrak, A. Ramazani, J. Mater. Sci. 28, 10739 (2017)

S.A. Hosseini, P. Moalemzade, J. Mater. Sci. 27, 8802 (2016)

H.R. Ghorbani, J. Nanostruct. Chem. 3, 29 (2013)

R. Rathnasamy, P. Thangasamy, R. Thangamuthu, S. Sampath, V. Alagan, J. Mater. Sci. 28, 10374 (2017)

A. Di Paola, E. García-López, G. Marcì, L. Palmisano, J. Hazard. Mater. 211, 3 (2012)

P. Rajaei, M. Ranjbar, J. Mater. Sci. 27, 1708 (2016)

M.P. Mazhari, A. Abbasi, A. Derakhshan, M. Ahmadi, J. Nanostruct. 6, 101 (2016)

M.R. Hoffmann, S.T. Martin, W. Choi, D.W. Bahnemann, Chem. Rev. 95, 69 (1995)

F. Sadeghpour, G. Nabiyouni, D. Ghanbari, J. Mater. Sci. 27, 12160 (2016)

S. Sini, N. Malathy, Anc. Sci. Life 25, 71 (2006)

C. Ramalakshmi, A. Ranjitsingh, K. Kalirajan, A. Kalirajan, G. Athinarayanan, R. Mariselvam, Elixir Appl. Biol. 57, 14055 (2013)

S. Taghavi Fardood, A. Ramazani, J. Nanostruct. 6, 167 (2016)

R. Sathyavathi, M.B. Krishna, S.V. Rao, R. Saritha, D.N. Rao, Adv. Sci. Lett. 3, 138 (2010)

S. Taghavi Fardood, A. Ramazani, S. Moradi, P. Azimzadeh Asiabi, J. Mater. Sci. 28, 13596 (2017)
About this article
Cite this article
Shayegan Mehr, E., Sorbiun, M., Ramazani, A. et al. Plant-mediated synthesis of zinc oxide and copper oxide nanoparticles by using ferulago angulata (schlecht) boiss extract and comparison of their photocatalytic degradation of Rhodamine B (RhB) under visible light irradiation. J Mater Sci: Mater Electron 29, 1333–1340 (2018). https://doi.org/10.1007/s10854-017-8039-3
Received:

Accepted:

Published:

Issue Date:

DOI: https://doi.org/10.1007/s10854-017-8039-3