Abstract
In this study, we performed the synthesis and sintering of Al2O3 and MgAl2O4 spinel composites using microwave radiation. Al2O3 was used as the ceramic matrix and ironsand with concentrations of 25, 50, and 75 vol% was added to alumina. Specimens were microwave sintered for 30, 60, and 90 min. Heat treatment in an electric furnace was also performed for comparison with the method proposed in this work. The results revealed that the material developed crystalline phases of Al2O3 and MgAl2O4 spinel-type structure with anorthite and iron oxide as minor phases. The composites exhibited high dielectric constants at low frequency. High density values were found for materials composed of 25% ironsand and 75% alumina. The treatment by microwave radiation was presented as an alternative to conventional heat treatments, with reduced synthesis and sintering times at high processing temperatures. The results showed that the developed material can be useful for microelectronic applications.
Access options
Buy single article
Instant access to the full article PDF.
USD 39.95
Price excludes VAT (USA)
Tax calculation will be finalised during checkout.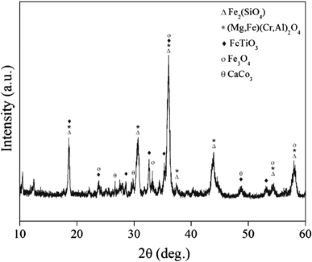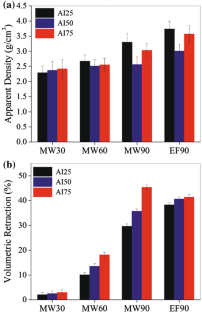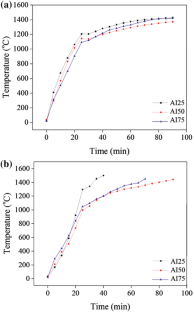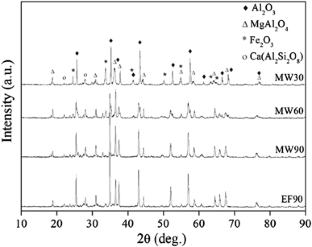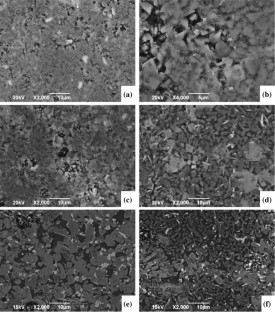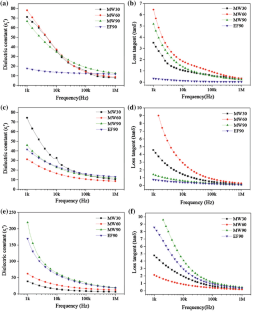 References
X. Lyu, L. Li, H. Sun, S. Li, J. Ye, S. Zhang, J. Mater. Sci. 26, 8663 (2015)

H. Kawazoe, K. Ueda, J. Am. Ceram. Soc. 82, 330 (1999)

T. Yokoyama, Y. Abe, T. Meguro, K. Komeya, K. Kondo, S. Kaneko, T. Sasamoto, J. Appl. Phys. 35, 5775 (1996)

I. Ganesh, Int. Mater. Rev. 58, 63 (2013)

M.J. Iqbal, B. Ismail, J. Alloys Compd. 472, 434 (2009)

G. Gusmano, G. Montesperelli, E. Traversa, A. Bearzotti, Sens. Actuators B 14B, 525 (1993)

A. Laobuthee, S. Wongkasemjit, E. Traversa, R.M. Laine, J. Eur. Ceram. Soc 20, 91 (2000)

A. A-Majeed, L.R. Ping, T.W. Dung, Mater. Res. Bull. 36, 1417 (2001)

S. Sanjabi, A. Obeydavi, J. Alloys Compd. 645, 535 (2015)

J. Xiaolin, Z. Haijun, Y. Yongjie, L. Zhanjie, Mater. Sci. Eng. A 379, 112 (2004)

T.W. Dung, L.R. Ping, A.M. Azad, Mater. Res. Bull. 36, 1417 (2001)

R. Sarkar, G. Banerjee, J. Eur. Ceram. Soc. 19, 2893 (1999)

C.T. Wang, L.S. Lin, S.J. Yang, J. Am. Ceram. Soc. 75, 2240 (1992)

J. Xiao, Z. Hai, Y. Yong, L. Zhan, Mater. Sci. Eng. A 379, 112 (2004)

I. Ganesh, S. Bhattacharjee, B.P. Saha, R Johnson, Y.R. Mahajan, Ceram. Int. 27, 773 (2001)

A.D. Mazzoni, M.A. Sainz, A. Caballero, E.F. Aglietti, Mater. Chem. Phys. 78, 30 (2003)

N. Frage, S. Cohen, S. Meir, S. Kalabukhov, M.P. Dariel, J. Mater. Sci. 42, 3273 (2007)

T. Suzuki, K. Itatani, M. Aizawa, F. Scott Howell, A. Kishioka, J. Eur. Ceram. Soc. 16, 1171 (1996)

Y.-B. Li, G.-Z. Ruan, Mater. Sci. Technol. 19, 991 (2003)

S. Pal, A.K. Bandyopadhyay, P.G. Pal, S. Mukherjee, B.N. Samaddar, Bull. Mater. Sci. 32, 169 (2009)

H.S. Tripathi, A. Ghosh, Ceram. Int. 36, 1189 (2010).

M. Oghbaei, O. Mirzaee, J. Alloy. Compd. 494, 175 (2010)

K.L. Rao, B. Vaidhyanathan, M. Ganguli, P.A. Ramakrishnan, Chem. Mater. 11, 882 (1999)

J.D. Katz, Annu. Rev. Mater. Sci. 22, 153 (1992)

D.E. Clark, W.H. Sutton, Annu. Rev. Mater. Sci. 26, 299 (1996)

A.W. Fliflet, R.W. Bruce, A.K. Kinkead, R.P. Fischer, D. Lewis, R. Rayne, B. Bender, L.K. Kurihara, G.M. Chow, E. Schoen, IEEE Trans. Plasma Sci. 24, 1041 (1996)

E.T. Thostenson, T.W. Chou, Compos. Part A 30, 1055 (1999)

D.K. Agrawal, Curr. Opin. Solid State Mater. Sci. 3, 480 (1998)

M.H. Sarrafi, H. Barzegar Bafrooei, M. Feizpour, T. Ebadzadeh, M. Harir Foroush, J. Mater. Sci. 25, 946 (2014)

R.L.B.A. Medeiros, H.P. Macedo, A.A.S. Oliveira, V.R.M. Melo, A.F.M. Carvalho, M.A.F. Melo, D.M.A. Melo, Cerâmica 62, 191 (2016).

I. Ganesh, B. Srinivas, R. Johnson, B.P. Saha, Y.R. Mahajan, J. Eur. Ceram. Soc. 24, 201 (2004)

H.M. Rietveld, J. Appl. Crystallogr. 2, 65 (1969)
Acknowledgements
The authors thank the National Council for Scientific and Technological Development (CNPq/Brazil) for financial support and Coordination for the Improvement of Higher Level Personnel (CAPES/Brazil) for the scholarships (Contract # MES-039/08). Central Laboratory of Electronic Microscopy (LCME, UFSC) is also acknowledged.
About this article
Cite this article
Thomaz, D.T., Guiotoku, M., Hotza, D. et al. Microwave-assisted synthesis and dielectric properties of Al2O3–MgAl2O4 spinel composites from ironsand. J Mater Sci: Mater Electron 28, 17131–17139 (2017). https://doi.org/10.1007/s10854-017-7640-9
Received:

Accepted:

Published:

Issue Date:

DOI: https://doi.org/10.1007/s10854-017-7640-9