Abstract
In the present work, for the first time, we have reported the synthesis of magnesium ferrite using tragacanth gum as biotemplate and magnesium nitrate and iron nitrate as the metal source by the novel sol–gel method without adding external surfactant. The sample was characterized by X-ray powder diffraction (XRD), Fourier transform infrared spectroscopy, vibrating sample magnetometer and scanning electron microscopy. XRD analysis revealed the formation of cubic phase ferrite MNPs with average crystallite size of 11 nm. Magnetic analysis revealed that the magnesium ferrite nanoparticles had a superparamagnetic behavior at room temperature with a saturation magnetization of 14 emu/g. The current photocatalyst exhibits remarkable catalytic activity for the degradation of reactive blue 21 dye in water under visible light irradiation. It was demonstrated that the catalyst could remove ca. 95% of the reactive blue 21 dye. The degradation efficiency was found to depend essentially on initial dye concentration, visible light and amount of catalyst. Magnetic nanoparticles of magnesium ferrite could be removed from the reaction mixture with external magnet and its recyclability remains effective and active after five cycles.
Access options
Buy single article
Instant access to the full article PDF.
USD 39.95
Price excludes VAT (USA)
Tax calculation will be finalised during checkout.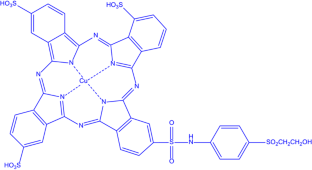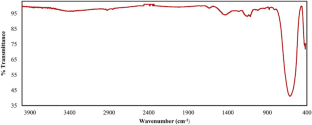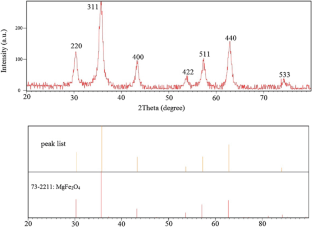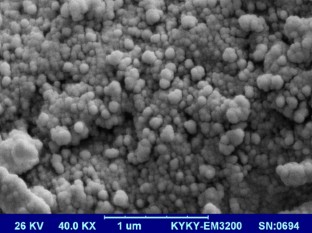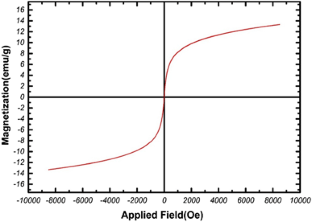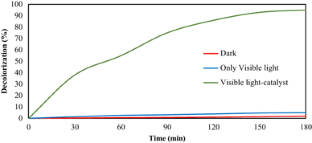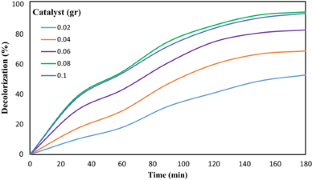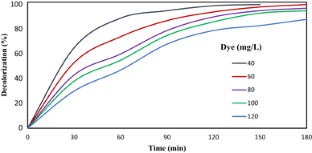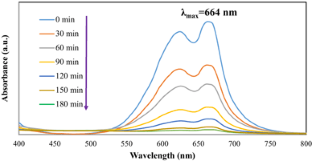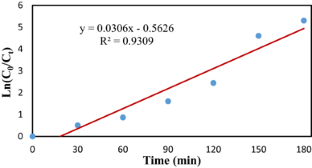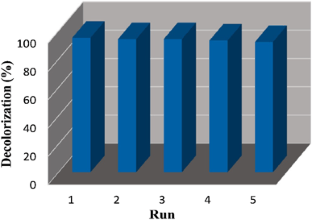 References
S. Taghavi Fardood, A. Ramazani, S. Moradi, J. Sol–Gel Sci. Technol. 82, 432 (2017)

C. Cao, A. Xia, S. Liu, L. Tong, J. Mater. Sci. 24, 4901 (2013)

F. Sadri, A. Ramazani, H. Ahankar, S. Taghavi Fardood, P. Azimzadeh Asiabi, M. Khoobi, S. Woo Joo, N. Dayyani, J. Nanostruct. 6, 264 (2016)

K. Hedayati, S. Azarakhsh, D. Ghanbari, J. Nanostruct. 6, 127 (2016)

G. Nabiyouni, D. Ghanbari, J. Ghasemi, A. Yousofnejad, J. Nanostruct. 5, 289 (2015)

S.T. Fardood, K. Atrak, A. Ramazani, J. Mater. Sci. 28, 10739 (2017)

S. Asgari, Z. Fakhari, S. Berijani, J. Nanostruct. 4, 55 (2014)

K. Hedayati, J. Nanostruct. 5, 13 (2015)

R. Zeynolabedin, K. Mahanpoor, J. Nanostruct. Chem. 7, 67 (2017)

P. Hankare, S. Jadhav, U. Sankpal, R. Patil, R. Sasikala, I. Mulla, J. Alloys Compd. 488, 270 (2009)

C. Liu, B. Zou, A.J. Rondinone, Z.J. Zhang, J. Phys. Chem. B 104, 1141 (2000)

K.V. Shafi, A. Gedanken, R. Prozorov, J. Balogh, Chem. Mater. 10, 3445 (1998)

S. Verma, P. Joy, Y. Khollam, H. Potdar, S. Deshpande, Mater. Lett. 58, 1092 (2004)

M. Hashemi, F. Mohandes, M. Salavati-Niasari, A.S. Esmaeily, J. Mater. Sci. 26, 6860 (2015)

S. Taghavi Fardood, A. Ramazani, Z. Golfar, S.W. Joo, Appl. Organomet. Chem. (2017). doi:10.1002/aoc.3823

M. Lakshmi, K. Vijaya Kumar, K. Thyagarajan, J. Nanostruct. Chem. 5, 365 (2015)

S. Akbar Hoseini, S. Khademolhoseini, J. Mater. Sci. 27, 5943 (2016)

S. Taghavi Fardood, A. Ramazani, J. Nanostruct. 6, 167 (2016)

W. Tang, Y. Su, Q. Li, S. Gao, J.K. Shang, Water Res. 47, 3624 (2013)

M.P. Reddy, W. Madhuri, G. Balakrishnaiah, N.R. Reddy, K.S. Kumar, V. Murthy, R.R. Reddy, Curr. Appl. Phys. 11, 191 (2011)

S. Maensiri, M. Sangmanee, A. Wiengmoon, Nanoscale Res. Lett. 4, 221 (2009)

M. Shahid, L. Jingling, Z. Ali, I. Shakir, M.F. Warsi, R. Parveen, M. Nadeem, Mater. Chem. Phys. 139, 566 (2013)

N.R. Su, P. Lv, M. Li, X. Zhang, M. Li, J. Niu, Mater. Lett. 122, 201 (2014)

Q. Chen, Z.J. Zhang, Appl. Phys. Lett. 73, 3156 (1998)

T. Neuberger, B. Schöpf, H. Hofmann, M. Hofmann, B. Von Rechenberg, J. Magn. Magn. Mater. 293, 483 (2005)

M. Sheykhan, H. Mohammadnejad, J. Akbari, A. Heydari, Tetrahedron Lett. 53, 2959 (2012)

M. Vosoughifar, M. Goudarzi, S. Akbar Hoseini, J. Mater. Sci. 27, 5846 (2016)

S. Taghavi Fardood, A. Ramazani, S. Moradi, P. Azimzadeh Asiabi, J. Mater. Sci. (2017). doi:10.1007/s10854-017-7199-5

M. Zohuriaan, F. Shokrolahi, Polym. Test. 23, 575 (2004)

M.C. Silva, A.D. Corrêa, M.T.S.P. Amorim, P. Parpot, J.A. Torres, P.M.B. Chagas, J. Mol. Catal. B 77, 9 (2012)

K. Hedayati, S. Azarakhsh, J. Saffari, D. Ghanbari, J. Mater. Sci. 28, 5472 (2017)

S. Masoumi, G. Nabiyouni, D. Ghanbari, J. Mater. Sci. 27, 9962 (2016)

S. Farhadi, K. Pourzare, S. Sadeghinejad, J. Nanostruct. Chem. 3, 16 (2013)

N. Daneshvar, D. Salari, A. Khataee, J. Photochem. Photobiol. A 162, 317 (2004)

M. Behnajady, N. Modirshahla, R. Hamzavi, J. Hazard. Mater. 133, 226 (2006)

M. Shanthi, V. Kuzhalosai, Indian J. Chem. Sect. A 51, 428 (2012)

M. Rasoulifard, H. Hosseini Monfared, S. Masoudian, Environ. Technol. 32, 1627 (2011)

N. Daneshvar, S. Aber, M.S. Dorraji, A. Khataee, M. Rasoulifard, Sep. Purif. Technol. 58, 91 (2007)

N. Rana, S. Chand, A.K. Gathania, J. Mater. Sci. 27, 2504 (2016)
About this article
Cite this article
Fardood, S.T., Golfar, Z. & Ramazani, A. Novel sol–gel synthesis and characterization of superparamagnetic magnesium ferrite nanoparticles using tragacanth gum as a magnetically separable photocatalyst for degradation of reactive blue 21 dye and kinetic study. J Mater Sci: Mater Electron 28, 17002–17008 (2017). https://doi.org/10.1007/s10854-017-7622-y
Received:

Accepted:

Published:

Issue Date:

DOI: https://doi.org/10.1007/s10854-017-7622-y