Abstract
In this paper, the allotropic transition of ß to α-Sn (so called "tin pest") was identified with electrical resistance measurements. Samples were prepared from SnCu1 alloy using mechanical treatment of two different sample sizes, artificially inoculated with InSb and stored at −18°C for 9 weeks. The electrical resistance measurement showed that in the case of SnCu1 solder alloy the α-Sn transition has three stages: nucleation, growth and the saturation phase, when the transition is almost stopped. It was proven by focused ion beam cross-sectioning and Mösbauer spectroscopy that the developed α-Sn phase can enclose the metastable non-transitioned ß-Sn preventing its further transition and resulting the saturation phase of the phenomenon. In addition, the results point out that the rate of vertical expansion of the α-Sn into the sample body can be equivalent or higher than the horizontal expansion.
This is a preview of subscription content, log in to check access.
Access options
Buy single article
Instant access to the full article PDF.
US$ 39.95
Price includes VAT for USA
Subscribe to journal
Immediate online access to all issues from 2019. Subscription will auto renew annually.
US$ 199
This is the net price. Taxes to be calculated in checkout.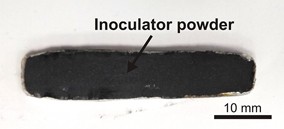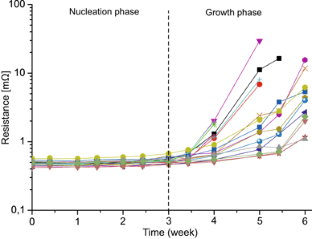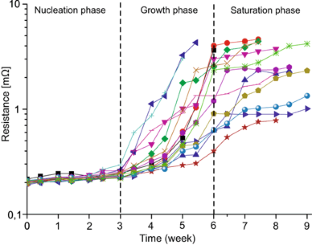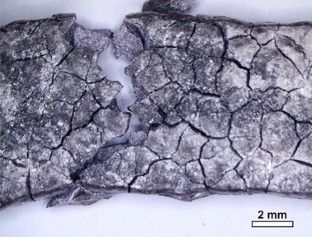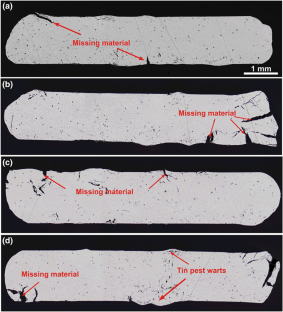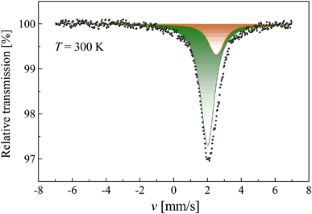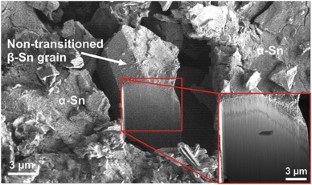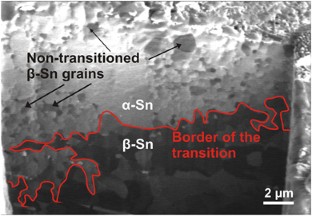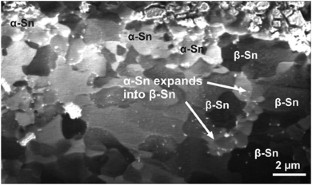 References
1.

P.-C. Wang, C.-P. Chang, M.-J. Youh, Y.-M. Liu, C.-M. Chu, M.-D. Ger, The preparation of pH-sensitive Pd catalyst ink for selective electroless deposition of copper on a flexible PET substrate. J. Taiwan Inst. Chem. Eng. 60, 555–563 (2016)

2.

A. M. Molodets, S. S. Nabatov, Thermodynamic potentials, diagram of state, and phase transitions of tin on shock compression. High Temp. 38(5), 715–721 (2000)

3.

W. Plumbridge, Recent observations on tin pest formation in solder alloys. J. Electron. Mater. 37(2), 218–223 (2008)

4.

S. Gialanella, F. Deflorian, F. Girardi, I. Lonardelli, S. Rossi, Kinetics and microstructural aspects of the allotropic transition in tin. J. Alloys Compd. 474, 134–139 (2009)

5.

A. Skwarek, P. Zachariasz, J. Kulawik, K. Witek, Inoculator dependent induced growth of α-Sn. Mater. Chem. Phys. 166, 16–19 (2015)

6.

A. Skwarek, M. Sroda, M. Pluska, A. Czerwinski, J. Ratajczak, K. Witek, Occurrence of tin pest on the surface of tin-rich lead-free alloys. Solder. Surf. Mt. Tech. 23(3), 184–190 (2011)

7.

B. Illés, B. Horváth, Whiskering behaviour of immersion tin surface coating. Microelectron. Reliab. 53, 755–760 (2013)

8.

D. Di Maio, C. Hunt, On the absence of the ß to α Sn allotropic transformation in solder joints made from paste and metal powder. Microelectron. Eng. 88, 117–120 (2011)

9.

O. Semenova, H. Flandorfer, H. Ipser, On the non-occurrence of tin pest in tin–silver–indium solders. Scripta Mater. 52, 89–92 (2005)

10.

W. Peng, An investigation of Sn pest in pure Sn and Sn-based solders. Microelectron. Reliab. 49, 86–91 (2009)

11.

D. Giuranno, S. Delsante, G. Borzone, R. Novakovic, Effects of Sb addition on the properties of Sn–Ag–Cu/(Cu, Ni) solder systems. J. Alloys Compd. 689, 918–930 (2016)

12.

W.J. Plumbridge, Tin pest issues in lead-free electronic solders. J. Mater. Sci. 18, 307–318 (2007)

13.

M. Leodolter-Dworak, I. Stefan, W.J. Plumbridge, H. Ipser, Tin pest in Sn-0.5Cu lead-free solder alloys: a chemical analysis of trace elements. J. Electron. Mater. 39(1), 105–108 (2010)

14.

A. Skwarek, J. Kulawik, K. Witek, Method of evaluating the susceptibility of tin alloys to tin pest, 2013 polish patent application number: P404330, Patent number: 221478, 14 June 2013

15.

K. Zhang, Y. Wang, W. Jin, X. Fang, Y. Wan, Y. Zhang, L. Dai, High-quality InSb nanocrystals: synthesis and application in graphene-based near-infrared photodetectors. RSC Adv. 6(30), 25123–25127 (2016)

16.

T. Ito, A. Kadoda, K. Nakayama, Y. Yasui, M. Mori, K. Maezawa, T. Mizutani, Effective mobility enhancement in Al2O3/InSb/Si quantum well metal oxide semiconductor field effect transistors for thin InSb channel layers. Jpn. J. App. Phys. 52(4S), 04CF01 (2013)

17.

A.Y. Shenouda, M.M. Rashad, L. Chow, Synthesis, characterization and performance of Cd 1–xInxTe compound for solar cell applications. J. Alloys Compd. 563, 39–43 (2013)

18.

S.A. Vanalakar, G.L. Agawane, S.W. Shin, M.P. Suryawanshi, K.V. Gurav, K.S. Jeon, J.H. Kim, A review on pulsed laser deposited CZTS thin films for solar cell applications. J. Alloys Compd. 619, 109–121 (2015)

19.

D. Di Maio, C.P. Hunt, Monitoring the growth of the a phase in tin alloys by electrical resistance measurements. J. Electron. Mater. 38(9), 1874–1880 (2009)

20.

A.A. Matvienko, A.A. Sidelnikov, The influence of relaxation of stresses occurring during the ß→α transformation of tin on the kinetics of the transformation. J. Alloys Compd. 252, 172–178 (1997)

21.

A. Skwarek, P. Zachariasz, J. Zukrowski, B. Synkiewicz, K. Witek, Early stage detection of ß to α a transition in Sn by Mössbauer spectroscopy, Mater. Chem. Phys. 182, 10–14 (2016)
Acknowledgements
The research leading to these results has received funding from the ProProgressio foundation.
About this article
Cite this article
Skwarek, A., Illés, B., Horváth, B. et al. Identification and characterization of ß→α-Sn transition in SnCu1 bulk alloy inoculated with InSb. J Mater Sci: Mater Electron 28, 16329–16335 (2017). https://doi.org/10.1007/s10854-017-7539-5
Received:

Accepted:

Published:

Issue Date: