Abstract
In this work, nanostructured α-Fe2O3 thin films have been deposited onto the glass and fluorine doped tin oxide coated glass substrates using simple chemical bath deposition method. The influence of bath temperature on the properties of α-Fe2O3 thin films are studied with the help of different characterization techniques such as X-ray diffraction (XRD), X-ray photoelectron spectroscopy, Raman spectroscopy, Brunauer-Emmett-Teller (BET), scanning electron microscopy (SEM), transmission electron microscopy (TEM), and optical properties. XRD study reveals that films are polycrystalline in nature with rhombohedral crystal structure. Raman spectroscopy is used to study the structure and symmetry of α-Fe2O3 thin films. The SEM study reveals that substrate surface is well covered with small tiny grains. Specific surface area of 30.12 m2 g−1 is measured by BET technique. Optical study shows that the band gap energy of α-Fe2O3 film is varied from 2.19 to 2.35 eV. The synthesized α-Fe2O3 photoelectrode is used as a catalyst for the photoelectrocatalytic degradation of 4-chlorphenol in an aqueous medium. The photoelectrocatalytic degradation experiment shows that the degradation percentage of 4-chlorophenol (4-CP) has reached 50% under sunlight illumination after 240 min. The mineralization of 4-CP with reaction time is studied with the help of chemical oxygen demand (COD) measurement.
Access options
Buy single article
Instant access to the full article PDF.
USD 39.95
Price excludes VAT (USA)
Tax calculation will be finalised during checkout.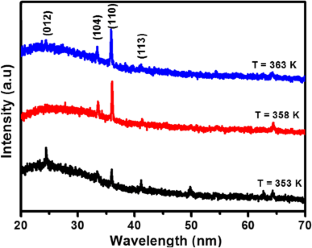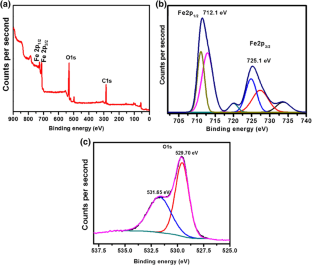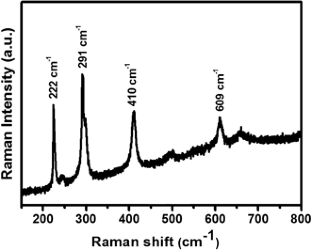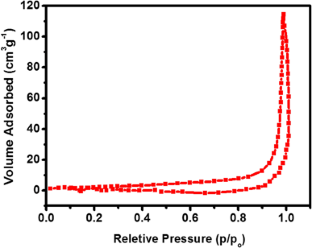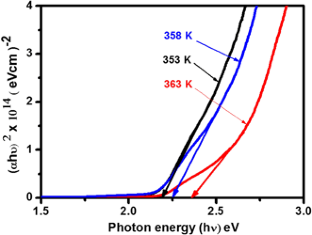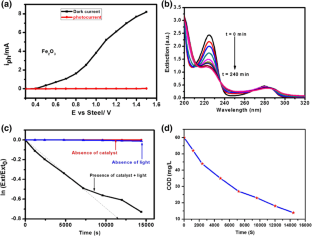 References
S. Zhang, F. Ren, W. Wu, J. Zhou, L. Sun, X. Xiao, C. Jiang, J. Colloid Interface Sci. 427, 29–34 (2014)

J. Ângelo, P. Magalhães, L. Andrade, A. Mendes, Appl. Surf. Sci. 387, 183–189 (2016)

S.V. Mohite, V.V. Ganbavle, V.V. Patil, K.Y. Rajpure, Mater. Chem. Phys. 183, 439e446 (2016)

S.G. Kumar, K.S.R.K. Rao, Appl. Surf. Sci. 355, 939–958 (2015)

S.S. Shinde, C.H. Bhosale, K.Y. Rajpure, Catal. Rev. Sci. Eng. 55 (2013) 79–133

V.B. Koli, A.G. Dhodamani, A.V. Raut, N.D. Thorat, S.H. Pawar, S.D. Delekar, J. Photochem, Photobiol. B 328, 50–58 (2016)

V.B. Shevale, A.G. Dhodamani, V.B. Koli, R.P. Barkul, J.P. Jadhav, S.D. Delekar, Mater. Res. Bull. 89, 79–88 (2017)

J. Wanga, J. Rena, H. Yao, L. Zhang, J. Wang, S. Zang, L. Han, Z. Li, J. Hazard. Mater. 311, 11–19 (2016)

W. Shen, Y. Mu, B. Wang, Z. Ai, L. Zhang, Appl. Surf. Sci. doi: 10.1016/j.apsusc.2016.10.020

S.H. Tambolia, G. Rahmana, O.S. Joo, J. Alloys Compd. 520, 232–237 (2012)

J.A. Glasscock, P.R.F. Barnes, I.C. Plumb, A. Bendavid, P.J. Martin, Thin Solid Films 516, 1716–1724 (2008)

S.S. Shinde, R.A. Bansode, C.H. Bhosale, K.Y. Rajpure, J. Semicond. 32(1), 013001 (2011)

M. Aronniemi, J. Saino, J. Lahtinen, Thin Solid Films 5(16), 6110–6115 (2008)

A.B.C. Ekwealor, F.I. Ezema, J. Ovonic Res. 9(2), 35–43 (2013)

C. Wang, Z. Huang, Mater. Lett. 164, 194–197 (2016)

M.A. Mahadik, S.S. Shinde, V.S. Mohite, S.S. Kumbhar, K.Y. Rajpure, A.V. Moholkar, C.H. Bhosale, Ceram. Int. 40 (2014) 9463–9471

A. Qurashi, Z. Zhong, M.W. Alam, Solid State Sci. 12 1516–1519 (2010)

S.K. Maji, N. Mukherjee, A. Mondal, B. Adhikary, Polyhedron 33, 145–149 (2012)

A. A. Yadav, A. C. Lokhande, J. H. Kim, C. D. Lokhande, RSC Adv. 6 106074–106080 (2016)

Y.M. Hunge, M.A. Mahadik, S.S. Kumbhar, V.S. Mohite, K.Y. Rajpure, N.G. Deshpande, A.V. Moholkar, C.H. Bhosale, Ceram. Int. 42 789–798 (2016)

A.A. Yadav, V.S. Kumbhar, S.J. Patil, N.R. Chodankar, C.D. Lokhande, Ceram. Int. 42, 2079–2084 (2016)

S.S. Kumbhar, M.A. Mahadik, V.S. Mohite, Y.M. Hunge, P.K. Chougule, K.Y. Rajpure, C.H. Bhosale, J. Mater. Sci. 27 3799–3811 (2016)

A.A. Yadav, A.C. Lokhande, J.H. Kim, C.D. Lokhande, J. Colloid Interface Sci. 473, 22–27 (2016)

P. Mills, J.L. Sullivan, J. Phys. D. Appl. Phys 16, 723–735 (1983)

J.D. Desai, H.M. Pathan, Sun-Ki Min, Kwang-Deog Jung, Oh Shim Joo, Appl. Surf. Sci. 252, 1870–1875 (2005)

S. Bharathi, D. Nataraj, M. Seetha, D. Mangalaraj, N. Ponpandian, Y. Masuda, K. Senthil, K. Yong, Cryst. Eng. Comm. 12 373–382 (2010)

M.A. Garcia-Lobato, A.I. Martinez, D.L. Perry, M.C. Roman, R.A. Zarate, L.E. Alarcon, Sol. Energy Mater. Sol. Cells 95, 751–758 (2011)

Y. Zhao, D. Yan, C. Ding, D. Su, Y. Ge, Y. Zhao, H. Zhou, J. Li, H. Jin, J. Power Sour. 327, 658–665 (2016)

Li-Chieh Hsu, Li Yuan-Yao, Chun-Yen Hsiao, Nanoscale Res. Lett. 3, 330–337 (2008)

Y. M. Hunge, M. A. Mahadik, V. S. Mohite, S. S. Kumbhar, N. G. Deshpande, K. Y. Rajpure, A. V. Moholkar, P. S. Patil, C. H. Bhosale, J. Mater. Sci. 27, 1629–1635 (2016)

L. González-Reyes, I. Hernández-Pérez, L. Díaz-Barriga Arceo, H. Dorantes-Rosales, E. Arce-Estrada, R. Suárez-Parra, J.J. Cruz- Rivera, Mater. Sci. Eng. B 175, 9–13 (2010)

K. Sivula, R. Zboril, F. Le Formal, R. Robert, A. Weidenkaff, J. Tucek, J. Frydrych, M. Gratzel, J. Am. Chem. Soc. 132, 7436–7444 (2010)

S.S. Shinde, P.S. Shinde, C.H. Bhosale, K.Y. Rajpure, J. Photochem, Photobiol. B 104 425–433 (2011)

S.S. Kumbhar, M.A. Mahadik, S.S. Shinde, K.Y. Rajpure, C.H. Bhosale J. Photochem, Photobiol. B 142 118–123 (2015)

Y.M. Hunge, M.A. Mahadik, A.V. Moholkar, C.H. Bhosale, Ultrason. Sonochem. doi: 10.1016/j.ultsonch.2016.09.024

Y.M. Hunge, V.S. Mohite, S.S. Kumbhar, K.Y. Rajpure, A.V. Moholkar, C.H. Bhosale, J. Mater. Sci. 26 8404–8412 (2015)

V.S. Mohite, M.A. Mahadik, S.S. Kumbhar, Y.M. Hunge, J.H. Kim, A.V. Moholkar, K.Y. Rajpure, C.H. Bhosale, J. Photochem. Photobiol. B 142, 204–211 (2015)

M.A. Mahadik, S.S. Shinde, Y.M. Hunge, V.S. Mohite, S.S. Kumbhar, A.V. Moholkar, K.Y. Rajpure, C.H. Bhosale, J. Alloys Compd. 611, 446–451 (2014)
About this article
Cite this article
Hunge, Y.M. Photoelectrocatalytic degradation of 4-chlorophenol using nanostructured α-Fe2O3 thin films under sunlight illumination. J Mater Sci: Mater Electron 28, 11260–11267 (2017). https://doi.org/10.1007/s10854-017-6915-5
Received:

Accepted:

Published:

Issue Date:

DOI: https://doi.org/10.1007/s10854-017-6915-5
Keywords
Chemical Oxygen Demand

Bath Temperature

Coated Glass Substrate

Chemical Bath Deposition Method

Rhombohedral Crystal Structure